Riddles Of Fate: Wild Hunt
Exclusive
Defeat a ghostly army in Riddles of Fate: Wild Hunt! You have been summoned to the town of Osville, where a legion of spirits controlled by the Four Horsemen of the Apocalypse roam the streets in search of one young girl. Only the mysterious prisoner in the tower knows how to save the city... But you'll have to get to him first! Uncover the secrets of the Wild Hunt army, and learn the truth behind the prisoner's ultimate betrayal in this mesmerizing Hidden Object Adventure game!
Game System Requirements:
OS:

10.9/10.8/10.7/10.6

CPU:

2.5 GHz (INTEL ONLY)

RAM:

1024 MB

Hard Drive:

785 MB
Game Manager System Requirements:
Browser:

Safari 4.0 or later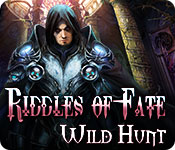 NEW299
The Big Fish Guarantee:
Quality tested and virus free.
No ads, no adware, no spyware.

Reviews at a Glance

Riddles Of Fate: Wild Hunt
0
out of
5 (
0
Reviews
Review
)
Customer Reviews
Riddles Of Fate: Wild Hunt
25
25
Game Summary + Brief CE Content Review
BASED ON COMPLETED CE GAME I love this story. A strange evil has invaded the town, and is searching for young girls in every home. THAT?s an ominous beginning! But there is a mysterious prisoner who promises help and tells you it is no lesser evil than the 4 Horsemen Of The Apocalypse! Battling each one of these separately, you also find out the history of the Wild Hunt and the legends surrounding it. The intro to the game is thrilling. Told (I think it?s the first time I?ve ever seen it) from the point of view of the bad guys, it shows the havoc they unleash and gives us a teaser on why. Once past the main menu, we get more info in a letter from a desperate townswoman. This is presented using comics on parchment, within a thought bubble?, I guess you?d call it. One of the best things about this game is the varied and original ways the backstory and legends are shown. Everything looks absolutely marvellous, as you?d expect from Elephant. The sounds make an important contribution, and the voiceovers are appropriately majestic and cruel. Another really delightful element is the ghost skulls, each of whom have a voice and a mind of their own! The game is dark in aspect and colour, but I didn?t find it difficult to see anything. Gameplay is adventure-oriented, with interactive list HOPs, some easy-to-tricky puzzles, and plenty to do in every location. A hint that hints, an interactive jump map, and choice of difficulty levels gives us as much help as we need. The current task is also noted, but no journal. BONUS CONTENT REVIEW The bonus chapter took me much longer than usual to complete, but I can?t give you an exact time. Certainly well over an hour, and possibly even more than two. It consists of a lot of the old locations reworked, plus half a dozen or so new locations, more not-so-easy-now puzzles and just a few HOPs. The last but one puzzle was absolutely amazing, and if anyone gets it without help, they should get a medal. But it?s not impossible, it just requires some serious brain work and a better memory than mine. The extra story follows on from the previous ending, without being necessary to it. Story-wise, it seems very much a last minute addition. The graphics also don?t seem quite so good, the language is definitely less precise, and some instructions on puzzles are darn near impossible to work out. The SG was also no help in these situations. Despite that, I really did enjoy this chapter quite a lot, because the structure was nicely put together. There are the usual gallery items included, as well as achievements. I don?t particularly like the standard list format Elephant use to display them, other developers do these much better. The collectibles are few, and when found are placed on a ?crystal ball? map that gives history as you collect them. The prize, as far as the CE content goes, is the ?Secret Room?. If you don?t want to know what that is, DON?T READ FURTHER. In this room, the replayable puzzles and HOPs are presented as if in yet another chapter of the game, only just enough to draw the puzzles together. I think of it as the Reader?s Digest version of the game, and I love it! FAMOUS LAST WORDS Which is the best buy? I?d vote for the Collector?s Edition, for the bonus game and the secret room, both of which are loads of fun. But there's nothing wrong with this one!
October 4, 2013
GRABS YOU
SUMMARY: A fast-paced adventure game that grabs your attention from the beginning and keeps your interest throughout. There is a lot of action and a lot of things to do. Environments were given a lot of attention to the details of developing them. Colors are a nice palette, fitting to the location. STORY Ghostly manifestations have appeared and destroyed much of the town, keeping its inhabitants prisoners in their own homes. They are searching for a particular girl, who of course will be the heroine. There is a prisoner in the tower whom you also have to rescue, since he can help you with the ghosts. GAMEPLAY When you click the ghosts, they will talk to you in a rather spooky manner and animation is spectacular. You will make a cold potion to rid the town of one particular winged ghost, but then you encounter more of them. Guess you should have made more cold potion to battle them. The prisoner holds the key to getting rid of the ghostly manifestations, so you have to rescue him. Sometimes, it seems the ghosts just want to cause mischief to inconvenience or scare you. Although there is lots to do, what needs to be one in which location is fairly self-evident. HOS and PUZZLES The HOS are very nicely done - everything is visible and well defined. Puzzles are widely varied - I must say that the developers are coming up with new and unique puzzles lately or add new twists and turns to some tried-and-true puzzles. They're great and a lot of fun. OTHER STUFF The first person I encountered for conversation had a forced and unnatural voice, so I thought "oh boy. Turn the voice volume down." But the people and ghosts encountered later sounded much more professional and their voices fit their characters. Animation is terrific and goes a long way in setting the overall mood for the game. Most of the music is relaxing, although there is one upbeat track. It is appropriate to the actions being taken. A good game that's lots of fun at a fairly fast-pace.
October 4, 2013
Been awhile
I could not wait to get home and play this game, used to many hints for my liking, but wow 3 weeks of playing well worth the wait. even my children liked the hidden clues, made them search and then they figured it out faster then me. Awsome.
November 20, 2013
Dark and Eerie Hidden Object Adventure
The human child of Fate is born. Dark forces are out to destroy her, first by imprisoning all females in the kingdom in an attempt to find her. Endter the hero Detective who has come to save her. This game has an excellent soundtrack, beautiful piano and violin music, excellent voiceovers, especially on the talking spirits. The graphics are beautiful, very well drawn. Mini puzzles are simplistic but a lot of fun and very entertaining. Hidden object scenes are the interactive list type, again, very entertaining and a lot of fun. There is a task list and an interactive map to assist you. Additionally you will have Louie the bat to assist you in reaching things that you can't. This is a very complex game, with a lot of back and forth, hunt and find, beasts popping up unexpectedly, and scattered notes to find and read. It has all the bells and whistles that the CE had. Excellent value in this SE.
March 8, 2014
Loved it!
After all, what red-blooded woman doesn't have just a bit of a soft spot for a good looking, bad boy, sort-of hero? Actually, the story was great, the art work was great, good balance of puzzles and HOS. The overall quality of the game is very much what I have come to expect from Elephant Games, which is to say, excellent. It makes me wish that the publisher information could be incorporated into game descriptions on the sales pages. There are some publishers that when you see their logo come up, you just know that a really good game will follow!
February 7, 2014
very good game
played casual, low sound. skip/hint charge in about 45 seconds or so. the hints hand hold you as to where to go but not what to do when you get there. interactive map and a list of tasks. you are a part of a story where the four horseman are on the loose and one-death-actually breaks from them because he falls love with the one he is sent to kill. they eventually kill his wife and poison his daughter because she has special powers that keep them from killing her. there is a flower and when it dies she dies too. you need to help death keep that from happening. i was surprised by the ending. sequel...maybe.
October 12, 2013
GOOD ONE
REALLY ENJOYED IT. IF YOU LIKE A LONG GAME AND BONUS THIS IS A GOOD CHOICE.
October 6, 2013
Excellent Hidden ObjectGame
Of all of the games I have played, this is the best one. Great story line, fine graphics, interesting HOP's.
October 15, 2013
Good game.
As usual, Elephant gives you your moneys' worth! Game worked me very hard!! Thank goodness for the interactive map, bc I had a time finding stuff! Most of my time was used at looking for things to move the game forward! Game was very good. Interesting storyline. Puzzles were plentiful and good. Few Hos. Game was very long for me, and very enjoyable! AND BELIEVE ME, DEATH DOES LOOK LIKE DEATH!!
June 8, 2014
Very good long game
Based on completed SE game Very enjoyable game, good storyline and graphic, not too much HOS.
November 1, 2013
The Apple logo is a trademark of Apple Computer, Inc.
The Windows logo is a trademark of Microsoft, Inc.