Riddles Of Fate: Wild Hunt
Exclusive
Defeat a ghostly army in Riddles of Fate: Wild Hunt! You have been summoned to the town of Osville, where a legion of spirits controlled by the Four Horsemen of the Apocalypse roam the streets in search of one young girl. Only the mysterious prisoner in the tower knows how to save the city... But you'll have to get to him first! Uncover the secrets of the Wild Hunt army, and learn the truth behind the prisoner's ultimate betrayal in this mesmerizing Hidden Object Adventure game!
Game System Requirements:
OS:

10.9/10.8/10.7/10.6

CPU:

2.5 GHz (INTEL ONLY)

RAM:

1024 MB

Hard Drive:

785 MB
Game Manager System Requirements:
Browser:

Safari 4.0 or later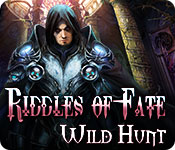 NEW299
The Big Fish Guarantee:
Quality tested and virus free.
No ads, no adware, no spyware.

Reviews at a Glance

Riddles Of Fate: Wild Hunt
0
out of
5 (
0
Reviews
Review
)
Customer Reviews
Riddles Of Fate: Wild Hunt
21
21
Challenging & Intriguing Story
Liked throwbacks - leave it here so I don't give it away! Unique puzzles Included hidden object but you didn't have to re-search the same scene Well thought out Fun storyline; not commonly found
October 6, 2013
War, Famine, Pestilence And of Course, Death!
This is a dark heart pumping, game with evil ghosts demons and minions wreaking havoc on the town of Osville as they search desperately for the human child of fate. Tucked away and nearly forgotten in a dark and damp cell is a prisoner who may be our only chance at survival, his name? Death, and Death is one of the four Horsemen of the Apocalypse! Death fell deeply in love with the woman he was sent to kill and a child was born, and fate must be broken! The graphics are outstanding, crisp, dark, eerie and evil, the music is haunting and I especially liked the music played after you finish a mini game, it's epic! The HOS are interactive list finds and they are a little on the easy side but still entertaining. There are a lot of mini games and so far I have enjoyed every one of them. One game I enjoyed was collecting statues and placing them on the correct pedestal. The pedestals each had a picture of two seprate things such as a lion and an eagle, to make the combination of a griffen. I'm a big fan of the "dark and eerie" genre and this game was very professional and the devs paid attention to detail and there was plenty action in each scene as well as a few keep you on your toes moments, enjoy!
October 4, 2013
What a bargain for this game
Won't even go into the story as others have done so. I have spent hours of great fun with the story, games, HOS, etc. Nothing to complain about but it was a bargain for the CE. Have nothing but praise for the developers--bravo.
October 4, 2014
Differences to the Collector's Edition... :)
Played the Collector?s Edition and tried this Standard Edition to find any differences: If you don?t like dark themed games with demons, golems, ghosts, witches, skeletons and dragons: Keep your hands off this game!!! There are lots of? Graphics are excellent, as expected from Elephant Games! Very clear and detailed even in the darker scenes (you have the option to adjust the Gamma). Wellmade characters and creatures. Facts: 3 difficulties to choose from, 7 chapters, lockable inventory, hint is very useful: telling you what to do next (though a bit too much handholding?), map showing you open tasks/ available action and allowing you to jump, no journal - just a task button, the Book of Dead, which brings dead things back to life and Louis the bat as your helping friend. Hidden-object-scenes are ALL from list with some very easy interactions? All HOS just played once. Most of the minigames are all wellknown and don?t cause you any headaches, but they are getting harder the longer you play!! A lot of back and forth due to items, which are not collectable from the beginning and scattered all over the game, like 5 torn diary pages, 10 ghost-seals, 5 scythe pieces, 6 flowers, 3 magical chrystals etc. You require certain artifacts to unlock these items. Extras ONLY available in the Collector?s Edition: Bonus-chapter with an additional story, strategy guide, 12 achievements to earn and 15 collectibles (statuettes) to find and a ?secret room? with replayable minigames and hidden-object-scenes, wallpapers, concept-art and music... It took me nearly 5 hours to play the maingame in the 2nd mode (this Standard-Edition). Still an excellent adventure, if you?re a friend of apocalyptic stories!! :)
October 4, 2013
Can You Meet The Challenge of the Four Horsemen of the Apocalypse
Riddles of Fate Wild Hunt begins with a cutscene where we find out that the human Child of Fate has been born and there are evil forces out to hunt her down and kill her. Before ending, the scene moves to a young man in a prison cell who swears that he will protect the child at all costs. Our job is to save the town from the devastation that is being caused by a legion of ghosts who serve the Four Horsemen of the Apocalypse ? the Wild Hunt. Are they searching for the Child of Fate who is predicted to bring an end to the rule of the Bone King and his apocalyptic Wild Hunt legion? Even though the game has a bit of a dark theme the graphics are crisp with use of an intense color palette. The game does have voiceovers but once again, there is no lip-syncing. It continues to amaze me that a developer who brings us quality games does not see fit to add lip movements to their characters. Aside from that complaint the sound package for the game is very good. The musical score fits well with the creepy and often scary theme the game. You do not have a journal but there is a task button that will let you know what you need to do and the interactive transporter map also tells you where you have an area of interest or a task to complete. The HOS are the standard list type with some objects requiring an additional step. The puzzles are fairly standard with this developer and there is nothing new. That being said, the puzzles are still fun with some more difficult than others but they all add to the enjoyment of the game. Over all this is a very enjoyable game of fantasy and ancient legends replete with ghosts, witches, and mythical beasts ? all the ingredients of a wonderful game. Since I know that any game from the Elephant team is always excellent and sure to provide hours of entertainment the CE version was an instant purchase ? no need to wait on this one. As always, I recommend that you try the demo to see if you agree that this game is one well worth adding to your game library.
October 4, 2013
Enjoyable game but may not be for everyone
Overall well done game, good effects and clear graphics. Voice overs were real, but would have preferred actual lip movement with the characters. I am not a big fan of apocalyptic stories but this one had some excitement and followed a good storyline. HO scenes fairly easy but nice challenge to some of the mini games. A little disappointed in the presentation of the prisoner, he appeared rather cartoon-like, which my have been deliberate, but in my opinion took away from his effectiveness as a character. I ran both trials and felt there was enough in the SE to win me over, but for CE fans by all means they get their monies worth. Good game, kudos to the developers once again!
October 4, 2013
Good Multi-Faceted Game
There is much going on with the story in this game. I love dark, scary themes, so this grabbed me. HOS were easy, and from a list with some interaction. Mini games were fairly easy also. There is a lot of traipsing back and forth to find objects but that's fine. The only thing I didn't like about this game, was the cursor seemed slow and floaty. It became annoying. I don't have this problem with other games, so not sure if one of the options should be shut off. For now, it's a no buy for me because of that problem.
October 5, 2013
challenge
Interesting game. Recommend this game. You will enjoy it.
October 4, 2013
A Thrilling, Spooky Adventure!... At least for a while...
In Riddles of Fate: Wild Hunt, you play a detective who must try to save a town that is being terrorized by ghosts who are searching for a young girl. Along the way you must save and assist a mysterious prisoner to defeat the four horseman of the apocalypse who are commanding the scary creatures. Sounds thrilling doesn't it? And it is. This game does an amazing job at hooking you right in the beginning. The cinematics are great, the story is very unique, especially when you save the prisoner you learn of an interesting twist to the story -- I loved this! You'll encounter ghost dragons, hellhounds, witches, ogres, and other cool monsters that will try to stop you. You will also have the adorable bat named Louis who helps you throughout the game. Needless to say, the beginning of the game is extremely immersive and exciting. There are even some moments when you revisit a scene and something really spooky suddenly happens. The scary sound effects and music really add to this wonderfully eerie and dark environment -- and it's exciting! As a game that is of the dark fantasy/supernatural genre, this started off as a real special treat to play. But then... something happens once you reach around the middle-to-end mark of the game. Everything slows way, way down. Maybe it's because you've defeated most, if not all the creatures, and already freed the prisoner -- I don't know. It's just that the pacing starts becoming really sluggish. Add that to the fact that sometimes you acquire items that won't be used for a long time or come across stuff where you won't find the item for it for a long time -- the game begins to feel like a chore. There is a TON of backtracking. There is a interactive map that allows you to teleport to different locations, but I personally didn't find it very helpful. You're going to have to remember a lot of things that you've come across in the game. Without a journal, this can be very difficult to keep track of. I use the hint button when I get stuck, but I REALLY hate that it tells you EXACTLY what to do, word for word, instead of just giving you a directional hint. The HO scenes were VERY easy, almost ridiculously so. The puzzles and mini-games were definitely fun, most of them were really tricky, and there are some new ones as well! Many of them took a decent amount of time to solve and I liked that you had to really think for some of them. I was also getting tired of the endless "doom and gloom" scenes. I realize this is a dark game, but it doesn't have to be constantly depressing, it can be exciting too (ahem... like in the beginning!) Even the storyline eventually loses its intrigue as you keep playing, eventually becoming incredibly uninteresting and boring. Add up all this to -1 star. Then there's the ending. It's SO abrupt and didn't feel very satisfying AT ALL. Even the ending cinematic seemed really rushed. Maybe this isn't a problem for the CE since I imagine the bonus chapter is the real wrap-up to the story, but the developers could have made the ending a little better for those of us who only have the SE. This was a biggie for me, so -1 star. What I've got left is a 3 star game. A real pity, honestly. The graphics and music were top-notch, some of the gameplay elements and the ending? Not so much. The real question now is: Do I recommend this game? This is a tough one. If you love games that are of the dark fantasy/supernatural genre, that are spooky and scary, I think you will definitely enjoy this. Be wary of the pacing issues, the lack of a journal, an unhelpful map, a storyline that eventually becomes lackluster, and the excess amounts of backtracking. Personally, I don't see myself playing through this game a second time in a hurry, if at all.
October 9, 2013
Disappointing
This review is based on playing the trial of the CE and deciding it was worth waiting for the SE (Both in hardcore mode). It seems like the further on the game goes the less logical is the gameplay. The graphics are clear and the game plays smoothly. However, the minigames are easy and after a while playing the game starts to seem like a chore.
October 4, 2013
The Apple logo is a trademark of Apple Computer, Inc.
The Windows logo is a trademark of Microsoft, Inc.