Haunted Hotel: Eclipse Collector's Edition
Exclusive
You and your renowned partner James have been called to investigate a strange disturbance at a hotel, but the maid says the guests are all monsters. What's happened here, and does she really mean that literally?

This is a special Collector's Edition release full of exclusive extras you won't find in the standard version. As a bonus, Collector's Edition purchases count toward three stamps on your Monthly Game Club Punch Card!

The Collector's Edition includes:
Play the bonus game to uncover more secrets
Downloadable soundtracks and wallpapers
Gorgeous concept art
Use the integrated Strategy Guide
Game System Requirements:
OS:

Windows XP/Windows Vista/Windows 7/Windows 8

CPU:

2.5 GHz

RAM:

1024 MB

DirectX:

9.0

Hard Drive:

1093 MB
Game Manager System Requirements:
Browser:

Internet Explorer 7 or later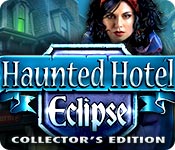 The Big Fish Guarantee:
Quality tested and virus free.
No ads, no adware, no spyware.

Reviews at a Glance

Haunted Hotel: Eclipse Collector's Edition
0
out of
5 (
0
Reviews
Review
)
Customer Reviews
Haunted Hotel: Eclipse Collector's Edition
54
54
A great game, but not the feeling of the previus Haunted Hotel games.
The Haunted Hotel series a a great classic series, started by BigFish Studios, then moved to Specialbit Studio and now Elephant Games has taken over the fifth part. Let's start with the storyline. The storyline has nothing to do with the cliffhanger at the end of Haunted Hotel 4. Sadly, because I loved the story. In this game your friend calls you for a case in a hotel called "Final Journey". Here two Groups of demens have some sort of battle. The storyline is mystic and intruging, but sadly it's not as good as in the other games, because it's not as deep and creepy. Same with the atmosphere. The graphics are great and very detailed, like we know it from EG, but in the other games we had such great graphics, with an itense atmosphere. Sadly this game hasn't got this atmosphere. The characters are drawn and they have voice overs. The voice overs are clearly understandable. The sounds are good, but the music is not as good as in the other Haunted Hotel games. It's quite mystic and has adventure parts in it. So it's good, but not as good as I would like it. Then the HO's are very easy. I finished them without a hint in the blink of an eye. There's only one HO's type used in the game. The mini-games are great. They are easy and some are challenging, just right for me. The gameplay itself is good too. It's not too easy, but not quite a challenge. If I compare it with the other Haunted Hotel games I must say, that the game is too easy to beat. There are achievements and collectible paintings, to get informations about characters of the game. The CE comes with the normal Elephant CE extras. I think everyone knows them. So afterall if this game would be a new series it would be quite a five star game. But as a Sequel it has ruined the original feeling of the series, so I can only rate it with 4 stars. The developners did a great job, but maybe they should use more of the original series. P.S. to the devs: Please EG be carefull with the next MCF game. Don't ruin the feeling! You make great games, but if you continue a series use sounds and things from the original.
October 10, 2013
HIGH FUN FACTOR - All the Right Elements!
BASED ON COMPLETED GAME IN 2ND OF 3 MODES, few sparkles, few black bar hints, nicely done. This game is a bit old school in the best of ways as the theme, ambiance, and variety of challenge reminded me somewhat of the Ravenhearst series. If not for just a couple of implementation issues (covered below) this would easily have gotten a top rating. WHAT I LOVED ABOUT THIS GAME -------------------------------------------------- COLLECTIBLES - YES. In keeping with the theme well designed, humorous portraits each describing the various monsters skulking the hallways of our haunted house crop up in the most unexpected of places. MORPHING OBJECTS - NO. Yes, some say NO MORPH=NO CE. I humbly disagree and found the portraits ample in the fun and interest department. HOS - YES. Not a single scene revisited. If If there is one, I somehow missed it.Not having to back again and again was refreshing. I don't recall any other games like that. The HOS varied in type from mildly interactive object list to progressive silhouette. The scenes and inventory items were beautiful, well designed, and not cluttered. A few things were a little challenging to find because they were "hidden-in-plain-site" - all to the good. Unfortunately at other times objects were tough to find because the graphics were fuzzy and dark around the edges. This is the sole reason for not giving artwork and graphics top rating. ACHIEVEMENTS - YES. These were the standard fare - Complete a HOS in less than a minute, no use of hints, complete all the mini-games, etc. I appreciated that a subtle slide in box showed the accomplishment without interrupting game play. MINI-GAMES - YES. These were fun, in keeping with the theme, and varied in difficulty. One game involving a stencil was deceptively challenging. Another involving alignment of suns, moons, and an eclipse was easier than it looked. I thoroughly enjoyed all of them. ADVENTURE - YES. There is a lot to see and to pick up which sent me backtracking more than once. The next step was not always obvious which added some nice challenge. STRATEGY GUIDE - YES. This was done very well and I consulted it more than once. VOICE OVERS AND CUT SCENES - YES. Not too many to be distracting or overwhelming, but given when needed and well executed. MUSIC - YES. Can't comment. Out of habit I turn this down as just about any repetitious noise becomes irritating after a while. Bad habit as no doubt I am the one missing out. JOURNAL - YES. Very organized, also sparse and primarily reference only. The history unfolds in little film-like clips that can be replayed at any time. MAP - YES. No option for turning off active areas. This is ok by me as I play in difficult/advanced modes trying to get rid of the sparkle-fest and blatant black bar hints, but that doesn't mean a little help from the map would not be welcome... WHAT I DID NOT LOVE ABOUT THIS GAME (Why it didn't get top rating) ------------------------------------------------------------- Primarily the muddy graphics took it off the top for me. None of today's games should come out of the gate with murky, fuzzy graphics, especially when there is such nice artwork to admire in the HOS. Also, this might sound like a nit but I don't think it is given expectations of today's games. There was no particular WOW CUT-SCENE. Most games today give an extravagant sometimes spectacular scene at some point whether it be the beginning, middle, end, or bonus chapter. This subject matter offered plenty of opportunity but unfortunately no scene really "popped" giving something specifically memorable to associate with the experience as it should with this class of game. SUMMARY- I STRONGLY RECOMMEND THIS GAME ---------------------- The storyline is fun and maintains some mystery and a bit of the sinister for a while. There is a nice balance between HOS, MINI-GAME, and ADVENTURE. I like the way these guys mange game play as they keep things simple.
October 18, 2013
Improved Haunted Hotel
If this "Haunted Hotel" is related to the previous Haunted Hotel games then it's really different from those. This was a good and interesting one. I would have liked to have had more things to collect but you do collect paintings which are kind of cool about different people that you see morph from being a normal looking person to whatever they really are such as a vampire or witchdoctor. You also get a "flutterfire" butterfly which helps you light things and retrieve hot things. You uncover tarot cards but can't be taken until you get the magic cloth so that was something added in for an extra thing to do and look out for. The mini games are good and pretty easy. HOS's are good and interactive. You have an interactive map to jump from place to place and letting you know where there are tasks to be done. I liked everything about this game from the cutscenes to the beautiful graphics that Elephant Games is great for. Not the most outstanding game I've played but worthy of being called a CE.
October 10, 2013
Another fun Haunted Hotel
I've played all the Haunted Hotels, and I like how they are a series yet different. This one has a great creepy plot, but it lags about halfway through the game, and ends with a whimper not a bang. Graphics are macabre, and great that there are no human "actors". I'll take the stiff movements over that any day. Voiceovers can be and were turned off. HOS are good and plentiful. Minigames are the usual, and not too hard. It's a little disappointing that your partner hands you some things you need, would have been better to have to find them. There are collectibles of a sort, not as fun as morphing objects but still fun. The bonus game is a decent length, and this game is worth the CE price.
October 13, 2013
Fun hidden object game/interesting story line.
This game had me coming back for more and not wanting it to end. The graphics are clear and detailed. I highly recommend this game.
October 11, 2013
SPOOKY!
I really liked this Game very much, beautiful Graphics and a good Storyline - the ONLY thing that prevents me from giving it 5 Stars - which I wish I could give it - is it's terrible Hint System. By the time you get half way through the Game, the corridors and passages are so numerous that saying "Hidden Corridor" or "Hidden Passage" doesn't really mean anything because unless you have a PERFECT memory, you can't remember which is which! If it wasn't for the Map I would not have been able to finish this Game at all!
November 5, 2013
Based off Demo
This is a good game of good vs evil. It's a nice halloween theme game and so far, there's some twist and turns. In the game there's a group of people that goes to a 'hotel' and duel against one another, thus good vs evil and you are an assistent to a Sherlok Holmes like detective to solve a mystery before it goes too far. So far 4 had already bite the dust and I think only one of them is a good one. The backgrounds are great, the HOP are good. The games, though it's set on beginner, it felt more easy then it lets on. The collectables are fun to find and easy to find as well and some you might find some simularites to some of the movies in theaters like the baron. Overall I would give this game a 4/5 stars. I might buy I might not, but maybe after some research and seeing the walkthrough I'll get it.
October 10, 2013
My first Haunted Hotel game
It's surprisingly good, and that comes from someone who's very tired of hidden object games! I may have to go back and play the other ones after this! The only reason I didn't give this a 5 was because of the inaccuracies in the script at certain points, and the animations on actual people aren't well done.
October 27, 2013
Nice and simple
This is a perfect game for beginners. I found it a bit annoying at the end because it does not feature anything new but locks and keys of all kinds of shapes. The story line is average, pretty good for new kids on the block. A--
October 22, 2013
Puzzles, Dialog and some HOS
This is a review based on the 1 hour demo. This was a good demo - it's an adventure game with little travel so far, and movement can be done via the interactive map. I only came across two hidden object scenes, but quite a few puzzles and some dialog. For those not interested in a story, this is not the game for you. I don't like to give away the storyline, so I'll just give you the overall feel of the game. Well drawn images with clear, but sometimes tricky objects to find. Puzzles I have come across are refreshing and entertaining. For those new to adventure games, this is more intermediate, challenging, but not mind bending. Interactive map is very simple and straightforward and there are 15 morphing paintings to find. Options are available for music, effects, environment, voice and gamma - and you are also given choices for full screen, custom cursor, wide screen and special effects. Strategy guide has 6 chapters plus the bonus and collectibles. There are bonus features of gameplay, wallpaper, concept art, music, achievements, collectibles and one secret room that show 6 paintings - hmmm a mystery here. This just might be a keeper for me. I typically enjoy the developers that look like grey circus animals. :-)
October 10, 2013