Haunted Hotel: Eclipse Collector's Edition
Exclusive
You and your renowned partner James have been called to investigate a strange disturbance at a hotel, but the maid says the guests are all monsters. What's happened here, and does she really mean that literally?

This is a special Collector's Edition release full of exclusive extras you won't find in the standard version. As a bonus, Collector's Edition purchases count toward three stamps on your Monthly Game Club Punch Card!

The Collector's Edition includes:
Play the bonus game to uncover more secrets
Downloadable soundtracks and wallpapers
Gorgeous concept art
Use the integrated Strategy Guide
Game System Requirements:
OS:

Windows XP/Windows Vista/Windows 7/Windows 8

CPU:

2.5 GHz

RAM:

1024 MB

DirectX:

9.0

Hard Drive:

1093 MB
Game Manager System Requirements:
Browser:

Internet Explorer 7 or later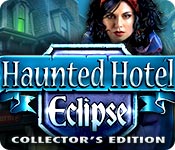 The Big Fish Guarantee:
Quality tested and virus free.
No ads, no adware, no spyware.

Reviews at a Glance

Haunted Hotel: Eclipse Collector's Edition
0
out of
5 (
0
Reviews
Review
)
Customer Reviews
Haunted Hotel: Eclipse Collector's Edition
59
59
Based off Demo
This is a good game of good vs evil. It's a nice halloween theme game and so far, there's some twist and turns. In the game there's a group of people that goes to a 'hotel' and duel against one another, thus good vs evil and you are an assistent to a Sherlok Holmes like detective to solve a mystery before it goes too far. So far 4 had already bite the dust and I think only one of them is a good one. The backgrounds are great, the HOP are good. The games, though it's set on beginner, it felt more easy then it lets on. The collectables are fun to find and easy to find as well and some you might find some simularites to some of the movies in theaters like the baron. Overall I would give this game a 4/5 stars. I might buy I might not, but maybe after some research and seeing the walkthrough I'll get it.
October 10, 2013
Nice and simple
This is a perfect game for beginners. I found it a bit annoying at the end because it does not feature anything new but locks and keys of all kinds of shapes. The story line is average, pretty good for new kids on the block. A--
October 22, 2013
Puzzles, Dialog and some HOS
This is a review based on the 1 hour demo. This was a good demo - it's an adventure game with little travel so far, and movement can be done via the interactive map. I only came across two hidden object scenes, but quite a few puzzles and some dialog. For those not interested in a story, this is not the game for you. I don't like to give away the storyline, so I'll just give you the overall feel of the game. Well drawn images with clear, but sometimes tricky objects to find. Puzzles I have come across are refreshing and entertaining. For those new to adventure games, this is more intermediate, challenging, but not mind bending. Interactive map is very simple and straightforward and there are 15 morphing paintings to find. Options are available for music, effects, environment, voice and gamma - and you are also given choices for full screen, custom cursor, wide screen and special effects. Strategy guide has 6 chapters plus the bonus and collectibles. There are bonus features of gameplay, wallpaper, concept art, music, achievements, collectibles and one secret room that show 6 paintings - hmmm a mystery here. This just might be a keeper for me. I typically enjoy the developers that look like grey circus animals. :-)
October 10, 2013
Howling Good
Love the partner bit on this one. Works very well. I remember another game with same partner that I like by this maker also. That one was good also. Lots to do. A lot of back and forth. Hint button is very direct. Not sure what is going on with the collection of pictures, but interesting. Will go on my to buy list.
November 1, 2013
Plenty of characters in this game, but no butler!!!
Lots to do in this game, which I enjoy. Your inventory will be well-stocked and, obviously, you will use all of them but for me when the items linger for too long, I get a bit nervous. And when you obtain some objects that's not the end of it. So there was a lot of that going on. But it is a good game. Crashed on me twice. Yes, my video card is up to date and I didn't bother reporting it, nor search the message boards. I just want to buy the game and play it! I worked around the problems and was halfway through the bonus game and it crashed again with a prompt stating my profile was corrupted. But again, throughout the problems, I was able to play up to that point. A lot of thought was put into this game and with the kinks out, I would recommend it. Good VOS, great artwork, intro was a bit too long but all in all it was a good game. The map was good but inconsistent. Good hint button. Hardly used it but when I did it came in handy. There is a strategy guide if you need it. I give the game 4 stars.
November 9, 2013
Did Not Excite me At All!
I actually hae mixed feelings about this game, while I am a fan of the Haunted Hotel series, this seems to have strayed away from the origial concept. Is this a prequel or merely a standard HOPA game that follows the storyline of a haunted Hotel called the Final Journey? Regardless of the title, the game was fell flat and did not meet my expectations. The hand-drawn artwork gives the overall look a bit of a cartoonish feel to it. Nevertheless the graphics are sharp and there are well acted voice-overs as well as good ambient sounds. The one annoyance is that there are no mouth or facial movements so the characters look like paper cut outs. You have three modes of difficulty to choose from and game features include a journal, a task list and a map that indicates any actions and allows for travel. Game play is your standard HOPA game with alot of back-tracking which also was a put off for me. You have to go back to a scene several times and each time retrieve one object. Adventure play is your basic seek and find objects to use and Hidden object scenes are standard form with slight interaction. Nothing new there with! Mini-games are interesting but very simple, or at least the ones I came across during the demo. You have your black bar tips so generally there is alot of hand holding and lacks any sort of challenge. At least the developers have made some atttempt at keeping gameplay interesting in that they have included collectables which were very easy to find, 15 portraits hanging throughout the game. You also have a list of achievements that all have to do with hidden object scenes. Overall the game lacks challenge and for me a bit of a yawn festival. ALthough the storyline is interesting, monsters in battle with each other, my role as detective/friend of James running around, picking up clues just did not excite me to much. This game would be ideal for beginners however for me, been there and done that. Think I will pass! I actually miss the other haunted hotel games and think I will go back to replay them.
October 10, 2013
TIRED STORY BUT ENJOYABLE IF YOU USE THE JUMP MAP
BASED ON ****COMPLETED**** GAME AND BONUS CHAPTER I'm going to be totally honest with you, I did enjoy this game, BUT it is pretty much the same old story you've probably played before. Without an interesting story, this game became a rather interesting "back and forth between areas collecting items to use elsewhere" game. Let me explain; you will find yourself LITERALLY picking up one item and having to run back many scenes to use it. This game is arranged so that you accomplish ONE thing and then have to use the jump map to go elsewhere to accomplish ONE thing and so on until the end. I personally hate that in a game. So why did I enjoy it? The jump map! Without that map, I would have pulled out all of my waist length hair, made a rope and beat the computer with it! It is THAT bad for back and forth movement. The graphics are crisp and clear except for the cut scenes which are blurry. The music tends not to be there at all, replaced with moans or actual silence. Now that I think of it, maybe I should down grade my score....hmmm, but it's not THAT bad. It's just a tired out game, sort of "been there done that" game. The bonus game does NOT make the collector's game worth buying. The bonus game is more of the same with a glitch in it (code shows at wheelbarrow) and a silly, silly way of getting rid of the spirits. NEUTRALS; Helper flutter being Story, old and tired That detective guy who does nothing Bonus chapter.....just filler imo LIKED: The game overall isn't bad Still graphics were clear Puzzles, were easy HOS, pertained to story, very easy The portraits you need to collect Achievements, all easily obtained Voice overs were pretty well done LOVED: The jump map, shows you where you need to do something and takes you there. DISLIKED: Music is dull (when it was there) Silence throughout much of the game, made me sleepy Blurry cut scenes, like looking through someone else's glasses Ending is nothing new Glitch in bonus chapter on wheelbarrow Map loaded slowly HATED: Nothing Bottom line: If you've ever played a HOG, you're probably going to get a feeling of deja vu. Nothing new, but you can enjoy it if you realize the story won't impress you and you use the jump map. Good luck and enjoy.
October 20, 2013
don't be fooled by a halloween theme....
I played the 1 hour demo thinking it had the possibility of being a fun/spooky Halloween them type game but instead all it is 'find the lock'...''find the key'....etc. The monster are all 'dead' so the only thing to interact with is your partner who keeps dissapearing. Halloween= no; borring=yes...unless you like searching for keys.
October 10, 2013
Yet Another Vampire...
I was a little skeptical about trying this game as I had not been impressed with the others in the series. However, I ran the trial and found it to be the best of the bunch. It is not like the others so can easily be played on its own. I was surprised again that the developers left out the character's lip movement, which is very disappointing and to me takes away from the game's authenticity. Even though lip movement doesn't for the most part sync with the words, the effect makes the game more realistic. The storyline was okay, but I have to say I am a little bored with vampires, werewolves, ghouls etc. More imagination is needed here. HO scenes were easy as were the mini games, would be a good game for beginners. Graphics were nice and crisp with attention given to detail. Overall I enjoyed the game but was not wowed by it, It simply lacks that certain pizzazz that warrants giving a game a rave revue.
October 10, 2013
Vampires, Bats, Grim Reapers, Werewolves...this game has it all.
I wanted to write about this one while it was fresh in my mind. At first glance....in the first five minutes of the demo, I thought I was not going to finish even one hour of game play.....so I put it down for a day and picked it back up to give it another go.. You and a male detective are working on this together, so the interaction is really only with him. The beginning starts with you talking about how awesome he is and the best partner you have ever had. I had to chuckle at one of the other reviewers because they echoed my sentiments. This guy is always running off leaving you to do the "scary" stuff and he comes back with nothing and says..."good job!" Not my idea of a fantastic detective. On a casual level, this CE basically plays the game for you. The hint button charges quickly, and trust me, you'll need it. The strategy guide is also available right by the hint button. It's not that this game is so challenging, they just added fictional items that no one could guess it's purpose. IE....the Hotel has two dead guests.....a Vampire and a Werewolf. Being a Vampire, he's dead in his bed and the room is darkened. Next to him is a glowing nightlight with a dome and a lock. You have to find the lock (Only because it tells you to)...and out comes a glowing "flutterfire"....which is a glowing butterfly that has powers to light things on fire. You have to use the hint button to know that...or rely on the SG. Those were just the little bothersome things that made you depend on help. The game play really had nothing new or clever. Locks, keys, bas reliefs and fantastical locks that only certain shaped elements could be used. Lots of going back and forth, and upstairs and downstairs.....and this is just the demo. No music that I recall...and very little sound. This game could really be a bit creepy and get you in the Halloween spirit if it had well placed appropriate music. Now...to the visuals.....I give them an A+ on artwork and creative elements. The overall idea of a haunted hotel is not new....but they did do a super job in artistic design. There also is no map....but just in the demo portion, there really wasn't one needed. If the story after the demo takes you outside and expands the area a great deal, this might be helpful.....but the back and forth is not as tedious in the demo as I have seen in some other games. I did go ahead and play the entire demo and when time ran out, I really wasn't ready to stop. That's usually a sign to me that I might purchase this game in the future. I will keep it on my list of games for a special or freebie with credits. Even with the semi weak story, I do recommend this game. It's great on casual level for beginners or anyone who just wants to relax and take time with a game. It's also age appropriate for tweens and older up to adults. Nothing too horrible compared to the graphic stories with blood and guts and slashers out of Hollywood. This is just simple good fun. Definitely try the demo and play it through....it does get better.
October 11, 2013
The Apple logo is a trademark of Apple Computer, Inc.