The Torment of Mont Triste Collector's Edition
Exclusive
Stop the terrifying Lord of Nightmares in The Torment of Mont Triste! After a scientific experiment goes horribly wrong, a shadowy figure begins appearing throughout the town of Mont Triste, bringing the citizens' most terrifying visions to life as they sleep. They call him the Lord of Nightmares. Local authorities are exhausted and helpless against this otherworldly threat. They have enlisted you to come to the picturesque mountain town to solve the bizarre case. You must track down the villain and stop him before the entire world becomes gripped in a terrifying nightmare. After all, everyone must fall asleep eventually... can you help the citizens of Mont Triste awaken?

This is a special Collector's Edition release full of exclusive extras you won't find in the standard version. As a bonus, Collector's Edition purchases count toward three stamps on your Monthly Game Club Punch Card!

The Collector's Edition includes:
Play the bonus game to enter more dreams
Stop the Lord of Nightmares from returning
Download soundtracks and wallpapers
Exquisite screensavers and concept art
Use the integrated Strategy Guide
Game System Requirements:
OS:

10.9/10.8/10.7/10.6

CPU:

1.6 GHz (INTEL ONLY)

RAM:

1024 MB

Hard Drive:

954 MB
Game Manager System Requirements:
Browser:

Safari 4.0 or later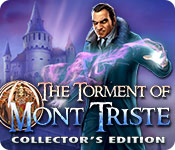 The Big Fish Guarantee:
Quality tested and virus free.
No ads, no adware, no spyware.

Reviews at a Glance

The Torment of Mont Triste Collector's Edition
0
out of
5 (
0
Reviews
Review
)
Customer Reviews
The Torment of Mont Triste Collector's Edition
49
49
Game 2 of Series
I have not finished playing the 1 hour demo yet. This is the 2nd game in this series. The 1st one was The Torment of Whitewall, both by Sulus Games. I will wait for the SE before I buy.
October 13, 2013
Nice game.!!!
Two nice games in two days. Many puzzles. Most of the time, I skip them. I purchase for the story and ho's. Story is not very new but some. I did not play all of the trial, just in case I purchase. Don't want to waste a minute of, this new game.
October 12, 2013
Very good
It has a nice variety of puzzles.
October 12, 2013
Dream Away
I really felt this was going to be iffy game. I was very surprised. Like the game every moment. Sucked me in. Map, Critter action, tasks, Ho's. Good characters and descent monolog. The function of things had some inventiveness to it. Really like this game.
November 1, 2013
Oh No! It's the Evil Sandman!
I enjoyed this game a lot. The graphics are awesome, and a lot of the scenes are beautiful. There are voice overs but no lip moving; the voices are good and fits the characters. The game has a fairy tale/ feel to it, which I like. You have robots, birds, rabbits, fun characters, and of course the bad guy. The art work is really outstanding on the characters, as well as the rest of the game. Good animation, too. You collect 21 goblins, which are not hard to find, they are not tiny, but a good size, and dark gray in color. The HOs are good, I managed not to use any hints on them, but thought I might have to a time or two. But I persevered and found the objects on my own. Some are well hidden, and some are interactive. I never saw a journal, but there's an interactive map, and it's a good one. It shows you where action is needed, and takes you there if you want to jump. I did. On the scenes the hint is helpful, showing you where you have to do something, or the direction to go. Between that and the map it's a good set-up. I was only thrown off once, and that was in the bonus game, which I played the next day. In one spot in the attic you had to put objects (you find them in different scenes) inside four fluted shaped openings and after I did that the map showed that there was still action on the same spot. I clicked the hint and it also zeroed in on the same spot. I clicked on and all around the spot but nothing happened, nor did I get the signal that something had to go there. I decided to go ahead and go to other scenes that had action, planning on returning to the attic after I did those. This was almost at the end of the bonus game, and it turned out that there was nothing more to do in the attic even though the map and hint showed there was. Maybe a glitch, or just to throw the player off? lol I've had that happen before on games where a map is concerned. But, having a map is a big deal to me. I've passed some games up because they didn't have a map.The music was good in this game, and so were all the other sounds; birds chirping, puppies growling, etc. and music is good, too. I played it low, with the other sounds turned up higher. The mini games; some were hard and some were fun, but not many new ones. I skipped several of them because they were old hat, and nothing new. I did have to skip a few though that I couldn't get. I get exasperated with the slide ones, and the ones that move everything around after you get part of it where it should be, and then the whole thing moves again. ARG! I have no patiences with those sorts of mini games, and I don't really mind if I lose an achievement over it. The game only having a few new ones is why I gave 4 stars instead of 5. There are achievements you can get, like find all the goblins, play HO's with no hints, finish puzzles, etc. but I've never been big on the mini games achievements. Probably because I always have to skip a few anyway. ;-) All in all, this is a good game and I will play it again sometime. If you like this type of game, then you're sure to like it. Enjoy!
October 26, 2013
Not a Nightmare, But Could Have Been a Dream Come True!
BASED ON COMPLETING THE DEMO The opening cinematic tells us about a man named Dr. Henri Benoit, who was trying to find the link between the real world and the world of dreams. His experiment went awry, however, and he released the Lord of Nightmares who is now tormenting the town of Monte Triste. The townspeople are caught in a sleeping epidemic, where they fall asleep and become trapped in their nightmares that come to life. You must traverse the town and use the Amulet of Dreams to open portals into people's nightmares, enter their dream, and help them overcome their nightmares. A very interesting and unique premise indeed! This CE has it ALL (some of the HOS, puzzles, and movies may or may not include the bonus chapter): ** Lots of wallpapers (17 total!), all VERY beautiful ** Bonus chapter ** 8 sketches of concept art ** 14 replayable HOS ** 36 replayable puzzles ** 22 movies/cinematics that you can rewatch ** 11 music tracks ** 21 collectible goblins ** 12(?) achievements This game had LOTS of potential. The graphics are wonderful, bright, and well done. The gameplay is fun and keeps you busy. There are just the right amount of HOS, though they are junkpiles, are also interactive- however many of the HOS were far too easy. There are healthy amount of puzzles (with just the perfect difficulty where it's not face-palm hard or too easy) and lots of environment interaction, picking up items, etc. Some other things to note: ** There is NO journal or anything that records your progress, tasks/objectives/goals, or any important info. But I found that it wasn't needed. ** An interactive map that shows you active tasks and enables you to teleport to different locations. Useful for any back-tracking. ** Lockable inventory (Some of us can't do without this) ** Hint button that is directional ** Three difficulty modes to choose from. ** Cinematics have VO's, but no lip-synchs, and characters are static images and don't talk or move when they speak. Kind of a let down. This game literally had everything going for it, but sadly lost 1 star from me because of technical issues. Whenever I used the wrong item in an area, instead of the black bar tip saying "I don't think this will work" I got an error code saying "Not_String.XML_universal_wrong_item". Just sloppy! How did the dev's miss something like this? Also, transitioning from scene to scene took way too long and was incredibly laggy. This made back-tracking a pain and made the game feel like it was dragging. I can't imagine putting up with the lag for 4+ hours. Also, despite the fact that the CE offers 11 music tracks, this game felt awfully quiet. Some scenes have no music AT ALL and it seems to only play when something is happening. This made the experience feel dull and lifeless. Couple this with the technical issues and this game is no longer the dream-come-true it had ALL the potential of being. I'm seriously on the fence about getting this. I think I'll wait till the SE to see if those tech issues persist, otherwise I'm not purchasing this game.
October 23, 2013
dreamy
Well put together game with beautiful graphics, achievements and rather easy to find collectibles. I enjoyed going through the portals to each person's dreams and solving all the puzzles. This one was puzzle heavy so if you love those.. like I do, you'll love this one. Tons of puzzles and inventory objects. HO's were basic lists but were crisp, clear and colorful. Decent length although bonus chapter was short. This felt like a game we've seen before but even so was fairly well done. I liked all the flower beds and butterflies and the use of color. Definitely a decent offering that was fun. I really enjoyed all the puzzles. There were a couple that I couldn't understand but most were straightforward yet challenging. Nicely done.
October 22, 2013
A Great Game ... But Glitchy & Badly Finished
Good Graphics, Sound, Voice & Video Bits ... And The Story & Gameplay Are OK Too ... Overall A Good Game With A Few Glitches Here And There ... The Bonus Chapter Seemed Very Short; The Ending To The SE Version Will Be More Than Plenty To Conclude This Game ... Or Get This Version When The Special Deals Are Around ...
October 19, 2013
Somewhat Disappointing
Creating a device to connect dreams to the real world makes for a great story, however this one fell a little short. Characters didn't seem real, more cartoon like and also with no lip movement. Graphics and color was good and clear. Not a lot of substance in the game play, there was too much predictability. HO scenes were basic and puzzles for the most part were not very difficult. I didn't not like it, I was just disappointed overall, it could have been better. Maybe a good one for beginners.
October 13, 2013
Rather Mediocre Game
Henri Benoit is a scientist obsessed with the idea of channeling into peoples dreams. His obsession soon becomes his madness as he discovers that he can now bring to life people's worst nightmares. Now no one dares to fall asleep in the village of Mont Triste and it is up to you to stop the mysterious Lord of Nightmares before he takes over the world. I cant say that I am a fan of the graphics, again with the cartoonish artwork but they are never the less bright and sharp. I really to prefer to have some 2 D look to graphics as the characters look a bit like cut out paper dolls. No mouth movements but plenty of voice-overs. There are three levels of difficulty to choose from and game features a map that will allow for travel. No journal but an amulet that opens up portals into peoples nightmares. A very standard HOPA game with collectables and achievments that may be considered as incentives to spen extra money onthis game. Adventure aspect is appealing with the usual standard HO scene that have slight interaction. Alot of back-tracking but there is the map to help you with that. Mini-games were interesting, simple at first but they did get a bit more challenging later on, some with a minor level of frustration. There are hidden goblins throughout the game and relatively as I mentionned, a list of easy achievements. The game is relatively easy to play and as I noticed from the SG, there are five chapters along with a bonus section. I wasn't actually thrown over by the gameplay as there was too much hand holding and not enough challenge. Although I found the mini-games interesting, the style, sounds and images just did not appeal to me. I really am using the much more complex CE games as reference so I dont think I will be hitting the BUY button just yet. My own personal feeling is use the advantage of the sale today if you can. Not exactly a game that has the WOW factor! .
October 12, 2013
The Apple logo is a trademark of Apple Computer, Inc.
The Windows logo is a trademark of Microsoft, Inc.