The Torment of Mont Triste Collector's Edition
Exclusive
Stop the terrifying Lord of Nightmares in The Torment of Mont Triste! After a scientific experiment goes horribly wrong, a shadowy figure begins appearing throughout the town of Mont Triste, bringing the citizens' most terrifying visions to life as they sleep. They call him the Lord of Nightmares. Local authorities are exhausted and helpless against this otherworldly threat. They have enlisted you to come to the picturesque mountain town to solve the bizarre case. You must track down the villain and stop him before the entire world becomes gripped in a terrifying nightmare. After all, everyone must fall asleep eventually... can you help the citizens of Mont Triste awaken?

This is a special Collector's Edition release full of exclusive extras you won't find in the standard version. As a bonus, Collector's Edition purchases count toward three stamps on your Monthly Game Club Punch Card!

The Collector's Edition includes:
Play the bonus game to enter more dreams
Stop the Lord of Nightmares from returning
Download soundtracks and wallpapers
Exquisite screensavers and concept art
Use the integrated Strategy Guide
Game System Requirements:
OS:

Windows XP/Windows Vista/Windows 7/Windows 8

CPU:

1.6 GHz

RAM:

1024 MB

DirectX:

9.0

Hard Drive:

1047 MB
Game Manager System Requirements:
Browser:

Internet Explorer 7 or later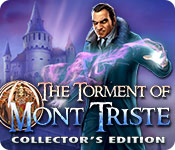 The Big Fish Guarantee:
Quality tested and virus free.
No ads, no adware, no spyware.

Reviews at a Glance

The Torment of Mont Triste Collector's Edition
0
out of
5 (
0
Reviews
Review
)
Customer Reviews
The Torment of Mont Triste Collector's Edition
49
49
Don't Fall Asleep!
An obsessed scientist has been studying dreams all his life and has invented a device that will allow dreams to be reality. Unfortunately for the village of Mont Triste the experiment goes wrong, terribly wrong and the Lord of Nightmares has been unleashed! The only way to help the sleeping victims is to enter their nightmares through a portal and restore their nightmares into dreams. The graphics are very well done and there are 21 hidden goblins or gargoyles to find and achievements to earn. I found most of the puzzles to be the frustrating, want to pull your hair out kind but the HOS were well done, interactive, and fun. There are plenty of things to do in each scene and there is a map that shows areas of interest. Other than some of the puzzles being a bit too puzzling at times I think this game delivers great entertainment, enjoy!
October 12, 2013
FUN ADVENTURE TO END THE NIGHTMARES
BASED ON COMPLETED GAME ON HARDCORE LEVEL This game isn't a masterpiece story-wise, but it makes up for it with engaging puzzles, gorgeous graphics and characters whose lives are worth saving. When i first stepped into this game and saw what the story line was going to be, I thought, "here we go again...same old, same old." My assessment turned out to be wrong because I had a lot of fun playing this game. In spite of my skepticism, I found that I began to care about the characters and wanted to help them out of danger. At first I thought it was another bad guy wanting to take over the world scenario, but no, this bad guy is no ordinary bad guy and his motives are slowly explained in a way that will have you forgiving him by game's end. That's all I'm going to give away on that one, but I thought it was a major plus to the game to have that plot twist. The graphics are gorgeous and there is lots to see and do, so the game kept moving. There was no demonology, which is overused in my opinion and the ending I found to be very satisfying. I found absolutely no reason not to have some fun during this adventure. I think you will to, unless you're a beginner, in which case you may get a little overwhelmed without the walkthrough.. NEUTRALS: Music was ok, but I didn't notice it much Collected gargoyles which for me doesn't add to the game I LIKED: The story line was believable and plays out nicely The HOS are not junk piles, but they are easy Voice overs are quite well done Story wraps up at end of game, so don't need to buy CE unless you want the extra game I LOVED: The graphics which to my eye were colorful and crisp The jump map which indicated areas you needed to go to The reason behind the bad guy's badness Lots of achievements Mini-games and puzzles; some easy and others challenging but all doable with thought and patience Story moved linearly and made complete sense to me Magic amulet --- not telling you why ;-) Nightmare sequences appropriate and not terrifying Jump map disabled during nightmares so you are on your own which fitted the story Many different scenes and scenarios, all interesting, some new to me It looked to me like the devs dotted all their "i's" and crossed all their "t's" making this game nearly perfect WASN'T CRAZY ABOUT: Some scenes downloaded slowly (minor point) A little backtracking, but not much BOTTOM LINE: Feel-good game that will take you on an interesting journey where you get to free people from their nightmares. A few puzzles can be rather difficult, so I don't recommend the game for beginners unless they like a challenge. Enjoy! I did.
October 17, 2013
I am hooked.
The story wants us to find,and enter the towns people's bad dreams and stop them. This leaves some interesting vignettes as a dream can be anything, and we can be anywhere doing anything and allows for some real variety of game play. The puzzles were challenging, fun to play, and took some time. The hidden object scenes (I played two in the demo) were average, with some animated extra ones. I liked the sound effects and It felt like the writers had a sense of humor when creating this. There are awards for achievements, and finding hidden objects. The art work was ok and sometimes very well done and detailed. Cons: the animated scenes were stilted and lacked the fluidity.Felt a little comic book when people talked. In spite of the fact the game was not as technically advanced as some others I have played, I had fun playing it, and was disappointed when my hour of free play was up. I felt this game could go in so many different directions, and I am curious as to what might happen next. So I will buy it.
October 12, 2013
Very Interesting Storyline!
This game was a little different in some ways. It had a unique storyline with there being a danger in falling asleep or else the "Lord of Nightmares" would give you a nightmare you couldn't awaken from. Of course that's where your job as a detective comes in to use the amulet of dreams you're given to rescue those that are trapped in their nightmares. The HO scenes were very clear and typical but good. I particularly liked one of the HOS that exploded into weightlessness so everything began to float, kind of cool and different. The mini games were very challenging. In this CE you collect goblins and get an ice butterfly to use occasionally. There are just a few achievements to earn. As a whole, I think this was a beautifully done game and fun to play.
October 12, 2013
Nice change...
Today's game has clean, clear graphics and nice game play. Colors are quite vibrant. HOGs are quite simple and easy to find items. Puzzles are very simple. Voice overs are well done. No, their mouth doesn't move, but it's a game, not real life. You can click through the dialogue for those who read faster than they speak. Collectables are very easy to find, you just have to remember to look for them in each location and area. Tasks are straight forward, nothing difficult here either. SG is easy to follow. Hint system works well and fills fairly quickly. It's sort of a "no brainer" kind of game, so you don't really need to use the hint or the SG on this one. Some running back and forth, but not constant as in a lot of games. Jump map works well, but areas are not identified...like I'm suppose to remember where everything is? There is a locking inventory bar, which I really like. Not really challenging and by no means edge of your seat type of play. By the time I got to the end of the demo, I was ready for a nap #not because I found it boring#. This game did not grab me, but I found it interesting and may get it for my collection. Nice special today, so for now, it goes in my puddle to see what comes up tomorrow. This game might appeal to the beginner, or the person who just wants to breeze through the day #as I do sometimes#. As always, try it for yourself and see what you think. We all have different tastes in games and you may find this one to be exactly what you need today. Thanks for the reviews.
October 12, 2013
Lots of promise but needs editing...
I won't retell the story or detail the extras here, as many other reviewers have done so. Rather, I'll just comment on what I think were the awesome, needs work, and awful parts of Sulus Games "The Torment of Mont Triste." AWESOME ? beautifully detailed graphics ? stunning object animation ? creative mechanical objects ? voiceovers ? originality of mini-games and puzzles ? storyline NEEDS WORK ? transitions from scene to scene were sluggish ? cutscene animations lagged and skipped ? transportation from map to scene was sluggish AWFUL ? mini-game instructions (I ended up skipping several of them because, even with the SG, I simply could not get them to work. For example, the one that required you to move the small crystals through the web to match the large ones...many of them would not move from their original spots even if every single place around them was free.) ? black bar tips were useless (Rather than repeatedly saying "It's a nightmare to do the wrong thing!" it would have been more helpful for casual mode players if the tip said "I don't have all the parts for this yet," or something to that effect. Beginner players will be lost in this game for lack of direction.) CONCLUSION For me, this would have been a five-star game had the mini-game instructions been clear, and had the game not been so sluggish. I do recommend it, but not for beginners.
October 14, 2013
Tormented over whether to wait for the SE
This game by Sulus, was good. I'm not seeing the graphics as "cartoonish" as some described them. Colors were vibrant, but become "fuzzy" as you go through a portal to help solve someone's nightmare. The HOS are fairly standard, only slightly interactive. The puzzles were a bit puzzling to me but I do admit I am not a great fan of puzzles. Still though, some were difficult. There is a transportable map which seems like a good idea since this Mont Triste place is large. :) I didn't find the game difficult but neither was it simplistic. Just about right for a kick back and relax game. There are achievements and collectibles (gargoyles). Plus a bonus chapter and all that other stuff the devlopers for some reason think I may need. I'm on the fence as to whether to wait for the SE. With the sale this weekend, I may buy the CE as there is another one I also have been waiting to purchase. However, if there was not a sale in progress, Id wait for the SE.
October 12, 2013
Fighting Nightmares
This game by Sulus Games is entertaining, with a excellent storyline. You have been approached by a messenger for the town of Mont Triste to help with the "sleeping sickness" that has overtaken the residents. The professor who has been researching dreams has inadvertently released the Lord of Nightmares who is now wanting to take over by taking of the dreams of Mont Triste and beyond. Blanc, a young boy/ghost meets you at the gates of Mont Triste and gives you the Amulet of Dreams to help reach the people in town and enter their nightmares and bring them back from the nightmare world they cannot get out of. You immediately go into a portal and rescue your coachman from his nightmare. There are about 16 achievements, 21 collectible gnomes and the normal extras in this collector's edition. There are 3 levels of difficulty. You are able to change difficulty during the game. When I checked out the strategy guide, there were three chapters, so not sure how long the game actually is. Also, the strategy guide did not follow your progress. Didn't actually need it though. The hint button charged fairly quickly. The game was sluggish, but not sure if it was the game or if it was my computer. In the demo, there were more mini games, and not a lot of hos. The hos were interactive, but only came across lists. The mini games were fairly simple, ie matching faces, connecting circuits, arranging puzzles but appropriate for the situtations. The art was well done, but more on the cartoon side with the mini games and hos more realistic. There was no music to speak of except when you were working on an hos or mini game. The voice overs were written at the bottom of the screen and had to continually hit to continue the dialogue. I enjoyed the game, but some of the "older" type style may be frustrating to the expert players. Need to sample before you buy and decide if you want to deal with the quirks.
October 12, 2013
Fun way to pass some time
This is based on the demo. Appears to be a fun game. There is an interactive map; hints are helpful; at least one type of collectible. It did appear to be somewhat too easy, although I didn't play the entire demo. Graphics are good; there is some dialog, but can usually be sped up. The detective is supposed to save people from their nightmares. There are three levels of difficulty. All in all, I might buy it, especially with the buy one, get one free deal this weekend. Also, encountered only one HOS, which I like.
October 12, 2013
GREAT LOOKING GAME + FUN = SUCCESS
I got this game without doing the demo and was a bit nervous about that. It was not a bad choice as the game was quite entertaining. The storyline of bringing dreams to life is very interesting to me. These games are all imaginary, but with adding dreams you can take the game anywhere. Great idea. The game play was smooth if a bit on the easy side. I think that if you like a nice mixture of HOS, adventure and puzzles you will like this game. Some of the puzzles were a bit too easy, but others were more on the difficult side. I liked the way the music would be non existent in some scenes and then would start up to emphasize a more intense section of the game. Not much interaction in the HOS, but that was fine for me as the story interested me enough to make up for that. I say give the demo a try. I very rarely purchase a game without doing the demo, but I found the previews of the artwork draw me in so went for it. Even though the artwork can be a bit cartoony, the story is nothing like that and the artwork fits in with the game. They are dreams after all.
October 17, 2013
The Apple logo is a trademark of Apple Computer, Inc.