Summer Mahjong
Summer Mahjong offers summer-time fun for the entire family! 60 exciting levels with colorful tiles, varying layouts and tricky puzzles await you. Will you master them all? The bright graphics and gorgeous photo backgrounds tell the story of two island vacationers who capture the most beautiful sites with their cameras. Summer Mahjong promises enduring fun for hot summer days.
Colorful mahjong tile sets
Clever mini-games
Use power-ups to clear the board
Game System Requirements:
OS:

Windows XP/Windows Vista/Windows 7/Windows 8

CPU:

1.0 GHz

RAM:

512 MB

DirectX:

9.0

Hard Drive:

56 MB
Game Manager System Requirements:
Browser:

Internet Explorer 7 or later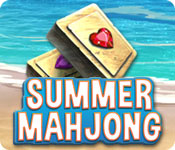 NEW299
The Big Fish Guarantee:
Quality tested and virus free.
No ads, no adware, no spyware.

Reviews at a Glance

Summer Mahjong
0
out of
5 (
0
Reviews
Review
)
Customer Reviews
Beautiful mahjong
I have this game(set,play). Very easy thus very restful to play without any fuss. I adore the very natural music accompanied with natural noise. That will be my next purchase
October 8, 2013
MAHJONG WITH BONUS TILES!
I liked the fact that this isn't just mahjong with a shuffle button! You uncover bonus tiles, a magnifying glass to use for a hint, a hammer to get rid of one tile, a tornado to mix the tiles up and a bomb to use to destroy 6 random tiles. I was also impressed with the variety of patterns available. The tiles are large enough to see and to be able to distinguish between the patterns. The only complaint I can think of was the music was a bit overbearing, other than that this is a good mahjong game, enjoy!
October 7, 2013
Very Simple & Very Pleasant
BASED ON DEMO When it comes to mah-jong, I am very old-fashioned. I like my tiles to look Chinese, the layouts to be playable, and the experience to be relaxing. I don?t much care for all the new-fangled variations you get with, say, Great Cities mah-jong, and I can live without fancy power ups. Which is perhaps I like this game so much. The first thing you notice about this game is the music. Oh boy is it wrong for this game! Sounds like you should be doing aerobics to it. But it deceptive. The actual rounds have no music at all, only some of the most delightful background sounds of waves, birds etc. Well worth the blare at the end of each round. The game looks good. Nothing fancy, but pleasant, and there are 8 views to choose from, but you must unlock them with play. There are 3 tile types; 2 x Chinese and one Jewelled set. There are 4 power ups if you want them ? hammer, whirlwind, magnifier, bomb. You have the number of tiles and the number of possible matches up the top of the screen. There are a lot of layouts ? I didn?t see them all in the demo ? and none of them look like the crazy unplayable ones. The tiles are large and clear, so you can always see what you?re doing. The one complaint I have about the design is the auto-shuffle. I?d like to have to do the board again until I get it right. As well as mah-jong, there are 2 other mini-games, which appear seemingly at random, but not often. There is an excellent little HO game where you must find a number of the objects, indicated by their pix below. The second is the swap tiles mini-game. I like this touch of something other. This is a nice little game, well thought out and very relaxing.
October 15, 2013
Could Have Been Better in Some Respects
This is a 'bright and breezy' mah-jong game, which, during the demo hour I did not find very challenging. Tiles are large, but fairly simply decorated in bright colours. I found them a little hard on the eyes at first, but got more accustomed to them as time went on. In the demo I did not see any reference to alternative tile sets. The sound made on matching the tiles, I found to be rather grating on my ears, and is certainly not the nicest sound that could have been chosen. Power-up tiles when matched, drop to the bottom and can be used if necessary. #I didn't use any during the demo# Essentially, this seemed to be a speed challenge, although your are not time-limited as such. Points gained for each level go toward an accumulative total. There are several 'scenes' #unsure of how many# in the game, and there are 10 levels to play at each scene. After each fifth level, there is a break from tile matching, and you are presented with a mini-game. In the demo, these consisted of fairly simple HO scenes #find the animals or insects#, and a jigsaw #swap the pieces to put in correct position#. Overall, I am in two minds about this mah-jong. It is not the best mah-jong game I have played, but does have some merit. Try for yourself and see.
October 7, 2013
Great Game for Beginners.
'nuf said. No, really, I have a bit to say. The game starts out with a cut scene of a bunch of people partying on a beach - oh joy. Why wasn't I invited? Anyway, two older men are off to the side and one says to the other how loud these young folks are and invites the other one to the other side of the island to take some pictures. I played the demo and there was never a picture taken, mention of pictures of a mini game of pictures being taken. Blooper????? The game play was .................... boring for someone who play mahjong on a fairly regular basis. And, I think it would be equally boring for anyone who just plays on an irregular basis because the game goes nowhere, has no "umph" to it and nothing spectacular to keep a body interested, not even a decent challenge. I won the game each time I played. The board reshuffles itself when there are no more moves available, at no "cost" or penalty to the player. There are bonuses you can match up such as a hurricane, bomb, hammer and some other silly thing. I call it silly because the game is impossible to lose. So, why do we need these bonuses that shuffle (hurricane) when the board reshuffles itself, "get rid of those pesky tiles" (hammer) and "destroys several tiles" (bomb - but it picks it's own tiles itself - a smart bomb? LOL). And, these bonuses weren't even explained until the beginning of the second level after I had already earned them. Hmmmmmm. So, every level you have the opportunity to earn these hammers, hurricanes, etc., etc. just by having to match up. I never used them and began to wonder if I don't use them, will they accrue or do I lose them at the end of each level. So, the last level I played (because I could take no more), I set off each and every one of those bonuses and, guess what? They don't accrue. So, I guess they are there for Arhm and giggles, as they say. There was a bonus level, I think, although it wasn't introduced as a bonus level. It wasn't introduced as anything at all. And, again, no pictures, just find the animals in certain positions in the background. So, yeah, 'nuf said. Great for beginners. And that's the ONLY reason for 3 stars because I was yawning through levels 3 on up. Including the supposed bonus level. Anyone other than a beginner, I recommend if you want some summer lovin', music, partying or swimming you find it elsewhere. Not even the tile are summer related. BIG SIGH.
August 16, 2014
Really a 2.5
Based on 50 minutes of the demo. I didn't hate this game but it wasn't very challenging and I only saw 1 dialogue bubble at the beginning and nothing since, so I don't think there is a story line. I didn't like the music so I turned down the music and sound. There really wasn't a fun factor to this game. All in all, I think this might be a good game for someone young and a beginner. For me I think I'm being gracious giving this a 3 instead of a 2 and I will recommend it for those previously stated.
October 6, 2014
Don't waste your time
I like Mahjong games, but this is not a real Mahjong game. In Mahjong you have a specific number and variety of matching tiles. This game uses the same set of only a few tiles - over and over in every game. 6 pairs of 2 Wind tiles in one game? No way!
October 8, 2013
boring ?
a boring game, no new.. you win all the lanes, to easy
October 7, 2013
The Apple logo is a trademark of Apple Computer, Inc.