Putt-Putt Saves the Zoo
Today is the grand opening of the Cartown Zoo, but food is running low and all the baby animals are missing! Putt-Putt and Pep need your child's help to reunite the little ones with their parents before Outback Al can open the zoo gates. Along the way, they'll swing across alligator-infested rivers, play ice hockey with a polar bear, build a bridge out of icebergs, bop with dancing penguins and enjoy many other adventures. This zoo is full of loyal friends and captivating challenges that are sure to run wild through your child's imagination.
Loveable characters
Fun music videos and mini-games
Find the missing baby animals!
Game System Requirements:
OS:

Windows XP/Windows Vista/Windows 7/Windows 8

CPU:

1.0 GHz

RAM:

512 MB

DirectX:

9.0

Hard Drive:

266 MB
Game Manager System Requirements:
Browser:

Internet Explorer 7 or later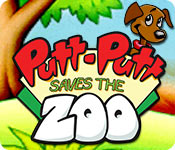 NEW299
The Big Fish Guarantee:
Quality tested and virus free.
No ads, no adware, no spyware.

Reviews at a Glance

Putt-Putt Saves the Zoo
0
out of
5 (
0
Reviews
Review
)
Customer Reviews
Putt-Putt Saves the Zoo
22
22
Welcome back
Could not believe I saw this on line. I purchased this for my grandchildren when they were between 3 to 7 yrs old. The are now 20 and 24 yrs old. This is a must for 3 to 73. Great series. Good job back to basics.
October 19, 2013
My kids have all loved this
Extremely wholesome and fun game for kids. We first discovered these when my oldest (now 19) was 3 and now my 5 and 7 year old have loved these too. I have played this with my children many times and they are just challenging enough to keep their interest. I'll admit that they are fun for grown ups too. They force the child to think, use creativity, and yet there is no pressure or stress with time limits. Can't rave about these Humongous games enough - they are just awesome for kids. I am so excited to see this game here. We have almost all of the Putt Putt, Pajama Sam, and Freddie Fish games on disc, but they won't play in any of our computers (they don't run on anything newer than Windows XP). Now my kids can play on any of our computers. I'll have to look for Pajama Sam and Spy Fox, as those are their favorite games. I will be purchasing all of these for my children!
March 1, 2014
Fond Memories
Putt-Putt saves the Zoo was one of the first games my son played at age 5 in 1996. In fact this game was the first game that introduced him to the world of PC games. Now, at the age of 22, he is an avid gamer playing more sophiscated games!! BUT he never forgot his all time favorite game: Putt- Putt!! When he found out that this game was on BIG FISH, I bought the game because it brought back such fond memories for him. Thank you so much BIG FISH!!! You are THE BEST!!!!
October 8, 2013
3.5 rating
pros- =nice and clear animated graphics =vo's were nice and clear you can understand what the characters are saying =at main animal stations there is a box that tells basic into on the animals only =storyline is nice find baby animals =nearly everything is a bit interactive...click on something and it does something but no clues or anything -cons =not much for a tutorial =window mode only everything else is just black =alot of running around =is meant for kids pretty much =no real direction for the main char to go or do...basically it is look and find stuff and then u have to guess where u need to use it...so if this is meant for a child they would have a hard time -personal thoughts- i rescued only 1 animal in nearly an hour... you need to remember where things are...like ok u found a rope where do u use it? (not telling do not want to spoil where u finally figured out where to use it. so i think this should be for 10 yrs and up...not for 5 and under...to much details and alot to do and remember...all in all not a bad game even for adults. not worth 6.99 altho i might get it on sale or a gcc but this is just my opinion HAPPY GAMING!
October 7, 2013
For young children
Cute game for young children. You are a young car named Putt-Putt who helps rescue lost baby animals within the Cartown zoo. You must find objects located within different areas of the zoo to help rescue trapped baby animals. The characters are cute; I especially loved the monkeys and toucans. Mini-games were enjoyable, like ice-hockey with a polar bear. Graphics were well done. Music was good. Only complaint is the game play was very short, even for a child's game. (Reason for the 4 star rating.) I would recommend this game for very young children.
October 7, 2013
Great for young kids!
The Putt-Putt games are great for playing with your 3-5 year olds but older kids and adults will find it way too easy. There are lots of things in the game for them to click on that do things. The animation is cute and so is the story.
October 7, 2013
Fun Game for My Kids!
My kids and I LOVED playing this game! They're 4 and 5, and both of them had a great time following Putt-Putt as he saves the zoo animals. I really enjoyed how there was a bit of a challenge there for my little ones -- they really had to think through all the fun little games! It was adorable watching them try to figure it out without mommy's help :) Overall, I think this is a wonderful game with kid-friendly graphics and an enjoyable storyline. Would recommend to parents with young children looking for a game to pass the time and bond together!
March 30, 2014
Putt Putt is for children
My first initial thoughts were "how childish" But it is a family game designed for young children. The intro is way to long, the graphics are glitchy, there isn't any tutorial right away so you must muddle along at the begining. It is fairly difficult to navigate. A large arrow to show you can go in a direction would be much better. The story line is cute but again only for young children. I would not recommend this game for anyone as it needs many refinements before the game is playable by anyone.
October 8, 2013
Juvenile at best
This game is juvenile great for those under 10 years old not for anyone older than that.
October 7, 2013
Like overdosing on Candy Corn!
Because new Time Management games are so few and far between, and having played old previous versions of what I have downloaded, I didn't read that this was considered a "family game" and got suckered into the Zoo premise. After less than thirty seconds of having to endure the sugary sweet intro, I was almost bashing my head against the wall! Can Big Fish please start providing decent Time management games!
November 2, 2013