Tales of Lagoona 2: Peril at Poseidon Park
Welcome back to the undersea world of Lagoona! Poseidon Park is in trouble. Mayor Peabody has shut it down until repairs are made, and Leona is desperate to save her grandparent's park. Join a quirky cast of characters as you set out on another Hidden Object journey in Lagoona! Take quests from the townsfolk, solve over 160 puzzles, and discover fascinating secrets of the seas, as you explore beautiful Poseidon Park.
Gorgeous HD visuals!
All new quest system!
Collect food to feed your sea ponies
Game System Requirements:
OS:

Windows XP/Windows Vista/Windows 7/Windows 8

CPU:

1.0 GHz

RAM:

1024 MB

DirectX:

9.0

Hard Drive:

913 MB
Game Manager System Requirements:
Browser:

Internet Explorer 7 or later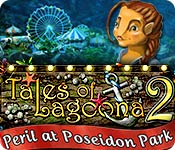 NEW299
The Big Fish Guarantee:
Quality tested and virus free.
No ads, no adware, no spyware.

Reviews at a Glance

Tales of Lagoona 2: Peril at Poseidon Park
0
out of
5 (
0
Reviews
Review
)
Customer Reviews
Tales of Lagoona 2: Peril at Poseidon Park
56
56
AN UNDER THE SEA AMUSEMENT PARK ADVENTURE!
I just spent an hour playing a game I thought I would hate, who knew Lagoona 2 would be so fun! There is so must to do in this game, first of all the HOS are unique. Each scene has list items, shadowed items,fragments and a riddled item find. Each scene has jewels to find which allows you to play a mini game in each scene by clicking on the puzzle piece. Each scene has picture pieces to collect from all of the hidden object scenes combined and each scene let's you click on any food like ice cream or strawberries which are not on your list. These collected food items are used to feed the sea ponies which is an ongoing TM process. Each scene has a swimming rainbow fish that when clicked on finds an item of his choice. After each HOS you will stack shapes that represents each item you find onto a grid. You can choose to place these items yourself or auto fill. These items go to an ongoing market to sell and the window is displayed on the left of the screen to show you how much money you are making. You then take that money and choose upgrades throughout the amusement park. You are given different quests and if you accept the quests to find those items as well, they are displayed in a box to the right of your hidden object list so don't forget to look for those items as well. There are lot's of achievements to earn and I think I have covered every aspect of the game by now, so go play and enjoy!
October 8, 2013
Very cute and so relaxing!
I loved it! Of course, I like the first Lagoona game as well. These games are totally mindless and enjoyable; no dark story or adventure, just simple innocent fun. There are many different things to find: gems, food, map pieces and quest items, as well as outline and list items, in each scene. Also, there are a lot of puzzles, which you access in the HO scene, some of them quite challenging and all very, very cute. The artwork is very good and the sound is pleasant. The tetris-like means of keeping track of your items is also new and fun. It looks like there will be a significant number of places to search and restore, with choices for rebuilding, as usual. So, if you would like a break from the serious sombre stuff, I heartily recommend this one!
October 8, 2013
Best hidden-object-games
A hidden-object game, that has no reason to hide behind a hopa. Your goal is to earn money for a park renovation (under water). For this, you will have to search hidden object scenes for objects to sell. These scenes contain: detail-items, word search, shillouette search, word riddle search, often an additional puzzle/mini game, search for gems to unlock puzzles and other stuff, search for food to feed sea horses, search for special order items, the townpeople ask you find (which are needed to open up new locations or earn money). And no, I'm not talking about one or two features in one search scene, I'm talking about all in one! Outside you will have to repair and decorate, harvest the golden hair of the sea horses, organize you warehouse for selling the items (you will need to play a tetris puzzle for this), talk with quirky and funny characters, accepting new quests. Graphics are bright and a pleasure to look at, all puzzles can be played over main menu, there are bonus goals, wallpapers, screen savers and music in the extra - part (to reach over menue) Silent launch for such a gem? Not understandable! Five stars, all thumbs up, a trophy and more. If you like searching and puzzles you shouldn't miss it!
October 8, 2013
THE VERY BEST HOG game ever!! FUN FUN FUN
What a superb game!!!! Better then I ever saw before! This is so much more then just plain HOG. There is an tremendous amount of achievements, bonuses, extra's and more. Every second something else comes up and gives you another goal, even more fun, even more challenging. I started playing this game about 7 hours ago, and couldn't stop. Now I really need to get to bed, I'll hardly sleep.. And I think I'm not even at 50% in the game. Much more fun hours to come, I can't wait. Try it, I'm sure you will be thrilled! Have fun!
October 9, 2013
Wow, heck of a game
This game absolutely blew me away. I just can't believe how much different stuff there is to do. HO scenes combine silhouettes, broken items, riddles, interactive clues, etc. all into the same level. Plus there are tons of other things to search for in the scenes... hidden gems, paper scraps to unlock new scenes, quest items, food items to feed your sea ponies, etc. The theme park screen is HUGE and has tons of stuff you can upgrade and decorate. It's like Gardenscapes but you can move the camera around so there's lots to explore. The minigames are a mixture of some we've seen before but also a bunch of new types I've never seen in other games. There is a lot of minigame variety and all are very good. Tons of characters, all with voice acting, which is probably the highest quality voice acting I've heard in a BFG game. There's just so much going on in this game. Really highly recommended, especially if you're bored of the standard HO game.
October 8, 2013
This rocks so hard!
I am going to buy this as soon as I finish the review! This game is a sequel to Tales of Lagoona, but it is structured more like Farmington Tales and that makes it more awesome to me! There are so many new and fun features and there is no pressure to upgrade something right away, which was my only peeve with Farmington Tales. I just love this game! 10 out of 10 stars!!
October 8, 2013
WOW
What a game! At first I didn't think I would like it, I don't like undersea games, but I love amusement parks. Well, you really can't tell you're undersea, but it does look like a very large amusement park with tons to do! The h.o. scenes are interactive and have hidden things in them; gems, puzzle pieces, (play puzzle to unlock a new scene), food, quest items, maybe more. There are 3 custom cursors to choose from, 8 music tracks, auto advance dialogue (you don't have to click to move on), performance mode (improves game on older computers), and other options. You click and drag to view the park. There are also bonuses to be had; wall papers, screen savers, music, stats, bonus goals. You use money you earn to upgrade the park (3 choices of an upgrade), and gems to play the puzzle games. I can't believe how much this simple looking game has to offer! Family friendly, fun, good graphics, good colors, and story line is about upgrading/saving the park for your grandfather. Voice overs are o.k., there is quite a bit of dialogue but you can skip it. I think all of us in my home will really enjoy this game for all ages. I hope you will too!
October 8, 2013
Such a fantastic game!
I enjoyed the first Lagoona game, but this one really blew my socks off. The art is fantastic, the storyline is funny and clever, and the game play is just amazing. I've only just finished playing the hour trial, and I feel like I barely scratched the surface of the game. The game is absolutely gorgeous, and they make use of the underwater setting to really add a lot of charm to every scene. The characters, which are all fully voiced, are all quirky, weird, and funny. I normally skip through dialogue, but I really enjoyed the banter between the characters. It was a nice change of pace from all the spooky games I have been playing lately. The hidden object play is the meat of the game, and it was so incredibly well done. Your list of items for each scenes is a mix of named items, silhouettes, fragmented items, and riddle items. The riddles I encountered were clever, but not too hard. These scenes are't junkpiles, and everything is worked well into the scene so it takes a bit of study to really get to know the scenes. What is more, each scene has gems hidden in them, and collecting them allows you to unlock puzzles and games within each HO scene. There are also newspaper scraps that help you unlock new Ho scenes for later, extra items to complete quests, and eventually food to feed your sea ponies. Yes, I said sea ponies. Outside of the hidden object scenes, you are renovating Poseidon Park- and underwater theme park that is just as charming as all the characters. Among the attractions and building to upgrade there are also the sea pony stables. You feed the ponies food you find hidden in HO scenes to make them stronger, and to increase the speed at which their golden manes grow. Then you harvest the hair (to keep them safe from getting tangled) and sell it for more money to fix up the park. There is so much going on in every part of this game that I can't believe it isn't a collector's edition. This is definitely a buy for me!
October 8, 2013
Get your feet wet with an all new Tales of Lagoona!
I loved the first Tales of Lagoona so much that when I saw there was a new one, I could hardly wait to play! And I wasn't disappointed! This new installment involves a charming old amusement park on the brink of closure, but you have arrived just in time to help bring it back to life. There are new characters to interact with, as well as a few favorites from the first game but the biggest improvement was with the quests. They are more interesting and better-written than in the first game and completing them will unlock upgrades for the amusement park! Looking for these extra items while playing the beautiful new scenes really made the game so much more interesting. Also, you can collect any food items that you see in any scene you play to use as...FOOD FOR YOUR SEA PONIES! Different foods have different effects on them and it was really fun to play around with it. Yet another really cool addition to a game that's already full of things to do! I have played an hour and feel like I have barely scratched the surface which is a refreshing change from the 2-hour throwaways that seem run rampant these days! So, kudos to Tales of Lagoona 2!
October 8, 2013
AWESOME SEQUEL!!
This is such a fun to play hidden object game, but there are also lots of other things to do in it besides the HOs. There are many different mini-games and puzzles; some are new and unique. You will find special quests to take on, sea ponies to care for, amusement park rides to restore, gems to gather and so much more -- too much to even tell. After playing it for hours and hours, I still keep discovering exciting new things! The music, graphics and storyline are extremely well done. The voice-overs are excellent and it has this terrific feature that the dialogue can be set to automatic advance instead of "click to continue," and that makes for smooth game flow. I loved the first Tales of Lagoona and now am so happy there is this great sequel!
October 9, 2013