Vampire Ventures
Valory loved being a vampire. Her dad had invented a special blender allowing them to use strawberry juice as a healthy alternative to a vampire's usual diet. All was good until some vile vampire cursed their home, their blender lay smashed on the floor, her dad nowhere to be found.

Join Valory as she embarks on her quest to find her kidnapped father in Vampire Venture! Travel through five vast lands, defeating vampire traps and battling with various foes, including skeleton lords, vampire vapours and slimy squalps in this enchanting Match 3 game!
Follow Vampire Val on her adventure
Collect talismans to aid you on your quest
Relaxed, timed or tricky game modes
Game System Requirements:
OS:

Windows XP/Windows Vista/Windows 7/Windows 8

CPU:

1.6 GHz

RAM:

512 MB

DirectX:

8.1

Hard Drive:

84 MB
Game Manager System Requirements:
Browser:

Internet Explorer 7 or later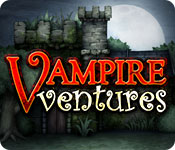 NEW299
The Big Fish Guarantee:
Quality tested and virus free.
No ads, no adware, no spyware.

Reviews at a Glance

Vampire Ventures
0
out of
5 (
0
Reviews
Review
)
Customer Reviews
A MATCH 3 WITH VAMPIRE FLARE!
A refreshing change from the same ole same ole match 3 games. A nice adventure story that continues briefly after each set about a daughter's quest to find her kidnapped father both of which are vampires. There are muddy tiles to match over, lock and key matches hidden tiles and much more. The tiles are colorful and the levels quickly progress to keep your interest. You earn and then charge talismans of bombs, hammers, directional etc. and you earn achievements of expert time, finishing before the sun comes up or large matches. There are also battles fought with ghosts and slimy creatures. This is a really entertaining match 3 game so enjoy!
October 9, 2013
What A Fun Game!
Despite what two other reviewers say, in my opinion this is one of the most fun match 3 games released so far this year. Amusing story line, good graphics, fast gameplay, challenging enough to keep me interested. I played the first hour them immediately bought it. About time we had a new match 3, as most games released are HOGs, and frankly, I'm tired of the same-old same-old.
October 9, 2013
Try it! You might like it!!
This is a great little Match-3. I finished the game in about 10 hours of play. Some levels are harder than others. I noticed some of the negative reviews referenced confusion at the beginning levels. I was there as well, but gave the game a second chance and read the "How To" and restarted the game and it made complete sense. After your first 10 levels, you aren't interrupted with the tutorial. Lots of different board set-ups from moving a key to a lock to battles with different types of enemies. Very enjoyable and it has replay options which I'll take advantage of next year.
October 10, 2013
refreshing fun
One of the best match 3 games of the year. I could tell from the art and gameplay, without checking, that this game is from the developers of Memorabilia: Mia's Mysterious Memory Machine, and Kitten and Puppy Sanctuary. Everything about this game is fun and original-- the gameplay, story and artwork. There is always a lot going on but powerups are introduced on-by-one so you don't get overwhelmed. One thing I particularly like is the powerups recharge quickly--they are meant to be used, not saved up.
October 10, 2013
Good Halloween Game
Sorry for the delay, but I really enjoyed this game. Next to Trick n Treat, this put me in the Halloween spirit.
October 12, 2013
Great Match 3
Maybe my computer is set up differently than some others here, but the colors were not murky at all! In fact I found them to be overly bright. I pretty much skipped the entire story, but paid attention on how to use the power ups. A couple of the matching key to lock levels I skipped. Overall really liked this game.
October 11, 2013
Really enjoyed this!
Tried the demo last night, bought the game last night, just (late afternoon) finished playing through. (Okay-so, I had a LOT of free time, and yes, my wrist hurts!) I'm always leery of games with slow action -- or lots of wasted time between rounds: I want to PLAY, not marvel at the programmer's skill with pretty pix (sorry programmers!) This game was superb at keeping me engaged! (And, that written, the graphics in this game are excellent, too!) This was challenging, but not too challenging. Really really well-done game!
September 8, 2014
Entertaining and well-done
I finished this game with the expert goal on all levels (not on the first try!) and found it to be addictive and entertaining. The sound effects and visuals were good, with a reasonable amount of variety to the play (4 types of games). It was not very difficult, but there was a challenge in trying to achieve the expert goal. There was a story line, which was fairly minimal but pleasant and amusing. The music was fine. The best part was the little girl vampire. I usually don't care for voice-overs, but whoever did the little girl's voice was AMAZING! So charming and matter-of-fact and just plain lovable. She made the game special. A few glitches - I am pretty sure that I never used the lock talisman but they didn't give me the trophy for that achievement. And the bat talisman showed up maybe once in the whole game and I don't remember ever seeing the diagonal talisman. Maybe when they do the next version they can fix these small issues. But it really didn't detract from a charming and polished game.
November 5, 2013
Cute Vampire match 3
I would probably give this one a 3.5 instead of a 4 as I wasn't a big fan of the murky colors. It was a little hard to see but the game play was fun. There isn't anything to create or build which is my favorite but this has a fun unique twist with the vampire motif. As a young vampire girl you're in search of your kidnapped father. The levels are pretty easy to pass even when timed. Every few levels or so you will come across a monster you will need to fight by matching a certain color (blue) that fights against the monsters color. You find talismans that help during regular game play that are typical for the match3 genre. The break one block, mix tiles, and bomb are the basic ones. You also have an unique talisman that lets you switch diagonally that you earn for beating the monsters. There are more unique ones that I have not yet obtained as I only played the demo. Playing the full hour I reached level 20 and was on the phone at the same time so I took my time. All in all it is a pretty decent game and wouldn't mind using a freebee on it.
October 9, 2013
Charming and fun Match 3 for Halloween
This is a nice little Match 3 with some extras put in. First, it has a story line which is nice and draws one in unlike many M3 games. Valory is a vampire whose father has gone missing. She is in search of him. On the way she battles foes, earns talismans (power ups) to help break up vampire traps and hidden rooms. This is not a difficult game but one to relax with and enjoy. I played in timed mode, and apparently one can make it more difficult if one plays in "tricky" mode. I did not do this during demo so I don't know how much more difficult it becomes, but it may raise the challenge level for those who feel it is too easy. There is a whole help section that explains gameplay well. All in all a great M3 for a mellow afternoon or just before work.
October 10, 2013
The Apple logo is a trademark of Apple Computer, Inc.