Haunted Hotel: Eclipse Collector's Edition
Exclusive
You and your renowned partner James have been called to investigate a strange disturbance at a hotel, but the maid says the guests are all monsters. What's happened here, and does she really mean that literally?

This is a special Collector's Edition release full of exclusive extras you won't find in the standard version. As a bonus, Collector's Edition purchases count toward three stamps on your Monthly Game Club Punch Card!

The Collector's Edition includes:
Play the bonus game to uncover more secrets
Downloadable soundtracks and wallpapers
Gorgeous concept art
Use the integrated Strategy Guide
Game System Requirements:
OS:

10.9/10.8/10.7/10.6

CPU:

600 Mhz (INTEL ONLY)

RAM:

128 MB

Hard Drive:

1059 MB
Game Manager System Requirements:
Browser:

Safari 4.0 or later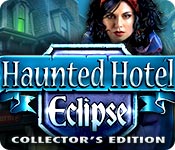 The Big Fish Guarantee:
Quality tested and virus free.
No ads, no adware, no spyware.

Reviews at a Glance

Haunted Hotel: Eclipse Collector's Edition
0
out of
5 (
0
Reviews
Review
)
Customer Reviews
Haunted Hotel: Eclipse Collector's Edition
59
59
Vampires, Bats, Grim Reapers, Werewolves...this game has it all.
I wanted to write about this one while it was fresh in my mind. At first glance....in the first five minutes of the demo, I thought I was not going to finish even one hour of game play.....so I put it down for a day and picked it back up to give it another go.. You and a male detective are working on this together, so the interaction is really only with him. The beginning starts with you talking about how awesome he is and the best partner you have ever had. I had to chuckle at one of the other reviewers because they echoed my sentiments. This guy is always running off leaving you to do the "scary" stuff and he comes back with nothing and says..."good job!" Not my idea of a fantastic detective. On a casual level, this CE basically plays the game for you. The hint button charges quickly, and trust me, you'll need it. The strategy guide is also available right by the hint button. It's not that this game is so challenging, they just added fictional items that no one could guess it's purpose. IE....the Hotel has two dead guests.....a Vampire and a Werewolf. Being a Vampire, he's dead in his bed and the room is darkened. Next to him is a glowing nightlight with a dome and a lock. You have to find the lock (Only because it tells you to)...and out comes a glowing "flutterfire"....which is a glowing butterfly that has powers to light things on fire. You have to use the hint button to know that...or rely on the SG. Those were just the little bothersome things that made you depend on help. The game play really had nothing new or clever. Locks, keys, bas reliefs and fantastical locks that only certain shaped elements could be used. Lots of going back and forth, and upstairs and downstairs.....and this is just the demo. No music that I recall...and very little sound. This game could really be a bit creepy and get you in the Halloween spirit if it had well placed appropriate music. Now...to the visuals.....I give them an A+ on artwork and creative elements. The overall idea of a haunted hotel is not new....but they did do a super job in artistic design. There also is no map....but just in the demo portion, there really wasn't one needed. If the story after the demo takes you outside and expands the area a great deal, this might be helpful.....but the back and forth is not as tedious in the demo as I have seen in some other games. I did go ahead and play the entire demo and when time ran out, I really wasn't ready to stop. That's usually a sign to me that I might purchase this game in the future. I will keep it on my list of games for a special or freebie with credits. Even with the semi weak story, I do recommend this game. It's great on casual level for beginners or anyone who just wants to relax and take time with a game. It's also age appropriate for tweens and older up to adults. Nothing too horrible compared to the graphic stories with blood and guts and slashers out of Hollywood. This is just simple good fun. Definitely try the demo and play it through....it does get better.
October 11, 2013
haunted hotel
To me, this is more like the missing hotel. I found the mini games confusing as to, ok I did this, nothing happened, now what? So I had to skip it. The items you need to find don't always make sense to as what it is used for. Example, to get rid of the ghosts, I never thought to use a scythe. On the second floor, who would have thought I have to pour the magic elixir on the man to get the stuff to work. I kept trying the floor. I realize my reviews are not nearly as good as others in explaining; my writing skills were never great. I do the best I can.
October 12, 2013
Can't access the bonus chapter
Big Fish's strategy advert has stopped me accessing the bonus chapter of this excellent game. The bonus game play screen comes up but whenever I touch the play button the strategy advert keeps popping up and nothing I do will let me play. I can't tell you how irritating this is! This is why I can't recommend it.
September 1, 2014
" BIG DISAPPOINTMENT "
I purchased this game a few months ago, but it went on my "purchased/unplayed games" list until now. I chose it over many others to play because it is by Elephant, which has been my favorite developer in the past. However, I have found this game to be a major disappointment. I've noticed I've not been enjoying Elephant games for a while and have actually become reluctant to purchase them. Often I would quit in the middle, thinking it was my fault #I was too stressed over life events# to play it and would come back and play again later. Without going back and replaying the others, I can tell you what I do not like about this one. I hate going from location to location just to get one item to complete a task or puzzle. To me the game did not flow, often was illogical #what worked in one location wouldn't work in another# and I found myself going to the map just to see what I needed to do next. I would jump to that location, get the item I needed, then jump back and actually enjoy doing the task. After that, it was go to the map to see what needs to be done next. Having to depend on the map to get through the game causes me to forget what the game is all about. It becomes more of a chore and less fun. I find I just want it to end. I have checked the walkthrough on the SE and find I am FINALLY in the final chapter. Since I have lost interest in the game, I don't know if I will even bother to finish it. If a game is long, due to having to go back and forth to an area for one item, then it is a waste of time that I could be enjoying on another game. It doesn't make the game more fun, just more of a burden. I purchased the daily deal yesterday that I missed last year when it came out #Dark Canvas: A Brush with Death by VAST# and it walked circles around this game. Sorry Elephant, but unless you stop the endless back and forth and keep the gamer in smaller areas at a time, I think you will continue to loose in the long run. This game had great potential, which makes me sad. :( It has been a while since the game came out, so people from Elephant probably won't be reading this. I guess I need to start only buying games when I can play them immediately if I want my reviews to really been heard.
February 23, 2014
I'm just a girl...that's all that you'll let me be!
Brave, resourceful, and intelligent (yet fawning) heroine takes all the risks, makes all the deductions, and does all the work. Token male character gives her unnecessary directions, stands back and lets her solve the mystery, then takes all the credit. Really, Elephant Games? It's 2013, not 1913. I'm certain this was more than irritating to male fishies as well as to female ones. Graphics and animation are beautiful, as always, but gameplay is becoming formulaic with Elephant. All we do is spend the entire game looking for keys and shapes to unlock locks, with a few familiar and easy puzzles thrown in. Boring! Time to innovate, lest you lose your loyal fans. It wouldn't have been so bad had the storyline been captivating. It wasn't. For a "haunted" hotel, it wasn't the least bit frightening. In fact, it wasn't even creepy. There was no sense of impending doom, no immersion at all. You never forgot for a second that you were playing a game. The characters were not relatable, the music was forgettable, the storyline was not fleshed out, the gameplay was predictable. I can't recommend this game.
October 22, 2013
Didn't even interest me enough to finish the demo/trial
I must admit that I'm not the biggest fan of HOG games, but this one looked like it was worth a try, so I downloaded the reduced size trial version. Well, I'm afraid I didn't even manage to stay with it until the end of the demo version. Some HOGs at least require you to think and might have multiple paths open at any one time which can be progressed alongside to keep things interesting. This one is not only totally linear, ie. you have to find the next step/piece to progress, the plot is also very uninvolving and just plain silly in a simpleton way. Many games are not particularly exciting on this account, but make up for it by inspired game play. This one fails on both accounts. You find yourself clicking around looking for one single piece of which you know exactly what it looks like. There aren't even many HOG screens. There is literally no thinking required and pretty much the only one of your senses required is eyesight. I just got quite bored with it after only about 20-30 minutes. The story really is just plain silly, no drama nothing. You are supposed to be in a haunted house, but the game fails completely of giving any sense of scariness. The graphics are quite good, granted, and if all you want is a linear game which doesn't require any thinking then may be it's alright. For me, it was just too boring...
October 10, 2013
Lame game
This game has to be right up there as one of the worst games going. The story is completely nonsensical and is even more poorly told. Just plain awful. The male detective is a real wimp letting the heroine do all the dirty work. The VOs are very poor. Artwork and music are marginally OK. Game play is poor and too easy. The HOS are OK and are all IA. There is the requisite strange critter to help you, except this one is completely illogical. The HINT button tells you exactly what to do. The jump map shows where action is needed. There is absolutely nothing that would lead me to recommend this dog.
October 10, 2013
jancie
Not at all impressed. The ghost were annoying and the game seemed cheap.
October 20, 2013
Facepalm
Review based on trial version. Trial version is less than one hour. No need to use a brain. Graphics is good, but what a poor animations/cinematics! Voiceovers are there, but faces are not animated. And these screws, oh my, it`s everywhere...
October 21, 2013
The Apple logo is a trademark of Apple Computer, Inc.
The Windows logo is a trademark of Microsoft, Inc.