Flights of Fancy: Two Doves
Exclusive
Save your kingdom from disaster in Flights of Fancy: Two Doves! You return home from a royal party to discover that your estate has been robbed. Someone has stolen the magic dove that has been in your family for generations. To make matters worse, the king's magic dove has also been stolen, and if the thief learns how to use the power of the two birds, the consequences could be disastrous! With the king missing and the kingdom's citizens falling victim to a strange curse, it's up to you to save the kingdom. Embark on an extraordinary journey in this gorgeous Hidden Object Puzzle Adventure game!
Game System Requirements:
OS:

Windows XP/Windows Vista/Windows 7/Windows 8

CPU:

1.6 GHz

RAM:

1024 MB

DirectX:

9.0

Hard Drive:

708 MB
Game Manager System Requirements:
Browser:

Internet Explorer 7 or later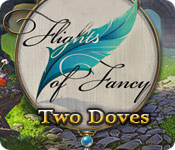 NEW299
The Big Fish Guarantee:
Quality tested and virus free.
No ads, no adware, no spyware.

Reviews at a Glance

Flights of Fancy: Two Doves
0
out of
5 (
0
Reviews
Review
)
Customer Reviews
Flights of Fancy: Two Doves
29
29
THOUGHT PROVOKING AND PUZZLER'S DREAM
This was a definite buy for me within 5 minutes of playing. I bought the CE since BF just had a sale on them. The story is refreshingly unique. The artistry is simply gorgeous and the animation is superb. HOS are not your run-of-the-mill HOS scenes, although they are list-based. Takes some thought on how to accomplish the interaction. And the gameplay is not always straight-forward. I seldom need to use a strategy guide or walkthru, but will likely be using them with this game. The fairy and the elf helpers are terrific; each with its own special talents. I especially like the elf's help in the HOS (and even with his help, I still had to think about the interaction). Puzzles are beautifully-drawn and are, frankly, a puzzler's dream. Music is dreamy and fits the atmosphere. And you can customize the settings to your heart's content. WOW! This was a fantastic job the creators did. Of course, I'd expect nothing less from ERS. They just spoil us.
October 11, 2013
TICKLE YOUR FANCY!
If you are a fan of magic themed games with goblins, elves,fairies and unicorns, then this game will tickle your fancy as well! This is a story of two son's who shared the Kingdom, one ruling the West the other East. The story centers around two magical doves, one of which has been stolen, and if either dove falls into the hands of evil it will cause impending disaster for the entire Kingdom. By your side during this investigation is a beautiful fairy that you get to name and a hint/elf. The fairy will need magical potions and you will need to find a golden arrow for each hint you use but the elf will point you in the right direction free of charge. Something evil is turning everyone he meets into stone statues and you need to collect all 15 statues which will be kept in a special box that you will find at the start of your adventure. The HOS are progressive sihouetted items where the first item you find to match the shadow of your inventory list will be used in the scene to find the next item. Some of the HOS are find 15 rings etc. and they aren't too difficult and actually fun. The puzzles are good. Most puzzles are new and different, some require a thinking cap others are simple but still enjoyable to work out. One of the puzzles I liked was puzzle pieces that had round edges as well as pointed edges and needed to be placed onto a web like board each picture was a single image so none overlapped, it was simple but still required some trial and error thinking. Another feature I liked on this game was the ability to customize the difficulty mode, you could choose sparkles on HOS or areas of interest, or penalty clicks or how long the hint and skip buttons recharged if any. This is a very lighthearted game that delivers solid entertainment, enjoy!
October 11, 2013
A Magical and Whimsical Tale
?Flights of Fancy? is definitely a fanciful tale full of wondrous sights to see in a beautiful, mystical world. Our adventure begins as you (the Countess) return home from the pre-wedding ball for King Eridan. You soon discover that your home has been broken into and ransacked while you were away and, yes, the worst has happened - the magical dove entrusted to your family?s care has been stolen. Now you must go to King Eridan to tell him the news and warn him that his dove and life are now in danger. Alas, it seems that you have not arrived in time for the king and his dove are both missing. It now looks like the realm is in terrible danger and you must do everything you can to save the king, reunite the doves and save the realm. IMHO, no one does magical, mystical tales quite as wonderfully as ERS and Flights of Fancy is no exception. We travel through a beautiful land created by the artistry of the development team at ERS. The graphics are exceptional and depict a land of elves, fanciful creatures and evil gnomes. As always there are voiceovers with perfect lip-synch (kudos to a developer who knows how to give us the complete package), and a musical theme that adds to the overall enjoyment of the game. Your diary is on the lower right portion of the screen and soon after you begin the game you will acquire a young elf helper who becomes your hint, and as you journey through the kingdom you will find golden arrows that increase the number of hints he has available to share with you. Early on you also acquire a pert little fairy that will help you after you imbue her with magical powers We have an interactive map that allows us to transport quickly throughout the kingdom and it also indicates areas where there are objectives to complete. The HOPS are fairly standard to ERS games with some progressive silhouette type mixed in with scenes where you have to find certain numbers of objects. I imagine that later in the game we might even have the standard list type HOPS. The puzzles are fairly common as well but they are still fun. Some think that the puzzles in ERS games are too easy but I disagree because some of them are quite challenging. Because Flights of Fancy is from my favorite developer and I knew I would be purchasing a quality game, I purchased the CE when it was released. From beginning scene I knew this would be a game that I would enjoy immensely and I do. ?Flights of Fancy? is light-hearted entertainment that lets us experience the magic and whimsy we felt when we were young and believed in fairy tales, could there be a better way to spend the day? As always, I recommend that you try the demo to see if you agree.
October 11, 2013
Absolutely Dovely
I have never been disappointed with ERS and this is no exception. Terrific game filled with so much imagination, creativity, challenge, and interaction that you don't want it to end! Characters come alive, particularly the pixie & the elf. It is such fun involvement when you are asked to name them, it's as if they really come alive. I loved the interactive HO scenes but I must say they weren't always easy. Slihouette items and finding how they fit in took some time to relate the connections. Collecting arrows for hints was also interesting cuz I didn't always know what was wanted and used a few hints to catch the drift. There were other areas that I found needed some guidance but I was not bothered by that. I welcome a challenge. Collecting of charmed kingdom inhabitants was fun, just another aspect of the game to hold interest as was the story told in parts by the Artist. Nothing was overdone. Good directional map, wonderful music which sets the tone throughout the game play. This is not a sleeper game and if you want to be challenged it is for you. A wonderfully captivating story llne, great characterization and a game that is a must buy!!
October 11, 2013
Truly a Magical, Charming Experience!
In Flights of Fancy, you play as a Countess, who is investigating the theft of one of the doves your family is sworn to protect. It's not just a dove, its a magical one, one that -- if united with the other stolen dove -- could spell chaos for the entire kingdom. It's up to you to find and recover the doves and stop the thief from harnessing their power for his evil motives. Be warned. A lot of you will not like this game because "it's too cute". This is a fantasy HOPA through and through. This game is seriously as cute as it gets. Everything down to the interface, to the character you're playing (a Countess), the setting, music, bright color schemes, sound effects-- you name it, it's adorable. This is one of the games you play and you can't help but going "awww" all the time or just plain getting amused (i.e. the singing mushrooms). Your hint button is a fairy, you have another fairy companion that does some occasional magic to get you through tough obstacles (did I mention you can name both of these fairies?), and you also get lots of help from other enchanting creatures such as the griffon and the cute little blue bird. And you know what? I loved every minute of it. I was also very pleasantly surprised to find that despite the game's adorableness, it was more difficult than most of the HOPA's I've played (and I always play on expert). The HO scenes hid objects very well and many of the puzzles/mini-games genuinely took time and thought. Never before in a game have I abused the hint option as much as I did in this game. The game has strange logic as to what items you should use for certain actions. What was annoying is that unless you use an item at exactly the right spot, the game thinks you're using the wrong item. The same goes for HO scenes, you'll find yourself clicking on a item and nothing happening unless you click in a certain area. This was very strange and quite an annoyance. The interactive map was suppose to be your saving grace at this point, but it only serves to be further confusing. Several times, the map says there is an area where an interaction was available, but when you go there you have no idea what you should do, so you use the hint button. And get this- the hint tells you that there is nothing to do in that room. Huh? Then why is my map telling me that there is? This made things VERY confusing. Needless to say there is A LOT more backtracking than you would expect in a normal game. Thank goodness for the map otherwise this would have been a frustrating game indeed. HOWEVER, despite all of this, I think these are minor flaws that are easily overlooked by the sheer awesomeness of this game. The graphics are so, so, SO BEAUTIFUL. Really wonderful. My favorite series of all time was ERS' Spirits of Mystery and the graphics in those games were such a delight. In Flights of Fancy, you won't be disappointed. The artwork is just gorgeous and really breathtaking. I was truly impressed. The music was just as beautiful, although with most music in many of these games, it can get repetitive. Personally, I enjoyed the tracks so much I wasn't bothered at all. The VO's and cutscenes were top-notch as well. I personally purchased the CE mainly because of the bonus chapter. Another hour of this awesome game? Sign me up! The CE extras also include wallpapers, soundtrack, replayable HO scenes and puzzles, concept art, achievements that are stored in the fairy house, and collecting different outfits for your fairy to wear. This is officially my new favorite game, topping my beloved Spirits of Mystery series. Don't mind basking into the adorable, cute, and wonderfully sweet, all while being presented with a new and welcome challenge? You'll love this game! Yes, it's for die-hard fantasy folks and no I definitely don't think this game was made with males in mind AT ALL (So you males, be warned! Know what you're getting yourself into!). However, I don't think the cute and sweet factor of this game should diminish its quality at all, I believe that it adds to it. And take the game for what it is, overly sweet and "saccharine" is what it WANTED to be and was MEANT to be by ERS. So just sit back and enjoy it!
October 12, 2013
Beautiful Game!
Just to commend the creators of this game for the excellent graphics, the colorful locations. Just a beautiful game that kept me engaged until the very end. One of those games that you hate to see come to an end!!! Highly recommend this game, very little of the "dark element" that I am very tired of in many games. I highly recommend this game.
October 14, 2013
Something different!
This game was not only beautiful but, a great change from all the dark adventure games out there! I have playing adventure games for a long time. I know the genre well. I highly recommend this game!
October 17, 2013
Excellent game, really kept my interest
Since there are so many other reviews I will only offer two bits: 1# This was a very enjoyable game, I looked forward to playing it every day. I liked the graphics, the coloring, and the plot. I would buy it again only get the ce version. 2# I found that there were several misspellings. I really hate misspellings as it implys that the game was not made with attention to detail as it should have been. Otherwise, really really nice game.
November 22, 2013
Absolutely loved this game!
Loved the game, loved the music, loved the challenges - the best game I have played recently (and I have played many). Was sad when the game ended. Cheers to the developers!
October 15, 2013
one for the girls
this is as good as it gets pretty much, lush graphics, stop the baddie before he gets power storyline, trippy locations - what are the developers on lol, puzzles just about right, cute animals, a fairy and elf helper you give yr own names to, the whole things looks really really pretty, and gosh handsome men too. What more does a Countess need who has a kingdom to save ? Its girly. Its fun, and you get the Prince. Buy it.
December 14, 2013
The Apple logo is a trademark of Apple Computer, Inc.