Flights of Fancy: Two Doves
Exclusive
Save your kingdom from disaster in Flights of Fancy: Two Doves! You return home from a royal party to discover that your estate has been robbed. Someone has stolen the magic dove that has been in your family for generations. To make matters worse, the king's magic dove has also been stolen, and if the thief learns how to use the power of the two birds, the consequences could be disastrous! With the king missing and the kingdom's citizens falling victim to a strange curse, it's up to you to save the kingdom. Embark on an extraordinary journey in this gorgeous Hidden Object Puzzle Adventure game!
Game System Requirements:
OS:

Windows XP/Windows Vista/Windows 7/Windows 8

CPU:

1.6 GHz

RAM:

1024 MB

DirectX:

9.0

Hard Drive:

708 MB
Game Manager System Requirements:
Browser:

Internet Explorer 7 or later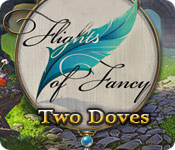 NEW299
The Big Fish Guarantee:
Quality tested and virus free.
No ads, no adware, no spyware.

Reviews at a Glance

Flights of Fancy: Two Doves
0
out of
5 (
0
Reviews
Review
)
Customer Reviews
Flights of Fancy: Two Doves
29
29
Breathtaking graphics.
What a beautiful fantasy game. You get to customize your level of difficulty. The map is wonderfully functional. There are two spots dealing with a spiderweb that are annoying. One you have to click on an item that is difficult to see and you can't do the second till you take care of what you found. The hint circles are quite helpful. I'll be replaying this one!
June 30, 2014
ELEPHANT AND RABBIT TIE !!!!
I RECENTLY WROTE ELEPHANT GAMES ALL HAD EXTRODINARY COLOR WHICH MADE THEM SO MUCH MORE FUN TO PLAY THAN THE DILUTED COLORS OF HERS GAMES THEY MUST HAVE HEARD ME !!! LOL THIS TWO DOVES GAME IS A COLOR FEAST FOR YOUR EYES AND GOOD STORY TOO!! I DID NOT GET THE COLL ED BUT THE REG IS LOOOONG I LOVED IT IM SO PROUD OF YOU GUYS!!!
October 30, 2013
a rather long game...
i liked this game a lot. played casual, low sound. you can set how fast the hints charge and automatically skip games. diary and interactive map. the hints will hand-hold you all the way through, pretty much. you might have to think about what to do once in a while, but if you use the hint system like this the game is shorter. you have been called in to stop the kingdom from being taken under control by an evil man. sequel.....i believe so by the way it ended.
October 23, 2013
A surprising and unexpected winner!
I bought the SE as a Daily Deal, and have been glad ever since that I took the chance. I found this game to be exceptionally engaging, the immersion factor was fantastic, and I wanted more and more. I was sucked into the story and the adventure that I literally did not want to stop playing until the end, and even then, I wanted the game to continue. Honestly I hope there is a sequel to this game, and I even want to buy the CE as well, which speaks to the quality of the game. I completely recommend this game. It is well worth the buy!
October 5, 2014
a wonderful game
I really loved this game! Exciting puzzles and beautiful graphs.
June 15, 2014
I loved it!
The game was beautiful, interesting and very long! I felt I got my moneys worth on the game.
March 31, 2014
Differences to the Collector's Edition... :)
Played the CE and tried this Standard Edition to find any differences: Due to the fact, that the main game (this SE) is 100 % tied up and as the offered CE-Extras are not really interesting, this game is high recommended!! Bonus-chapter of the CE is an additional story. Other Extras ONLY available in the CE: 10 achievements to earn, 8 items to find for our fairy-collection, replayable hidden-object-scenes and minigames, strategy-guide, movies, music, wallpapers, concept-art and screensavers. I simply love the ERS graphics and their welldone characters! Gameplay is very fluently - most of the found items are used soon. Facts: 6 chapters, casual, advanced, hard and custom mode to choose from, lockable inventory, transport-map with objectives (though not 100 % exact), detailed journal, an Elf is your direction giving hint and a Fairy helps you with magic. 13 hint-arrows are hidden throughout the game as additional hints, though the hint refills anyway. During the game there are 15 charmed kingdom inhabitants to collect, but that?s not a bonus, it?s part of the game. 14 minigames: lots of them are ?move tiles into the corresponding slot?, connecting pipes, rotation puzzles, memory, direct light rays? In some minigames you may choose casual or hard mode. 9 hidden-object-scenes: Most of them played twice, only 2 ?find and use? and 2 ?find 15 items of same kind?. All the other HOS are slightly interactive from list. It is possible to choose a minigame instead of playing the HOS. Main game ends conclusively after nearly 4 hours. A great choice as a Standard-Edition providing a lot of entertainment!!
October 11, 2013
Most Flexible Array Of Difficulty Options
BASED ON DEMO FIRST IMPRESSIONS This is a beautiful Flight of Fancy alright. After a delightful intro, we quickly acquire an elf and a fairy to help us on our quest to recover our magic dove. And we save a tiger cub. Even the bad guys are beautiful ? there is a gorgeous phoenix guarding an early door is. SIGHTS & SOUNDS As you?d expect if you?re a fan of ERS, delightful hand drawn graphics, clear and crisp, well lit and colourful. Either you love this style or you hate it. Personally, I can?t get enough of it. The voiceovers are excellent ? well acted and, I love this, different accents for people of different class. I don't really have an impression of the musical content, so I guess that makes it not intrusive! WHAT?S HAPPENING Our family?s magic dove is gone and it looks like our neighbour, the not so nice Count Boss may be involved. Having gathered what clues we can, we head off to pay him a visit. So far, the story hasn?t hooked me. MAKING PROGRESS One of the best features of this game is the customisable difficulty options. You can set the black bar comments, sparkles, the usual hint and skip options and the interactive jump map. It is the most complex and flexible array of choices I?ve seen. The balance of HOPs and mini-games is geared a little more towards the puzzles than the HOPs, and the HOPs are progressive silhouettes and multiples. The puzzles I found quite a bit more difficult than I normally expect from ERS. Sometimes I felt the instructions were not as clear as they could be. Our elf is our hint and we have to find arrows for him to shoot. Our fairy can neutralise magic monsters when needed with her special abilities. We need to collect the members of our kingdom that have been turned into tiny statues as well, and they will be used later in the game. CE COMPARISON Based on the demos only, achievements seem to be the major difference in the two versions of the game. We can decorate the fairy?s home with them. The CE also has the usual sort of things, gallery items, SG, replayables and bonus chapter. I did find the SG was needed, even in the short demo. Personally, I?ll be going for the Standard Edition, because although I love cute, I think there?s more than enough of it, even without the fairy house! FAMOUS LAST WORDS There?s no denying it, this game is cute with a capital C! But it also offers the best range of playing options. Enough to neutralise the cute factor? You tell me!
October 11, 2013
I LIKED IT IN SPITE OF DISLIKING FANCIFUL TALES
BASED ON COMPLETED GAME ON ADVANCED/EXPERT LEVEL Ok, normally I really don't like games with "cute" characters or fairy-tale-like story lines, but in spite of myself, I did enjoy this game. This is one of those games that you have to "give a chance" before you can appreciate it's full merit. As soon as my fairy sidekick showed up, I almost stopped, but I forced myself on and I'm glad I did. The story is the usual "evil wants to take over the world and only YOU can save it" plot, but how the story moves and develops is done in a way rather unique to HOGs. In spite of what the low reviewers say, you do have to do some thinking, particularly towards the end of the game. The first thing new is that you have to click on an area of interest before it tells you what you need to look for in order to overcome it. So the first scene had me staring at the screen a moment before the light bulb went off in my brain. There are lots and lots of scenes with gorgeous scenery and the music is breathtakingly beautiful at times. Some items are used rather creatively, which I liked. This game also takes you into a world of beauty rather than the usual demonology-filled games. It leaves you feeling uplifted rather than terrorized, and I like that. I happen to think it takes more intelligence to create a game that leaves you feeling good rather than depressed. Most of the puzzles and HOS are rather easy, but towards the end there was a puzzle or two that had me scratching my head, which was great. I would not say this game is too easy, rather at times, it was challenging for me. The story winds up nicely and ends on a POSITIVE note. I'm glad I bought it and I don't say that lightly. NEUTRALS; Two fairy helpers Story line of good vs evil is pretty standard Has some romance I LIKED: The fast paced movement The voice overs were nicely done The ending was positive No gore, pentagrams, etc which I consider inappropriate for kids I LOVED: The graphics....very colorful and exquisitely drawn The music, appropriate to the game and adds to the mood The unusual way I had to find an area of interest before being given the list of objects I needed to solve the clue THE MAP! was nearly perfect, showed where you needed to accomplish things, it was a JUMP map, put check marks when you finished a scene and totally closed areas where you didn't need to look anymore Game seemed very long to me, got my money's worth Ending leaves the door open for sequel The HOS were solved quickly so the game kept moving Games begin easy and become harder as the game goes on but all are doable I DISLIKED: Lots of backtracking and I do mean LOTS! Without the jump map it would have been horrible BOTTOM LINE: Beautiful feast for the eyes with a light story line appropriate for ages 10+ and all levels of players that will leave you feeling uplifted.
October 14, 2013
Disappointing ending
The game was good, don't get me wrong. It was even challenging enough. I just HATED the ending. You open up a door and the video is the end. No fighting nothing. Very boring indead!
October 17, 2013
The Apple logo is a trademark of Apple Computer, Inc.