Otherworld: Shades of Fall Collector's Edition
Exclusive
Go on a quest to defeat an ancient evil. There's a magical world hidden beneath ours in this hidden-object puzzle adventure - but first you must gain the Sight to save it! The Shade is more powerful than ever, and magical creatures across the land tremble at the passing of the seasons. Continue the struggle with Fiona and the Storm Cat as fall sets in and discover secrets in both our world and in the Otherworld. Can you stop the Shade before the Eternal Winter arrives?

This is a special Collector's Edition release full of exclusive extras you won't find in the standard version. As a bonus, Collector's Edition purchases count toward three stamps on your Monthly Game Club Punch Card!

The Collector's Edition includes:
Gorgeous, lush scenes
Achievements and collectibles
Unique and challenging minigames
See both magical and human worlds
Interactive map follows your progress
Game System Requirements:
OS:

Windows XP/Windows Vista/Windows 7/Windows 8

CPU:

800 Mhz

RAM:

512 MB

DirectX:

9.0

Hard Drive:

507 MB
Game Manager System Requirements:
Browser:

Internet Explorer 7 or later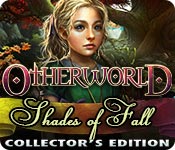 The Big Fish Guarantee:
Quality tested and virus free.
No ads, no adware, no spyware.

Reviews at a Glance

Otherworld: Shades of Fall Collector's Edition
0
out of
5 (
0
Reviews
Review
)
Customer Reviews
Otherworld: Shades of Fall Collector's Edition
55
55
LOTS OF BLING BUT NOT MUCH OF A STORY
BASED ON COMPLETED GAME ON HARDCORE WITHOUT HINTS Sigh...this is the same tired story line about "we thought we had confined evil but it has escaped and now we need to recapture it before it destroys the world." That's not necessarily bad if it's well executed with linear movement and other great features. This games tries to deliver. I can tell the devs put lots of thought into the bells and whistles, but I wish they would have spent more thought on the story. I didn't think the story unfolded logically and missed having a journal which kept track of the story. In fact, there were scenes that branched off of the main theme that actually confused me. The last three scenes I found visually irritating with everything floating but the kitchen sink. (It might have been there and I just couldn't see it.) In my opinion, without a well-developed story to base the game on, the rest is just random games, HOS, and other filler. It just left me unsatisfied and disappointed. LIKED: Jump map is nicely done but unavailable during some scenes Voice over well-acted, but not spectacular Length of game was pretty long Music adequate and pleasant Many different scenes Lots of different puzzles, but they are easy Lots of different types of HOS, they also are easy LOVED: Colorful graphics DISLIKED:: The story was unoriginal Story movement rather disjointed Scenes did not seem to relate to each other at times Moving back to a scene often brought up new "people" and objects which gave the game an off balance feel Backtracking The graphics of the monsters The end was unsatisfying HATED: Nothing BOTTOM LINE: If you are a puzzle, HOS and scenery lover you will enjoy this game. If you like your story to be as well done as the scenery, it's not for you. It's just a middle-of-the-road game, imo.
October 17, 2013
What Happened?
I loved the other 2 games of this series, but just couldn't get into the groove of this one. While the graphics were colorful and music blended in well without being overdone, I simply could not connect to it. In fact I didn't even finish the demo. Can't put my finger on it but the game grated on me. I found the Storm Cat annoying, and, Fiona's character lacked the dynamic of previous games. There was lots of moving about which took away from the game's fluidity but apart from that it seemed slow & quite boring. The mini games and hidden object scenes were okay but didn't jump out as unique or exceptional, they were just okay. I guess overall I am betwixt & between with this one, I wanted to love it, barely liked it and in all honesty will not buy it. But because I didn't finish the demo it would be unfair to pan it entirely. Thank goodness for differences in opinion!
October 18, 2013
Eh...?
This is my first review ever to this site, and I have to say it pains me to make it poor one. This was nothing like the others in the series, and I find it very upsetting we can't download the music in collector gallary. Why I buy your collectors games at all. For special collector's ending/music The plot was bit rushed. I know beat this games all one day, BUT...It took under 6 hours. I wanted more levels and plot..and more detail on the Shade and his Right Hand woman.
November 22, 2013
Not a bad game...
Hi, pond pals. Another nice game from Boom Zap and an addition to the series. I have the first two game and enjoyed them both. The graphics in this game is nice, very bright, and colorful. Nice game play, no problems during the demo. HOGs are different and fun and items are not difficult to find. Games are quite simple. The usual jump map, but not a lot of repeat running back and forth, which is nice. I found the music to get very annoying after a while. There was no change, just the same constant drone of sound. No built up with sound FX. Voice overs were okay, but there was no excitement or urgency in the voices...very bland. Otherwise very quiet. Hint system is helpful and fills at usual and customary rate. SG is not extremely wordy, like a lot of them, so had to read a few instructions twice. The pages automatically change when you have completed the instructions on each page. The collectables are very easy to find, although some blend into the background a bit. The game moves rather slowly, which makes it a little boring. It lacks excitement or challenge. This one is not as good as the first two in the series. It's just missing that little something that sets it apart from everything else. I did not feel the need to purchase this game to see what happens next. It seemed geared more toward the beginner. It wasn't a bad game and I would recommend it, but I'm not sure it is CE worthy at this point. Tired of paying the extra for the few extra minutes of game play, and who needs the extra garbage they add, e.g. wallpaper, etc.! I'm putting this one in the puddle with the other two I have on hold. I'll either get it on a really good special, or just wait for the SE version. As always, try it for yourself and see what you think. We all have different tastes in games and you may not care for this one at all. Thanks for the reviews.
October 17, 2013
I too want 'Winter' to be Good.
3 &1/2 stars SPOILERS (My review is based on the completed game) I played all of the 'Otherworld 'games including the epilogues and the beta demo for this game. I have a lot of good things to say in this review .I also have some concerns; I want ?Otherworld Winter? to be good so I will say what needs to be addressed. ?Boomzap? seemed to listen to their reviews from ?Omens of Summer?. As players requested there are more HO games, and less bombardment on the players with puzzles. As proof I checked the 2ND CE in this series there were 66 mini-games with 7 cut scenes. This game had 48 mini-games with 10 cut scenes. The games hint system is more clear because the developers added objectives, clear SGs, and access to the notes in puzzles. I liked how we kept some tools throughout the entire game. There was a vision in the first part of the beta demo that was improved on . Also in the beta demo our companion was right next to the map so it could be flustering trying to reach the map without also hitting him but this was fixed in the final game. I liked the effects of many parts of the game including the one when we regain the sight. I enjoyed seeing the silhouette of the narrator, Fiona?s new outfit and hair style, seeing people in the town. The graphics were beautiful as usual with a note to detail I loved that we could see the characters lips move when they talked! I loved the selection of fays that were seen in the game. I know the back story of selkies but not many other people know about them, and the brownies were adorable. The villains were scary and added a sense of urgency to the game play. A lot of things were well intended but poorly executed. In the beginning of the game they gave the player a back story but did not include any story material from the epilogues. This was disappointing because if someone only had the SE or was new to the series they could be confused about who Storm cat or the hermit was, and for players that had the CE it raises the question to ?Where Is the hermit now?? The epilogue promises to show the origins of the Shade. After playing the epilogue I have a more clear understanding of who he is and why he is so threatened by Fiona, yet I do not know his origins for instance wasn?t it mentioned before that he was an elder fay? The narrators voice change was a nice touch, but it happened so late in the series that it was a distraction. A lot of characters felt misplaced; I thought the crow and scarecrow form ?Summer? fit better in here. While the dullaham fit in nicely we only see her in the epilogue. The music is pretty but it should have different tones during some parts of the game. The puzzles were good but very similar to those in ?Omens of Summer? , and I for one miss the tracing puzzles. The voice over?s were perfect and expressed emotions such as urgency , anxiety and relief. The achievements are nice but I got annoyed when we saw them at the end but they are not complete if we did not play the demo. This is fine if you have the CE and play the demo because then they get added but if someone does not have the CE it is unfair. Also we can only play the demo once and after finishing the game. I can understand the purpose of playing it at the end the first time we play the game but I am sad that I can only play it once after I finish an entire game, or I have to start over. Last of all some people say that ? Otherworld Springs of shadows? had a charm that this game lacked. My best suggestions to ?Boomzap? are to bring a balanced set of urgency and relief.( An example of urgency might be when the shades face shows up when we make a mistake.)( An example of relief would be the end of Summers epilogue when we sat down for tea.) Take advantage of the holidays coming up in Winter, continue to flesh out Fiona?s character and use the music to your advantage- the music can entrance someone, comfort them or scare them to death. Good luck
November 2, 2013
Pretty Good Sequel
I was not disappointed. Was really into solving one puzzle when my time ran out. I found the cat a little annoying, but that is just me. I really liked how the game played out. At first I thought I was going to get bored. But then by the third seine there was tons to do. Graphics were great. Wish there would have been just a couple more HO's. Was so busy did not even notice if I liked the music or not. Going on my to buy list.
November 5, 2013
Not Enchanted This Time
Based on the demo -didn't play the full demo because I got too bored - I think I will wait for the SE - or possibly pass on this one - rather than buy CE. I've liked these games okay in the past but this one really wasn't great so far. The graphics are good but scenes are very detailed and cluttered so when looking for items, acorns for example, they are small. There is ALOT of talking but you can click through which I do. Cut scenes are okay, nothing great. I played three mini games which were fairly easy. Probably not a bad way to pass a rainy day but for me the SE price will be better for this game.
October 17, 2013
Not my cup of tea
I didn't care much for this game. While I thought the graphics were awesome, there was only one HO in the hour I played (and not a very good one) and I didn't care for the mini games. Not worth 2 game credits to me.
October 17, 2013
THE EMPEROR HAS NO CLOTHES
As much as I dislike being in the minority and in spite of the rave reviews, I just gotta say: THIS GAME IS NOT FUN. Unlike the first two in this series, this third installment lacks originality, interest, and adventure.It is almost as if the design team were on auto-pilot assembling unused scraps left on the floor from the first two releases. TRUE, the first in the OTHERWORLD series is one of the best games of its kind that I have come across. There is fine artwork with well rendered graphics that deliver an original, delightful and unexpected fantasy universe. The story is engaging as are the characters. HOS, mini-game, and adventure element-This one first on all cylinders and is a must have. TRUE, the second OTHERWORLD has attributes similar to the first, so the art and graphics are still gorgeous as they were we we first saw them. The continuation of the story was still engaging and the game play fun, so this one is a keeper for me as well. There was a new element of "hand holding" through heavy handed black bar hints that cannot be turned off and take an extra click to clear which dampened fun factor. ALSO TRUE, THIS NEWEST OTHERWORLD brings nothing new or spectacular to the table. Yes, this third time around the graphics are still beautiful but not much new in the way of artwork and nothing new about this now thread bare story. Even so, there should still have been fun to be had. There wasn't. Unfortunately, every ounce of FUN-FACTOR was sucked out by the game construct. From the start, game play is linear with the player led by the nose each step of the way leaving nothing to chance. Top this with heavy handed black bar hints that cannot be turned off and require an extra click to clear. ONE NICE THING I will say, this is the first game I have come across that offers the option of turning off the achievement pop-ups. Very nice touch because in this game just about everything earns an achievement pop-up. For me the combination of linear, tightly controlled game play, blatant black bar hints, and the incessant stream of pop up achievements made for a game that was tedious rather than engaging, interesting, or fun.
October 20, 2013
Otherworld: Bizzarro Land
I don't know where to begin with this game. The title gives you no indication of what it's about. As a very long time Hobbit fan from before it was popular, this story is loosely inspired by the "hobbits" themselves. Everything else is up for grabs. I will be fair and say I played this on the casual level of the demo only. The game play was very fractured and not logical. Fiona is on a quest with her very annoying storm cat that I wished I could mute when he was talking. No voice over from Fiona....so she is sort of invisible....but then of course, you are supposed to know that YOU are Fiona....a little blonde girl that looks like "Heidi." The game play went from extremely easy, to not even a brilliant player figuring out....EVEN with help. It was sort of hit and miss, and a couple of places did not even give the option for a "skip" when it gets monotonous. The "hobbit people" are called Kowalds....and are very warty unappealing characters. They had very amateurish character voices and were just annoying overall. I'm trying to find a redeeming aspect to this game, but even the music was somewhat depressing. If it weren't for the disconnected game play, I would recommend it for a "fairytale" for kids.....but then there are the faceless supernatural futuristic beings that one encounters that even take away from the "fairytale" for kids aspect. I don't really totally dislike many games ......this one has pretty colors.....but not even great art and visual quality. So I have to say that I don't recommend this for any reason.....not even a freebie. It's a good start for a new developer.....hang in there.
October 27, 2013
The Apple logo is a trademark of Apple Computer, Inc.