Dark Cases: The Blood Ruby
Exclusive
Your worst fears came true the night your father never arrived home. Someone killed him during his latest investigation. As you sort through his remaining possessions you discover his diary recording his last moments - and a strange amulet that sends you hurtling back through time to the day before his murder. Time is running out as you race to not only prevent his murder but also to catch the mastermind behind it all.
Game System Requirements:
OS:

Windows XP/Windows Vista/Windows 7/Windows 8

CPU:

1.6 GHz

RAM:

1024 MB

DirectX:

9.0

Hard Drive:

631 MB
Game Manager System Requirements:
Browser:

Internet Explorer 7 or later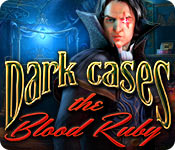 NEW299
The Big Fish Guarantee:
Quality tested and virus free.
No ads, no adware, no spyware.

Reviews at a Glance

Dark Cases: The Blood Ruby
0
out of
5 (
0
Reviews
Review
)
Customer Reviews
Dark Cases: The Blood Ruby
27
27
Travel Back In Time To Save Your Father!
You have worried about your father all night, then his fellow police brethren arrive on your doorstep with the dreaded news. They hand you his personal belongings, among them a family heirloom watch, you begin to cry. You are suddenly whisked into the past when your tears fall onto the watch, only to witness a murder! The heirloom has been protecting your family for centuries and now you must save your father from the curse of the blood ruby! Whomever is in possession of the blood ruby becomes paranoid and greedy, and you find yourself in a house full of elaborate locking devices and of course parts are missing. The HOS are list finds and you will also need to locate a few items that are shown as outlined pictures. After finding those items you use the items interactively such as using the shovel in the dirt pile to uncover a hidden object. In my opinion the hidden objects were way too easy. There weren't any new puzzles, but they were still fun to work out. I liked the puzzle where you had to separate gems into groups of three on a grid with a limited number of vertical and horizontal bars. Clear graphics and an interesting storyline along with plenty of puzzles to work out make this a solid entertaining adventure game, enjoy!
October 13, 2013
A New HO Style In A Good Game
BASED ON DEMO The thing that stands out most about this game is its HOPs. Not that it is a HO game, mind you, it is definitely a HO Puzzle Adventure (HOPA), but the new style gives the game an interesting twist. The HOP is the familiar interactive list, but the list is quite long and you won?t see some items until you?ve cleared enough of the list. As well, there are 2 or 3 silhouettes to be found, and these will be needed to interact within the scene in order to find other items on the list. It sounds a bit awkward, but it is fun to play. The other gameplay is good too. The puzzles are not all original, but a number of them are, and others are stylish adaptations of some familiar ones. The adventure action is fairly linear, I had little use for the directional hint and interactive jump map, but they?re always nice to have. Inventory includes items which can be combined. There is a task list as well. There are the usual black bar thought/hints, but they are not so obvious in the help they offer, and the sparkles even on the easiest level are not overwhelming. The story is a nice change, being a little different from the usual ?rescue relative?. The relative is your Dad, a cop killed in the line of duty, and the amulet you find takes you back to only two hours before his death, which is the timeframe you have for changing the events that lead to his death. I really like this story, and can?t remember many others that use time travel this way. The graphics are good without being in danger of being spectacular. But they are bright and colourful, ?cheery with the occasional eerie?, which also describes the music. Voices are quite well done. The HO scenes are clear and precise, and objects are easily found. FAMOUS LAST WORDS I chose to wait for the SE of this one, and I?m still convinced, looking at it, that I made the right choice. An excellent example of a SE game.
October 13, 2013
NOT QUITE A 5 STAR
Even though the story was extremely interesting and unique, the game just didn't excite me as much as I had hoped. The voice overs were done rather nicely, especially the main character; the HOS were detailed and large enough that you weren't pixel hunting; the puzzles were moderately challenging; the gameplay was pretty straightforward; and the visuals were beautifully done. The cutscenes were well done - but perhaps it was their frequency that was the undoing. It seemed you were playing just fine when you got another (usually very short) cutscene. It made the gameplay feel a little choppy. Whatever the reason, it is still has good production values and was well thought out and conceived. Since the CE doesn't have quite enough to compel its purchase, the SE seems the way to go. Overall, this game just doesn't feel like a 5-star to me (a 5-star to me is purchase within the next day or two).
October 13, 2013
Wonderful Change of Pace
I bought this game without even trying the demo. I just liked it from the description and the other reviews. Been burnt doing that, but not this time. This was one of the more fun games I have played in a while. The graphics and sound were excellent. The music went right along with the story and accentuate the action. Voice overs were well done. The designers can take pride in this one. The Hidden Object Scenes were not very difficult at all. I used the hint once and that was to see how long it was going to take it to recharge. (Forgot to time it... but it didn't seem very long I was so wrapped up in the game). Now the mini games,those were a different story. I did have trouble with them, but perhaps it is my lack of patience than difficulty. I just don't care for mini games. There is an interactive map that is wonderful in getting around, so getting lost is not a problem. The task is a good help too. The story line is well followed even though I did feel like I was going from reality to a fairy tale and back again. It went from dark to light and back, but so far as easy to follow, it certainly was. I think you will like it. Lots of fun, searching, roaming around, challenging puzzles, and a cute story, you can't help but like it.
October 16, 2013
Not bad at all
This game, as a SE, is a much better buy than the CE was. The CE did not offer anything worthy of being called a CE. The visuals are very nice. Cutscenes are well done, but a bit too frequent for my taste. HOS are interactive. Well done. Puzzles are fairly easy, but I enjoyed them. The story is well done and interesting. A nice long game with a good story that keeps you moving. Jump map is helpful. I recommend.
October 14, 2013
Nice game and decent length
I liked the graphics a lot on this one. HOS were on the easy side and a bit interactive. Puzzles were different and one of them took quite a while, a variation on the sliding tiles game. Can't speak to the music or voice overs since I'm hearing impaired. Decent length as well. I got out of the house with 3 minutes to go. Based on the walkthrough, that's the 26% mark, so roughly 4 hours of game play for me. I'd buy it.
October 13, 2013
great game
This one made a very good SE game. Too bad they didn't include any morphing, collectibles or achievements or they would have sold way more CE's and had good reviews. I say that because the game is beautiful with good use of color and had a pretty good storyline as well. You have to go back in time to try and prevent the murder of your police officer father. It all takes place in a lovely European looking town. It was a decent length and had a bit of everything. Drama, mystery, underwater scenes, tons of good puzzles and some interesting HO scenes. In each one you had to find three objects and use them to complete the scene. Several times in this one my inventory was loaded. I really like that. Much better than I need a hammer.. oh here's a hammer... yawn. Here, there were plenty of inventory objects and you often had to think where and how to use them. Really liked this one. Maybe next time out they will add in some collectibles and achievements to increase the fun factor but this did make quite a good standard edition.
October 24, 2013
I like it!
This game has everything I look for, hand drawn scenery, not a lot of dialog list HOs [ I love em] a little interactive [enough 4 me] and the best puzzles I've seen in a while. the game is easy to follow takes the logical route most games for me are play and delete, yes even many collector eds too , but I think I'll keep this one for awhile. for me it's not about the challenge anymore [frankly it's just a lack of time] I want more of the relaxing and enjoyable aspects. for not being an ers or elly game I'm impressed!
October 16, 2013
Best in a Awhile
I like it ,it was different and to get to open doors they had all the keys you needed just had to find the one for that door. easy to maneuver.
October 14, 2013
A wonderful game!
Okay - it's not a Mystery Case Files game, but it's no dud, either. To begin with, there are options for difficulty. The music is fine, but I always turn it down, so make up your own mind. The story is good - your father has passed away and you end up going to save him. I don't want to give the entire story away. The graphics are lovely, well done and clear. The voice-overs are good, clear and sensible. The hidden object scenes are of the list variety, but you also need to find a few items by silhouette that are used within the scene. Unlike many standard editions, there is a jump map that indicates where you are, where levels are completed, and where active quests are - it's very helpful, as is the hint button if you get a little stuck. I only found myself stuck a couple of times and the hint button set me right back in the right direction. If there wasn't a jump map, the back and forth would be ridiculous, but the map makes it so fast and easy. As for length, I played the game from start to finish in just under 4 hours, but I did skip a couple of puzzles - they puzzles were fine, for the most part, but I ran across a couple that are always difficult for me, but the skip button fills quickly on the casual setting, as does the hint button. I used a PCC code for the game, but would have purchased it if I hadn't had one. I was bemoaning not being able to get the collector's edition when it came out, but I'm very happy with the standard edition of the game. I don't think much was lost that really pertains to gameplay. Having a free wallpaper doesn't have anything to do with gameplay. Try the game for yourself - I think you'll be pleasantly surprised - the game moves along well and I really enjoyed it. I think you will, too.
October 14, 2013
The Apple logo is a trademark of Apple Computer, Inc.