Dark Canvas: Blood and Stone Collector's Edition
Exclusive
Who used the encasing device in the grisly murder of the Sculptor and his bride? What loathsome secrets are hiding behind the high walls of elegant, Grecian estates? Explore a beautiful and romantic Greek village by the sea, as you use your investigative reporting skills to track down a desperate, haunted killer – before they kill again!

This is a special Collector's Edition release full of exclusive extras you won't find in the standard version. As a bonus, Collector's Edition purchases count toward three stamps on your Monthly Game Club Punch Card!

The Collector's Edition includes:
Play the mini-games and hidden object scenes again!
Return to Partha in a Bonus Chapter
Download soundtracks, wallpapers, screensavers, and concept art!
Game System Requirements:
OS:

Windows XP/Windows Vista/Windows 7/Windows 8

CPU:

600 Mhz

RAM:

512 MB

DirectX:

9.0

Hard Drive:

867 MB
Game Manager System Requirements:
Browser:

Internet Explorer 7 or later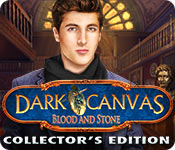 The Big Fish Guarantee:
Quality tested and virus free.
No ads, no adware, no spyware.

Reviews at a Glance

Dark Canvas: Blood and Stone Collector's Edition
0
out of
5 (
0
Reviews
Review
)
Customer Reviews
Dark Canvas: Blood and Stone Collector's Edition
33
33
A Solid Adventure!! :)
Much better than the previous Dark Canvas: Brush of Death!! Welldone drawn settings and characters together with a thrilling story and a lot to do and to explore! This time Vast Studios added a lot of extras to this Collector?s Edition. Facts: 3 modes to choose from (can be changed during the game), 5 chapters plus bonus-chapter, lockable inventory, map showing you available action and allowing fast travel, direction giving hint, detailed journal, strategy guide doesn?t follow your progress. I counted 13 hidden-object scenes, most of them from list with slight interactions and all played twice. Three of them are "find and use" silhouette HOS. 25 very different minigames to play from easy to difficult, as there are for example swap tiles to reveal an image, several maze-type puzzles, rotation-puzzles, fix pipes, complete wire connections, follow instructions, find star-constellations? Extras: 60 Stone Coins to collect, with which you may buy unnecessary things in your collections-room ;) 30 achievements to earn and 20 morphing objects to find, 20 replayable minigames and 7 hidden-object-scenes, music, art-gallery, wallpapers, bonus-chapter with another 4 HOS and 8 minigames and an additional story (took me another hour to play in the 2nd mode). I finished the main-game (with a conclusive ending) in approx. 3,5 hours. This game really keeps you busy till the end! Happy Gaming!! :)
October 26, 2013
Looks Like Fun!
BASED ON DEMO FIRST IMPRESSIONS Nicely put together, somewhat creepy intro, with very clean graphics and charming, if occasionally a little overdone, voice acting. This game just looks and sounds good. The story is a little different and the Greek setting is wonderfully ?Greek?. The music is light and unobtrusive. A sculptor has invented a strange ?encasing? device for his sculptures, and someone has used it to kill the sculptor himself and his wife. As an investigative reporter, we are sent to find out the truth. We meet interesting characters with their own issues, as well as people who can help us and a kitten who helps us out a little. Backstory is told in interesting excerpts found on diary tablets of stone, which are a collecting achievement. MAKING PROGRESS (GAMEPLAY) This game is unusual, because it is mostly a puzzle adventure. There are 20 or so, compared to just 7 HOPs. The puzzles range from very easy to ?thank god for skip?, even this early in the game. And they are creative and fun to do. The HOPs are interactive lists, visited twice. Not counted as either HOP or puzzles are an unknown number of progressive silhouette (find & use) HOPs, also visited twice. Action is fairly linear, and contained within each chapter. There is an interactive jump map that indicates objectives, not current actions. The hint is directional. Between them, I only used the SG to find out what it was like. (Good) CE BLING! There is quite a bit to find in this one and certainly enough to justify a CE status. The usual bonus game, SG, gallery, and replayable HOPs and puzzles. Plus 60 collectible coins to by statuettes for your collection room. 20 Morphing objects. Many achievements, quite a range from ?complete x part of the game? to the standard timing and accuracy ones, plus a few goofball ones as well. FAMOUS LAST WORDS The first Dark Canvas got mixed reviews. Although I really liked it, many others didn?t. I don?t think this one will be as controversial. It will not my favourite CE game ever. But I think all those extras add to its charm and make it likely to be a better buy than the SE. It is certainly a good game, and seems as though it will be fun to play.
October 26, 2013
Will You Be The Next Victim?
As an investigative reporter you have been called to a coastal Greek village to investigate the mysterious circumstances in the death of a sculptor Elias Kostas and his wife Maria who were found encased in plaster in his studio. Seemingly it was a horrific accident but Dr. Alexander, who called you, knows the truth and needs your help to prove that this was murder. As the body count mounts up, will you be able to solve the case or will you be the next victim? The graphics are very good but not always as crisp as I like. The artwork is lovely and does justice to the coastal Greek village setting. There are voiceovers with lip/sync that are generally very good with the exception of one character who speaks so slowly, I wanted to drag the words out of his mouth. The music and ambient sounds are very good and I found the music quite enjoyable. In fact, this is one of the few games where I will enjoy the extra soundtracks that are included with the CE content. You have a diary located on the lower left of your screen that, unfortunately, lights up with streaming sparkles every time you collect a note which I found extremely annoying. I found myself constantly opening the diary just to make the lights go away. The compass located next to your diary is the interactive map that shows where there is a task available. Shorty into the game you will acquire a feline helper who will be able to reach areas that you cannot. I know some of you hate furry little helpers in a game but give this one a chance because it is cute and you won?t find it annoying in the end. There are various types of HOS including the interactive list type and the progressive silhouette type. Most of the HOS were done well but in some of the early HOS I had a difficult time locating the items since the scenes were cluttered and the items seemed to fade into the background. The puzzles in Blood and Sand, although somewhat familiar, are good with many of them being fairly easy; however, there are some that are sticklers and a bit tricky. For those of you who want morphing objects, collectibles and achievements in a CE game, you have them in Blood and Sand. You can earn thirty achievements, most of which are earned simply because you complete tasks in the game but there are also some mystery achievements included. As you move through the game you can find sixty collectibles and twenty morphing objects. The remainder of the CE package is fairly standard with the inclusion of a bonus chapter, strategy guide, wallpapers, artwork, music and replay of HOS and puzzles. Given some of the beautiful scenes in the game, I was surprised that the wallpapers were not that great. Dark Canvas Blood and Stone is a very nice game that had the misfortune to be released right after one of the most outstanding games we have seen this year and, as a result, it pales in comparison. The game?s storyline is a bit different than the usual fare and is interesting enough that when the demo ended I wanted more. Blood and Stone is not one of the best games in recent months but it is better than most and does have a decent amount of extras to make it a true CE. Given the good sale for game club members this weekend I went ahead and purchased the game. I found Blood and Sand to be an entertaining game and recommend that you at least try the demo.
October 26, 2013
It was a buy for me
I like this game better than nevertales, maybe I'm the odd one out, but I like junk pile list HO's I like sparkles especially when they are theme oriented like blue music notes in the maestro series. I liked the morphing objects, they aren't that easy to find, I've only got half so far, don't know yet if they continue on in the bonus. there are 60 stone coins to collect puzzles are pretty good too the only thing I don't like is how the scenery changes from beautiful hand drawn colorful scenes to washed out photographed picture scenes faded to tan color. voice overs weren't the greatest but at least there are no real people in the game! sorry but I detest the use of people in these games, won't buy it if I see any. the one exception being Victor in the Ravenhearst series of course. so give it a try plus its on sale
October 27, 2013
I hope you like statues!
I did not play the first Dark Canvas but it doesn't seem to matter -- they don't appear to be connected. You are an investigative reporter, invited to Greece by Dr. Alexander to look into the mysterious death by plaster sculpture of Elias, the town sculptor and his wife Maria. Unfortunately, when you arrive you find the good doctor is now also encased in plaster and the assistant Christo running away from the scene. It turns out Christo is innocent, but you are several puzzles away from that! It also seems the mayor is planning to host a memorial to the sculptor and is using all the town funds for it. You get the doctor's cat, after you feed it, to use as your helpful friend to reach the areas you cannot. There is an attractive map with actions marked - not necessarily immediate actions, however. I also had trouble jumping from place to place using the map, but perhaps I wasn't clicking in the correct place. There are 60 coins to collect that you can use to buy sculptures of different figures -- kind of a nice touch. The HOS are either interactive lists or silhouetted objects that you use to find the next object. The mini-games are easy and not necessarily unique. The scenery is quite pretty and the music is nice and gentle. The story is interesting enough that you will probably want to buy, if you are tired of monsters and ghosts and battles. This is a simple game but a lot of fun.
October 26, 2013
PLASTER COLD KILLER?
I'm not as impressed as I thought I would be. Although the scenery is pretty, the HOS are typical and the puzzles are quite easy. It's relatively easy to finding pieces to complete objects (such as gate, rope) in order to move forward. Map is helpful in showing you where there are tasks to perform. Liked the kitten - he sure likes to climb. I was positive he would get stuck in some high place. Music is appropriate to whatever scene you are investigating. Voice overs are good. Morphs and coins are easy to find. A very nice game. 4 stars (I was expecting a 5-star performance from the description), but still worth owning.
October 26, 2013
I Liked It!!!
Finally a game without ghosts, evil spirits, dead relatives, etc. A very nice easy going game with a simple story that was quite engaging. HOG's were fun, interactive & not as messy as the usual HOS junk pile. I was even able to do the mini games without any hints or skips. The graphics were quite good though the music was the usual annoying, generic type. But, this did not dissuade me from thoroughly enjoying the game. It's a definite buy for me. As always, give the demo a try & decide for yourself.
October 26, 2013
Good game
The game is adventure+HOG+puzzles. I found this game interesting because of the beautiful Greece landscapes. The art is good done and all points are clear. I love some subtle comedy like the stork carrying a sack outside the doctor?s office and other little things. Anyway, it's not the best game so far, but it's definitely good game.
October 28, 2013
Sculpting gone Mad
I enjoyed the first Dark Canvas game, so was excited to see this game appear. I liked it. Visuals and sound were great. Yes, there were things in the game that other reviewers pointed out that were very far-fetched, such as giving the kitten milk while the murderer was escaping. There are collectibles, morphing objects, stones. There are achievements, a SG which I did not look at, and a bonus chapter, in addition to the CE "nonsense" as I call the wallpaper, etc. The HOS were nicely done. Some interactive, some sillhouette. Many more puzzles in this game than HOS. The puzzles ranged from unique and cute to hard. I liked the progression of the game. The last "big" CE offered annoyed me because of the constant find the object interruptions. This is all just my personal taste in a game. As i only played the demo, I'm not sure how long the game is. I enjoyed it though and will either buy the CE or wait for the SE. With today's sale, it will probably be the CE :) Happy gaming.
October 26, 2013
Has a good storyline
The game had a lot of extras, ie collectibles (stone coins to purchase little statues, morphing objects, and achievements. I couldn't find where I could check the achievements I received and was a little confused in regards to that. The achievements were based on stuff you completed in the game but not sure what else. The rest of your extras are your typical wallpapers, music, mini games and hos. The game itself went along with you being called to the little Greek town to find out who is behind people being made into statues. It seems to be based on a picture in the doctor's office and Christo, Elias' assistant doesn't seem to be the killer, but not enough clues yet by the time I finished the demo. The game had some weird meanderings that didn't make a lot of sense where they had them but all in all not a bad game. You really need to play the demo though to decide for yourself
October 27, 2013