Dark Canvas: Blood and Stone Collector's Edition
Exclusive
Who used the encasing device in the grisly murder of the Sculptor and his bride? What loathsome secrets are hiding behind the high walls of elegant, Grecian estates? Explore a beautiful and romantic Greek village by the sea, as you use your investigative reporting skills to track down a desperate, haunted killer – before they kill again!

This is a special Collector's Edition release full of exclusive extras you won't find in the standard version. As a bonus, Collector's Edition purchases count toward three stamps on your Monthly Game Club Punch Card!

The Collector's Edition includes:
Play the mini-games and hidden object scenes again!
Return to Partha in a Bonus Chapter
Download soundtracks, wallpapers, screensavers, and concept art!
Game System Requirements:
OS:

Windows XP/Windows Vista/Windows 7/Windows 8

CPU:

600 Mhz

RAM:

512 MB

DirectX:

9.0

Hard Drive:

867 MB
Game Manager System Requirements:
Browser:

Internet Explorer 7 or later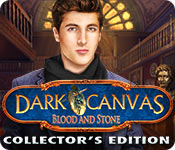 The Big Fish Guarantee:
Quality tested and virus free.
No ads, no adware, no spyware.

Reviews at a Glance

Dark Canvas: Blood and Stone Collector's Edition
0
out of
5 (
0
Reviews
Review
)
Customer Reviews
Dark Canvas: Blood and Stone Collector's Edition
33
33
Sculpting gone Mad
I enjoyed the first Dark Canvas game, so was excited to see this game appear. I liked it. Visuals and sound were great. Yes, there were things in the game that other reviewers pointed out that were very far-fetched, such as giving the kitten milk while the murderer was escaping. There are collectibles, morphing objects, stones. There are achievements, a SG which I did not look at, and a bonus chapter, in addition to the CE "nonsense" as I call the wallpaper, etc. The HOS were nicely done. Some interactive, some sillhouette. Many more puzzles in this game than HOS. The puzzles ranged from unique and cute to hard. I liked the progression of the game. The last "big" CE offered annoyed me because of the constant find the object interruptions. This is all just my personal taste in a game. As i only played the demo, I'm not sure how long the game is. I enjoyed it though and will either buy the CE or wait for the SE. With today's sale, it will probably be the CE :) Happy gaming.
October 26, 2013
Has a good storyline
The game had a lot of extras, ie collectibles (stone coins to purchase little statues, morphing objects, and achievements. I couldn't find where I could check the achievements I received and was a little confused in regards to that. The achievements were based on stuff you completed in the game but not sure what else. The rest of your extras are your typical wallpapers, music, mini games and hos. The game itself went along with you being called to the little Greek town to find out who is behind people being made into statues. It seems to be based on a picture in the doctor's office and Christo, Elias' assistant doesn't seem to be the killer, but not enough clues yet by the time I finished the demo. The game had some weird meanderings that didn't make a lot of sense where they had them but all in all not a bad game. You really need to play the demo though to decide for yourself
October 27, 2013
A Nice Greek Tragedy!
Five old friends and three of them dead, encased in scuptor's plastic. After having recieved a letter, your mission takes you to a Greek Island where once upon a time lived a famous scupter and his wife, both tragically dead due to a unfortunate accident involving a machine that turns things into sculpters, Right! As you discover some clues, another tragic death occurs and obviously someone out of the five people is behind these deathsand it looks like the list of suspects is dwindleling.. What we have here is a Greek Tragedy brought to us as a standard HOPA game with the appropriate extras. After having played the demo, I will either wait for the SE version to come out or take advantage of a good sale. Today's game offers good graphics, sharp and bright colorful art work. There are voice-overs and the music was actually quite good. Game features a journal, a task or list of objectives, a map that will allow you to travel and also indicates areas of interest, twenty morphing objects to locate and sixty stone coins to collect throughout the game. There are also achievements to earn as well. Game mechanics include adventure gamplay, standard HO scenes with some interation involved and very easy and quick mini-games. The HO scenes are repetative but items are well hidden and sometimes difficult to spot. So why am I not jumping up and down? Because there is a real out-dated look and feel about the game and a lack of any sort of challenge. Also there is something too familiar about the entire game experience, either I played this game before or played so many like it back when HOPA games were all the rage. Dark Canvas is not a bad game, but not really a great game. As I said, I personally will either take advantage of a sale on CE games or just wait. In a fairness, I am a bit curious to see just who is behind the deaths but as I am comparing notes with the outstanding CE game Nevertales, I cant honestly give this game five gold stars, three and a half would be my grade.
October 26, 2013
Nice game...3.5 stars
Well, I never rehash the story in a game...been done by others. I just like to tell you how I felt about the game. I really liked the graphics in this one. Color was very vibrant and fairly clear. Game play was nice. Music wasn't too bad...calming actually. Voice overs were good. Sounded tinny in the beginning, but cleared up when the actual game began. You can click through the dialoge everywhere in the game, except during the "story" part of it. It did need a little more of a hint as to what was going on in the beginning. HOGs were nice, clear and clean. Items not difficult to find. Games were fairly simple, but some did take a little thought. SG was nice, but not really necessary. Hint system was helpful and filled quickly. There was no real excitement to this game. Nothing that drew me in from the beginning and make me want to purchase to see what happens next. The coins are easy to find, but not sure what they are for #looked at achievements and still don't know#. The only challenge that I found so far is trying to find the morphing objects. They are extremely difficult to see and major eye strain watching for them. Otherwise, it was not challenging or difficult, but it was a nice game. Yes, I will get this game, but not sure if it is worth the price of a CE or if I'll just wait for the SE version. As always, try it for yourself and see what you think. We all have different tastes in games and may not care for this one at all. Thanks for the review.
October 26, 2013
Whodunit (demo only)
Story, you are called to investigate a murder of a sculptor and his wife; by their doctor; when you show up you find him dead in the same method as the sculptor/wife. The only reason I'm purchasing this game are the graphics are great and lovely to look at; the sale this weekend and to find out whodunit. I played casual mode. Good Stuff 1-graphics music are great 2-transporter map (beam me up Scotty# 3-achievements 4-morphing objects difficult to see 5-collectibles #used to purchase sculpture?) 6-notebook 7-lists and indications on map of where tasks are to be done Mediocre stuff 1-HOS visited twice outlines, interactive unlike another reviewer, I found the items easy to find and not too small 2-so far the puzzles are quite easy, hopefully they will get harder as the game progresses Really!!!!!!!!!!!! 1-parts of the storyline, you find doctor dead but have to feed the cat; get a playmate for gopher to get a necklace before chasing the suspect After playing Nevertales Beauty Within we've been spoiled; although the graphics, voiceovers and music in this game are excellent and the only reason I'm getting this game are listed above. This would be a good game for beginners who have NEVER played a game of this type before. I would give this game a 3.5 rating for graphics alone. Again, I would suggest that you try the demo as everyone's taste is different and you might really like the game; and since there is a sale this weekend you can take advantage of it.
October 26, 2013
Don't Get Plastered
Pretty good game. Interactive map, Collect coins, two kinds of HO's and some critter action. All task and puzzles were pretty simple. Lots to do but the game did drag a bit. Characters were great and I could not figure out yet who dun it during free play. In Light Lynn
November 19, 2013
Pleasant to Play
This was a relaxing game to play with a peaceful musical background. Graphics were very detailed and well done. Nothing great but all good. You collect stone coins and there are quite a few achievements to earn so those two things are always a plus in any game. The mini games aren't too difficult but good to play. Nothing just absolutely grabbed me as far as the play of this game goes but would still be a good buy.
October 26, 2013
Something Went Wrong!
This review is based on the demo only and quite frankly I'm in no hurry to play more. The game started out with great potential but in no time went downhill. As an investigative journalist you have been summoned by Dr. Alexander to report on the suspected murders of sculptor Elias and his wife Maria. Upon arrival you find the doctor murdered in the same way as Elias and Maria, encased in plaster. And to boot, the would be murderer is jumping out the window! Now what do you do first, call the police? No, you warm milk to feed the Dr.'s cat!! And speaking of the cat, I had a problem picking it up into my inventory, no matter how many times I clicked my mouse on the cat it would not accept it. So I ended up starting the game again with a new profile and finally it worked. Needless to say it was very frustrating having to redo what I had already done as well as losing out on the total demo time! And so in this vain the story continued. While finally in pursuit of the would be murderer who you catch up to briefly, you have a pitchfork thrown at you and then get interrupted by a towns person who wants your help in finding his wife's necklace!!! Talk about wandering. Anyhow on a more positive side, the graphics were great. Scenery was very picturesque, bright with vivid colors creating a very realistic Mediterranean atmosphere. The music also added nicely to the scenic surroundings. There were stone coins to collect and morphing objects to find, which by the way were very hard to spot. Overall, the game had an interesting story line, but somehow seemed very poorly put together. Maybe it improved as the game went on but for now it's a no for me.
October 26, 2013
This Game is a Tragedy Indeed and Very Forgettable
BASED ON THE DEMO First off, I did not finish the demo. I got about halfway into it before I got bored out of my mind and decided I couldn't waste another minute of my time playing this. You are a journalist (and detective, apparently) who is on your way to a quaint little Greek village in the Mediterranean, responding to a message you received from Dr. Alexander. A famous sculptor and his wife has tragically died in an accident with the sculptor's machine and end up getting encased in plaster. The doctor, however, believes it was not an accident and calls you in for help. The CE includes: ** 4 wallpapers that are nothing inspiring ** 18 concept art sketches ** 7 replayable HOS ** 20 replayable puzzles ** 9 music tracks ** 30 achievements to earn ** 20 collectable morphing objects and 60 collectable stone tokens ** Use the stone tokens to purchase statues. Purchase them all and complete 3 bonus puzzles to unlock a special book ** Bonus chapter ** Strategy guide doesn't follow your progress Dark Canvas: Blood and Stone was a giant yawn. What is there to say about a game that failed to not only capture my interest, but did not provide any sort of challenge or fun? The HOS and the puzzles are insulting easily and can be solved in under a minute. The music was nice, I didn't find anything wrong with it, but the graphics, ugh. They aren't bad and they aren't good, it's like a strange mix between cartoonish and realistic, making the graphical style unappealing and highly tasteless. Bleh. There are VO's but they are okay and the characters have no lip-synch and aren't the least bit animated (wouldn't expect anything more from this game). Other things to note about the main game: ** 5 chapters ** 3 difficulty modes: Easy, Medium, and Hard ** A journal that follows your progress and tracks useful info and things to remember ** Interactive map, allows teleporting to locations and tracks active tasks/objectives ** Lockable inventory ** Hint and Skip options available There is just nothing redeeming about this game. I found myself not caring about the storyline. All of the townspeople could have been encased in plaster and I would just been like "meh oh well". You don't feel invested or immersed in the story at all. The HOS and puzzles are way too easy and there is no fun factor at all, making this game incredibly boring and forgettable. In fact, I've already forgotten about it.
October 26, 2013
A Bit too Tame
You would think that there would be a little more excitement in a murder mystery, wouldn't you? While I found the game play okay, it was just that. Okay, not great. The music was a little to soft and melodic, too. No real tension created with it. The graphics were not quite spot on. I really had to look hard to find some objects. And even though I played on casual mode, I had no idea of some areas to search. No glinting! I did a beta of this game and recall the same issues mentioned above. One other issue I wish developers would address is the announcement when you have completed one of the accomplishments. A big banner that says I didn't use a hint (or skip, etc.). Really? I could easily do without these. They just don't add anything valuable to the game play for me. I did find one morphing object about 2/3 of the way into the demo. They are truly not obvious and if that expands the playing satisfaction for some, then they will be happy, indeed. This is a pass for me. It's just a little too ho-hum.
October 26, 2013
The Apple logo is a trademark of Apple Computer, Inc.