Dark Cases: The Blood Ruby
Exclusive
Your worst fears came true the night your father never arrived home. Someone killed him during his latest investigation. As you sort through his remaining possessions you discover his diary recording his last moments - and a strange amulet that sends you hurtling back through time to the day before his murder. Time is running out as you race to not only prevent his murder but also to catch the mastermind behind it all.
Game System Requirements:
OS:

10.9/10.8/10.7/10.6

CPU:

1.6 GHz (INTEL ONLY)

RAM:

1024 MB

Hard Drive:

611 MB
Game Manager System Requirements:
Browser:

Safari 4.0 or later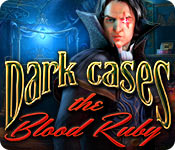 NEW299
The Big Fish Guarantee:
Quality tested and virus free.
No ads, no adware, no spyware.

Reviews at a Glance

Dark Cases: The Blood Ruby
0
out of
5 (
0
Reviews
Review
)
Customer Reviews
Dark Cases: The Blood Ruby
27
27
Very good
I'm so glad it finally was released as an SE. Since the CE version has no bells and whistles at all I chose to wait for this one. It was well worth it. So much to do, so many locations. There is definitely a lot of back and forth but in a good way.Game stays interesting all the way. Sometimes you carry a lot of objects around so to remind me I opened up the inventory a lot. Graphics are just beautiful. I'm getting to really like Boolat games. You have a good map that shows active locations and the journal keeps track. HOS are fun as well with a little twist. Not too many, just the right amount for me. Story is great, I never got bored. Length seems very good and that means a lot to me, I'm not quite done yet but I have played for hours already.... and then again i usually take my time. The graphics are so nice I need to look at everything. I very much recommend giving this a try.
October 14, 2013
Absolutely Awesome! Great Murder Mystery!
BASED ON COMPLETED STANDARD EDITION GAME Wow! This game is absolutely outstanding. It's started great and just got better and better. It gripped me from the moment it begun and didn't let go until the game finished. This was an absolutely wonderful game. As I mentioned, the story is wonderful. It's a murder mystery, but a rather dark one. I'm glad there's a developer out there who's not afraid to go all out to please the fans! It's also got an element of time travel in there too. I absolutely love murder mysteries, and with this added element, how could I resist? The story starts brilliantly. Your father is shot and you have to go back in time to stop him. From there, it's just one brilliant scene after another. There are also various scenes of Diana's memories, which added some detail to the story and was also brilliant. By the time I had discovered these memories, the demo had ended. The demo ended on a brilliant note, so how could I not play on? Most games take a bit of a slump during the middle period and pick up again towards the end, but this one did not! It remained exciting and stayed with the same tempo for the entire game. More of the memory scenes popped up (adding more detail to the story), more characters were introduced and the true story began to be unveiled! Each cutscene was more exciting than the last. The story itself had so many twists and turns; when I thought I'd caught the killer, the game threw another curveball. The story was so brilliant, and when it finally got to the end, it was done justice by an amazing final cutscene. I thought I'd seen some great twists, but the developers saved the best twist until last. The ending was so amazing, so unexpected... it was hands down the best ending to a game I've seen. Those who are wondering, it did end conclusively, so there's no need for the CE. I did especially like the memory scenes. They added extra detail to the story. It was kind of like a backstory on how she got in to the situation. Similar to the main story, they got more and more exciting with each cutscene. Overall, the story was amazing. One of the best stories, if not the best, that I've ever seen in a hidden object game. But what I really enjoyed about this story was the fact that it was realistic. The time travel part was done exactly as it should with no fancy stuff happening. Good job to the developers on making such a great, realistic story! As well as having a great story, the game had some pretty good gameplay too. The gameplay was just a little bit different than normal and I really enjoyed it. For starters, the HOS. Although they weren't much different from the usual, they were altered slightly in the way of the extra step objects. Instead of picking the object up and dragging it over to the thing it needs to be used on, you click on it like a normal object you need to find and it goes in to a mini-inventory thing. From here, you used it as normal. Other than that, the HOS were the usual (extra step objects, etc.). But this little addition made the HOS slightly more fun. The HOS were spread out evenly too. There weren't many of them, and they weren't piled on towards the end. Nothing infuriates me more in a game than when developers just pile on HOS. It was good to see that this developer spaced them out a bit. The puzzles were good too. They were a little different from normal and quite challenging, a lot more than some other games out today. The puzzles were very fun to attempt. I could solve quite a few of them. What made these puzzles more fun was that some of them were new. It's always fun to try a new puzzle, isn't it? Like the HOS, the puzzles were fairly spaced out. There weren't a lot of them, and that made them quite enjoyable. One other feature I saw that was quite cool was the + objects. You collected two parts of an object and then joined them together to make the complete one. The parts you could join were indicated by + signs. This doesn't occur often in games, so was a nice feature. Other than that, this a normal HOPA. No helpers, no fancy new features, nothing. Normally, this would annoy me, but here, it doesn't. When you've got different HOS and different puzzles, extra features don't matter. This is a really great game. The graphics are good, but not great. Everything was clear and all, but I've seen better. Everything was drawn well, but probably could have used a bit more detail. I'm not complaining, I still thought the graphics were good, but if I had to pick one fault with this game, it would be the graphics and voice-overs. Most of the voice-overs were good, but the voice of the main character's father, the police officer, didn't sit well with me. It was really underdone and acted quite poorly. The guy who was voicing seemed to be bored and had no emotion to the voice. That was a real problem for me. All the other voices were fine, but that one... ugh. FEATURES 3 modes of difficulty: Casual, Advanced and Hard. The differences are the usual. I played Casual. Hint/Skip- both recharge at a reasonable rate for the difficulty I selected. The hint is useful outside HOS. Diary- keeps track of events. Map- the map is interactive and is quite helpful. It lest you know where your next tasks are, and when locations are completed. + objects- see gameplay section of review for my opinion on them. I thought they were quite good. WHAT DO I MISS OUT ON IF I BUY THE CE? Not much as it turns out. You just have the basic CE Stuff: Bonus chapter- NOT NEEDED Strategy Guide Concept Art Music Replay HOS & Puzzles Replay Movies Wallpapers WHICH IS THE BETTER BUY? Looking at completed CE reviews, and based on my own experiences, I say the SE is the better buy. The CE doesn't have anything that makes it worth the extra money, and the game finishes conclusively. I definitely advise you to go for the SE. So, what else can I give this game but five stars? It truly is an excellent game. I loved it from beginning to end. With the great gameplay and great story, you're looking at one of the best games from 2013. I'd never heard of this developer before, but this is a pretty good first impression! I can't wait to hear more from them. I think you should definitely buy this one. You won't be disappointed! ON THE GAME LENGTH The game was a decent length. I estimate somewhere between 3-3.5 hours on Casual mode.
March 29, 2014
Loved It!
I was drawn in from the get go, loved the story line, somewhat different than other family adventures. Going back in time with the aid of a family heirloom to try and stop your cop father from being shot is a very unique plot with twists and turns that keep you riveted. Well acted voice overs, wonderful graphics, and music adding suspense where appropriate. HO scenes were a nice change and while mini games were not all new they still added fun to the game play. A very smooth flow yet kept you on the edge. Does she save her dad or doesn't she? Not much I didn't like with this one except that there wasn't much more in the CE to warrant my vote, so the SE is for me!
October 14, 2013
Beautiful, charming game!
This game is a charming Pinocchio story in a way. I think it is the devs best so far. HOS are easy, so not on the unnerving side, where so many are. You are kept interested till the end. For me the SE was enough, but I think the game has CE quality.
October 14, 2013
Gem of a game!
I don't say this often but this game has everything I have been looking for. Good storyline, Good graphics, and finally a game that has different and challenging puzzles. BUY AT ONCE!!!!
October 16, 2013
Great Game!!!!
This was a really good game. The graphics were amazing and the voice overs very well done. Just the right mix of hidden object (with interaction), puzzles and adventure. The map allowed you to jump from place to place. It also had a task list and diary to keep you up to date as to what was going on. I highly recommend this game. Thank goodness a mystery to solve without the occult--voodoo theme.
February 28, 2014
Long fun game
This game is really fun and can be somewhat difficult at times. It was a good long game for an SE (the CE must be VERY long) I totally enjoyed this game!
November 2, 2013
An extremely clever and pleasurable game!
Not too easy nor too hard! Dark Cases:The Blood Ruby (SE) had rhyme and reason to its madness, and the game flow was unbelievable. The artwork was awesome; VOS were great, storyline--great, a different take on the interactive HOS as I've never encountered before. I loved the whole shabang! I played in normal mode and due to the developers' clever take on the puzzles and thought-provoking and challenging tasks, I didn't get bored once! It held my attention from the get-go! I didn't want to stop playing. Now, that's a good game! There is a lot of back n' forth but you've got a great map that takes you right to the spot. You've got a good hint button if you need it, and it will load fast or slow according to the game mode you've chosen. My suggestion to the players is to read the journal, when you click on the items there is often text to read. Read them, you'll get lots of good clues there. Pay attention to the pictures, numbers, and journals. I thoroughly enjoyed concocting the recipes; what comes to mind are a potion for a new heart for the puppet; and on the other end of the spectrum, you'll even make a quick pizza! You will gather quite a bit of items in your inventory and some will remain for a 'fairly' long time. Normally I'm not crazy about that but it all made sense somehow; and, again, game flow is the key! It wasn't the longest game but so much fun to play. I got a special deal on this game from Big Fish and am so glad I bought it. I would have bought it at regular price to be honest; it's that good! As I mentioned before, I don't do demos, but this SE is well worth the buy! I highly recommend it. Kudos to the developers!!
February 9, 2014
Extremely Clever! Loved this One!
Where are all the 5 star reviews? I almost decided not to buy this one but so glad I did based on two reviews that mentioned this being a challenge and an excellent game. I'm not disappointed. But let me warn you -- you need to turn the annoying music completely off. It almost ruined the game for me. With the music off I could set my own mood. I play on "expert", I love a challenge AND a game that lets me play for several hours. If you're truly wanting a challenge (playing on "expert" or "hardcore") this one had me stumped a few times. I refused to cave, however, and I figured everything out myself, but IT WAS A CHALLENGE. Really loved this one!
October 27, 2013
Beautiful Game.
Loved this game. Graphics were beautiful and the game was long!
February 16, 2014
The Apple logo is a trademark of Apple Computer, Inc.
The Windows logo is a trademark of Microsoft, Inc.