Legacy: Witch Island
An ordinary hot air balloon ride turns extraordinary when you accidentally wind up on a mysterious island. When it is revealed that this mystical land is ruled by an evil witch, you begin to realize that your arrival is not a coincidence, and the loyal people of the island are depending on you to break the witch's spell. Explore the mysterious forest, rocky mountains, dark caves and high altitude lakes as you make your way through the picturesque sceneries of the land towards the witch's castle. Can you destroy the witch's curse and reveal the secrets of the ancient prophecy?
Breathtaking sceneries and landscapes
Logic-based mini-games and bonus Match-10 play
Unconventional use of HOG scenes
Game System Requirements:
OS:

10.9/10.8/10.7

CPU:

2.0 GHz (INTEL ONLY)

RAM:

512 MB

Hard Drive:

949 MB
Game Manager System Requirements:
Browser:

Safari 4.0 or later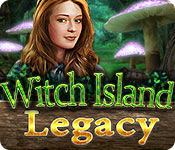 NEW299
The Big Fish Guarantee:
Quality tested and virus free.
No ads, no adware, no spyware.

Reviews at a Glance

Legacy: Witch Island
0
out of
5 (
0
Reviews
Review
)
Customer Reviews
Legacy: Witch Island
78
78
Worth a Freebie!!!!
Has a lot of ho's I like that. Some what hard to find. You have to look close. Enjoying it anyway. It is a long game worth the price. Check for yourselves than decide.
October 14, 2013
A Nice Game ... With A Few Glithches ...
Nice Graphics, Sound, Effects & OK Story ... Nothing Fancy, But With A Few Of The Frills You Find In CE Versions ... Overall A Nice Bit Of Entertainment ... Worth A Go ... Especially On A Deal Or Voucher ...
October 20, 2013
Very pretty little game
My first thought was this would be a good starter game for younger people. It is very cute, nice music and good story. Still I enjoyed the demo on a rainy afternoon, but sorry, it's not a buy for this "mature" person.
October 14, 2013
Solve the Mystery of the Mirror
Our story begins with our heroine sleeping and dreaming of a mirror and a beautiful castle. Our heroine inherited the mirror from her grandmother who was found adrift at sea, alone in her crib with only the mirror whose jewel embellishments had been removed. As the story unfolds, your friend Peter has urged you to go on a hot air balloon ride and insists that you bring the mirror along. Of course it is quite predictable, the balloon encounters a storm and you are tossed from the gondola and find yourself in a mysterious land where its residents have obviously been waiting for you. Now your adventure begins as you try to find Peter and fulfill the legacy that is awaiting you. There are no voiceovers and the written dialogue is very unpolished. It seems like this is most likely a first attempt at a HOPA game from a developer I am unfamiliar with. Although the dialogue is rather choppy, the graphics are very crisp and colorful. I don?t have much to say about the music; it?s just there and at many times it doesn?t seem appropriate to the game. I think it was added without much thought and seems like it would be more appropriate to Gardenscapes. We have a journal but no map unless one is to be acquired much later in the game. Early on we rescue a ?helper? who becomes our hint button. As a note, the written story in the journal is far superior to the game?s written dialogue. I?m not sure why this didn?t carry over into the actual game dialogue but it didn?t and it is a shame. The HOS are straight forward with only minor interaction required. I found some of the items to be quite small or faded into the background and they were difficult to find without using the hint. For the first time in a HOPA game, a developer has given us the ability to skip the HOS. We don?t need to switch to a match 3 or mahjong type game; we can choose to skip the HOS after some time has passed. I know many gamers will like this option. Although I love HOPA games, many times the HOS become tedious and I wish there was a way out and, finally, we have one. It seems like someone was listening to some of the comments from many gamers, so kudos to the developer for adding the skip option. The developer has given us a ton of puzzles although most of them are very simple. I believe I counted 48 puzzles in the extras section that can be replayed, and many of them have additional levels. I?m not sure but it seems like this game may have been intended as a CE game since we have collectibles to find and achievements to earn. At some point it was probably decided that the game wasn?t CE quality since we don?t have the other fluff and extras that we normally find in CEs. Although this is not a stellar game, I did use a free punch to purchase it because it seems like it has a lot of promise. I find that it is entertaining and holds a lot of promise to become better as the story develops. Since this is a new developer, I have a feeling that subsequent games will acquire a lot more polish and become something to look forward to. As always, I recommend that you try the game to see if you might like it.
October 14, 2013
Look out for the witch!
I can't decide if I like this game or not. The graphics are great, the opening scene with the balloon ride is excellent. But the premise of the game is not clear. You fall onto an island, run by a witch, the inhabitants of the island have been waiting for you for 100 years. You have a mirror from your grandmother, that is missing stones. Every time you find a stone, you get more of the back story -- something about a witch trying to claim the king's baby, which is whisked away in its cradle by a griffin, with only a mirror as its belonging. The stones in the mirror went to the stonekeepers. As you wander the island, you keep running into the witch, who seems to look like you. She's not really scary either. One nice touch is, you always have a lighter and a knife available. The hint button is a talking raccoon who you freed from his cage who claims to have been waiting for you. So has the mermaid. There is no map, but you do get to find 31 lightning bugs. Also, you have to find 10 flowers or 10 snails or whatever to complete some of the puzzles. The HOS are all lists, The mini-puzzles seem to be limited to about 6 different types that are accessible from the main menu once you complete them. They are not hard nor are they unique. I really enjoyed the first 30 minutes or so of the demo. However, once the mini-games started repeating, and the witch kept randomly showing up to make threats, I kind of got bored. Have not decided to buy yet.
October 14, 2013
Pretty Simple Game
My review is based on playing the hour demo. This game is about a girl finding out about herself. It seems like an old game. Has a diary, but no voice overs and no map. Many, many easy puzzles, and long cut scenes. Transitions between scenes are long (and frustrating). The graphics are pretty. I think kids would like it. Nothing really scary and nothing too hard. You get pretty much led by the hand from one scene to the next. Also, once you solve a puzzle (at least most of them) you get to play it again from the main menu. This game should be likable, but I'm going to pass until it shows up as a bonus. If you're a power player, you're going to hate this game.
October 14, 2013
Ok, but didn't want to part with money....
The game was alright, but I didn't play more than 40 minutes of the demo. Mainly because it moved a bit slow for me....I'm a bit of a speed demon and like to move locations or between puzzles, etc, quickly but there was a bit of black screen before going to the next location and that bugs me slightly. However, it was nice to see some different styles of puzzle, albeit very easy puzzles. And the HO scenes had some interaction. One good Pro for this game is that it has achievements and collectables even for a SE game. There are about 12 or so achievements and yellow type bugs to collect in each location. Probably a good fun game for beginners due to the low level challenge, but just not for me this time.
October 17, 2013
Good game for HO beginners
Storyline is about a girl that has a connection to an old mirror left to her by her grandmother. Taking an impromptu trip on a hot air balloon and an ongoing dream, she discovers that she is actually a princess, brought to an enchanted island. The imprisoned creatures are actually subjects and have been changed by an evil princess... This is a very good game for beginners to learn on how to play Hidden Object games...Mini games are simple, hint button is very quick, teaches how you have to "walk around", collecting inventory and where to use the items...Graphics are okay, not as great as most of BF HO's, but again, good for beginners.....
October 15, 2013
Solid 3.5 stars...almost too quiet
Hi fellow pond pals. A refreshing change of pace with this game. The technology is very old school, but the graphics and game play were very nice. Colors are very vibrant and clear. There are no voice overs, which I think this could use, and very little in the way of sound FX. This is a very quiet game. You cannot click through dialoge, so you are stuck reading everything. There is no jump map (you revisit locations multiple times, but they are easy to find). You start the game with a knife, which I used twice during the demo, and a lighter, which I used once during the demo. They stay during the game, so you don't have to hunt around for another one every time you need it. There are a lot of puzzles in this game. They are extremely easy and some are repeated, as in most games. The skip button is almost instantaneous, so you don't have to wait forever for it to fill. Puzzles are so simple I doubt that you will use it. Very few HOGs, which are a bit cluttered, but items are easy to find. The hint button is quite helpful and fills within a very few seconds. You do have one item to collect during the game, but it is quite easy to see. I believe this game would appeal to the beginner, and maybe some expert players as well. As I said, it is a very easy game, but well done. This is one of those games that you play when you are really tired of the dark and gloomy all the time. It is not challenging, but relaxing. Sometimes that's what you need. I am going to use a punch and get this one today, before I lose another one. I found this to be a nice game. As always, try it for yourself and see what you think. We all have different tastes in games and you may not care for this one at all. Thanks for the reviews.
October 14, 2013
Liked it, didn't like it...
The story begins with the tale of your grandmother, who was found, as a baby, with a strange mirror in her cradle. After she dies, you inherit the mirror and begin having strange dreams of a far off island. One day your friend Peter suggests a hot air air balloon ride and he insists you take Grandmother's mirror. The hot air balloon ride is actually supposed to be the balloon just going up in the air while tethered to a post. Predictably, the balloon becomes untethered and you fly over unfamiliar lands, managing to jump out of the balloon on the strange island of your dreams. Your friend is not so lucky, though I suspect there is more to this character than you have been led to believe. 2 levels; casual & expert. (I started playing on casual so I could play more of the game, however it was annoyingly simple so I switched to expert. Unfortunately, it didn't get noticeably harder) List style HOS. Puzzles, lots of them, quite easy No voiceover Music...slightly annoying, but not bad if you turn down the volume and just have it faintly in the background. Graphics are a disturbing blend of real scenery & people mixed with beautiful artwork. Optional tutorial Extras, unusual for a SE; 31 yellow bugs to collect, plus mini games are replayable in the main menu section once you solve them I played the entire hour of the trial, so obviously I was enjoying it on some level. I really wish the developers had stuck to one style of graphics. And while I was pleased by the inclusion of extras not usually found in a SE, I wish more attention had been paid to having voices, not just the text. I love having voiceovers where the characters lips are in sync, but even an audio is better than nothing. I cannot, in good conscience, give this game a 4 star rating, however, I am going to recommend the game for beginners, or if you have a free coupon, as I do, using that. Light (and I stress light) entertainment for a boring afternoon..
October 14, 2013
The Apple logo is a trademark of Apple Computer, Inc.
The Windows logo is a trademark of Microsoft, Inc.