Legacy: Witch Island
An ordinary hot air balloon ride turns extraordinary when you accidentally wind up on a mysterious island. When it is revealed that this mystical land is ruled by an evil witch, you begin to realize that your arrival is not a coincidence, and the loyal people of the island are depending on you to break the witch's spell. Explore the mysterious forest, rocky mountains, dark caves and high altitude lakes as you make your way through the picturesque sceneries of the land towards the witch's castle. Can you destroy the witch's curse and reveal the secrets of the ancient prophecy?
Breathtaking sceneries and landscapes
Logic-based mini-games and bonus Match-10 play
Unconventional use of HOG scenes
Game System Requirements:
OS:

10.9/10.8/10.7

CPU:

2.0 GHz (INTEL ONLY)

RAM:

512 MB

Hard Drive:

949 MB
Game Manager System Requirements:
Browser:

Safari 4.0 or later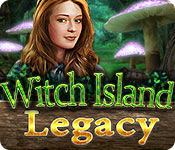 NEW299
The Big Fish Guarantee:
Quality tested and virus free.
No ads, no adware, no spyware.

Reviews at a Glance

Legacy: Witch Island
0
out of
5 (
0
Reviews
Review
)
Customer Reviews
Legacy: Witch Island
78
78
Great game for kids
Based on demo. Quite a lot of mini games which appeared to be very easy. At least one collectible. No map. You have a little raccoon helper. Are always equipped with a knife and lighter. Two modes of difficulty. Graphics are very nice. Music somewhat annoying. There are no voice overs, only written dialog. Sort of a fairytale theme, but with more to it than that alone. HOS (only came across one in playing half of demo) are interactive. All in all, I think this is a wonderful game for children.
October 14, 2013
amateur hour
For a new game, this was very amateur. The story and dialogue sounded like it was written by a 12 year old. The graphics were colorful, but definitely not up to the standards being set these days by the other developers. The minigames, for the most part, were just too simple. I gave this a 3 because it would be worth playing for younger or beginning players as a DD. But it's definitely not worth full price.
October 14, 2013
It's ok but there are better.
It's a storyline that has been done before, with out spoiling to much, your a lost descent of a princess and it's up to you to undo a witches curse on the whole island. If it sounds familiar it's because it is, it's has been done many times before and in a much better quality. There are no voiceovers, the music is just done on a loop so I've been muting it, there are two levels of play casual and expert, there are hidden fireflies through out the game and there are achievements and replay mini games. As for the picture quality it's not the best but not the worst, the mini games are super easy and they have some that are used multiple times through out the game and the hidden objects are super easy to find. It's a very mundane game that I didn't get super excited about, I had a free credit so I used it before I even download the demo (my own fault for not trying it before hand) I am sure if I paid for it I would have given it a star less. All and all if you want a super easy hidden object it's good, if your looking for a challenge I would suggest else where. But for myself I'll just play it once and that's it. There's no real replay value for me. Just my opinion.
October 14, 2013
Nice little game - For beginners only
Lovely little game for either beginners to the genre or for those of us looking for something to kill time with. I thought the graphics were bright and lovely, no voice overs and enjoyable mini games. Those were the pluses. Now the minuses - I'm guessing the devs speak english as a second language? Very confusing finding things sometimes - 'Lid' is actually written as Lead! "Uncover the lead cellar" was actually an instruction for one mini game. Plus, the story began that it was your grandmother who was found as a baby in this far off mountain land but everyone your character meets says things like, 'Hey Princess! You're back!" so, confused yet? This story has great potential, lots to do, played the majority of the demo (14 mins remaining) but even though I like non-brain busting games, this was way too easy even for me. I would recommend, but for children or - as I said before - beginners. Oh, and for those of you who prefer puzzles to HOGS - this would be a great game for you! I encountered at least 10 mini games vs. 3 HOG scenes.
January 25, 2014
I wish there was a young adult label
This game is perfect for young adults but the puzzles seemed much too easy for me. All that being said, I just wish BF would come up with a rating system.
October 23, 2013
Not very good
Sorry, but .....I don't think so! The simplicity of this game is really irritating. There are no voice overs, everything moves very slowly and the HOs and mini games are silly and extremely easy. The story doesn't even really make sense. There are little puzzles at every turn; sometimes you are required to do them more than once...for crying out loud, the 'pick off the top item' game is bad enough once, but they make you do it three times just to get into something! All of the mini games I encountered seemed to be merely following instructions and were tedious beyond belief! One game has you clicking on groups of coloured balls, but you have to accumulate 1000, so it takes awhile...makes you start to wonder when it will end. In the Rotate the rings thing, they only turn one at a time...so what is the point? There is no map, but then, in the demo there were not that many places to explore, so maybe the map is not needed. The graphics were ok, but nothing exceptional. The background music is very soft, and what with the lack of voices, it seems very flat and boring. There are glow-bugs to find in each scene, but they are really obvious...so no challenge there. This almost seems as if it started out as a kid's game, then was modified badly to make it more adult...it also feels quite old; maybe it was in the vault for a while. Maybe ok for kids but just not up to snuff, even for an SE.
October 14, 2013
Dated and dull
This review is based on the demo...which I didn't play all that long. This looks and plays like much older HO games, and has a silly story that jumps all over the place. It was actually annoying to play;
October 14, 2013
Not worth the demo time
Though the graphics were relatively okay the attempt was to make them live-action but in single captured shots. The mix was some drawn graphics and other pictures. It wasn't that pleasing to the eye. There was no voice over, which wouldn't be a big deal but the text grammar was atrocious and obviously created by non-English speaking developers. And with the amount of text that had to be read it became monotonous. I could see where the story could have been good but without a keen grasp of the English language it was confusing and flat. The actual play time is where the the whole game really suffered. Stranded on a island after being tricked by your friend into taking a hot-air balloon ride you start off with a knife and your grandmother's mirror in your inventory. You first must rescue a raccoon from a cage before doing anything else which of course looks like a real picture of a raccoon but it talks (in text). You find out that you are a princess that was foretold about in prophecy and have finally returned to this odd land. Right off the bat you are doing mini-games, puzzles, and HO scenes. The puzzles are ridiculously easy and the HOS are a jumbled mess. You do not have a map (that I could tell) and there is very little direction. Though navigation would be easier with a map there isn't a lot of guess work in what you need to do next. This could be good for a child but it becomes so easy and boring it is almost insulting. I almost want to recommend playing the game just to see how odd it really is. But, I couldn't stomach it for long and didn't play the whole demo.
October 14, 2013
A Terrible Waste of Time!
Oh my goodness I don't know how anyone can say this is the best SE of a Game ever? I thought this Game was going to be good but it was extremely dull and BORING. Way to many pointless puzzles. The Story was lame. The ONLY good thing about this Game was the cute little Raccoon helper - but unfortunately that wasn't enough to keep up my interest. I am sorry I bought this. Uninstalled and hope I will never see it again!
December 17, 2013
For Kids Only
I would have liked to give this game higher stars but it just was too childish and too easy for me. Our story is a fairy tale set in a magical land where our heroine must fight a wicked witch and save her friend. There is a mystery that needs to be uncovered so I wont give it away. Graphics are sharp with vivid colors and cartoonlike images. You have two sets of difficulty, a journal and a pet racoon that acts as your hint system. There are no voice-overs and a soft musical score that almost puts you to sleep. Unfortunately there is no map so be prepared to do alot of backtracking. HOG fans will love the crowded HO scenes and tons of very easy puzzles to solve. Mostly seek and find whereby you will require to click away at every scene. You have the occasional match 3 game to play whereby you need to find groups instead of swapping. Gameplay lacks challenge, puzzles aqre too easy to solve and the entire game is out-dated. Takes me back to many years ago when the first HOPA games came out. It seems that this one has come out from the vault. A great game for young kids who enjoy fairy tails and puzzles. Most kids I know would probably find this boring. Anyhow, I will take a pass on this, could hardly get through the demo.
October 14, 2013
The Apple logo is a trademark of Apple Computer, Inc.
The Windows logo is a trademark of Microsoft, Inc.