Excursions of Evil
Climbing volcanos, swimming with sharks, it's all in a day's work for Audrey! She roams the world in search of adventures and makes a living out of it with her popular travel blog. After receiving an e-mail from the travel agency, "Excursions of Evil," it's clear that her scariest adventure has yet to come. Will she take up the invitation to visit the spooky surroundings on the shore of England where a murder mystery has taken place? Find out in this exhilarating Hidden Object Puzzle Adventure game!
Engaging storyline
Beautiful art work
Mind-bending mini-games
Game System Requirements:
OS:

10.9/10.8/10.7/10.6

CPU:

800 Mhz (INTEL ONLY)

RAM:

256 MB

Hard Drive:

240 MB
Game Manager System Requirements:
Browser:

Safari 4.0 or later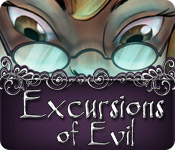 NEW299
The Big Fish Guarantee:
Quality tested and virus free.
No ads, no adware, no spyware.

Reviews at a Glance

Excursions of Evil
0
out of
5 (
0
Reviews
Review
)
Customer Reviews
A sweet surprise
What at first looked like a run of the mill game, soon turned into a gaming experience I will not easily forget. This game has a very special charm to it. Sure, it may not be up to par graphics wise, but I forgot all about that once I met Hint Cat! The traditional but oh so boring hint button is a cat in this game! With laser eyes nonetheless. Besides the cat there are a few more really big differences with other games. The smartphone interface with lots of minigames is probably not something everyone will enjoy, but I couldn't help myself trying to beat my high scores in a couple of them. The most important and refreshing part of this game is the storyline however. It really feels like you play a role in the game. But I can't explain the joy of it without spoilers, so you'll just have to believe me when I saw that it will make a special impact on you. I wish more developers would try to break the mold like this. This needs to be rewarded, so that's why I'm giving five stars.
October 29, 2013
Super intriguing game!!!
Seen a lot game out there but i must say, once playing the first chapter its really kicking in to the story, using the mobile as life line, it great!!!
October 31, 2013
I enjoyed it!!
I really like this game and the theme, make me relaxed and i love the music and the mini-games a lot! Also the twist near to the end i love that way of story telling.
November 26, 2013
Excellent!!
Great game! I have been looking for games that are relaxing and yet offer more strategy elements. There for i find this game fun and multidimensional!!!!!!! have fun!!!
November 25, 2013
Very nice game, really!
I have been playing for already more than a week and never got tired of it yet, it's really fun and the storyline is engaging. Looking forward to the next games from the same company, Higly suggested!
November 20, 2013
nice game....
Really enjoyed this game alot, and had a great time playing it, the voice overs were excellent, the story line kept me going and of course i wanted to know what happened in the end:)
October 28, 2013
Something original
There are a lot of Hidden Object games out there, and this is one of them. What i like about this game is that although we've seen some of the mini games and idea's before in other games there are also elements which strike me as original and fascinating. I like the fact that instead of a book or a map, you are using a tablet in this game. It gives some sense of al old evil story crossing into our current modern timeline. * Visuals are quite ok * I had fun playing some of the mini games * The level of challenge could have been harder at some times * But the storyline i found very original, aswell as the artwork
October 19, 2013
wow! very good game!
This game is entertaining, with a excellent storyline. You have a mobile phone with options and things to do :)
October 24, 2013
Review of Demo Only
I don't usually do reviews on demos but since there is no forum, I'll give this a whirl. The game out for only mac players (which rarely happens), is about a woman who lives in New York and loves adventures. It has voiceovers as it describes her life and then she gets an email on her phone from a friend who says she has a special once in a lifetime type adventure that is an "excursion of evil" and you must leave immediately so you pack up your cat and deport for London. When you get to London, you are told that you are staying in the same house as a serial killer did and that he may still be alive. Although I liked game initially, after 30 minutes of playing, I did not feel this game would be something Id buy. First of all the music is either on or off, there are no buttons to turn it down. The options menu is where you pick the difficulty and there is casual and advanced however there is no telling what those 2 entail since there is no description. It starts with a mandatory tutorial which I didn't feel was that necessary however its quick and painless. The main focus of this game appears to be the cell phone. You get messages from your friend and also voice messages from the killer. Its unclear if you are part of a game or its a real murder to solve. You also get games sent to you from the killer and it implies you must play these arcade type games and get a score of 1000 or more or "there will be no telling what I might do". They were games like marble poppers, match 3 with a twist and a brick type game so far. In some of the hidden object scenes, you get joker cards and they can be used while playing these arcade games to extend your time if you die. I really didn't like these arcade type games. If I wanted to play games like that, well thats what I do on my iphone. There are lots of hidden object scenes and although not interactive are still pleasant to the eyes and easy enough to do. However, the objects you get from the scenes seem to be repetitive. I have played a large number of scenes and only received keys and joker cards. The inventory bar stays up but even if hovered over or picked up, it does not tell you what the items are. So all the keys look the same and therefore it takes multiple tries to open doors etc. There were a lot of hidden object scenes but I liked them. I did run across a few puzzles that weren't the arcade ones in the cell phone. They were reminiscent of the ravenhurst, madame fate type style where solving a puzzle triggers a bunch of things to move however those puzzles were a lot harder than these. I did like them but I wish there had been more to them, if that makes sense. And so, thats my real issue with this game. I liked it but I felt like I needed more. There are lots of locations but once in said location, there is nothing to do besides one hidden object scene or a puzzle. There is nothing to pick up yet there is lots of walking around. I kept thinking I was stuck but then Id move the mouse and realize there were arrows pointing to different areas I could go. The hint button is helpful however make sure you put the battery in it in the beginning or else it won't work in the hidden object scenes. Its a cat, so that was appealing but overall I felt like something was missing in this game and I decided it wasn't for me. However, I do think some will like this game. It is different and well written. It has potential to be a good game. Its just not for me. Try it and see how you feel!
October 15, 2013
=/outdated and poorly executed.
I don't who put up those other two reviews. (I can only imagine they had something to do with the game) but this game failed for me on many levels. The graphics were poorly rendered and there was very little to do in each location. The story barely served as a loose framework for the HO games and the time wasting mini games were absurd. I didn't even finish the demo. I got bored and deleted it. I'm a big HO fan but this one was just tedious.
October 16, 2013