The Happy Hereafter
Welcome to The Happy Hereafter, a casual sim in which you guide the newly dead as they build an afterlife for themselves and their fellow lost souls. Explore weird but wonderful landscapes, discover cleverly hidden secrets, and complete dozens of challenging missions in your quest to create a little slice of Heaven in the underworld!
Six locations
Dozens of wacky characters
Comic book style story scenes
Game System Requirements:
OS:

Windows XP/Windows Vista/Windows 7/Windows 8

CPU:

1.6 GHz

RAM:

512 MB

DirectX:

9.0

Hard Drive:

573 MB
Game Manager System Requirements:
Browser:

Internet Explorer 7 or later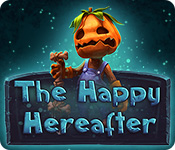 NEW299
The Big Fish Guarantee:
Quality tested and virus free.
No ads, no adware, no spyware.

Reviews at a Glance

The Happy Hereafter
0
out of
5 (
0
Reviews
Review
)
Customer Reviews
The Happy Hereafter
54
54
Cute game
Not my kind of game. But I really wish it was, cause I love the graphics, and the sounds wasn't annoying. And another thing I really loved about the game, was that you could customize the size windowed mode (really wish more games were like that). Won't be getting it myself, but would definitely recommend it for friends who does like this kind of game.
October 17, 2013
Funny Little Build Game
BASED ON DEMO Charming and different, this game is such an odd little one, it is hard to know where to start with it. The very premise of the game is cute. Nice little zombies just waiting to worship you as their God, and a new nirvana to create. Well, it is a build game, one where you get your workers to achieve your goals, trying to keep them all busy and get the resources you need. In this way it is no different than the dozens of build games out there. With this one, though, you must also keep your workers happy, which seems to mean keeping the food up. Sounds like me. *grin* There are lots of funny-looking zombies to meet and to help, artifacts to find, territory to explore and quests to complete. You have an assistant who tells you what others want of you and arrows indicating where your destination is. So there is plenty of hand holding in the beginning if you want it. It was almost more than I could stand, and I like help in these sort of games. Presumably that will not go on forever. The nice thing about this game, too, is that there are no time limits or points to achieve to stress you out. You can explore and build and develop and acquire resources at your own pace. The game looks good, its graphics are cartoony and funny, and the lands are imaginative. The music strikes me as perfect for this game, upbeat and a little shambolic. So, if you like a giggle in your game, you might do far worse than this ?happy hereafter?.
October 15, 2013
I guess I like fast-paced, frantic clicking....
I am giving this game 3 stars because I don't feel I gave it enough time to properly form an opinion as to why I like it or not. I never even made it through 10 minutes. It just wasn't my type of game. I do not like games where I have to move the screen around and drag the people around to do what they have to do - it frustrates me to no end. Plus I like timed games and having to meet certain objectives in a certain amount of time. This seems like a cute game if you are into these types. But for me, I'll stick with the fast-paced, click-happy games.
October 15, 2013
Game not well tested -- quite 'buggy'
While I enjoyed the little bit that I could play, I could not finish the game due to all the bugs.....characters would do their tasks but then not drop off the load/haul.....so characters lumbering would not drop off their lumber....characters gone fishing for gold would not return their gold.....characters gone farming would not return food....Also several characters were named the same thing -- if you had a lot of characters, you would have five Mary's, 3 Toms, 2 Dicks, and 16 Harry's. The game had good potential, but sadly it lacked in design and coding. Also the language barriers between foreign developers and an American audience left a lot of questions as to how to complete most tasks. If I were you, I would pass on this game.
October 19, 2013
It could have been so good
I really, really wanted this to be a five star game, and it so easily could have been. But it's rather full of bugs, which affect the overall enjoyment. Specifically, that the tasks must be followed in order - or you can't complete the game. This means the player has no initiative, as well as limiting its replayablity. Towards the end of the game, my peeps just stopped dumping their stuff in the cellars - they had to be manually dropped their, making the game very tedious. Were it not for those two significant development glitches, this game would have been wonderful. Sadly, it falls short.
October 18, 2013
Not my Cup of Tea
Besides a shakey, jerky custom cursor, there is NO instruction on how to feed people, etc. The main negative for me was moving the screen around with the cursor. It was kind of nauseating and made me dizzy. I played 6 minutes of the demo and it did not "grab" me. I'm sure there are others that will enjoy it, but it was just not my type of game and gave me a headache.
October 15, 2013
Could have been more fun if....
It looks so much fun and I like the cartoon zombies. Like other TM games you need to gather food, wood, etc and there some treasures scattered around too. I do not like dragging characters and moving them around and scrolling up and down to place them. That factor alone spoils it for me & makes this game a tedious one. IMO it could have been more fun if it was just clicking away on the tasks and the zombies can go to and fro. Oh I wish the devs could make similar one but not as a sim type game but pretty much like the Royal Envoy, Northern Tale or Gnome Adventures games. As mentioned earlier looks fun but not something I would buy. Give it a go you might enjoy this.
October 18, 2013
the happy hereafter
cute graphics, and enjoyable, but way too short, and I had to start over because if you do anything ahead of the goal set you get stuck and can go no where..
October 17, 2013
the happy hereafter
It would be a five star if would update to warehouse 3 Cant play the whole game without it Is there a fix for this bug yet? If not how about a free game
November 8, 2013
Stuck at Warehouse level two
This game cannot be completed. There is no option for upgrading the warehouse to level three even though the game demands the upgrade.
October 17, 2013