The Happy Hereafter
Welcome to The Happy Hereafter, a casual sim in which you guide the newly dead as they build an afterlife for themselves and their fellow lost souls. Explore weird but wonderful landscapes, discover cleverly hidden secrets, and complete dozens of challenging missions in your quest to create a little slice of Heaven in the underworld!
Six locations
Dozens of wacky characters
Comic book style story scenes
Game System Requirements:
OS:

Windows XP/Windows Vista/Windows 7/Windows 8

CPU:

1.6 GHz

RAM:

512 MB

DirectX:

9.0

Hard Drive:

573 MB
Game Manager System Requirements:
Browser:

Internet Explorer 7 or later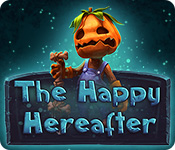 NEW299
The Big Fish Guarantee:
Quality tested and virus free.
No ads, no adware, no spyware.

Reviews at a Glance

The Happy Hereafter
0
out of
5 (
0
Reviews
Review
)
Customer Reviews
The Happy Hereafter
55
55
I Loved Everything About This Game!
Hereafter is simply a management game because there is no timer. The cartoon 3D graphics are so well done it gives this game the wow factor. Lighthearted yet creepy music, adjustable gamma, and resolutions and each worker and guests are different, that's just a few things that set this game apart. There are zombies, vampires, pumpkin heads and plain old dead folk. Your workers are displayed in the left bottom corner and you scroll through them to find an available worker, if they are already working on a task it will tell you they are busy but you can re-assign them. Each worker will have a display of happiness and when the numbers get low you will need to pick them up and take them to the dining table to replenish. New tasks are given constantly and they are displayed in the top left icons, after completing a task simply click on the icon to collect the reward. Even the resources are different, eyeball trees and glowing mushrooms, dead trees and pumpkin vines. There are skull caves to find artifacts in and cellars and creepy houses to build. There are hidden scrolls and stone figures to find and they will be displayed in your gallery along with all the guests you acquire. When you enter your gallery and click on the stone figures they will briefly morph to life then change back to stone. The tutorial is good and because there are so many things to do in this game you will want pay attention to it simply because this game is not your typical TM game, enjoy!
October 15, 2013
EXCELLENT ADDICTIVE GAME
This cute little sim is a gem. You are in the land of the hereafter and the dead must learn to build themselves houses, educate themselves (shades of Virtual Villagers), build tools and fulfill quests. It is harder than it seems (a little later on in the game), and I've had to restart it several times. The quests appear on the left hand side of the screen with an exclamation mark. You must gather materials, study a course at the laboratory and make appropriate tools, together with having enough gold to complete the quest. It is quite a long game, and be careful what you sell (trade) as you may need it to complete a quest and move on in the game. It's 4:55am here and I'm still going, as it is very difficult to tear myself away. There are walkthroughs galore on YouTube and also a forum to answer any questions you may have. Really worthwhile. It is now my very favourite game.
October 15, 2013
Cute
It's like virtual villagers only WAY faster! You have "tasks" and when you complete them you get rewarded with coins which you need along with resources to build things. You have to collect food, wood, and those kinds of things. Also, you find treasure and scrolls which unlock a gallery of new characters. You also build houses when new "characters" arrive and cellars which make production speed up (which in my opinion are already fast). I LOVE it. If you haven't played virtual villagers it's like this but WAY SLOWER it takes you FOREVER to do anything and ANY task!! However it's still a likable game. This one however I LOVE! Once again what I LOVE the MOST is the people and tasks go by REAL FAST!!! I haven't finished the game but from what I've played I LOVE! Cute story line or so i think and you have an "assistant" who helps you along the way in case you have trouble with a task. Which helps when you first start off. Overall the graphics are NICE and the music is cute...it just "fits" with the theme as well as the characters. I HIGHLY recommend this game for gamers who like/love simulation games!!!
October 15, 2013
Adorable Building TM Game!
This game is a lot of fun. You are in charge of building a place for souls to go in their afterlife. There are many quests that you must do to build your city and expand. The storyline was entertaining, although sometimes the commentary from the quest givers was a bit too much. You can just click thru if you don't want to hear the story, but it is pretty good. I found myself looking forward to the next story most times. Graphics are great as is the sound and music. All in all, a great game. I highly recommend it!
October 15, 2013
Terrific Game Full of Fun Quests
This is a building game similar to Wandering Willows. If you liked Wandering Willows, you will love this game. You are given quest after quest and given rewards for completing them. There is no timer, and your goal is to develop a thriving community of dead people, which is a funny objective. The characters and artwork and music are absolutely charming. I just loved this game!
October 15, 2013
Calling all Virtual Villagers fans!
What a cute sim game just in time for Halloween! I always loved the Virtual Villagers series but hated how long it would take for my village to complete tasks. (Hence, messing up my PC's internal clock from constantly moving it ahead!) But this game is different, tasks are completed in seconds and the adorable yet creepy ghouls move at a much faster pace. There are tons of quests and the tutorial is wonderful, allowing you to jump right into the game. Lots of items to collect, and characters to unlock. A fun game for the whole family!
October 16, 2013
I liked it!
My only complaint with this game is that it is a little short. Other than that I enjoyed playing it.
October 15, 2013
Excellent!!!
It took some learning how to play but then It was FANTASTIC!! I liked making the food dishes to keep all my Dead friends working!...LOL
October 28, 2013
Super Cute and Super Fun!
yeah i'm pretty much in love with this game. here's why: -great graphics! everything in this game is cute, colorful, and adorably designed in excellent detail. the town is full of zombie workers that are just as cute as they could be in a suitable setting that i found charming and perfect to the theme. -the music is good! the music score fits the game scene perfectly and isn't obnoxious -lots to do! the game keeps giving tasks to complete and goals to meet as well as giving you to opportunity to get many goals done your way at your speed -buildings have options! you can use many of the buildings to craft and trade stuff. YOU choose when to make what and if you want to sell it to get money for other things. find your own strategy to earning gold or inventing new things in the lab. -this game has a story to follow but you are in control of when you do things and there is NO TIMER so you can play and enjoy at your own pace. -the tutorial is good but sometimes i did find myself wondering what to do on a task. I found that if i completed other tasks that i was often led to the answer to complete another thing i wasn't sure how to do. overall this game is really lots of fun for people who like task oriented sim building type games. the zombie town is cute and so are all your little workers. i finished the tutorial and i'm buying it right now! this game appears to have many hours of play involved judging by how far i got and how much of the map i have left to open up so i definitely think it'll be well worth the money and enjoyable for people of different ages (you may have to help really little kids of grade school ages, but it'll be fun to do it together). give it a try! i hope you'll like it as much as i do.
October 24, 2013
Awesome!
I seldom write reviews, especially after a couple of days. But this game is so much fun. I love this sort of game but even with that bias, I think this one is my favorite. It moves fast. The characters are adorable. The graphics are great. Try it for yourself.
October 18, 2013