Paranormal State: Poison Spring
Iris Ramirez has called the team of supernatural investigators from A&E's hit TV show, Paranormal State in a panic! Her job and life are being threatened by dark spirits who have taken over Poison Spring Park, a Civil War battleground and museum.

Join the team of ghost-hunters and try to exorcise the ghosts before it's too late. Thrills abound as you race to solve a series of terrifying puzzles, investigate chilling hidden object scenes, and put together the pieces of who - or what - is behind it all! Only you can save Iris from the darkness falling upon the Park!
Solve spooky puzzles and save Poison Spring
Wonderfully detailed hand-painted artwork
Use special ghost hunting gadgets
Game System Requirements:
OS:

Windows XP/Windows Vista/Windows 7/Windows 8

CPU:

1.6 GHz

RAM:

1536 MB

DirectX:

9.0

Hard Drive:

663 MB
Game Manager System Requirements:
Browser:

Internet Explorer 7 or later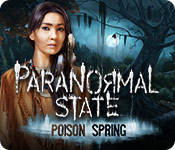 NEW299
The Big Fish Guarantee:
Quality tested and virus free.
No ads, no adware, no spyware.

Reviews at a Glance

Paranormal State: Poison Spring
0
out of
5 (
0
Reviews
Review
)
Customer Reviews
Paranormal State: Poison Spring
58
58
WOW!!! Loved Loved Loved it
This is by far one of the best BFG has ever put out. I've been a member since 2006 and I highly recommend this game. Wish they'd make more like these. Thanks BFG
November 11, 2014
REALLY FUN GAME
I am in the process of playing this great game which I purchased on sale. What a surprise to find that I am enjoying this so much. If this had been available in a CE version with collectibles, achievements and morphing items it would have been a perfect game. I am not having any problems traveling around with the map, but it does not jump you to an area, you need to travel there. The Hidden Object areas are interactive, which I love. I think it's really fun when you find an item like a dog, and it barks or something else screams when you click on it. It is spooky and a little scary, but I like those types of games. I'm not having any technical problems at all with the game, but my computer is new. The Hidden Object games have been getting so sophisticated lately, that I feel as though they are more of a puzzle-adventure game. This game is perfect for my taste. If you like Hidden Object games, give this one a try. I think you will like it too.
October 30, 2014
Finally A Diverse SE That's Fun!
I was fortunate enough to play the beta version of this game and I must disagree with the rest of the reviewers thus far! This SE HOPA game I thought brings a refreshing different and diverse fun factor to to the less than impressive SE games that I have tried lately! There are three game play modes. You are the newest member assigned to a large and specialized team of professionals that play their own individual roles in the storyline/gameplay. There is actually voice overs and really nice and creative graphics. You also get a ghost meter to detect paranormal activity in specific areas. I liked the interactive HOS games and puzzles. Maybe the expert players would get bored, but I too have been playing for a while and have been chomping at the bit to use my promo cards on something that I actually enjoy than out of necessity because they are about to expire!! I too, have not followed this series, however I really enjoy a good who-dun-it and I feel that this particular SE has a lot more to do than any others in a while. In summation, I truly wish that everyone whose a slight bit tired of water, island and era pieces and doesn't need immense challenge to have fun to give it a try. Enjoy!!
October 30, 2013
Interesting Hidden Object Game
Based on the demo. The H. O. scenes were interesting, some objects a little easy to find, some a little harder. They were well integrated into the storyline, which was intriguing. The characters were fun with realistic voiceovers, sometimes I skipped the talking scenes because I wanted to get back to the action. The soundtrack was haunting and eerie and like Native American music I have heard before. The visuals and graphics were great. This is a must buy for me. Gameplay was a lot of fun and kept me interested the whole time.
October 29, 2013
I really liked this game
I played the demo and then immediately bought the game. The storyline intrigued me and I had to find out happened. This happens very rarely to me. The graphics are very good and the characters are realistic. The puzzles are not too hard, but I play for entertainment, not to give myself a headache. I liked the storyline because it was not just the same old love story and I was kept guessing as to what would happen next. I am enjoying this game.
October 29, 2013
Paranormal Poison Spring
some one told me this was a TV programme wish I've never seen. The game it self is pretty good as you and the team have to try and find ghost though out the game I think they made a good job and hope they make another game. as for the graphics there very detailed I like the way when you find things they make a sound like a dogs paw it barks that's inventive there is speech overs as for how hard it is that all depends on how good you are in doing these games me I am very good at them but the game is still good to play they will be some saying this is to easy well it knot to hard but as I said its good fun to play and that's what counts and if they do another part it may be a bit harder. some people might only take 1 hour to Finnish this game, others might take over 7 hours to Finnish the game as I said we are all different and may find this game too easy and some might find it a bit harder try it out your self I like it and bought the game. Hope you enjoy playing the game as I did.
October 29, 2013
Good game, but...
I've never even heard of the TV show on which this game is based, but the premise is interesting. The game is fun to play, but there are some rather annoying things about the game: - The characters, while well rendered, are wooden without lip and body movement. - The characters are lazy sending you on all the errands, and they are selfish. You fall through the floor, and they won't help you get out. When you get out on your own, they ask what took you so long. - The HOS are all IA, but they are poorly designed requiring spot-on placement of two objects. - To navigate to different locations, you have to find a new map and then click on that map posted on a board to go there. - You have to use these "ghost-finding" instruments in dumb ways at times. Sometimes the result is an awful picture you have to reassemble. If you can ignore these things, I think you will enjoy playing the game as I did.
November 15, 2013
4.5 FROM A REVIEWER WHO PLAYED THE WHOLE GAME
BASED ON COMPLETED GAME ON HARDEST LEVEL WITHOUT HINTS OR SKIPS PROS: DIVERSITY! Lots of people from different ethnic groups You get to work with a team Fascinating story line Many different and interesting scenes with wonderful graphics Map (which if you play the entire game, you will find out IS A JUMP MAP at certain times!!) You get to use different investigative technology Team members are constantly interacting with you which I thought kept the story unfolding in a realistic fashion Includes glimpses into different cultures and eras Interesting HOS which I did not think were junk piles and which became more difficult as the game progressed Many different types of games, some of them a bit of a challenge but all doable and important to the story Music was a bewitching mix of Native American-style cadence and supernatural voices Ending is not abrupt like most games. It comes to a graceful and convincing close. Length of game was very good CONS: You have to be precise in your clicks in order to make objects work with others, but it's only a "con" to beginners I think A few English translation errors POTENTIALLY OFFENSIVE TO SOME GAMERS: Demon possession of an adult Exorcism BOTTOM LINE; I loved it! I might regret not giving it a 5.
October 30, 2013
Game Yes T.V. NO.!!!
Long Game three days now still going. HO'S nice and long story fine. Not found of these shows I stick to programs more to normal. I love games that are long and don't want them to end. Just played and elephant game hated it to end. This game was free glad I tried it.
October 21, 2014
Enjoyed the game, but irritating at some points
First of all, I do not know the TV show on which this game is based, so I purely judge it as the game it is. You are a new member of a team of paranormal investigators and you are investigating some paranormal events in a museum or memorial park. However, the other members of the team are not really team players. In fact, they do not much, except from ordering you around. They themselves do not seem to investigate a lot, and are sitting/standing around idle mostly. Moreover, they do not treat you very kind. You fall through a floor into a basement, and instead of helping you (or at least asking if you are alright), they walk away and let you figure out yourself how to escape from this trap. And when you try to ask them something, they either ignore you, say something useless or even snap at you (do not bother us, we are having an interview right now!). Ouch! Welcome to the team.. So, it was not very clear to me why this team was there. In fact, you have to do all the investigating yourself The voice-overs were well done, but the characters are not animated (they do not even move their lips when they speak) and that makes their presence even more obsolete. They really do not add much to the gameplay or the story. The grapics are well done, clear and the colours are nice. The HOS are list-based with some interactive finds in each list. They are not too challenging,although some of the interactions (where you have to use one or more other objects to find the object needed) can require some thought. You get some equipment (EMF-meter, infrared camera, etc) which you have to use from time to time. I did not care much for them, they did not seem to add much to the gameplay en the one gizmo where you had to adjust the frequency, was very difficult to manipulate. When combining objects (i.e. in an interactive HOS), the placement is very precise and you very often have to try several times to find the right spot to get it accepted. There is a map in your journal, but it is no jump-map. There is one on a bulltin board in the park, which means that you always have to go there whenever you want to jump to another location. The puzzles are fairly simple and straight forward. Nothing new there. The storyline itself is interesting, but it could have been more original. It claims to be a paranormal story, but to be quite honest, there are many similarities to all the games that deal with old curses, lost amulets, magical objects that need to be found and assembled, magical ingredients that need to be found to perform the "last ritual", etc. All in all it is a nice game to play, but for a next issue, more real paranormal suspence in stead of having to find magical staffs and amulets and having to burn magical herbs and stuff, would be an improvement. Nevertheless, I look forward to the next episode!
July 17, 2014
The Apple logo is a trademark of Apple Computer, Inc.