Paranormal State: Poison Spring
Iris Ramirez has called the team of supernatural investigators from A&E's hit TV show, Paranormal State in a panic! Her job and life are being threatened by dark spirits who have taken over Poison Spring Park, a Civil War battleground and museum.

Join the team of ghost-hunters and try to exorcise the ghosts before it's too late. Thrills abound as you race to solve a series of terrifying puzzles, investigate chilling hidden object scenes, and put together the pieces of who - or what - is behind it all! Only you can save Iris from the darkness falling upon the Park!
Solve spooky puzzles and save Poison Spring
Wonderfully detailed hand-painted artwork
Use special ghost hunting gadgets
Game System Requirements:
OS:

Windows XP/Windows Vista/Windows 7/Windows 8

CPU:

1.6 GHz

RAM:

1536 MB

DirectX:

9.0

Hard Drive:

663 MB
Game Manager System Requirements:
Browser:

Internet Explorer 7 or later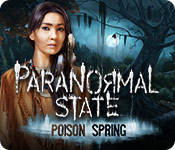 NEW299
The Big Fish Guarantee:
Quality tested and virus free.
No ads, no adware, no spyware.

Reviews at a Glance

Paranormal State: Poison Spring
0
out of
5 (
0
Reviews
Review
)
Customer Reviews
Paranormal State: Poison Spring
56
56
Finally A Diverse SE That's Fun!
I was fortunate enough to play the beta version of this game and I must disagree with the rest of the reviewers thus far! This SE HOPA game I thought brings a refreshing different and diverse fun factor to to the less than impressive SE games that I have tried lately! There are three game play modes. You are the newest member assigned to a large and specialized team of professionals that play their own individual roles in the storyline/gameplay. There is actually voice overs and really nice and creative graphics. You also get a ghost meter to detect paranormal activity in specific areas. I liked the interactive HOS games and puzzles. Maybe the expert players would get bored, but I too have been playing for a while and have been chomping at the bit to use my promo cards on something that I actually enjoy than out of necessity because they are about to expire!! I too, have not followed this series, however I really enjoy a good who-dun-it and I feel that this particular SE has a lot more to do than any others in a while. In summation, I truly wish that everyone whose a slight bit tired of water, island and era pieces and doesn't need immense challenge to have fun to give it a try. Enjoy!!
October 30, 2013
Interesting Hidden Object Game
Based on the demo. The H. O. scenes were interesting, some objects a little easy to find, some a little harder. They were well integrated into the storyline, which was intriguing. The characters were fun with realistic voiceovers, sometimes I skipped the talking scenes because I wanted to get back to the action. The soundtrack was haunting and eerie and like Native American music I have heard before. The visuals and graphics were great. This is a must buy for me. Gameplay was a lot of fun and kept me interested the whole time.
October 29, 2013
I really liked this game
I played the demo and then immediately bought the game. The storyline intrigued me and I had to find out happened. This happens very rarely to me. The graphics are very good and the characters are realistic. The puzzles are not too hard, but I play for entertainment, not to give myself a headache. I liked the storyline because it was not just the same old love story and I was kept guessing as to what would happen next. I am enjoying this game.
October 29, 2013
Paranormal Poison Spring
some one told me this was a TV programme wish I've never seen. The game it self is pretty good as you and the team have to try and find ghost though out the game I think they made a good job and hope they make another game. as for the graphics there very detailed I like the way when you find things they make a sound like a dogs paw it barks that's inventive there is speech overs as for how hard it is that all depends on how good you are in doing these games me I am very good at them but the game is still good to play they will be some saying this is to easy well it knot to hard but as I said its good fun to play and that's what counts and if they do another part it may be a bit harder. some people might only take 1 hour to Finnish this game, others might take over 7 hours to Finnish the game as I said we are all different and may find this game too easy and some might find it a bit harder try it out your self I like it and bought the game. Hope you enjoy playing the game as I did.
October 29, 2013
Good game, but...
I've never even heard of the TV show on which this game is based, but the premise is interesting. The game is fun to play, but there are some rather annoying things about the game: - The characters, while well rendered, are wooden without lip and body movement. - The characters are lazy sending you on all the errands, and they are selfish. You fall through the floor, and they won't help you get out. When you get out on your own, they ask what took you so long. - The HOS are all IA, but they are poorly designed requiring spot-on placement of two objects. - To navigate to different locations, you have to find a new map and then click on that map posted on a board to go there. - You have to use these "ghost-finding" instruments in dumb ways at times. Sometimes the result is an awful picture you have to reassemble. If you can ignore these things, I think you will enjoy playing the game as I did.
November 15, 2013
4.5 FROM A REVIEWER WHO PLAYED THE WHOLE GAME
BASED ON COMPLETED GAME ON HARDEST LEVEL WITHOUT HINTS OR SKIPS PROS: DIVERSITY! Lots of people from different ethnic groups You get to work with a team Fascinating story line Many different and interesting scenes with wonderful graphics Map (which if you play the entire game, you will find out IS A JUMP MAP at certain times!!) You get to use different investigative technology Team members are constantly interacting with you which I thought kept the story unfolding in a realistic fashion Includes glimpses into different cultures and eras Interesting HOS which I did not think were junk piles and which became more difficult as the game progressed Many different types of games, some of them a bit of a challenge but all doable and important to the story Music was a bewitching mix of Native American-style cadence and supernatural voices Ending is not abrupt like most games. It comes to a graceful and convincing close. Length of game was very good CONS: You have to be precise in your clicks in order to make objects work with others, but it's only a "con" to beginners I think A few English translation errors POTENTIALLY OFFENSIVE TO SOME GAMERS: Demon possession of an adult Exorcism BOTTOM LINE; I loved it! I might regret not giving it a 5.
October 30, 2013
Can you banish the evil?
I just finished the game and I thought it was a great game. It wasn't a short game, either. If you play straight through, I didn't, be prepared to spend at least 4 hrs playing. It's a great storyline that delves into Native American lore and it keeps you engrossed to the point to where you almost feel part of the investigation and not playing a game. They make good use of the tools that many paranormal teams use in their investigations (I am an investigator). My only issue is the thermal camera. The contrast is realistic but at times you have to guess where some things go since the darker areas look alike. The HO scenes are well done and the puzzles, while not too difficult aren't so difficult that you just wait for the skip button to charge. Over all it's very well made game that I enjoyed immensely.
November 8, 2013
Very nice game...
Well, graphics were nicely done. Very bright and clear colors. Game play was very good. Voice overs well done and appropriate to the scene and time frame of game. Almost too much dialoge, but good. Odd that you could click through some dialoge and not all. I don't like to skip in case there is a hint in there somewhere. Nice story line as well. Music not bad. Good sound FX and placed appropriately. HOGs clean and clear and easy to find items. Almost no sound when you find an item, which is odd. If you aren't watching, you wouldn't know you actually picked it up. Hint system was very helpful and filled quickly. Only thing I didn't care for was that the "sparkles" didn't show up very well, so had to really watch the screen. Some were large, but others were quite small, i.e., item on the pipe in the basement. I guess I should say that I always demo in the easiest mode first. Next time I play, I go to the next level. This is a simple game, but it got me hooked from the beginning for some reason. I liked it and I am going to use a punch to get it, cine I already lost 2 last week! It's about time we have an SE worth purchasing. The game is not all that challenging, but different and interesting to me. I got so caught up in the game, I almost forgot to keep notes on the play. I think this will appeal to all level of players...especially if you are into the paranormal. Off to buy. As always, try it for yourself and see what you think. We all have different tastes in games and you may not like this one at all. Thanks for the reviews.
November 3, 2013
Ryan's back!
I really enjoyed this game! I was pleasantly surprised by the length and fun factor. Not too difficult but very interesting storyline, good HO's, puzzles easy but challenging enough and good interaction with your collected items. The dialogues got a bit tedious and I ended up skipping them altogether about halfway thru the game. All in all, a very good game which I recommend. Short of having Ryan and Paranormal State back on tv, this game is worth a buy.
October 30, 2013
Good game
Although I would rather play an adventure game over an HOG I did enjoy this game, it doesnt have alot of greusome gore and it is a different pace than the normal HOG/adventure game. Graphics and store line are good, I think it is worth the money
November 5, 2013
The Apple logo is a trademark of Apple Computer, Inc.