Surface: The Pantheon
Exclusive
It should have been a tremendous achievement, but the tunnel through the Ridge of Leviathan became the site of a great disaster. What really happened that day? You were supposed to have been on the train with your husband and daughter, but you missed it. And then they disappeared from your life forever.

It's one year later, and a strange man - a scientist who thinks this is just like the Bermuda Triangle and other such vanishings - invites you to take part in his greatest experiment: To recreate the conditions of that fateful day in Surface: The Pantheon!
Game System Requirements:
OS:

10.9/10.8/10.7/10.6

CPU:

2.5 GHz (INTEL ONLY)

RAM:

1024 MB

Hard Drive:

1084 MB
Game Manager System Requirements:
Browser:

Safari 4.0 or later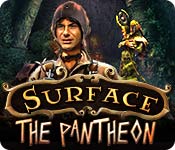 NEW299
The Big Fish Guarantee:
Quality tested and virus free.
No ads, no adware, no spyware.

Reviews at a Glance

Surface: The Pantheon
0
out of
5 (
0
Reviews
Review
)
Customer Reviews
Surface: The Pantheon
33
33
Another Sensational Surface Game
BASED ON COMPLETED CE GAME The Surface series is one of my favourites. You can rely on top quality production values, thrills and spills, and interesting gameplay. The great appeal of this series is the masterful conception and creation of alien worlds, given depth and credibility by the attention to detail and the imaginative drafting of characters and locations. The intro to this game is a bit different, with a stutter-like flow of images rather than the more familiar video form. Still the excitement and spectacle that we expect from a CE though. Actually, the video cut scenes, normally a high point, are not as fantastic as we?d normally expect from Elephant. Images aren?t clear and there?s some pixilation. The graphics in the locations and the HO scenes, though, are excellent, and despite this being a fairly dark game, quite clear and bright. The voiceovers were a little overacted, but on the whole added to the experience. Music, wonderful, the same for ambient sounds. A year after your husband and daughter are caught in a mysterious train disappearance, you go back to get some ?closure?. There?s a nutty scientist there who says he may be able to help you reunite with your family. He?s not a man you?d immediately take to, but you?ll do anything to see them again. And seems as if the scientist knows his stuff, because early on you both are dropped into the crash site of the train. The story you follow is of the survivors of that wreck, and the war you must wage against the evil you discover in this strange and hostile world. Although the story has been done before, there are some interesting additions here that make it unique. Marvellous combination of gameplay. Almost every puzzle was new to me, and ranged in difficulty, all definitely doable. Hidden Object Puzzles (HOP) are well presented interactive lists. Both puzzles and HOPs are fairly well balanced and are nestled in an adventure that I found a little more challenging than most games. Hint is a hint, skip is fast (on casual), there?s also a journal, a task list and an interactive jump map. Transporting is not really necessary because each chapter is kept in a small area. There?s a lot to be said for the CE extras in this game. Bonus chapter is not necessary to the story, but is an interesting divergence from it. It took me about 1 hour, and used all new locations and puzzles. And as well as the expected, there are collectibles, achievements, and replayable mini-games and HOPs that are unlocked as you pick up enough of the collectibles. These extras are presented in a unique way that makes them almost a ?reader?s digest? edition of the game. Great fun! (For more details on CE extras, see my review of the CE of this game.) If you can afford it, or are willing to wait for a sale, I would advise getting the CE this time. Those extras are really u-beaut mate, as we Aussies might say.
October 18, 2013
ALIENS! All Aboard!
Unfortunately the train has departed without you on it's maiden voyage. You watch helplessly as your husband and daughter disappear into the tunnel, never to be seen again! One year later a scientist convinces you to board an exact train replica in the very tunnel of the strange phenomenon. His intentions aren't clear but you are desperate, what do you have to lose? You soon find out that aliens are involved in capturing humans but your family was taken to the dreaded Pantheon in the sky and haven't been seen since. Are they still alive? What do the aliens want with them? Personally I liked the extras available in the Collectors Edition and purchased that version because of collectible flowers which allows you to play extra games in the Pantheon. The story however is remarkable and keeps you guessing throughout the game, just when you think you have it figured out the story twists a bit. The graphics are stunningly beautiful with crisp detail and vibrant colors. The HOS are a bit unusual, you will need to use items in your inventory in the HOS and they have done a great job of hiding objects in plain sight. The mini games are fun and not too difficult and most of the tasks you come across are easy to figure out what to do or what inventory item to use. There is a lot of back and forth as you find an item and realize you need to use that item two scenes back and so forth so you will probably want to use the map to save your mouse, enjoy!
October 18, 2013
Pantheon BELONGS in the Pantheon of Great Games!!
This game is exceptional. I want to start, finish and reinforce throughout this review that Surface: The Pantheon is absolutely amazing! At first I wasn't so sure this game was fun. It was late, I was tired and the game seemed more difficult than fun. Well, the game is difficult...but that doesn't make it un-fun. Visual/Sound Quality: Sound/Music is very important to me. I think it really sets the tone for a game, adds to the drama and can make a good game great. This would absolutely be the case here because the music is the best accompanying music I've ever heard with a game. It is rich and beautiful. It creates a mood of anxiety when that's called for; urgency when matters are urgent; excitement when a pivotal event is happening. Still, I'm only rating the quality 3 stars, or "OK." The reason is this: After the first 45 minutes of playing the game the music stopped. It shouldn't have stopped and when I shut the game down and restarted it, the music returned. It's gone away again. I think this is a system/programming issue which should be solved in a revision. I hope the problem is resolved because, truly, the music is the BEST I've heard in a game...when I can hear it. As for the visuals: the colors are rich and deep. The quality of the HOGs is exceptional. These are not junk piles: everything is very clear. But the items are very, very well hidden. Is it hard? Yes. Level of Challenge: This game is Very challenging. And a twist I've never experienced is added: In HOGs there are second level items which require some interaction to find. In this game there is a third level: you have to back out from the HOG completely and search even more for items required to complete an object in the HOG. Additionally, the puzzles are not just the same old puzzles..there are new puzzle types. Some are difficult, some not so difficult. It's exciting just to have a new puzzle type to work with. Storyline: It's unusual. Family members disappear and mom is trying to find her child and husband. They've disappeared into a nether world and her quest is the crux of the story. While this is not new, the presentation is. There are elements of the "dark side," elements of criminality and, better than I've ever seen, elements of personal relationship and relational instinct. There are MANY cutscenes in this game. It's because this is less a standalone game than a story. I'm enjoying this aspect immensely and I think you will as well. There are plenty of puzzles. There's not a huge amount of HOG and for me that's fine as an overabundance of HOG is a typical complaint of mine. I mistakenly purchased the SE after I'd already bought the CE. I have yet to play the CE so I'm not sure what the extras are. I recommend that BFG start to inform us NOT JUST IF we've purchased the very same game before, but if we've purchased any iteration of a game (i.e., SE or CE) so we can decide if we want to add more or, for some strange reason, do what I did and buy the SE after buying the CE. In the meantime, please check carefully to make sure you purchase what you want, not more, not less. Whatever route you choose, I absolutely recommend you get this game...but, if you're unsure about the "story" aspects to which I referred, check out the free 1 hour of play to make sure this game is for you.
October 18, 2013
SURFACE BACK ON TRACK
SUMMARY: Game promises to be as good as the first two (the third didn't live up to my expectations), which are impressive, beautifully conceived, skillfully told and, well, simply outstanding. Glad the series is back on track. This was a definite buy for me, although I haven't completed it yet. STORY & GAMEPLAY: Very interesting premise. One year following the disappearance of a train on its inaugural run in a tunnel, the wife/mother Gina sets out to find out what happened. The artistry is simply gorgeous; the music tracks are fantastic for the scenes; the voice overs are wonderful (Elephant must have used professionals, except Gina's voice sometimes seem a bit forced in an effort to show emotion). The HOS are list-based and beautifully colored and detailed. Are somewhat crowded. Puzzles and minigames are a nice variety with varying degrees of complexity - not too difficult. If there's one negative, it might be that there are either too many cutscenes OR they are too long (I think the latter, but that's personal preference). I think I'd prefer some of the story to be in a journal as I do get somewhat impatient. But it is certainly a very minor detraction.
October 18, 2013
Another Winner!
Another great one from Elephant Games. Review based on demo only. Three game levels to choose from with good directional map. Characters very real, not only physically but voice overs full of emotion and believability. I so enjoyed Dr. Bors, the mad scientist! Graphics are clear, sharp and colorful and music is wonderful adding a nice edge to the suspense of the story. Some challenge to the HO scenes with fun involvement of inventory items, Mini games good fun as well. There was a beautiful flow to this game, no frustration with where to go or what to do. A game that just had it all! I hated to see the demo end but this game will be a definite buy for me! Perhaps the best Surface in the series.
October 18, 2013
Awesome story and graphics!
Love the Surface games and this one does not dissappoint. The graphics are awesome and they have gotten better at maintaining the lipsyncing with the characters movements. I brought the collectors edition but you can go with SE version and enjoy just as much. For some the collectors is needed so that the strategy guide is their but with Surface games, the strategy guide doesn't really help much. I only bought because of deal
October 20, 2013
Not to be Missed
This is definitely one of the best games Big Fish has ever offered. I usually play more challenging games like Myst, Syberia, and Scratches but always check out the Big Fish offerings and was soundly rewarded this time. Surface is definitely the best in the series. Many of the puzzles are like none I've seen in other games, the graphics are fantastic, and the voice-over is excellent throughout. I'm left hoping for a new game in the series and would definitely recommend The Pantheon to young and older players alike.
October 23, 2013
another good game in the series
played casual, low sound. skips/hints charge in about 30 seconds. no diary, there is an interactive map. your family got on the inaugural train trip. you missed it. the train went through the tunnel and never came out. all of of scientists looked at it and not a trace of the train was found. the tunnel was closed down and never used again. the one year anniversay of the accident and you went back there to see if you could get some answers for yourself. you meet a Drs. Bors and he said he wanted to re create the train ride and you went along with it and then the 2 of you went where the other train went. you start looking for your family and discover surprises along the way and other people from the original train existing in a settlement that they built to survive.
October 24, 2013
Great game
This was a really great game. The story of a vanishing train and how the mother finds them and brings them home. Graphics and sound were great. I really enjoyed this game a lot. Great job Elephant Games!!!!!
October 23, 2013
pantheon
This gm had great graphics & coloration,
November 7, 2013
The Apple logo is a trademark of Apple Computer, Inc.
The Windows logo is a trademark of Microsoft, Inc.