Surface: The Pantheon
Exclusive
It should have been a tremendous achievement, but the tunnel through the Ridge of Leviathan became the site of a great disaster. What really happened that day? You were supposed to have been on the train with your husband and daughter, but you missed it. And then they disappeared from your life forever.

It's one year later, and a strange man - a scientist who thinks this is just like the Bermuda Triangle and other such vanishings - invites you to take part in his greatest experiment: To recreate the conditions of that fateful day in Surface: The Pantheon!
Game System Requirements:
OS:

10.9/10.8/10.7/10.6

CPU:

2.5 GHz (INTEL ONLY)

RAM:

1024 MB

Hard Drive:

1084 MB
Game Manager System Requirements:
Browser:

Safari 4.0 or later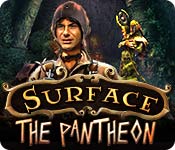 NEW299
The Big Fish Guarantee:
Quality tested and virus free.
No ads, no adware, no spyware.

Reviews at a Glance

Surface: The Pantheon
0
out of
5 (
0
Reviews
Review
)
Customer Reviews
Surface: The Pantheon
33
33
Hand-holding Hints
Everything about this game is a five-star, perfect Pachyderm except for the hints which tell you exactly what to do, which IMO spoils a lot of the fun. You do have the ability to turn off hints in the advanced mode, but I need one every now and then, in addition to an interactive map, if available, which it is in this game. I would much prefer a directional hint, e.g. a pointing arrow. As a result, I wound up being on the fence as to whether or not I would buy what is otherwise an outstanding effort by this developer and have decided to pass on it for now.
October 19, 2013
Pretty Nice, Good, Relaxing Game.
BASED ON COMPLETED STANDARD EDITION GAME The fourth game in the Surface series, the Pantheon is a good one. It's probably the longest out of all four, but it's not the best one. That being said, I still enjoyed it and am glad I bought it. The story, similar to that of the Bermuda Triangle, starts off interestingly. The Capital Express disappears without a trace on its maiden voyage. You were meant to be on said train with your family, but something happened and you missed it, so now your family is gone forever... or are they? A year later, you return to the scene of the accident, where you meet a lovely man by the name of Dr. Bors. He says he's been studying the train and its disappearance and believes he has crafted an exact replica which should take himself and you to the location of the Capital Express. Feeling you have nothing to lose, you join him, and soon you find yourself in a creepy other world controlled by things known as ?Masters.? The demo ends on a high with a good twist and I felt I had to play on and finish this story. But then the story started going downhill a bit. Characters were being added in for random reasons, everything was coasting along as I expected, and at some points, I found the story hard to follow. Sometimes it seemed like characters were being added for the sake of it. For example, the character of Andre had, like, one cutscene and was gone. What was the point of that? The story continued its stall for a while and then picked back up again with a really surprising twist that I never saw coming! Kudos to the developers for this. The story did finish happily and conclusively in the end, answering all questions and with no need for the bonus chapter. So those who want the SE will be happy to know that you aren't missing out on the ending. The lovely inventory-HOS that made the earlier games that little extra bit challenging make their triumphant return here. Where they've improved since then is that, if you don't have the item you need for the HOS in your inventory, the game will give you a hint as to where to find it. I absolutely loved the inventory-HOS in this game. I loved playing them and hope they make their return in the future. The puzzles are a mixture of hard and easy. Some could be solved in a couple of clicks and others I had to use the skip for. It was great to see that there were puzzles intended for players with all skill level. There seemed to be more puzzles than HOS in the game. I would've liked a couple more HOS and a couple less puzzles, but that's just my preference. Something that impressed me about this game was that the HOS were evenly spaced out and it stayed that way for the entire game. Unlike previous games by this developer (and other developers do this too), the HOS weren't piled on towards the end; there wasn't one in every scene, which was really nice. I like HOS, but I don't like too many of them. This is basically your standard HOPA with no fancy special features to take your mind off things and I really enjoyed it. It's nice when developers get rid of all the fancy stuff like animal helpers and special features and just leave you with a plain old HOPA. It's a nice change. I would recommend this game for beginners on account of it being similar to a ?normal? HOPA. The gameplay stays similar for the entire game, so it would be easy to follow for those who are just starting out. One thing I think Elephant need to improve on just slightly is making their games more fun. It's all well and good if your story is interesting, but we HOPA players like a bit of fun too! This game would have bumped up to a 5 if it had been a bit more fun, but the game was very serious and focused a lot on the story rather than the gameplay. It expected the story to carry it through, and when the story got a bit boring halfway through, the game lost its quality. Next time, Elephant should work on including some fun stuff in the game. The graphics take me back to old style Elephant too. For the first time in quite a while, Elephant decided to use real actors, which I think was a good choice for this one. It made the game more realistic, seeing real people with real emotions. It was a change from all the cartoon stuff and I really liked it. The scenes are clear as always. Everything was drawn with such detail and really was a pleasure to look at. The voice-overs are standard, but I have one issue. I couldn't figure out the nationality of Bors. Sometimes he was British, then he had a bit of an American twang to his accent. Which was he? A British person, or an American doing a terrible British accent? That's the one problem I have with the voice-overs. Otherwise, they're fine. FEATURES 3 modes of difficulty: Casual, Advanced and Hardcore. Differences are hint/skip charge times, sparkles, etc. I played Casual. Hint/Skip- both recharge at a reasonable time for the difficulty. The hint is helpful outside HOS. Diary- used to keep track of events. Hardly used. There were about 10 entries for the entire game. Map- the map is interactive and is helpful, but only to an extent. The map tells you where you have active tasks and what locations have been completed, but it doesn't tell you where your next task is. Replay cutscenes- if you missed important details from a cutscene, you can replay them. The cutscenes can be replayed from the map/diary screen. WHAT DO I MISS OUT ON IF I BUY THE SE? Collectible flowers- used as currency for the shop Shop- used to buy upgrades for stuff (similar to previous Surface games) Bonus puzzles Built-in Strategy Guide- helpful for puzzles. Bonus Chapter- not needed, as the game finishes conclusively. Achievements Concept Art Wallpaper Music WHICH IS THE BETTER BUY? The SE by far. The CE has minimal bonus content and, with the conclusive finish to the story, really has no value for money. The SE was good enough for me and will be good enough for you too. So, I'd say this was a pretty good one. It's not the best in the series, nor is it the best from Elephant, but it was still enjoyable. It was a nice, relaxing game. I will definitely play it again. Because of the fun factor and the period where the story went downhill, I can't give it a five, so I will give it a four. ON THE GAME LENGTH This game took me AGES. Usually, games take me three days of playing to complete. This one took me about 8. I purchased on the 8th of March, began playing on the 10th and finished on the 18th. Because of that, I estimate the game to be about 3 and half to 4 hours on Casual mode.
March 21, 2014
Looks good so far from the demo
Had no problems with this game and will definitely buy it. The scenes are great, the challenges are stimulating (you have to use your brain a bit, lol). Not too many hidden objects so far but I enjoy them anyway especially if you have to do something to achieve another result!
October 19, 2013
Likeable
This game was likeable. It?s usually difficult puzzles or things to figure out that make a game interesting for me, so I was surprised the story line played an important role in how much I enjoyed this game. Even on the hardest level most of the things to do were relatively simple, as were most of the puzzles (once I figured out what was supposed to happen). I don?t know why I thought most of the puzzles had a sense of sameness, but I did ? maybe the same brain cell areas kicked in or something. The HO areas were different - you had to look in your inventory as well as in the HO. If you didn?t have the needed object in your inventory you had to go find it. I liked that you could lock the inventory instead of having it flip up and down in a dizzying manner. The graphics were great. It?s a red/orange/yellow kind of alien world with lots of interesting scenes. Really, the only thing I didn?t like was the overly breathy and dramatic voice of the mother. I always turn the music down or off, and should have done the voice sooner too.
November 8, 2013
Very Interesting Game
This game had a great idea for their story. It was a little bit of everything. Sort of like the Bermuda Triangle, a little blend of a few Hollywood movie themes and great graphics. The main leads (the mom) voice was a tad annoying because of the extended groans and overacting, but this game took you from Earth to another planet to deal with aliens and then back to Earth again.
October 27, 2013
too much wandering around
I get bored having to go back & forth just to get 1 item I need. And I don't like being in a HOG area and having to leave to get an item I need to complete the HOG - and often have to do this more than once. I did think it was ok to use my inventory during a HOG but having to leave got on my nerves. -- Just not the best I have played and I did not start & end the game in one or two days. I just played a little here & there - did not keep my interest as well. But I did give it a 4 because despite there being evil - it was not gloomy - in fact the great Bright beautiful Graphics is why I liked this game.
November 24, 2013
Great - just a little longer
Loved the game and story, pace was perfect. Wish it was a little longer.
June 15, 2014
Terrible voice-acting ruins it.
Pros: - Intriguing story. - Entertaining puzzles. - Decently tricky. Cons: - The most cringe-worthy voice acting I've heard in a long time. I literally ruined the whole game. I wanted to just strangle everyone in this game (especially the main character) just to shut them up. And the "accents" were terrible. - It also felt a bit short, this might be because I had to skip most of the cut-scenes as I couldn't listen to this woman whine anymore.
January 4, 2014
I lost interest
I bought this game based on the demo and when I finally got around to playing it, I discovered it was not the exciting game I thought it was. Maybe I've just gotten bored with HOGs, They just don't seem original anymore. It's the same stuff, find a puzzle then hunt for an object to solve the puzzle with. Like I said maybe it's just me, but I was bored with this game after the first few puzzles.
December 13, 2014
Not My Cup of Tea
I really tried to like this game. Slightly boring and frustrating. I called it quits after getting half-way through. Just a wee tad too frustrating for me. Some of the objects used for certain tasks were so illogical. I repeatedly had to use the hint button just because I never would have guessed that I should be using that object for that particular task. ie. a can opener was used to cut away at the bars of a grocery cart. Really, what were they thinking.
January 1, 2014
The Apple logo is a trademark of Apple Computer, Inc.
The Windows logo is a trademark of Microsoft, Inc.