Fairy Tale Mysteries: The Beanstalk Collector's Edition
Exclusive
These are no ordinary beans! As a recently graduated investigator from the Grimm Brothers Institute, you must use all your wits - and your magic - to survive. Ascend the beanstalk to battle the mighty rampaging giant and protect the world from destruction. Find your way through the flower world, moon world, and more with the help from the elemental guardians, protectors of their realms. Revel in both full-scene hidden object quests as well as gorgeous conventional hidden object scenes. Defeat the giant in his castle to claim your reward and save the planet!

This is a special Collector's Edition release full of exclusive extras you won't find in the standard version. As a bonus, Collector's Edition purchases count toward three stamps on your Monthly Game Club Punch Card!

The Collector's Edition includes:
12 additional scenes where you get to challenge the Giant!
Hidden Collectable items in every scene
The Video Gallery allows you to re-watch cutscenes and movies
Game System Requirements:
OS:

Windows XP/Windows Vista/Windows 7/Windows 8

CPU:

1.8 GHz

RAM:

1024 MB

DirectX:

9.1

Hard Drive:

880 MB
Game Manager System Requirements:
Browser:

Internet Explorer 7 or later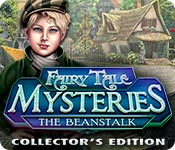 The Big Fish Guarantee:
Quality tested and virus free.
No ads, no adware, no spyware.

Reviews at a Glance

Fairy Tale Mysteries: The Beanstalk Collector's Edition
0
out of
5 (
0
Reviews
Review
)
Customer Reviews
Fairy Tale Mysteries: The Beanstalk Collector's Edition
48
48
Wonderful Interpretation of a Beloved Fairy Tale
Fairy Tale Mysteries: The Beanstalk is a new twist on the classic Jack and The Beanstalk fairy tale. Jack was given the magic beans in trade for his family?s cow but that is only the beginning of the story. The world is in grave danger because the imprisoned giant is about to be released, and when that happens major devastation and chaos will occur. As a recent graduate of the Grimm Academy, it is your task to make sure that the giant remains in his cloud prison. The graphics are a mixed bag of ultra-crisp and foggy or grainy. In spite of the misty or grainy appearance of some scenes, overall the game's graphics are exceptional and quite beautiful. There are voiceovers that are quite nice but I was a bit thrown off that Jack?s voice is obviously much older than the young boy he appears to be in the game. We have a diary but I hardly used it. What I did find more helpful was the interactive map that indicates where there are tasks to be completed. Where I had difficulty with the game is that it is a FROG adventure (admittedly not my favorite type of game# and it required a lot of back and forth to find the items that I would need to complete an objective. Early on I found the game very slow and almost tedious but it did pick up a lot towards the end of the demo and I knew it would get better. Even though the game is a FROG adventure, we do find traditional interactive list type HOS. I didn?t encounter very many puzzles or mini-games during the demo and the ones I did find were quite simple. The CE content is standard fare with the array of useless fluff but I do like the wallpapers included in the bonus content for this game because some of them are really beautiful. Another little surprise because they are not mentioned anywhere in the SG, are the hidden collectibles that you will find. I stumbled upon the first one quite by accident and then found it a fun challenge to find the others. Based on the number of pages in the strategy guide #260), I think this will be a nice long game. Even though A FROG is not my favorite type of game, I think Fairy Tale Mysteries: The Beanstalk deserves a solid five-star rating. With the excellent graphics and the developer?s interpretation of this beloved fairy tale, they have presented a game that will provide hours of entertainment that can be shared by all members in the family. I know many gamers will love The Beanstalk simply because they have been waiting for a great FROG adventure to come their way, and now they have one to enjoy. As always, I recommend you try the demo to see if you will like the game
October 19, 2013
WHAT A COOL WAY OF TELLING A FAIRY TALE TWIST; A WINNER
I really like this game. Instead of the same ole, same ole, we have a twist in how it unfolds. Besides Jack, he now has a hero (you). The graphics are brilliant, the scenes/locations fantastic, and the qualify is first rate. You are constantly in a HO mode - you click on things and find that outlines of objects appear in your inventory tray for you to find. When you complete the objects for your tray, you get a complete "kit" to use for something, such as to heal, to fertilize, et al. It was a tiny bit confusing at first, but I quickly got the hang of it. In addition, you have regular HOS with easily identified objects - they are no trouble at all; i.e., no tiny objects, stuff hidden in dark places or just a corner sticking out. They are a relief to play. Puzzles are easy enough for novices, but are very innovative. They are a lot of fun and I hope to see more like that. They seem to have a purpose rather than the developers saying "okay, it's time to stick in a puzzle of some sort - how about here and how about this type." It's nice that they took care to tie them into the game. I like that you can customize the settings to determine the time for the hint and skip buttons to recharge, as well as how long the glint lasts. I foresee this type of customization to become even more common than it already is - for those of us with little patience or who dislike having to do puzzles, it could help sway our opinion of whether to buy the game and make it enjoyable. You also have 3 volume controls and automatic widescreen. At first, I thought the narrator sounded a bit forced, but upon reflection, it is how an adult would read a tale to a child. A winner.
October 19, 2013
A PLEASANT SURPRISE!
When I first saw this game as tomorrow's game today, and noticed it mentioned fairy tales (again? I thought). However, it is a terrific, entertaining and fun game! Three modes of difficulty, one of which is "custom"; interactive map, collectibles; lots of things to find in order to progress, with several different categories at the same time. Most likely will buy this one using the weekend deal.
October 19, 2013
FUN & FAIRLY LONG...
Colorful artwork, 40 collectible ornate eggs, map and a classic fairy tale remake with magical spells and Jack in the center of it all again for selling his mother's only cow for a handful of beans. Tsk! Tsk! Great little game.. So much better than the price of a movie and to be kept forever! And finally..the wallpapers are many & beautiful as well Enjoy!
November 1, 2013
Hidden Object Puzzle Adventure
Refreshing change. Took me about 8hours to play at my leisure. Really good game. Would recommend to any puzzle adventure players.
October 19, 2013
A New Twist on an Old Tale
After the somewhat odd intro I thought this would be another murky monster bash with a beanstalk included but I was happily wrong. The game is a richly drawn and colored HO with both plot and play mechanics twists on the story we all think we know. There are traditional HO's but there's a task led separate inventory whose objects can only be used when all are gathered and the place for the task in reached. It seemed a but confusing at first but worked better and better as the gae progressed. The voiceovers were good (but I'd have liked Jack to sound more childish) and most objects were easy to see. The system was so good the Strategy Guide was seldom needed but was clear and follow your progress. I suggest trying it with an open mind and giving the new play a trial before buying. Worthy of purchase for me.
October 22, 2013
Interesting And Unusual Gameplay!
BASED ON DEMO FIRST IMPRESSIONS This game?s strong point is its different gameplay. The intro is not so impressive, but pleasant enough, and most aspects of the game are the same. WHAT?S HAPPENING There?s nothing really to say about the story, because it?s mostly the very familiar one. Jack is tricked into buying magical beans, which create a massive vine that reaches up into the clouds. You are a fairy tale investigator and it is your job to get the beans back before they are used to set a very nasty giant free. Then, of course, Jack is kidnapped. Not overly childish or cartoonish, but I think that it will appeal to a younger audience as well as an adult one. SIGHTS & SOUNDS This game is a little low key, but well drawn and it has excellent voiceovers. The drawing is with a light hand. Very detailed, not heavy on the colour saturation, but bright and airy. It is nicely done and the ?fairy tale? atmosphere is achieved well, without any ?cute? factor per se. The voices are very good. The soundtrack is fairly quiet and can be adjusted for music, voice and effects. The music is different. MAKING PROGRESS This is the intriguing part of the game. It is a HOG (Hidden Object Game), with a few puzzles and some well-supported adventure. By which I mean, there is plenty of help if you want it. If you don?t you can use a slider to adjust the timing of hint, skip and glints. Too much help for a lot of players, I suspect. Throughout the game there are objects of a kind you can bet you are going to need, e.g. shovel, which may be lying around, but until you have ?collected? the task it?s needed for, you will not be able to pick it up. I know many people find that irritating, but I didn?t find it to be too big a problem. To proceed you must first talk to characters and find out your tasks. These are recorded in a bar under the inventory bar, each task with its own tab. Tasks will require the collection of certain objects or pieces of objects to found in that location, listed by a simple pic of each. There are usually only 3-4 items. Some of the items will be locked until you complete a puzzle within the scene. These are indicated by a padlock over the image. Some pieces may not be found in the current location, in which case, the object will be faded. As well as this form of HOP, there are also standard interactive word lists. You can have several objectives happening at once across several locations. There is an interactive jump map and directional hint to help you to find your way. CE BLING! The usual bonus chapter comes after 7 standard chapters. The Strategy Guide is very good, giving precise instructions and clear screenshots. The gallery items are the usual, but there?s a lot more of them than most. There are also 40 Collectible Eggs (of the Faberge sort), which are well hidden. I didn?t see the other collectible item, or any achievement room , but perhaps the advertised extra scenes and challenging the giant are related to these. FAMOUS LAST WORDS I am intrigued by the different gameplay. I?ve not seen any quite like this. Other than that, and the collectible eggs being so well camouflaged, I didn?t see anything to particularly interest me in the CE.
October 19, 2013
Tale of a Twisted Beanstalk!
Classic 'Jack and the Beanstalk' fairy tale...with a twist! Jack had three magic beans he wanted to get rid of, but he lost one. You are a recently graduated detective sent to destroy the beans. You manage to get rid of two with a little bit of magic, but the third (missing bean) sprouts and grows into an enormous beanstalk, grabbing Jack as it climbs upward. Your job is to rescue Jack and destroy the giant in the sky. But for that to happen you must travel through different kingdoms (I played flower kingdom and moon kingdom) and solve puzzles along the way. 3 levels: casual, advanced and custom. The custom allows you to change the times for hint sparkles, skips, and hints. Optional tutorial. Interactive Map, shows locations available, objectives and is transportable. 7 chapters plus a bonus chapter 40 eggs to collect, and an egg room to display them Beautiful artwork Lots of puzzles, many where you have to collect certain items before tackling, all quite easy List style HOS, some slightly interactive, but not junk filled and all items easy to find I had two issues with this game. First of all it is an easy game, and might not be a good fit for hard core players. Secondly, some of the accents irritated me slightly. The British accent sounded fake (I am English) plus I thought Jack sounded like an adult, not a young boy. The other thing about the voices was the way the animation was handled. Really...it was just a chin-bobbing effect and looked rather comical. Having said that, I enjoyed the trial, regardless of the simplicity and chin-bobbing, and will definitely be taking advantage of today`s sale. As always, this is only my opinion, and I strongly urge you to try it for yourself.
October 19, 2013
Yes It's A Different Kind of HO Game But....
Yes it's a lame fairy tale, Jack and the Beanstalk, with a bit of a spin. You are sent to destroy the magic beans but one grows huge because you put fertilizer on it and water it for whatever reason, The fact of the matter is that because this game has some out of the box ideas the gameplay is out of the norm, and basically we fear change. Each scene has one of 40 collectible hidden decorated eggs and when you find an area of interest you will receive several faded out pictures of items you need to look for. Then you search that entire scene for the items that are randomly hidden and you may need to move to the next scene to complete the search. When all the items are found you use that item to complete a mini game or puzzle. Don't fret there are still some good old fashioned list hidden object scenes as well. A lot of the mini games were actually riddles, one puzzle gave you a clever riddle and you had to select the correct picture that matched the item the riddle was referring to. I think that if the story was a little more interesting this type of gameplay would have held more interest to some of the hardcore HOPA gamers, but to me it was a good change of pace and I give credit to the developers for trying to mix things up a bit, enjoy
October 19, 2013
Jack, a Beanstalk, and the Giant!
This is a clever and cute adaptation of the Jack and the Beanstalk fairy tale. You have the Brothers Grimm, the beans, and eventually the beanstalk which evidently unleashes the last of the Giants who have been banished by the Guardians to the cloud world. So you climb the beanstalk, meet some helpful Guardians and try to rescue Jack who was caught in the beanstalk when it grew. The game play here is rather interesting. Not hard, but different. There are very few actual HOS or mini-games. But in every scene, you must click on areas that open up FROGs you must piece together to actually use the item. For example, you have to find the 3 pieces of the knife before you can cut the flowers. Each item you collect is part of a FROG, and you can't collect it until you have found the FROG to which it belongs. There are 3 modes of play, one being Custom that lets you set the Hint speed, the Skip speed and the Sparkles. There is an interactive map with action areas clearly marked. The graphics are gorgeous and the voice overs good. There are 40 collectible eggs that look like miniature Faberge eggs when you view them in their collection room. There is a strategy guide (which I needed) and a bonus scene as well. I think this is a quality game with a unique mode of play. I will buy it!
October 19, 2013
The Apple logo is a trademark of Apple Computer, Inc.