Grim Tales: Bloody Mary
Exclusive
You're driving home from work when you get an urgent call from your favorite niece, begging you to pick her up from her boarding school. The teachers have gone missing, her classmates are becoming violent, and shadow creatures are haunting every corner. Search the school, but remember this one simple rule: Never look into a mirror after sunset. Bloody Mary is always watching.
Gorgeous visuals!
Haunting soundtrack
For a more in depth experience, check out the Collector's Edition
Game System Requirements:
OS:

10.8/10.7/10.6

CPU:

2.5 GHz (INTEL ONLY)

RAM:

1024 MB

Hard Drive:

789 MB
Game Manager System Requirements:
Browser:

Safari 4.0 or later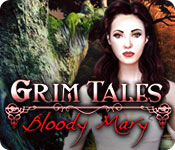 NEW299
The Big Fish Guarantee:
Quality tested and virus free.
No ads, no adware, no spyware.

Reviews at a Glance

Grim Tales: Bloody Mary
0
out of
5 (
0
Reviews
Review
)
Customer Reviews
Grim Tales: Bloody Mary
49
49
Differences to the Collector's Edition... :)
This is the meanwhile 5th game of this series and the previous Grim Tales were pure Adventures with no mentionable Extras in their Collector?s Editions? This time Elephant Games went a new way? Extras ONLY available in the CE: 16 hidden figurines to collect, 12 achievements to earn, some replayable minigames and hidden-object-scenes, wallpapers, music, concept art, strategy guide and a bonus-chapter (at least 1 more hour to play!) with a prequel to the main-story? Graphics are - as always - welldone: very clear and detailed, even in the dark scenes. Charakters are very good animated. But be warned: stories with eerie schools and weird and mad school-kids are not everyone?s business? Facts: 7 chapters, 3 modes to choose from (can be changed during the game), interactive map: showing you available action and allowing you to jump, very useful hint (telling you what to do next), lockable inventory. Soon you?ll get a useful friend: Chucky the chipmunk! 11 Slightly interactive hidden-object-scenes, ALL from list and all just played once! 16 minigames, some new, most of them good to solve, but a few quite tricky!! All of them fun to play!! It took me about 4 hours to finish the main-game (this Standard-Edition) in the 2nd mode. Ending is conclusively. Different to the previous Grim Tales, but very addicting!!! :)
October 22, 2013
NEVER!!! Talk To Your Reflection!
The phone rings in the middle of the night, "Auntie please save me, their all evil!" You arrive at the boarding school of horror, dolls with no heads, sewn up teddy bears and disturbing graffiti have turned this once beautiful mansion into a little shop of horrors. Inside the horror continues, and something attempts to kill you by dropping the chandelier and hurling sharp objects! I love the twisted and demented vibe of the possessed children, nothing creepier! The graphics are amazingly crisp and very detailed, and this isn't an easy game, you need to stop and think at times but there is an excellent hint system and an interactive map. There aren't a lot of HOS but they are very well done, they stick to the creepy atmosphere of a demented boarding school, and several objects within the scene will react when you pass over them with your cursor. The mini scenes are mostly plays where you read a line of the tale of Bloody Mary then interact with items on the stage to match each line being read. Each and every scene have several available areas of action and if you pay attention, stick figure characters come to life and show you what needs to be done, again, creepy. I really can't find a single complaint with either version other than some players may not like this genre, but it's my favorite kind, enjoy!
October 22, 2013
Elephant comes through for us again, great game
I have been waiting for another excellent experience from Elephant and they didn't disappoint. Great story, graphics are awesome, music fits the theme, HOS are well lit and not too easy. Mini games are tied to the theme and reveal more of the story instead of the usual match the color or stack the rings. Voiceovers are good. They provide the usual 3 levels of play, jump map, diary and hint (fills fast# so you have the power to choose your level of spoiler if stuck. Items are located close to area of use. Not too much backtracking. They have started to make the comments a little more specific to the game as well. For example #tiny spoiler) I tried to use a blow torch on a window grating and instead of the usual 'doesn't fit' it said 'I would probably burn the house down'. Adds more interest. Cut scene styles are mixed between the characters whom you can interact with and primitive sketches like a child's coloring book picture which fill in the back story. The first game I ever played and the reason I joined BFG was Grim Tales, The Bride so I may be biased but I gotta say that this series just gets better and better for me. Only played for a bit so I don't know the length but I am convinced it is well worth the purchase. I just couldn't find anything I didn't like.
October 11, 2013
Seriously Scary!
BASED ON COMPLETED CE GAME FIRST IMPRESSIONS Spectacular start to the game. Blood drenched colour, the music is so ominous, the acting dramatic. A truly creepy beginning. SIGHTS & SOUNDS The game should be gloomy. Everything is coloured with blood red. Yet it is not. The graphics are clear, detailed and beautiful, and there is no trouble with seeing HOs or found items. The music, as I say, is positively panic-inducing right from the start. Coupled with the eerie sounds of children?s laughter, the whole package is quite devastating. It is, I think, the most frightening of all the games produced by this developer. WHAT?S HAPPENING This game is the 5th in the Grim Tales series, and those who have played the other games will recognise our character of ?Super-Auntie?, but I?m sorry to say, no more of our nephew Brandon. It is our niece who begs for our help, and it is her school that we race to. After the first half hour or so, it's the school and the urban legend of Bloody Mary that we focus on. I didn?t really have any idea of what that legend was (it?s not one we have here), but it didn?t take long to figure out. You don?t to have played the other games, or be familiar with the legend to enjoy this game. Bloody Mary seems to have manifested in the mirrors at our niece?s school. Teachers are disappearing and students are behaving weirdly. All of it has to do with the legend of Bloody Mary, and care must be taken to avoid mirrors after dark, or she will drag you into her world. MAKING PROGRESS There are plenty of puzzles and HO scenes in this game, along with a lot of adventure tasks. There is a lot to do. It is all good fun, a little harder than easy, but not super difficult. The beautifully drawn HO scenes have interactive lists, and if I had one criticism for this game it would be that there are not other styles of HO puzzle offered. There?s an interactive jump map that tells you where there are active tasks, not whether you can currently do anything about them, which is a bit frustrating. Hint is excellent, giving you concise instructions on what to do next. Both hint and skip are quick in the easiest of 3 game modes. BLING! There is a huge list of CE extras that you?ll probably miss out on, but I was unimpressed with the bonus chapter, which seemed to have been sloppily put together and while it was long, was not very immersive or convincing. One good aspect was that, the replayable HOs and puzzles were not unlocked until you had completed the bonus chapter, and then, you play a kind of ?readers digest? version of the main game. You must find an item to unlock each HO scene and puzzle, by completing one of them. I thought that was worth the extra price. FAMOUS LAST WORDS This is a great game, in either version, but I prefer the CE with its extras. But if you?re not into that kind of thing, and achievements don?t grab you, this game would be an excellent buy.
October 22, 2013
A Dark, Creepy and Spooky Game for Halloween
Grim Tales Bloody Mary begins with a cutscene as you are driving to Blackhill School at the request of your niece, Jackie, who is very upset because the adults have all disappeared and very strange things are happening. Upon your arrival at Blackhill you see the silhouette of a child with glowing red eyes decapitating a toy bunny with a pair of scissors. From the first scene, I knew this game would be over-the-top creepy. Grim Tales Bloody Mary is a dark tale of demon possessed children - a theme I do not like. Strictly because of the theme, I was tempted to give the game a bad review; however, I have to admit that many of you will like the game and not be bothered by the storyline. I vacillated between buying the game or just trashing it but as I progressed through the game I was drawn in by the story and wanted to find out what was going on. Grim Tales Bloody Mary will not be a game that everyone likes but many of you will find that it has the gritty content and feel that you have been asking for in a game. In the end, I think this installment in the Grim Tales series will turn out to be one of those polarizing games: you will either love it or hate it. The graphics are crystal clear and excellent with lots of brilliant color. There are voiceovers that are very believable but I still find it annoying that a developer the caliber of Elephant Games will not add lip movement to their characters when they speak. This is one of my favorite developers and they just haven?t gone to the next level by adding lip movement/voice sync to their games. Aside from that complaint, the music and sound effects are very wonderfully intense, and I have to admit that I jumped once or twice as I was playing the game. I found that because of the intense nature of the music, I needed to turn the music volume very low as I was feeling a bit jittery. The HOS are list type with some interaction required. I found that many objects in the HOS are very small and difficult to find so I resorted to using the hint button. Many of the game's puzzles are the scenario type where you move items around to complete a story but fortunately there are some different type puzzles as the game moves forward. Overall, I was very disappointed with the dark turn that this installment of the Grim Tales series has taken. Although it does get better as the storyline developes and in the end it is an excellent game. Elephant Games brings us some of the best games on the market so it was sad (at least for me) to see such a dark-themed game. Although the game is not one of my favorites because I don't like games with demon possessed children, I will still give it a 5-star rating based on the game?s mechanics, artwork and challenge. That being said, I would strongly encourage you to try the demo before you buy it. Some gamers may find that Grim Tales Bloody Mary is the game they have been waiting for - a good spooky tale for Halloween.
October 22, 2013
HAPPILY BUSY
Lovely game, like the other Grim Tales games. HOS are not too crowded and objects have good visibility. Inventory items may be used more than once and therefore go back into inventory (so no more having to find another hammer because you seem to have lost the one you had when you used a couple locations ago). And there are many, many more fun puzzles than HOS. They vary in difficulty and variety and are not too difficult There's oodles to do in each location. especially when you discover the mirror. The well-constructed story gets quite intricate. Very, very good production values. A lot of fun to play and it will keep you happily busy for some time. Elephant games are tops.
October 22, 2013
A Grim Tale At Its Best
Bought this game as a CE in August and was blown away at the authenticity in its development. Riveting story that keeps you on the edge. Well developed characters with real life believability, no stone was left unturned on this one. I don't want to say too much to give away anything. Just take a chance, experience it for yourself, you will not be disappointed. This one speaks and sells for itself! In my opinion the best of the Grim Tales!!!
October 22, 2013
Don't look in the mirror... A Great Fright Fest!
BASED ON THE COMPLETED DEMO This Grim Tales addition sets the scene for us in anticipation of Halloween with its ominous, scary, yet thrilling atmosphere. The story revolves around the rather familiar story of Bloody Mary, but Elephant Games manages to revive it like a Frankenstein and make it compelling and spooky at the same time. Your niece has called you, frightened, telling you that the adults have gone missing and the children are acting strange. Upon arriving at her boarding school, you see the silhouette of a boy at a window hold up a bunny rabbit toy and then uses a scissors to cut off his head and then disappears. Another reviewer mentioned this same thing and I just couldn't agree more at how this wonderfully set the tone of the entire game. This game doesn't rely on cheap visual tactics to scare you (well at least not all the time), but small, simple things like what I mentioned about the boy are done throughout the game. Add the scary music (which definitely doesn't help with the scary tones of the game, but this isn't a bad thing!), the occasional creepy events that occupy some of the rooms (a chandelier falling on its own, the scary face that pops up when you click on a ordinary statue, the unnerving sounds of a small doll when you click on it) and you're in for a frightful delight! I personally jumped a few times while playing this game and felt this unnerving feeling that there was something behind me. The scary factor of this game was done quite well in that it didn't make me uncomfortable enough to stop playing, in fact I wanted to play more. Some other things to note: ** Lockable inventory ** Interactive map that tells you which rooms have objectives and you can teleport to locations ** A hint button that is NOT directional, it will tell you in text exactly what to do. ** There is a journal, but it doesn't record any helpful info. ** Three difficulty modes to choose from Admittedly, this is my first Grim Tales game and I certainly wasn't disappointed. The graphics, though not my preferred artsy/painting sort of style, was still well done and realistic. The soundtrack compliments the mood of the game extremely well and is not repetitive at all. In the full hour demo I only encountered 3 (4?) HOS and only a handful of puzzles which weren't difficult at all. This didn't bother me at all though since I very much enjoy games that have you interact with the environment a lot and that is what this games offers. I'm on the fence about buying this game because demonic possession really isn't my sort of thing and I'm kind of a baby when it comes to scary games (lol), but this game is really good so I might just make the exception. Enjoy this little Halloween fright fest adventure!
October 22, 2013
Absolute must have!
I have all the games in this series. After the 1st demo came out, I was hooked. They are all top notch, tons of stuff to do, great graphics, interesting story lines, and you don't have to have the prior games. Each story is it's own. One of the best things about this game is the little extras details that you find in all "Elephant" games. For instance, feed the baby birds in the nest a bag of seeds. One of them is very talented at throwing them up in the air and catching them. It isn't needed to remember or use later.......just a fun extra detail. All the Grim Tales games will keep you occupied for hours. If you haven't already played the others in this series.... check them out! You'll be hooked too!
October 24, 2013
Grim Tales comes back swinging after Stone Queen.
This review is based on a complete playthrough of the game (and CE Bonus content). First off - the standard game ends conclusively, no loose ends, nothing left hanging. The CE adds essentially a new story, and honestly, it isn't nearly as strong as the main game. Creep factor in this game is off the chart. "Children" singing a song about Bloody Mary in the background when you first go in. The way they keep you on your toes and make sure you always know what you're doing and why (In Stone Queen, I actually forgot what the main quest was in the midst of all the puzzles and backtracking). They didn't try to get cute and switch art styles halfway through or push in some junkpiles to pad the HOS count. All the scenes were well drawn, clear, bright enough to see. The minigames range from easy to medium (a couple are 'tricky'). A version of fox and the hounds and the reversi/chinese checkers hybrid for games you don't often see. All that said - It's not a gruesome game by any means - maybe not for the little ones, but anyone nine or ten or older should be fine with it. Most importantly - the game grabs you at the start and doesn't let go. I always knew what I was doing and why (as opposed to Stone Queen, where I actually forgot what the main quest was in the midst of all the backtracking). There is a simple 'task' button that tells you your next objective, and markers on the map showing areas with "Stuff to Do(tm)". It doesn't list what needs doing this time (I count that as an improvement). Not a whole lot of locations, but they use them very well: you may visit the same room three times, but for different reasons and looking for different things each time. Now: what do you miss by not getting the CE? A Strategy Guide that you won't need because the help system is really good ("Use this item here" or "Pick up the <item name> at this location"), a bonus chapter and a bonus bonus game (quick replay of all the HOS and minigames with a pseudo story attached), some collectibles that trigger short old school projector type films giving some backstory, and a handful of the standard achievements. I didn't feel cheated by getting the CE, but I wouldn't feel like I really missed out on much if I had just gotten the SE. Your call.
March 2, 2014
The Apple logo is a trademark of Apple Computer, Inc.
The Windows logo is a trademark of Microsoft, Inc.