Grim Tales: Bloody Mary
Exclusive
You're driving home from work when you get an urgent call from your favorite niece, begging you to pick her up from her boarding school. The teachers have gone missing, her classmates are becoming violent, and shadow creatures are haunting every corner. Search the school, but remember this one simple rule: Never look into a mirror after sunset. Bloody Mary is always watching.
Gorgeous visuals!
Haunting soundtrack
For a more in depth experience, check out the Collector's Edition
Game System Requirements:
OS:

10.8/10.7/10.6

CPU:

2.5 GHz (INTEL ONLY)

RAM:

1024 MB

Hard Drive:

789 MB
Game Manager System Requirements:
Browser:

Safari 4.0 or later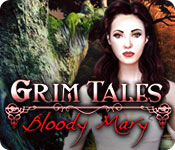 NEW299
The Big Fish Guarantee:
Quality tested and virus free.
No ads, no adware, no spyware.

Reviews at a Glance

Grim Tales: Bloody Mary
0
out of
5 (
0
Reviews
Review
)
Customer Reviews
Grim Tales: Bloody Mary
40
40
Grim Tales comes back swinging after Stone Queen.
This review is based on a complete playthrough of the game (and CE Bonus content). First off - the standard game ends conclusively, no loose ends, nothing left hanging. The CE adds essentially a new story, and honestly, it isn't nearly as strong as the main game. Creep factor in this game is off the chart. "Children" singing a song about Bloody Mary in the background when you first go in. The way they keep you on your toes and make sure you always know what you're doing and why (In Stone Queen, I actually forgot what the main quest was in the midst of all the puzzles and backtracking). They didn't try to get cute and switch art styles halfway through or push in some junkpiles to pad the HOS count. All the scenes were well drawn, clear, bright enough to see. The minigames range from easy to medium (a couple are 'tricky'). A version of fox and the hounds and the reversi/chinese checkers hybrid for games you don't often see. All that said - It's not a gruesome game by any means - maybe not for the little ones, but anyone nine or ten or older should be fine with it. Most importantly - the game grabs you at the start and doesn't let go. I always knew what I was doing and why (as opposed to Stone Queen, where I actually forgot what the main quest was in the midst of all the backtracking). There is a simple 'task' button that tells you your next objective, and markers on the map showing areas with "Stuff to Do(tm)". It doesn't list what needs doing this time (I count that as an improvement). Not a whole lot of locations, but they use them very well: you may visit the same room three times, but for different reasons and looking for different things each time. Now: what do you miss by not getting the CE? A Strategy Guide that you won't need because the help system is really good ("Use this item here" or "Pick up the <item name> at this location"), a bonus chapter and a bonus bonus game (quick replay of all the HOS and minigames with a pseudo story attached), some collectibles that trigger short old school projector type films giving some backstory, and a handful of the standard achievements. I didn't feel cheated by getting the CE, but I wouldn't feel like I really missed out on much if I had just gotten the SE. Your call.
March 2, 2014
EXCELLENT AND CHALLENGING GAME
I have been on the lookout recently for a Hidden Object/ Adventure game which is a bit different, having been a bit bored with the games in this genre the last few months which were all a bit 'samey' for me. This one ticks every box!!! Coincidentally, together with this game, I have also just found a few other interesting games which I have reviewed tonight as well, check them out - it's like buses, you wait for a while then they all come at once. This game is not for a beginner in the genre. It is very dark and creepy, and in many ways complicated for a beginner. It is different from the previous Grim Tales in style, artwork and format. It does have a map and a hint which will tell you what to do next, but is no less challenging for that. In other words, sometimes you have to access the hint because it is difficult to figure out what to do next. Alongside the main game, there is a mirror world which is accessible only at certain points in the game. There is quite a lot of back and forth but an acceptable amount to be challenging, which is what I was looking for - a game to hold my interest and a bit different. I love it! The game is a reasonable length to keep you absorbed and occupied for a good few hours. The graphics are a bit different as are the various environments. If you want something that doesn't have doors requiring a key to open them and a different way of proceeding through a game, this one is for you.
November 23, 2013
Another Great Grim Tale
This is based on completing the whole game. I have all the games in this series and this by far was the most difficult in the group. It was fun to do and I'm just glad that hint button was fast. I did seem to lose track of where I should go next, but that was half the fun. Makes you think and if you can't figure it out, just hit the hint and you get instructions as to where you should be or doing. The cast of characters and the twist at the end was really good and fun. The graphics are excellent. The Hidden Objects were more of a challenge than the mini games for me. The objects are well planted. The voice overs were good and the music went right along with what was happening in the story. This was the hardest of the series. The Hidden Objects were difficult, but the mini games were less so. The only problem I had with the minis was figuring out what to do at times even with the instructions. Normally I don't like mini games, but these were somewhat different and not the usual click to change everything to a color or place the rings. They also followed and added to the story. This is a challenging game. There is an interactive map. However, I didn't find it as helpful as in other games. It would show things to be done that would not happen until well into the game. I used it more just to move around once I figured out where I needed to be. I won't go into the story itself. The game explanation does that for you.The story was easy to follow and I was surprised at the ending. It did end, but I'm sure in the CE there is more to it, but I was satisfied. It is written so that the flow of the story keeps up with what you need to do. Just remember where you have been and what has happened and you will get along just fine. The characters were funny at times and I got involved with them. This is another hit for Elephant and I can't wait to play it again.
October 24, 2013
Interesting, complicated and long
Great hidden objective game. Different puzzles, things not obvious. Some items easy some very hard. Nice and long and complicated. Unpredictable.
November 6, 2013
Fun Gaming !!
I totally had the greatest time playing this game !! I found this game the same way I find 85% of my games here at bfg,I read the reviews of several games and pay attention to what games my fellow reviewers are calling they're "Current Favorite" game !! I haven't been led astray by my fellow fishies yet !! It's a wonderful way to see what older games everyone has played when the "new" games list just isn't tickling my fancy...And that's how I found this awesome,fun game !! About "Bloody Mary" : It has really clear graphics,the music in the background stays exactly there-in the background,it didn't bother or annoy me in the least...I loved the story twist !! We all had some sort of "Bloody Mary" myth growing up and I think this game took that childhood myth and made it a fabulously grown-up game !! But not too grown-up for our age 12 and up family members and friends to dive in and play...My "bloody Mary" myth was while in the bathroom with the light out,you take 10 deep but quick breaths in and out with your eyes squinched closed.On your 10th breath you open your eyes as your partner in shenanigations flips on the bathroom light as you stare into the mirror and B A N G !! you see good old "Bloody Mary" ..hyperventilating is what brings our dear,scary childhood nightmare "Mary" on !! lol I only played the SE so I, of course,can't comment on any extras and whatnot,but I think it was a very good SE to play...The map is an excellent one with fast travel,available actions and "mirror-world" fast travel too !! And we have a diary to keep us on track with our clues for our journey ...All in all I gave this one 5 stars because I had forgotten it,my daughter found it in my games list about a year after I had bought and beat it and she just loves it too !! Give it a try today with the money off deal or use one of those credits you've let build up and are looking for a good game to sink your teeth into and pass away a crisp,spring day !! Happy Gaming Fellow Fishies !!!! P.S. I'm including as my "Current Favorite" a game I believe to be an absolute "must play" SE and I'm highly recommending it to those of you that do the same thing I do to find a great "new-to-me" SE game...
April 22, 2014
Really creepy and cool!
I bought this game on a whim and I have to say that I really like it! I highly recommend playing it with the sound on just because the music is so creepy that it really sets the mood for the game!.The graphics are also really cool and pretty interesting. They remind me a little bit of Tim Burton movies. Dark yet whimsical. I didn't find this game particularly challenging so I think it would be good if you are fairly new to hidden object games. The only thing that bothered me was that it seemed to move a little slow. I don't know if it was my computer or what but I haven't had that problem with any other game. But I got used to it as I continued to play and it didn't bother me as much as I thought it would. Highly recommend!
February 10, 2014
Loved the "Creepy" Factor
Storyline was dark, which I liked. Good visuals as always. One of my favorites.
January 20, 2014
If you like CREEPY, this is it!
Definitely a creepy atmosphere! Loved the story line of Bloody Mary in the mirrors! You're summoned to an old dark mansion that has recently been made into a boarding school to save your niece. Be careful, Mary and her "student helpers" are just around the corner. Lots of fun.
January 19, 2014
Grim Tales: Bloody Mary
I have already played the Collectors Edition because I found it more useful
January 9, 2014
great game!
The graphics in this game are great! The storyline was good, the puzzles were medium difficulty, the sound effects were perfect (not annoying), and the amount of scenes you had to get through to the end was well worth it. Would recommend this. Great buy for $2.99.
January 5, 2014