Call of the Ages
The Calendar of Ages, that kept the world running, has been destroyed. Embark on an exciting journey across eight countries and eight epochs to collect mighty artifacts! Complete 90 unique Match 3 levels as you witness key events of world history and save the world in Call of Ages.
Enjoy over 90 unique levels
Activate an additional challenge mode
Unlock over 40 achievements
Game System Requirements:
OS:

Windows XP/Windows Vista/Windows 7/Windows 8

CPU:

1.4 GHz

RAM:

1024 MB

DirectX:

9.0

Hard Drive:

211 MB
Game Manager System Requirements:
Browser:

Internet Explorer 7 or later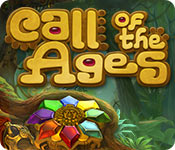 NEW299
The Big Fish Guarantee:
Quality tested and virus free.
No ads, no adware, no spyware.

Reviews at a Glance

Call of the Ages
0
out of
5 (
0
Reviews
Review
)
Customer Reviews
Just a remake of 80 Days Around the World but no wide screen
Its a perfectly good remake (almost a duplicate) of 80 Days Around The World but they forgot how to fill up my wide screen in the remake process. If you have already bought 80 Days Around The World then keep playing that game - the only addition here is a relaxed mode option that doesn't work so well farther into the game.
October 23, 2013
Okay, But Not Great!
In this Match 3 game your goal is to restore the ancient calendar of ages in order to prevent world destruction. Along with gathering the pieces for 8 artifacts that make up the calendar there is some interesting historical information associated with the countries representing each artifact. Each level displays different tiles with bonuses in some (lightening, bomb) for dropping off the board then collected for later use. Good graphics with music changes with each artifact. Some of the music was good while others tended to be annoying. Thank goodness for volume control! I agree with others about the frustration of not being able to make a match until the tiles had finished falling, this definitely was a slow down. Game play was relatively easy to start but once higher levels were achieved more challenge was evident. Not my most favorite M3 game, but interesting and entertaining.
October 23, 2013
This is a good M3 for those with bags of patience...
Have all the games in this series by these devs, and as time goes by, the levels get more and more difficult. I agree with other reviewers regarding the sand. If you could move whilst tiles are falling, then it wouldn't be so bad. But you can't so it's frustrating. Even though I'm playing relaxed mode, it's still an annoyance. I wrote to the devs last year, requesting they include a 'zen' mode, AND make it possible to make moves whilst tiles are falling. I've finished all the other games in this series, and welcomed a new edition to 'the family'! I've bought the others on my iPad as well as on the PC.as I like them so much. Even in timed mode you can clear the boards with patience. Not sure about this one though, because of the sand,. If you have to wait until the tiles stop falling to make a move, just makes the game pretty unenjoyable. Think I'll pass on it, as no one shouild get frustrated playing games. Always felt these devs are in the mindset of 'play our way, or don't play at all.'
October 30, 2013
Very disappointed!
I am a great fan of Playrix and my favorite genre is Match 3, so when I saw that they were bringing out a new M3 game, I immediately downloaded and tried the demo. On the basis of that experience, I bought the game, but once I got beyond those first two levels, I regretted having done so. First of all, I don't like to be pushed by the clock, which is why I don't play any games that are timed anymore. I play games to relax and like to take my time to figure out what I want to do and don't mind getting fewer points or taking longer to "build" something as the price I pay for playing at my own pace. I was therefore really annoyed when I discovered the introduction of "mined" chips further along in the game that one had to match within a very short time or the whole game would explode. I also don't like to listen to music when I play, so I can concentrate on the moves in the game. Therefore, when a constant background sound of marching feet was introduced after I got past the demo levels and I couldn't turn it off without cutting out ALL sound, that was extremely irritating and spoiled the game for me. (I think that's what another reviewer was talking about when they referred to the music they couldn't turn off) Finally, although I expect games to become more challenging as one proceeds, this game just got harder and harder until "play" became "hard work," and I finally decided it wasn't worth doing anymore. I also didn't like the fact that all one did was retrieve pieces of artifacts, unlike Fishdom 3 (which I really love) and The Path of Hercules, both of which allow you to do other things, such as find pieces of objects or build aquariums with fun, interactive fish to lighten things up. If you enjoy the challenge of fighting back sand that fills up the cells or like playing against a clock and you don't mind hearing marching feet the whole time, you might like this game. The graphics are excellent, the pieces easy to see and tell apart, it's fun to use the "amulet" to destroy tiles, and there are other powerups one can collect and use. Playrix usually brings out games that I enjoy playing over and over and I have purchased many of them, but this one did not do it for me. Because the things that bothered me were not introduced until after I got past the demo levels, I asked Big Fish for some relief and they provided it quickly, saying that they did not want me to be unhappy with my purchase, so that took away most of the pain. I hope they bring out more games like Fishdom 3 and Path of Hercules!
October 25, 2013
nothing new
if you have call of Atlantis and the other games, your dont have to buy this game, its just like the other . NOTHING NEW
October 23, 2013
Less than Average
Once you get to the sand piles, it becomes annoying. But the absolute worse aspect is the duplication of the quit process and all the 'advertisements' to finally get out of the game!
October 23, 2013
Relaxed play doesn;t work
OK til a certain point where it is timed - bomb goes off - game over - I don't do timed games. Relaxed mode has no affect on this part of the game - so game over and uninstall.
December 24, 2013
potential not used
I love a good match3 game and have been looking out for a decent new one for a while now - Call of the Ages isn't it. For one the screen isn't well used with the actual match3 board only taking the middle and that is with wide screen not supported, while all the other stuff, like the timer, amulets, etc take up way too much space when not needed for the match3 part. That sort of layout doesn't lend itself to immersive playtime, makes the actual play area small and clutters one's vision with non-relevant stuff. Secondly, and that for me is the worst in any match3, you cannot make a new match while the last one is busy developing. I cannot help myself and my eye is already checking new match opportunities, but I cannot make them yet and have to sit there and wait for the last pieces to fall from the last match. That makes for tedious and boring and again immersion isn't possible with the enforced wait all the time. It takes soemthing special to make a storyline stick with a match3 game and not many developers get that right. The Snow was a beautiful example of it working well or the Fishdom type approach of building something. This story was boring, didn't add to the match3 experience and made a game that could have been 30MB 180MB for nothing much. Lastly, this is way too easy and each level too short, at least the parts I played (demo only). I finished the first continent in the first 25 minutes, which doesn't bode well for overall playing time. So if you like match3, this one will not be good enough, and if you are not into match3 yet, this will give you the wrong idea of what can be, because it isn't achieved with Call of the Ages.
October 24, 2013
Boring
Playrix has put out some GREAT games. This is not one of them. As one reviewer said, almost identical to Call of Atlantis (and perhaps Rise of Atlantis? Been awhile since I played it). Once you've played one of these types of games, you know what to expect and thus ... boring. Definitely not a buy for me.
October 23, 2013
Agitating and Ridiculous
Most people play match 3 to relax or challenge themselves in a good way. Almost everyone plays a game for fun. This game is neither relaxing nor fun. Pros: If you really have great reflexes and want a game that pushes you to the limit, this is it. The story is engaging to a point and every screen is different so it's not the "same old" Cons: Relax mode is a joke. Even untimed modes have quick sands and other things that force you to move fast. The challenge mode is even worst. When you're in the first 3rd of the game and you're replaying screens 10 times because you can't beat the clock (ON RELAX MODE) - its too much. Ultimately, the game was downright unpleasant.
April 19, 2014