Suburban Mysteries: The Labyrinth of the Past
Exclusive
Follow the kidnapper's clues, and bring Sarah's brother back to safety in Suburban Mysteries: The Labyrinth of the Past! When arriving at her aunt's house, Sarah discovers a strange and disturbing letter. After discerning that her brother's life is in danger, she must embark on a journey taking her back through her own past if she is to see her brother again.
Solve the mystery before it's too late
Fantastic live action video
Hundreds of hidden objects to discover
Game System Requirements:
OS:

10.9/10.8/10.7/10.6

CPU:

1.6 GHz (INTEL ONLY)

RAM:

512 MB

Hard Drive:

875 MB
Game Manager System Requirements:
Browser:

Safari 4.0 or later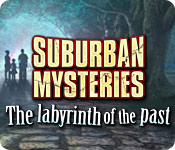 NEW299
The Big Fish Guarantee:
Quality tested and virus free.
No ads, no adware, no spyware.

Reviews at a Glance

Suburban Mysteries: The Labyrinth of the Past
0
out of
5 (
0
Reviews
Review
)
Customer Reviews
Suburban Mysteries: The Labyrinth of the Past
74
74
Suburban mysteries?
The only mystery here would be why anyone would waste time with this one. I gave it 30 mins play time in hopes I could find some redeeming quality. The storyline is tired, and the visual was clear but boring. This one is a stinker!
August 11, 2012
Way too easy
Game is too easy and the objects too small. Story is the same old same old.
August 11, 2012
Not a fun game.
I found the game to be dull and boring. The hidden objects were dark and it was difficult to find anything. You had to go back after the hidden objects scenes and look for additional things without knowing what you were looking for. The best thing about this game was the hint button never had to recharge. I used the button a million times just to finish the game. The curser also ran choppy for me, but it may have been my computer. I should have listed to the fellow reviewers and not purchased this game. Not even worth it for a free game. Sorry for the negative review.
January 11, 2015
I Had Such High Hopes.....Such a Disappointment
As SE?s go has more MB than some CE?s and they include strategy guides, wallpaper, concept art and music, so here you?re getting more game play for the money than most SE?s. Not quite as large as most large file games. Your demo is 800 of the 964 MB full game; download will take longer than your average demo. Opening scene is actual film footage, ticking clock, frustration, builds to anxiety, and hopes of what may come! ?3 modes of play-casual, normal and advanced. ?Defaults to wide screen that does NOT fill my 15? laptop, however, the full screen DOES fill (thank you). ?Puzzles in frame, have skip option to bottom left and instructions bottom right. One puzzle in 50 minutes of play. ?Journal not impressive, basic information. ?Graphics- clean crisp and large, quite beautiful actually. ?Music, none to speak of. The ?song? daddy sings really gets on your nerves?when you leave a scene it still goes on, you can?t make it stop (unless you turn off volume in options). ?HOS interactive, cluttered and no click penalty. When HO is complete it does not close automatically, you have to manually back out. Items in HO are so close to bottom of screen that when you go to click on them you will leave the HO (several times), very annoying! ?HO scenes never go away, when your finished and move on to another task, come back they are still there, but there is nothing to do (what?s with that?). ?Scenes flux between actual person with voice over (lousy acting) and cartoon character with bubble text (cartoon character is not well drawn or flattering at all). Conclusion: Story doesn?t flow well when interrupted with actual people mixed with cartoon and bubble text almost like dev. couldn?t decide which way to go so did both (pick one or the other!). Graphics the most beautiful I?ve seen in a while, and that is the best part of this game. I apologize for not completing the game and providing a review, I wanted to at least complete the demo to give an objective review, it was just unpleasant enough not to finish. Adventure lite, heavy on HO. If you love heavy/straight Ho you may feel differently, please try the demo, you may not like the way the game mechanics handle. It is a real shame, the story is very compelling and the graphics are wonderful however game play flow stinks. A definite no buy for me!
August 11, 2012
No words...
i'm still shocked after this game...yes, unfortunately i bought it..luckily with a special offer! After the demo i was intrigued because the story looked interesting and the gameplay very challenging. Even if the graphic was so so and i did not like the cartoon monologues mixed with the real actor's movies i was attracted by the particular HOS, wich did not close after the first list but stay open for future passages, and by the puzzles, complicates and with no hints available. Big mistake...at the end i found myself hunging around ONLY for dirty and dark basements, full of disgusting things, searching for tools to repare electrical machines (if i decide to change my job i'm sure i would have a brillant future as an electrician after playing this game!) and, after not more then 2 hours the game suddently ended in a really no sense way, making me realise then the whole story was completely absurd and sick. If is not the worst game ever played, deserves surely a place in the top 3 of my personal list of "games to forget".
February 20, 2013
Why the bad reviews? (part two)
1.Anachronism: i hate it when your ahead of what is supposed to happen after; 2. HOS stays alive 3. Poor mix between live acting and cartoon 4.You're leaving a scene and the voice from the previous one continues 5. You get some text on the upper screen, and the exact same line goes in your glowing diary: repetition. 6. Important(i guess) messages appears only once.... 7. Etc,etc,etc...in 20 minutes of playing... I haven't really got time to enjoy puzzles, hos and storyline, complaining at every negative aspect of the game...
August 19, 2012
Very Disappointing on Many Fronts
The strongest point of this game were the HOS. They were quite challenging. The story was interesting, so far I was I was able to go, but to me not compelling enough to continue with it. The visual was a poor mixture of video and cartoon-like pictures used to advance the story. The sound was annoying and did not shut off when the game was paused which necessitated exiting it completely at night. Technical glitches prevented me from completing this game. It might have been possible had I chosen to reinstall, but it just wasn't that good.
November 10, 2013
"Scary" dialogues and equally cringeworthy acting
I could not finish the demo. But I thought I share my views, so you can decide if the game might be worth checking out for you. Things that made me cringe were the horrible lines and the unimaginative plot. I way almost grateful when the narration switched from real person to drawn scenes. The drawn scenes are comic style but the actress with vapid unfitting expression just standing around like she was in an elevator was really terrible to look at. As usual the person you play is dumber than rock salt. After two uninspired searches in two houses, she stumbles into an obvious trap. Then came one HO scene after another. If the intend was to draw me in the story and make me feel scared or at least invested, how about not letting the character aimlessly search through rubbish? If you let her make comments how about giving me some sense of danger? For me it turned into a boring, cliched set up with ugly HOS. The "live action" video clues you find are beyond ridiculous. Unless they are supposed to be salvaged from other videos by the maniac behind the scenes (who must be a wanna be music video maker) they don't make any sense. Nobody doing home videos does them shaking so much and filming the floor. Same for peole who document their experiments. It is just plain ridiculous. If you like frequent HOS, don't mind clumsy story telling and are willing to fill the holes with your own imagination this game might be what you are looking for.
August 23, 2012
hated it
played 100s of hogs. this has to be the most labourious game ever. Ho scenes dont close down why cos you have to go back and find something else they dont tell you about totally disrupts the flow .After 2hrs so fedup I gave up.Dont waste your money on this one.(and yes I like creepy and scary this was neither.)
August 30, 2012
boring
The story line???? What story line? The game is great if you would like to do hidden object searches.
August 15, 2012
The Apple logo is a trademark of Apple Computer, Inc.
The Windows logo is a trademark of Microsoft, Inc.