Queen's Tales: The Beast and the Nightingale Collector's Edition
Exclusive
Prepare for an amazing adventure in Queen's Tales: The Beast and the Nightingale! When your father returns from a long journey, he brings you a very special gift – a magical golden nightingale. But the little bird comes with some big strings attached... It belonged to a horrible beast who demands your father's servitude as payment for his stolen property. You bravely decide to take his place and begin the journey to the beast's castle. But you quickly discover that someone will do anything to stop you from reaching your goal. Now time is running out, and your father's life is on the line! Overcome strange and ominous obstacles in this thrilling Hidden Object Adventure game!

This is a special Collector's Edition release full of exclusive extras you won't find in the standard version. As a bonus, Collector's Edition purchases count toward three stamps on your Monthly Game Club Punch Card!

The Collector's Edition includes:
Thwart an evil plan in the bonus story
Replay mini-games and hidden-object puzzles
Beautiful wallpapers and screensavers
An available Strategy Guide
Game System Requirements:
OS:

10.9/10.8/10.7/10.6

CPU:

1.6 GHz (INTEL ONLY)

RAM:

1024 MB

Hard Drive:

847 MB
Game Manager System Requirements:
Browser:

Safari 4.0 or later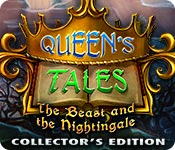 The Big Fish Guarantee:
Quality tested and virus free.
No ads, no adware, no spyware.

Reviews at a Glance

Queen's Tales: The Beast and the Nightingale Collector's Edition
0
out of
5 (
0
Reviews
Review
)
Customer Reviews
Queen's Tales: The Beast and the Nightingale Collector's Edition
76
76
Yummy trifle pudding of a game!
Loved this beautifully rendered game. Layers of delight from the music score to the fantastical creatures . Original twists to an old beloved fairy tale. I am looking forward to a second helping to just savour it. I enthusiastically recommend this game!
December 7, 2013
A nice game
This is a fun game with cute animals, love the games with all those cute, and furry animals!!! The graphics are clear and lots of pretty scenery. Love the nightingale too. Theres lots to do. I bought the game and will play it again in a few months. Its nice to have all these games without all the scary stuff at times, sometimes CUTE is a nice change.
November 25, 2013
I love a good "Beauty and the Beast" story
The story was well told, the challenges were interesting and thought provoking. The graphics were beautiful.
November 9, 2013
A Nice Family Game
Adapted from the Fairy Tale of Beauty and the Beast, our story begins with a devoted Father who falls upon a castle where he finds a golden nightingale. He decides to take it as a gift to his daughter only to discover that it belongs to a very dark Beast. In exchange for his crime, the Father must either have his daughter submit to a life of servitude, or face the fate himself or certain death. Naturally, our heroine decides to take her Father's place and she has till Midnight to reach the castle. That is where the tricky part begins along with our adventure. It has been a while since we have had a game from everyone's favorite game developers. Getting worried there for a while but here they are with the same style of graphics and beautiful artwork, voice-overs, quirky characters all put together in an entertaining HOPA game that can be enjoyed by all meembers of the family. SOme of you may find this a bit too sacharrine for your taste, a bit childish but still gameplay is interesting. Yopu have three modes of difficulty that can also be customized. You have your map that allows you to travel, a journal and a golden nightingale that has magical powers to make things grow. Thee is also a clock that appears at the beginning of the game and it times you, telling you that you have till midnight. I shudder to think what will happen if I dont reach the castle by then, do I have to start from the beginning? Gameplay is your standard HOPA with variations of Hidden Object scenes. You have a list of items to find that also involves interaction or collecting 12 of the same objects, There may be more but I only came across 3 HO scenes. Yuu also have the option to switch to a M3 style game that is very different from a mere swap. I liked playing it and thought it was clever to add that. Adventure gameplay has you going back and forth alot, thank goodness for the map. As for the mingame, I thought they were brilliant, well executed and fun to play. Also there a extras like collecting exotic birds along the way and a list of achievments. As I said, a lot of back and forth, picking up objects to use and clues along the way. The clock on the upper right hand corner does concern me and has peaked my curiosity. Alot of quirky characters and then there is the evil sorceress that is trying to deter you from reaching the castle. Somewhat a childish theme but gameplay is entertaining. Is it worth the extra pennies? Well it seems now that most SE games are really not worth spending money or using a free club award and that most games worth playing are now tagged as CE. I liked the game but right now my budget is tight and I really am not so keen with fairy tales at this time. I prefer a more adult theme to my games.
October 31, 2013
Wonderful and Beautiful as to be expected by ERS, but something's missing...
Yes! I've been looking forward to this game for a long time and now it's finally here! After having ERS' Flights of Fancy being my all-time favorite, I was hoping this game would take its place. Even though this game has all the elements of a splendid game, there are some things lacking... But first things first. This game's story has an interesting take on the Beauty and the Beast. Your father has come across an old, deserted castle, and finds a beautiful nightingale bird. Thinking that it has been left alone and abandoned, he takes it. The beast appears and is furious, thinking he is stealing his bird. Your father runs away, magically unable to drop the bird and leave behind and runs home. The beast says that either his daughter (you) stay with him forever or your father becomes his servant for life (or dies? It seems the game can't decide which). It's up to you to find the magic ring the beast gave your father and use it to teleport you to the castle before midnight- but there is a mysterious shadow force and an evil sorceress bent on stopping you from arriving... The CE includes: ** 10 fairytale achievements ** 7 beautiful wallpapers ** 18 concept art sketches ** 4 screensavers ** 11 movies ** 4 music tracks ** 18 replayable mini-games ** 13 replayable HO's ** Bird Collectibles ** Bonus gameplay ** A strategy guide that doesn't follow your progress There is much about this game to love. It's ERS so of course the artwork and graphics are going to absolutely SUPERB and this game retains much of the same cuteness that ERS' latest Flights of Fancy had (that's right, so if you're tired of cuteness, beware!). The music is soothing and just magical, though I can't help but feel as if it sounds a little familiar to Flights of Fancy's soundtrack. The storyline is great and had an original take on a familiar fairytale where there is a nightingale involved. Throughout the game, the nightingale, much like Flights of Fancy's fairy, will help you with certain obstacles. It's power lies with helping you to grow and blossom plants and make them bear fruit. You will be growing lots of plants. There are voiceovers, though ERS has kept the same text-box dialogue. Luckily though, the characters are slightly animated, their lips move, but there is no lip-synch. Some other things to note: ** Main game has 3 chapters ** 4 modes of difficult: Casual/Advanced/Hard/Custom setting (where you can change everything under the sun, yes!) ** Hint is directional ** Lockable inventory ** Journal that tracks your progress and tasks, and records useful info ** Interactive map that allows you to teleport to locations and tracks active tasks The one downfall of this game is that it's too easy. What happened? Flights of Fancy had a perfect level of challenge (in fact, I found it hard!) but the HOS (which aren't junkpiles, thankfully) in this game are a joke, you find things within seconds without any effort. I'm also having a hard time deciding whether the CE is worth getting. There aren't that many bird collectibles and there are too few achievements, wallpapers, and music tracks. Also, 18 mini-games and 13 HO's makes me a little worried about the length of this game, I can't imagine it reaching the 4-hour mark. All in all. I'm a bit let down. I expected the same "quality" as Flights of Fancy (CE), but instead I feel like I got a copycat version, but with a dumbed-down level of challenge. I'm so in love with ERS that I might just pick up this CE despite everything I said, but I think other people who aren't a huge ERS fan like I am aren't going to be all that terribly impressed (at least as far as the difficulty is concerned). Play the demo and decide for yourself.
October 31, 2013
A different take on Beauty and the Beast
Based on demo in Casual Mode. On his way home, Father stumbles across the beast's castle and, as in the classic tale, takes an item precious to the beast, in this case the golden nightingale. The beast demands his daughter or him. Daughter goes in his place, but is prevented from getting to the castle by a mysterious witch. With a permanent helper (the nightingale) and many random ones, it becomes a race against time to reach the castle before midnight. Plenty of CE bling for those who like it: * Wallpaper/Concept Art/Screen Saver/Movies/Music plus replayable minigames and HOSs * Achievements to earn * Birds to collect There are 3 levels (Casual, Advanced and Hard) plus a customisable option. An interactive map arrives a little later in the game. HOSs are few, as are puzzles. These are all pretty straightforward and the HOSs have been either lists with a couple of interactions or find a number of similar items. Lots of finding different shaped 'keys' or using the various random helpers to solve problems. I think it is this very randomness that took the edge off this game for me. Maybe there is more challenge at a higher level, but I found myself having to use the hint as logic failed. Lovely graphics and music make for a pleasureable experience but I will not be rushing to buy. Do try it as you might find something I didn't. I look forward to seeing reviews from those who go straight in at the harder levels.
October 31, 2013
Cool Fairy Tale
This is based on the one hour trial, and I intend to buy it when a sale comes along. I enjoy games that are like a fairy tale, and this one fits the bill. It has different modes you can play; I played casual, as I usually do. You can switch modes during the game if you want to. You can also play scenes over; mini games, and HO's, if you desire. You can also do a mini game instead of the HO's if you want. I did the HO's. It shows at the beginning that there's a bonus game after one completes the main game, so I'm looking forward to that. The graphics are very good, great artwork, and the animations are great, too. There's an interactive map that lets you jump to the scene you need to go to, and it shows where there is action, and where you are. You don't get the map right away, but once you leave the house and go to the outdoor scenes it shows up. There's also a strategy guide which I didn't have to use, and there's a journal. While still in the house you open the nightingale's cage and it flies out and stays with you throughout the game. (at least it was still there when the trial was up; so I'm assuming that it's there for the whole game) The nightingale blooms plants for you, and makes them grow. You collect jeweled birds and at one point it looked like it changed to an jeweled insect, but I can't be sure about that. I usually don't make a comment until I've played a whole game, but I'm doing it now while it's still fresh in my mind. I only gave it 4 stars since I haven't played it all. Hopefully I won't have to wait too long for a sale. There are characters in the game, and also fairy tale characters. they add a lot of fun to the game. Some stay with you in the inventory for use a little later, but then they leave. I didn't really like the music, I didn't think it went well with the theme of the game, so I turned it off after a short time, which is why I only gave 4 stars for the visual/sound. The other sounds were good. I had fun playing the trial, and was sorry when it ended. I think if you like a fairy tale style in a game, and HO's, you'll like this game. I know I do! I can't think of any ERS games that I didn't like. Good job ERS!
October 31, 2013
Beauty and the Beast Here Again!
As always, this developer does a great job with the graphics, very appealing to the eye but with the expected game mechanics. There wasn't particularly anything about this game that awed me or even surprised me, no new twists but still a good game to play, definitely better than most. You collect birds, HOS are typical but with the option of a match 3 game which is always good to have, puzzles are pretty easy and there are achievements to earn, so for a CE, it seems to have most everything you can expect. Not sure at this point that I want to pay the CE price so may wait until a sale comes along.
October 31, 2013
good game
i know this was a fictional game, but there were a few items that were listed / used that in the time era that the game was from were not avail than......ie., safety pin was one, there was another item i just can't think of it right now...
November 3, 2013
FINALLY
Big fish has been really letting me down. I have not found a game I have enjoyed in a long time. I have paid for many games but find out I don't really like them. Finally today I try this one and it is awesome. I love all the animal/creatures etc. Graphics are awesome and I feel the story is leading to a direction and not all over the place. Thank you Big Fish. Please get some Adventure games cause I am sick of HOP but at least in this game we have a choice of HO's or a Pick 3 puzzle. I actually paid for this one. I have a free game ticket but can't seem to find a game to purchase lately. This was a collectors edition so I had to pay full price. But well worth it. YEAH
October 31, 2013
The Apple logo is a trademark of Apple Computer, Inc.
The Windows logo is a trademark of Microsoft, Inc.