Queen's Tales: The Beast and the Nightingale Collector's Edition
Exclusive
Prepare for an amazing adventure in Queen's Tales: The Beast and the Nightingale! When your father returns from a long journey, he brings you a very special gift – a magical golden nightingale. But the little bird comes with some big strings attached... It belonged to a horrible beast who demands your father's servitude as payment for his stolen property. You bravely decide to take his place and begin the journey to the beast's castle. But you quickly discover that someone will do anything to stop you from reaching your goal. Now time is running out, and your father's life is on the line! Overcome strange and ominous obstacles in this thrilling Hidden Object Adventure game!

This is a special Collector's Edition release full of exclusive extras you won't find in the standard version. As a bonus, Collector's Edition purchases count toward three stamps on your Monthly Game Club Punch Card!

The Collector's Edition includes:
Thwart an evil plan in the bonus story
Replay mini-games and hidden-object puzzles
Beautiful wallpapers and screensavers
An available Strategy Guide
Game System Requirements:
OS:

10.9/10.8/10.7/10.6

CPU:

1.6 GHz (INTEL ONLY)

RAM:

1024 MB

Hard Drive:

847 MB
Game Manager System Requirements:
Browser:

Safari 4.0 or later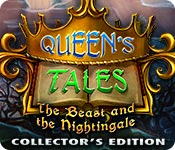 The Big Fish Guarantee:
Quality tested and virus free.
No ads, no adware, no spyware.

Reviews at a Glance

Queen's Tales: The Beast and the Nightingale Collector's Edition
0
out of
5 (
0
Reviews
Review
)
Customer Reviews
Queen's Tales: The Beast and the Nightingale Collector's Edition
73
73
Thought it taxed my patience at times, this was a good game!
As you're getting engrossed in a game then you come upon a task, for instance, unlocking a cage, to find that you have to do 5 other tasks to accomplish it! My feeling was, 'Folks, let's get on with the game, will ya'! I want to get to the real good stuff.' This game had a lot of good stuff, beautiful graphics, good music, nice VOS, neat puzzles but it can't hold a candle to NeverTales, which is the best game I've ever played. But don't get me wrong, please do buy it; there are lots of things to do and some of the puzzles are tricky. ERS is one of the best developers out there. I would recommend this game. I rate this game a 3 1/2 stars.
January 18, 2014
Enchanting Graphics
I give this game just an okay because it's not the best game I've ever played but certainly not the worst. The graphics and some of the scenes are absolutely enchanting. The HOS are regular HOS, ones where you find objects that have to be used to find other objects and ones where you place objects into the scene. At times I would have to click an object a couple of times to get it to accept my choice. There are not a lot of mini games but the ones I played are okay. I didn't like the puffball one because I couldn't get enough movement from them to be able to complete the game. All in all an okay game but not worth the CE price to me.
December 17, 2013
Too easy + too cute + too boring = no buy for me
I can't recommend this game from ERS for the following reasons: 1. All aspects of gameplay were too simplistic, which made the game boring. The only objects in the HOs that were hidden were the interactive ones. Adventure mode was either finding one shape/key after another or fulfilling a character's demands. Puzzles and mini-games were childishly easy. 2. The never-ending cast of cutesy sidekicks was annoying and cloyingly saccharine, interfered with gameplay, and was just plain irritating. After an hour of feeding, rescuing, and listening to them, I knew this game was not a buy for me. 3. The storyline was convoluted and not at all engaging. It was impossible to identify with the heroine, or to fear the villains. 4. The voiceovers were badly cast and acted. None sounded appropriate for their age or role. (Developers, if you're going to have a child in your game, have the character voiced by a child! Villains' voices should virtually drip with evil intent. Give the hero/heroine a voice; it helps us identify with him/her and immerse ourselves in the game.) 5. The graphics, animation, and sound were well done, but those things just couldn't save this formulaic game.
November 1, 2013
Sorry but I didn't care for it
I bought this because I normally enjoy ERS games, but not this one. While the colors are beautiful, it was just TOO much, the scenes seem washed out, the HO's were too busy, almost junk-pilish, rather indistinct shapes with too much going on with flashing bugs, etc. I lost interest in finding the required objects and finally lost interest in the game altogether. I normally attempt and complete all puzzles but the instructions were vague and confusing at times and I ended up skipping most of them, which I NEVER do. By the end of the game, I didn't care if I gained any of the achievements, used the hint button far too much, just wanted it to be done and didn't bother with the bonus. This, of course, is only my opinion...but I don't recommend this game.
November 2, 2013
ERS - Expect Repetition Studios
A father finds an abandoned castle after sailing back from somewhere and while trying to take a prized (and clearly valuable) bird, he is thwarted by the beast-like owner and forced to give up his daughter in return. What?! A bird is now as important as someone's daughter? Or is it that a bird & one's daughter are just "things", easily interchangeable between each other? Once again, ERS gives us the same old, same old. Voice actors that are terrible compared to whom they are supposed to be voicing (a matronly looking mother telling a child a story is voiced by someone who should be on the Friends), graphics that are the same blurry, non-fluid, graphics we come to expect, puzzles that are ridiculously easy, and a storyline that is as contrived as it is passe. The graphics ARE nice to look at and the gameplay is smooth but those are not enough to make up for what is, yet again, a game geared toward the young[er] crowd with absolutely no challenge. No buy. No way, no how...
October 31, 2013
I don't understand the reviews for this game
I usually read reviews before even trying a game. After seeing all the 5-star ratings, I couldn't wait to try this game. After about 10 minutes, I was done. I honestly do not understand why people find this game so outstanding. It was boring, didn't make sense, and the graphics were just so-so. Are people just totally bored with the games coming out to give this game such a high rating?? Nevertales blows this game out of the water and even it didn't get the ratings this game does. I rarely, if ever, give a bad review, but I honestly don't get what people see in the game. Guess I expect better for my money... just sayin' ;)
October 31, 2013
ERS's Bad Run Continues!
After this game, I'm pretty certain that ERS are beginning to go down hill. For the second time in as many games, I couldn't finish the demo. I'll admit this is better than Two Doves, but it's still way short of being a good game. The story wasn't good at all. From the start of the demo to when I quit, nothing interesting happened at all. The intro wasn't very good, but I had hopes. Turns out those hopes were let down. The biggest killer for me was that this story, like the last one, was WAY TOO CUTE! Where do I start? First, you dressed a fox in a skirt, then you went in to the magical land and found fuzzy blue flying things and some annoying creature called a ?Weepie?, and that was just in the 50 minutes I played. I shudder to think what else might come out. ERS need to realise that not everyone is a fan of cute. Some of us like creepy! Your last 3 of your last 5 games have been cute ones. Perhaps it's time for something different? Until ERS come out with something creepy, I won't be buying any more of their games. It's just beyond a joke now. For a game with a horrible story, the gameplay is actually pretty good. For the third time in a row, we have the option of a custom difficulty, which allows us to set the game the way we like it. I thought this was really great. The HOS are great, too. There are two types of HOS; junkpile and silhouette. Both were great fun, even though they were easy. I loved seeing those sparkles indicating that there was another HOS. The puzzles were a little on the difficult side, although some of them had the option to switch difficulties. However, that didn't stop me from needing to skip most of them. This is, pretty much, your standard HOPA. Experienced players should have no trouble navigating. This has everything you'd expect: Hint and skip, diary and a map. The only new-ish things are the helper and a taskbar, which were okay additions. The graphics are the same as always, but are still lovely. They are hand drawn with so much detail, and are a visual delight. Everything was so clear, and the character designs were great. The voices just annoyed me. Especially when we got in to the other world. The voices of the creatures like the locust, the weepie and Little Johnny were just too much to bear. They were so annoying I skipped their dialogue, which is something I never do. FEATURES 4 modes of difficulty: Casual, Advanced, Hard and Custom. Differences are hint and skip recharge times, sparkles and black bar tips. In Custom, you can alter things to suit your liking. Hint times range from 5-200 sec. I played Custom, with sparkles and black bar tips turned on, tutorial off, and hint and skip recharge times set at 35 and 45 seconds respectively. Hint and Skip- hint is incredibly useful outside HOS. Diary- keeps track of events and also holds the taskbar. Map- interactive and helpful. Nightingale- This is your little helper for the game, and it is used quite a bit. CE EXCLUSIVES Built-in Strategy Guide. Very helpful when it comes to puzzles. Collectible birds- these are stored in the Bird House. Achievements Bonus Chapter Concept Art Music Replay HOS Replay Puzzles Replay Movies I don't see this game as worthy of a CE, even though I personally don't like the game myself. I'll be avoiding this one, as it's once again too cute for me. It's a shame what ERS has become, because they're going to start losing a lot of fans. If you like this game, my advice is to wait for the SE.
November 3, 2013
not my cuppa tea...
even though i have not bought an ERS game since before crucible peak, and even when the games veered from scary/spooky/eerie to straight-up fairy tales, with LOTS of cute animals/creatures, i vowed i would continue to demo every game they put on the market. i have not broken that vow to myself and i have played the full demo every time. i appreciate the fact that ERS is including a custom setting for difficulty level... both for game mechanics AND for puzzle difficulty! any puzzle that has "casual" and "hard", i click "hard". and the boat to port puzzle took me several tries... that's GOOD! i like it! HOWEVER, for the game mechanics difficulty, i un-ticked "tutorials" and still GOT tutorials when i received the nightingale AND when i went to play the first HOS. so much for "no tutorials"! grrrrrr... i also un-ticked "black bar tips" and while *some* were gone, most were still there. i guess "custom mode" isn't very custom, is it? i also appreciate that they have added a different kind of "4 square" match 3 that you can switch to for HOS which was fun, for a match 3. yes, this is a HOG, but i'd rather play adventure without the HOS (but those games are few and far between, so i must tolerate HOS to get the puzzles and adventure i crave!) so the change to match 3 (or other alternative) is very welcomed. i didn't care for all the "cute" creatures... weepie got on my nerves right away, even when it started laughing. i wasn't crazy about the VOs... as some have commented, the child sounded like an adult... but for me, the worst one was "the beast" which didn't sound very "beast-like" at all. just ho-hum... you've got til midnight! la-de-dah. i was kinda expecting more of a growl sorta voice... something more scary! isn't the beast supposed to be scary, at least at the beginning? but, i will say that i can see why the folks who love ERS games are enamored of this one. it's colorful, bright and happy. easy to just wander through and enjoy without worries! but that's *not* why i play these types of games! i want CHALLENGE, not a nice walk through a fairytale land. so, a no-buy for me, not surprisingly. ERS, i'll say it one more time and i'll keep saying it until you listen: put out another one like dark alleys: penumbra motel WITHOUT one cute animal and i will be the first in line to buy it. until then, no sale. sorry. but, i'll keep hoping. and keep demoing on the off chance that the next dark alleys really ARE... dark alleys...
November 1, 2013
kaava
just blahh. The whole thing was quite boring.
November 15, 2013
Tedious but pretty
I found this game really tiring. There was tons of running back and forth between scenes and what seemed like pointless tasks to make the game longer. The voice acting was pretty horrible as well. I ended up forcing myself to continue playing the game. I thought that I would really enjoy it, the art work is lovely and I'm a sucker for fairytale based games. Nothing about this game made me want to play another one by the same people.
January 5, 2014
The Apple logo is a trademark of Apple Computer, Inc.
The Windows logo is a trademark of Microsoft, Inc.