Revived Legends: Road of the Kings Collector's Edition
Exclusive
Save two worlds in Revived Legends: Road of the Kings! What started out as a normal day takes a turn for the fantastic when you drive into a strange fog bank. Inside, you learn that the fog is slowly blending our world with a magical realm. Soon both worlds will be destroyed, and you are the only one who can still save them! Now you must embark on a journey down the legendary Road of the Kings to confront the villain and his terrible fog. Explore enchanting locations, meet fantastic creatures, and solve perplexing puzzles as you become the hero of two worlds in this beautiful Hidden Object adventure!

This is a special Collector's Edition release full of exclusive extras you won't find in the standard version. As a bonus, Collector's Edition purchases count toward three stamps on your Monthly Game Club Punch Card!

The Collector's Edition includes:
A bonus adventure where you must stop the past from unraveling!
Enchanting screensavers, wallpapers, and concept art
Replayable mini-games
An available Strategy Guide
Game System Requirements:
OS:

Windows XP/Windows Vista/Windows 7/Windows 8

CPU:

1.6 GHz

RAM:

512 MB

DirectX:

8.0

Hard Drive:

1263 MB
Game Manager System Requirements:
Browser:

Internet Explorer 7 or later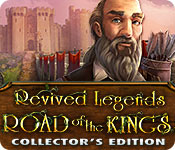 The Big Fish Guarantee:
Quality tested and virus free.
No ads, no adware, no spyware.

Reviews at a Glance

Revived Legends: Road of the Kings Collector's Edition
0
out of
5 (
0
Reviews
Review
)
Customer Reviews
Revived Legends: Road of the Kings Collector's Edition
47
47
Intriguing Hidden Object & Puzzle Game
I was hooked by end of trial. I absolutely love the hidden object games mixed with the puzzles. This reminds me of the board-game 'clue' only more detail, more options, and more depth. Love love love the helpers you get. The one thing I do not like is that it gets a little confusing when you have to complete three or four different areas to come back and finish one 'major' area. This could simply be because this is my first time playing this type of game. The story-line is decent, it does grab you shortly after you start the game. There could be a little better introduction to this game for first time players, I had a lot of confusion at first as I simply didn't know what to do and the 'info' wasn't very helpful. Overall very good game. I put the level of challenge as 'ok' because after a while all of the puzzles are the same. Nothing new means it's easy to get through them quickly.
November 7, 2013
EXCELLENT STORYLINE!
loved the storyline ... the variety of adventure ... puzzles and HOs ...animation was pretty low res, but the playing artwork was beautiful ... finished the game ... but saving the bonus play for later ... worth paying for this one!
November 2, 2013
Review of Completed Game...
I give this game a 3.5 but Im rounding up because its BLAM games! and I love them as developers. They have some of the most original games I have ever played and I am a big fan. Having said that, I sooo wish I had played more than 15 minutes of this game before purchasing it. I knew going into it that there was a fog changing people into weird things like tree trunks or beasts. For instance a cat turns into a tiger, a man to a tree, a couple to some kind of weird bench like thing. However, I am so over the cutesy animals and beasts, having to name things like the dragon in this one, having a pet that helps you (raccoon) and all the rest of the cutesy things. If I had played this game further than the 15 minutes, I can't say I would have purchased this game as a collector's edition but I did so next time I will know to be more careful. Although the fog theme has been done before, I did enjoy most of this game. The main game has a complete and satisfying ending so there is no need for the bonus game. The main game is pretty long, took me about 6 hours give or take. There are lots of collectibles which really blend in so they were fun to search for. Also, there are achievements HOWEVER they do NOT tell you what they are sooo thats a real guessing game. I get they do not want to spoil the plot but maybe then the ones that are moving the plot should be a secret but the rest of them should be open so we know what to do. Because of the fact you have no idea what they are, I missed a lot of them. The map was a nice touch. I like how even though I chose a hard difficulty level, I could make the map available throughout the game with it showing me where I needed to be. I only used it when I was stuck and that way I didn't need hint or skip. Hidden Objects were interactive as usual, no black bar tips in harder levels which I appreciate! Although there were some silhouette hidden object scenes in the beginning, there were not a lot more throughout the game. I liked most of the puzzles, felt they were unique and liked doing them. My issues with this game besides the hidden achievements and the cutesy creatures are that for some reason I just couldn't get into this game. Maybe it was the reasons I mentioned above, maybe it was the overall feel of the game. I didn't care about the fog or the people I was saving and this took me many weeks to get through due to the fact I was so bored. I know this is a good game, a great game in fact which is why my rating is so high but for me personally, I could have lived without it. The bonus chapter was about another fog that swept the lands and how you conquer it once and for all except you did that in the main game so Im not sure what the point of the bonus was except to be a filler. I did not finish the bonus chapter as I found it quite repetitive and boring. I really really enjoyed Fierce Tales-Marcus Memory by Blam games and gave it 5 stars plus a spot in the top games of 2013 in my opinion BUT this one is definitely lacking in some way that I just can't put my finger on. I think it was the abundance of cutesy creatures. I just am so over that theme and I wish that developers would go back to darker themes instead of fairy tale princess cutesy animals you name and dress up and there is a beastiary in the extras but you can't access it til after you get all the creatures and they go into the bonus game so I never saw it but I didn't care either. I just was so glad it was over and next time I will definitely test drive a game more than 15 minutes because cutesy things seem to be the new trend and Im really not a fan of it. Enough is enough. Do I recommend this game? Yes because although I didn't care for it, I know most people will enjoy it especially the people still in love with the cutesy stuff. Like I said, I know its a good, well made, beautiful game, it just didn't keep my interest...
January 25, 2014
Warning Massive Cute Alert!
BASED ON DEMO FIRST IMPRESSIONS And they just keep coming... I give up on trying to ignore them, the cute games just won?t stop and I can?t stop wanting them either! But if you are not into cute, RUN! This game is in cute overload! In fact, it?s overload all the way. We even start with not one but two vehicle accidents! As well as 2 cute companions and a fairy who helps out with backstory! SIGHTS & SOUNDS The artwork on this one is a little primitive, clearly by design. The brush strokes are broad, lots of solid colour, everywhere very well lit. The many ?magic creatures? are drawn in loving detail and do seems magical. The fantasy world we visit is likewise lovely. The British voiceovers are good (and a nice change), the words are spoken a little too slowly for me, but not uncomfortably so. I love the music, which is light and relaxing. WHAT?S HAPPENING This is all a bit foggy (pardon the pun) in the early stages ? I couldn?t quite get a handle on what was going on. We happen upon a man who has been enchanted into a tree, and that gets us into all sorts of trouble. An evil wizard has escaped from his tomb, he is controlling a terrible fog which will destroy not only our world, but another, magical one besides. We give and receive help from all manner of magical creatures on our quest down the Road of the Kings. GAMEPLAY Nothing startlingly new here. There are interactive lists for the HOPs. There are puzzles, easy through to ?you?ve got to be kidding?. There is one puzzle that you replay each time you need a new rune charged (there were 3 in the demo). Each time it is a bit more challenging, but not the hardest mini-game by far. The adventure is easy, and there?s a good map with ?you can do something here? and ?you?ve finished here? indicators ? my favourite. It also jumping. The notebook is unobtrusive and I didn?t use it. Hint is directional. So it is pretty easy to get around and figure out what to do next. BLING!. There is a whole lot of collecting going on! We need to find 38 tiny little bells, which are definitely not easy to find. There are also 20 magical creatures for your bestiary, and crystals needed to restore the fairy?s power. These last two are not exclusive to the CE (although the bestiary probably is), because they are needed to complete the main game. There are loads of achievements, but most are of the ?meet the fairy? kind. Then there are the staples ? gallery items, bonus chapter, SG, and replayable mini-games. FAMOUS LAST WORDS I didn?t enjoy this one the most out of all the cute fantasy games of late. While it is definitely pretty, and the characters are surely lovable, but there is nothing in this game that is outstanding. The puzzles are mostly known, if in slightly different forms, even the critters have a certain lack of originality to them. Not that it?s not a fun game, I think it is, just not extraordinary. All this considered, I think I?ll rate the SE higher.
November 2, 2013
Too cute, annoying black bar!
I tried to finish the demo twice, but just could not get into this game. Cutesy with a silly story line, and the most annoying black bar tips ever...no matter what you do it keeps repeating the same unhelpful lines! The only way to play this if you like cutesy stuff is to turn off all hints and the black bar. It looks good, but seems a re hash of a lot of other games.
November 2, 2013
Talk talk talk + cute animal sidekicks + convoluted story = no thanks
Clearly I have the minority viewpoint, but I was not at all enchanted by this fairy tale. Which is a shame, because it had some of the best original puzzles I've seen in a long time. Unfortunately, they couldn't save the convoluted storyline which was constantly interrupted by NPCs monologuing backstory at you. At length. While the graphics were quite vivid, they had an unfinished look that I found unappealing. Proportions were off, and light and shadow were missing, leaving each scene flat and lacking depth and life. The animation was clunky and reminded me of a low budget children's cartoon. The music was light, airy, and fit the theme of the game. Voiceovers were fairly well done, which is a plus, since you listen to them a LOT. Gameplay was standard adventure with iHOs, puzzles, and mini-games. There was a lot less of the "find shapes that are really keys" than in most games, and more working through tasks. The last straw for me was the overdose of nauseating cuteness that prevailed. It wasn't enough to have one adorable animal sidekick; this game gave you TWO. Ugh! Who started this revolting trend anyway? Fantasy and fairy tales are not sweet or cute. Dragons are especially not cute; they're fire-breathing predators. Yes, even the baby ones. (And I won't discuss the purpose of nymphs as this is not an adult forum. Suffice it to say that they're not cute either.) Obviously, this is not a buy for me, not even in the SE, and I don't recommend it unless you're addicted to sugar.
November 3, 2013
What a Mess!!!
This review is based on the Demo. I rarely review games anymore, but this one made such an impression I simply can?t help myself. I really liked most of the beginning of the game; the graphics and story line were fun and clear. I even could put up with gathering the cutsie helpers, two of them. At least you didn?t have to dress them, you just had to use them to complete a couple of tasks. Then the story goes several different directions all at once, forgetting all about the events of the opening scenes, forgetting all about where the opening scenes occurred, and before the end of the demo spirals into an unfathomable mish-mash of virtually every fantasy story you have ever heard. The story makes no sense and you have to travel between two different realms to complete tasks. Oh, on top of the cutsue helpers you gain an amulet that you have to repair, too. Oh, joy :( There is a recurring game where you recharge runes. I take very little time with mini?s when doing a demo so that I can see as much content as possible. But, I played it long enough to know that I would never be able to complete even the simplest version and hated every minute of trying. I finally got to where I didn?t even attempt it, just waited for the skip button to charge and moved on. Other mini-games and tasks were equally loathsome so I skipped them, too. The soundtrack is so repetitive that I turned it off after about 2 minutes. To sum this one up, I have no idea what the developers had in mind for this game, but the end result is total garbage. They had a good start, but then abandoned it in favor of an unfathomable jumble of plots and goals. Frankly, I wouldn?t download the full version of this game if it were given to me for free!!
November 3, 2013
The Apple logo is a trademark of Apple Computer, Inc.