Revived Legends: Road of the Kings Collector's Edition
Exclusive
Save two worlds in Revived Legends: Road of the Kings! What started out as a normal day takes a turn for the fantastic when you drive into a strange fog bank. Inside, you learn that the fog is slowly blending our world with a magical realm. Soon both worlds will be destroyed, and you are the only one who can still save them! Now you must embark on a journey down the legendary Road of the Kings to confront the villain and his terrible fog. Explore enchanting locations, meet fantastic creatures, and solve perplexing puzzles as you become the hero of two worlds in this beautiful Hidden Object adventure!

This is a special Collector's Edition release full of exclusive extras you won't find in the standard version. As a bonus, Collector's Edition purchases count toward three stamps on your Monthly Game Club Punch Card!

The Collector's Edition includes:
A bonus adventure where you must stop the past from unraveling!
Enchanting screensavers, wallpapers, and concept art
Replayable mini-games
An available Strategy Guide
Game System Requirements:
OS:

10.9/10.8/10.7/10.6

CPU:

1.6 GHz (INTEL ONLY)

RAM:

512 MB

Hard Drive:

1121 MB
Game Manager System Requirements:
Browser:

Safari 4.0 or later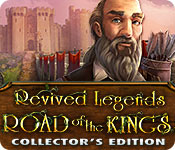 The Big Fish Guarantee:
Quality tested and virus free.
No ads, no adware, no spyware.

Reviews at a Glance

Revived Legends: Road of the Kings Collector's Edition
0
out of
5 (
0
Reviews
Review
)
Customer Reviews
Revived Legends: Road of the Kings Collector's Edition
45
45
A Great game from BLAM
A really fun game, alas, too short for me. 4 1/2 hours and that's solving every puzzle except one. Graphics are beautiful, puzzles are fun and interesting. HOPA's are well crafted and in order to play them you must use items to open them...so something new. Storyline kinda hohum but characters are beautifully rendered. Paid the full price before realizing there was a sale on.....extremely annoyed since it wasn't really worth the price. Sorry BF other more innovative and just all around exceptional developers to give this one a fiver. I always struggle with the "challenge" portion of the review since I don't like challenge but clever entertainment.... which the puzzles were entertaining, SOOOO short tho ARGH. I hate when I spend the full price and feel unfulfilled. :( I still recommend this game but take advantage of the sale price as the full price is not worth it.
November 2, 2013
An Almost Perfect Game
There's something about this game that grabs you inspite of its few but startling flaws. After playing for 10 min. or so I decided against it but by then it was too late. I was hooked on the story and finding out what was going to happen next. It's nice to see a game with so much plot pull tht you feel real suspense. Wow! Now about the downers...The cursors for one. They are well drawn and elaborate which is the problem. It's often hard to tell where they're pointing. The hint button recharges sloooowly, even on Casual level. But the hints are helpful and the map is very good. Don't be put off by the crash scene opening because from there it's a creative, suspenseful game with only minor flaws. Give it a try
November 2, 2013
CHARMING, WHIMSICAL, YET SOPHISTICATED. I LIKED IT
REVIEWED BASED ON COMPLETED GAME IN HARDCORE LEVEL I don't believe in giving storylines away, so I'm just going to tell you the nuts and bolts .... that way you can be surprised. PROS: Very interesting introductory scene, makes you want to get into the story right away Lots of gorgeous colors, which I enjoy Background music was beautiful and advanced the emotion of the game Story is nothing new, but it is still interesting and it kept me glued to the game 3 different levels of play On hardcore level, you get to choose whether to use the map or not, which I advise u to use or you will be backtracking a lot Multi-dimensional story line takes you through many new and interesting scenes and moods Lots of easily attainable achievements Collectible bells which are easy to find Two helpmates, which I don't usually like, but in this instance, they were used intelligently and for practical reasons not just cuteness The jump map is both useful and beautiful (really cool) The story wraps up nicely so you don't need the CE bonus chapter The bonus chapter can stand alone and is fun to play The mini games are rather new and a bit more challenging than normal The characters are very like-able without being too saccharin or childish The bad guy is good at being evil without being scary CONS: I thought the game was a bit short The HOs were a bit washed out making some objects hard to see The further into the game you go, the MORE cluttered and brownish/washed out the HOs junk piles become, so you may need a magnifying glass Story could have been a bit more original BOTTOM LINE: I think everyone will enjoy this game. It manages to be an adult fairy tale that is neither too silly nor too scary. A very pleasant adventure for all levels.
November 26, 2013
Review of a finished game...
This game is well worth the purchase. Adopt pets to help you through the game. The is alot of backtracking, but your well done map will get you there. 35 tiny bells to collect, achievements . Lots to do to put Cornelius back to sleep. Visuals and music help the ambiance to the game. Plz post ur fav. game after u write ur review so that others can chk it out as I do.. ty game on gamers...
November 11, 2013
Nicely done....
Again, I am reviewing the game play and not the story. Graphics are nice, a bit old school, but it fits the story line. Game play was good..only had one glitch, but it righted itself when I went out and back in again, which I should not have to do. Music not too bad. Can't tell how long the game may be. I much prefer seeing how many chapters there are before I buy a game. Gives me some idea of how long I can play and if it is worth the CE price. Nice voice overs, but some areas you cannot click through if you read faster than they speak (didn't like that#. HOGs are clean and clear with easy to find objects. Puzzles are very simple, with one repeated at each new area, but gets a little harder with each play. Nice bright colors in this game. Locking inentory bar, which I really like. Helpful hint system and fills farily quickly. SG is the usual. The game is simple enough where you don't really need to use the SG and rarely use the hint. More cute little animals, but that's okay. They are used well. You find little bells, which are not extremely difficult to find, but you do have to look for them. You also find animals, but I'm not sure I was really finding them, as they were in a scene and I was told I found one. Got tired of seeing "you completed a HOG in less than a minute" #yes, they were that simple). Not a lot of shoe leather used on this one, but you do use the jump map on occasion. Very nicely set up and each location is identified, so you don't have to try to remember what a place looked like. Okay, one comment about the story. Not sure what it is really. You get bits and pieces of an explanation, but so far, nothing has really tied together. Haven't seen anything from this dev for awhile. I kind of liked this one, even with the few minuses. This game was not extremely challenging, but for some reason, I found it to be fun. I may get this one on the special today. Just have to decide if I want to spend the money for the CE, but I will get one of them. As always, try it for yourself and see what you think. We all have different tastes in games and you may not care for this one at all. Thanks for the reviews.
November 3, 2013
A little too cute but I guess I can stand it.
This is based on the demo and admittedly I did not get too far, which is a good thing. There is definitely much going on in this game, enough to keep one busy for a while. Story: A man in a tractor crashes into a hillside and unleashes an evil wizard, Cornelius into our world. Cornelius has already ruined another world and is bent on ruining ours as well. You are a Scotland Yard detective who also crashes and is propelled into the other world and must save both worlds. Artwork: drawn artwork with lush colors busy landscapes, a little blurry. The music is nice and unobtrusive. Game play: 3 modes of difficulty: casual, advanced and hardcore; with a nice touch of advanced not having any black bar help which is excellent as in many games there is way too much handholding even in advanced or hardcore mode telling what is needed to be done. Here, you are on your own in advanced! Games are mostly not challenging so far and are well known. There are also animal/creature helpers which are becoming a trend these days and I find to be a little too cutesy for my taste, and I am an animal lover. HOS are really kind of junk piled and it took a while to find some objects. Achievements/Collectibles: There are tiny little bells to collect and they are hard to find! I think that is why I spent so much time on the demo--LOL. There is a bestiary, which describes all the animals one finds along the way, there are achievements (pretty standard such as finish one HOS in less than a minute, do it with no hints etc). there are repayable mini games, a bonus chapter, an interactive map and a journal neither of which I use. There is an SG which is quite helpful and I don't use hints, so I can't speak to them. All in all it is a nice game, it really has not gripped me in a way that the others recently have, but I do like the challenge of finding those little bells and the mini games are lots of fun. The story does have some interest and I recommend you play the demo before you buy to see if you can stand the kitsch. I will at the sale price today!
November 3, 2013
Enjoyable
This enjoyable game takes a while to play, and requires a good memory or notes. There is a fair amount of back and forth, which the map is handy for. Sometimes you have objects in your inventory that take a long time to find a use for. If you are playing in the hardest mode there are places in the game where logic doesn?t dictate where you go, or what you need to do, such as freezing the pond, or using tennis racquets for shoes. Laughably, a few times when I was stuck, I just plain forgot to use one of the two little helpers. Although cute, having a lighter would have sufficed instead of the little dragon. Too bad a game player can?t choose what to have as a helper as there are some of us who don?t need or want the ?cute.? The HOS were the usual piles of miscellaneous junk ? why, oh why, can?t there be more specific things pertinent to the situation? Most of the puzzles are good and enjoyable, especially the water pipes. The last puzzle, directing light beams, was confusing even after reading the directions ? there were too many ways to position the variables on top of trying to figure if the red beams are ?good or bad.? The story line was OK, but to be fair it?s never my main interest.
November 29, 2013
Intriguing Hidden Object & Puzzle Game
I was hooked by end of trial. I absolutely love the hidden object games mixed with the puzzles. This reminds me of the board-game 'clue' only more detail, more options, and more depth. Love love love the helpers you get. The one thing I do not like is that it gets a little confusing when you have to complete three or four different areas to come back and finish one 'major' area. This could simply be because this is my first time playing this type of game. The story-line is decent, it does grab you shortly after you start the game. There could be a little better introduction to this game for first time players, I had a lot of confusion at first as I simply didn't know what to do and the 'info' wasn't very helpful. Overall very good game. I put the level of challenge as 'ok' because after a while all of the puzzles are the same. Nothing new means it's easy to get through them quickly.
November 7, 2013
EXCELLENT STORYLINE!
loved the storyline ... the variety of adventure ... puzzles and HOs ...animation was pretty low res, but the playing artwork was beautiful ... finished the game ... but saving the bonus play for later ... worth paying for this one!
November 2, 2013
Review of Completed Game...
I give this game a 3.5 but Im rounding up because its BLAM games! and I love them as developers. They have some of the most original games I have ever played and I am a big fan. Having said that, I sooo wish I had played more than 15 minutes of this game before purchasing it. I knew going into it that there was a fog changing people into weird things like tree trunks or beasts. For instance a cat turns into a tiger, a man to a tree, a couple to some kind of weird bench like thing. However, I am so over the cutesy animals and beasts, having to name things like the dragon in this one, having a pet that helps you (raccoon) and all the rest of the cutesy things. If I had played this game further than the 15 minutes, I can't say I would have purchased this game as a collector's edition but I did so next time I will know to be more careful. Although the fog theme has been done before, I did enjoy most of this game. The main game has a complete and satisfying ending so there is no need for the bonus game. The main game is pretty long, took me about 6 hours give or take. There are lots of collectibles which really blend in so they were fun to search for. Also, there are achievements HOWEVER they do NOT tell you what they are sooo thats a real guessing game. I get they do not want to spoil the plot but maybe then the ones that are moving the plot should be a secret but the rest of them should be open so we know what to do. Because of the fact you have no idea what they are, I missed a lot of them. The map was a nice touch. I like how even though I chose a hard difficulty level, I could make the map available throughout the game with it showing me where I needed to be. I only used it when I was stuck and that way I didn't need hint or skip. Hidden Objects were interactive as usual, no black bar tips in harder levels which I appreciate! Although there were some silhouette hidden object scenes in the beginning, there were not a lot more throughout the game. I liked most of the puzzles, felt they were unique and liked doing them. My issues with this game besides the hidden achievements and the cutesy creatures are that for some reason I just couldn't get into this game. Maybe it was the reasons I mentioned above, maybe it was the overall feel of the game. I didn't care about the fog or the people I was saving and this took me many weeks to get through due to the fact I was so bored. I know this is a good game, a great game in fact which is why my rating is so high but for me personally, I could have lived without it. The bonus chapter was about another fog that swept the lands and how you conquer it once and for all except you did that in the main game so Im not sure what the point of the bonus was except to be a filler. I did not finish the bonus chapter as I found it quite repetitive and boring. I really really enjoyed Fierce Tales-Marcus Memory by Blam games and gave it 5 stars plus a spot in the top games of 2013 in my opinion BUT this one is definitely lacking in some way that I just can't put my finger on. I think it was the abundance of cutesy creatures. I just am so over that theme and I wish that developers would go back to darker themes instead of fairy tale princess cutesy animals you name and dress up and there is a beastiary in the extras but you can't access it til after you get all the creatures and they go into the bonus game so I never saw it but I didn't care either. I just was so glad it was over and next time I will definitely test drive a game more than 15 minutes because cutesy things seem to be the new trend and Im really not a fan of it. Enough is enough. Do I recommend this game? Yes because although I didn't care for it, I know most people will enjoy it especially the people still in love with the cutesy stuff. Like I said, I know its a good, well made, beautiful game, it just didn't keep my interest...
January 25, 2014
The Apple logo is a trademark of Apple Computer, Inc.
The Windows logo is a trademark of Microsoft, Inc.