Midnight Mysteries: Witches of Abraham
Exclusive
For the past few years, you've been writing bestselling novels based on the stories you've heard told by the ghosts who visit you at midnight. But tonight you have a special visitor, Abraham Lincoln, the 16th President of the United States! He wants you to go back in time and find the treasure of the Knights of the Golden Circle, a secret Confederate order, before Lincoln's enemies do! Follow the clues, while learning trivia about famous people and places from the American Civil War in this fascinating Hidden Object Puzzle Adventure game.
Game System Requirements:
OS:

Windows XP/Windows Vista/Windows 7/Windows 8

CPU:

1.6 GHz

RAM:

1024 MB

DirectX:

9.0

Hard Drive:

687 MB
Game Manager System Requirements:
Browser:

Internet Explorer 7 or later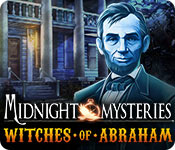 NEW299
The Big Fish Guarantee:
Quality tested and virus free.
No ads, no adware, no spyware.

Reviews at a Glance

Midnight Mysteries: Witches of Abraham
0
out of
5 (
0
Reviews
Review
)
Customer Reviews
Midnight Mysteries: Witches of Abraham
27
27
Love This Series, Love This Game
BASED ON COMPLETED GAME FIRST IMPRESSIONS One of the issues about this game is how well the new developer manages to capture the essence of the other 4 Midnight Mysteries. I think they do a splendid job! Yes, the graphics are a little different, but I completely forgot about within a few minutes. The game starts out a little slow, but definitely different ? Abraham Lincoln himself seeks your help to track down a secret society of witches and outlaws, including that famous bandit, Jesse James. SIGHTS & SOUNDS Uniquely styled graphics are again excellent, and still the only games like it. The mood is dark and so is much of the locations, but it is not uncomfortably so. I enjoy the portal travelling cut scenes. Another facet of the series. Love the beautiful music, as well as the signature Midnight Mysteries sound track. Ambient sounds and special effects are excellent as well. MAKING PROGRESS I feel this game has more puzzles than the earlier ones did, and some of them were quite tricky. Some required good coordination to complete, so I skipped. Skip is rather slow to kick in. The HOPs are very nice. They look beautiful and clear, indicated what kind of interaction is required to find a hidden object. As well as interactive lists, there is a multiple matching pairs and a misplaced items HOP. I like the way you can see the silhouette of an object by clicking on the name. Action and adventure gameplay is a little trickier too. But we get an interactive map this time. Another feature I love is the way the cursor works in interactions between inventory items and objects in the game. Our skeletal hand, normally white, turns blue when generally in the right place to click, then red if it?s the wrong tool, and sparkles like crazy when you hit the sweet spot. I wish more games had this feature to help reduce misclicks. BLING! Even though this is the Standard Edition of the game, you still get one of the blings! There are ravens to collect for hints. And, wouldn?t you know it? They?re tricky too! The one disappointment was the lack of clovers to collect and the replayable HOPs that the clovers unlock. They have been in SE games before with this series, but now you need to buy the CE if you want them. FINAL VERDICT Wonderful! I pulled an all-nighter to finish this game. And I loved every minute of it. I recommend this game!
December 3, 2013
Finally! A great game with real history!
There are other great reviews of this very special game, so I will just list the things I liked most about it. HISTORY -- DATES, PEOPLE, PLACES. I actually stopped several times to go online and look up info. Never heard of the KGC, and never learned so much interesting stuff in any history class I ever took. Some is legend but much is verifiable. I think I had heard of J Frank Dalton but was surprised at what my research uncovered. GREAT GRAPHICS. The rooms were sort of dull, perhaps intentionally make to look old and dusty??? Loved the train and horses and the caverns. FUN PUZZLES. Not very hard but certainly not silly-stupid like so many are these days. Many required real math or logic, and many were unique and very clever. CLEAR, MEANINGFUL, INTERESTING HO SCENES. I don't much care for HOs; prefer finding things in "natural" locations, but these were very good. Often you even LEARN something from an object you find. Oh so much better than searching for tiny useless stuff that has no connection to the game. Objects were beautifully rendered. USEFUL AND BEAUTIFUL JOURNAL. Not really needed much since the game is not that difficult, but I enjoyed it and really liked that the options came up inside the journal. What a great idea! INTERESTING LOCALES. We get to visit real places and experience things the way they really were back around the 1860s. GOOD SOUND EFFECTS AND MUSIC. Not too much, just enough to enhance certain scenes. Often there is just silence, which seems appropriate. You can focus on the tasks at hand rather than being distracted by excessive or unnecessary music and sound effects. I liked the ravens, and managed to find 8 or so but never needed a hint. Should have tried it just to see what the raven would do. I suspect it was good. BOTTOM LINE: A very enjoyable, worthwhile game. I would love to see more games that let you learn something while you are having fun!
November 30, 2013
Unexpectedly spooky
I have every game in this series, most in the standard version, and am pleased with them all. This one seems to me a little different in that the spookiness does not come from the witchcraft element nor from the rats and bats in your face but from the way the game premises reflect what is happening in the contemporary headlines. For that reason I think a lot of people, not quite sure how to say this, but a lot of people whose world view is different from mine are not going to like this game. I see at least one person called it short and I guess it didn't really take me all that long, but it didn't have a short "feel" to it; I found it satisfying. The ravens are back for additional hints, and I found some in many scenes, but not in HOPs or minigames (except the tutorial HOP). The ten or eleven I found were more than enough to get me through the game, and there are probably more - I never seem to find them all
October 28, 2013
Add Another Great One To The Series!
Great opening cut scene with a flavor reminding me of MM: Devil on the Mississippi. Again finding ravens to gather more hints and an historical story full of trivia information about famous people and places from the days of Abraham Lincoln. As a writer of novels based on stories told by ghosts you are requested by Lincoln to go back to the time of the Knights of the Golden Circle and find Jesse Jame's helmet. Of course there are all kinds of obstacles and things to do along the way. At times the game play seemed a bit slow but I actually didn't mind as it allowed for a more casual, relaxing atmosphere. Puzzles were good, not too difficult with a nice variety. HO scenes were tricky at times but a lot of fun, like squeezing a lemon over the surface to identify the objects you needed to find. That was impressive and something I have not seen before. The graphics were great as was the music. The whole game had a wonderful ambiance to it. The ghostly characters added intrigue to the game's historical focus and was appropriate with Halloween looming so near. Another great game in the Midnight Mysteries series.
October 27, 2013
this one is worth getting
this review is based on playing the demo only. I did not give the collectors edition of this game a great review and said I would wait for the regular version to come out and see if improvements were made and yes they were. this game I will recommend and purchase. the hint button works great, I still skipped a lot of games, some were just too challenging and there is no map but the hint button works so well you don't need one. the story line is interesting. I am looking forward to purchasing this and getting to the end to see what I achieve. I don't use sound so can't rate that but over all this one seems great.
October 27, 2013
The Price Of Blood
What a pleasure to find this series,one still interesting history,still beautiful and mysterious music,characters and voices are excellent,beautiful and smooth graphics,colors and atmosphere provide a lot of visual and sound together is a pure wonder.Three difficulty levels,widescreen,disabling voice,animated cursors ... a diary that included the main objective,a map that does not carry but the game is fairly linear,it is not a problem at all,it shows the places and areas of interest,the ravens are to recover for clues. Few hidden object scenes,they are really fun to play,they have an excellent interactivity by clicking on an object in the list,its silhouette appears in the lantern,a final object is to take,there are also scenes with pairs of objects and people in place,they are all very well designed,very many mini- games and original creative design,they are more or less difficult and I had a lot of fun to make as they are very interesting. Many interesting information throughout the game,smooth navigation,a journey into the past always exciting when we explore places and very pretty scenery,actions to take,objects and a conclusive end ramasser.Une taking game for a minimum of " 3 Times 30 ",the collector is well with clovers in addition to collect a good bonus chapter and supplements relatively sympas.I think this developer very well assured over and made excellent work that honors the series,I will do it again with great pleasure and then there will be another part and already I 'm excited !
October 28, 2013
Great game with history lesson
This series incorporates history quite well in the gameplay (Souther cause revisionists are going to hate this game, I am afraid). The challenges are fun, but not so tough that you lose the narrative thread. The visuals, and the HOS are very well in period, and the HOS objects are related to the theme and atmosphere. Learned quite a bit about the KGC and Jesse James and Frank Dalton. Great game.
December 30, 2013
Excellent-Completed Game Review
The best so far, IMO, of this series. President Lincoln asks you to find the treasure hidden by the Kingdom of the Gold Circle, which really existed during the Confederate War. You are sent thru different portals and get to meet the infamous Jesse James and William Quantrill. Great graphics, voice overs and HO's. Good puzzles, and interesting locations to explore. Medium length 3.5 hours on casual.
October 31, 2013
Witches and Abe Lincoln
This game kept me on the edge of my seat. I loved it so I bought it.
October 28, 2013
Been Waiting for This One!
I really liked the CE but don't buy them because I'm not really interested in the "extra's". I've been waiting for this one to come back as a standard HO and I'm looking forward to continuing the journey!
October 27, 2013
The Apple logo is a trademark of Apple Computer, Inc.