Fill and Cross: Trick or Treat
Trick or treat! Now you have the unique opportunity to relive Halloween night! Are you afraid of ghosts? Can you get lots of tasty candy faster than your friends? Will you be able to fool an old witch? Find out in Fill and Cross: Trick or Treat, an exceptionally spooky puzzle game!
120 unique levels in 6 locations
Unlock unusual trophies
Spooky Halloween atmosphere
Game System Requirements:
OS:

Windows XP/Windows Vista/Windows 7/Windows 8

CPU:

1.0 GHz

RAM:

512 MB

DirectX:

9.0

Hard Drive:

31 MB
Game Manager System Requirements:
Browser:

Internet Explorer 7 or later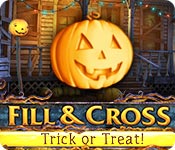 NEW299
The Big Fish Guarantee:
Quality tested and virus free.
No ads, no adware, no spyware.

Reviews at a Glance

Fill and Cross: Trick or Treat
0
out of
5 (
0
Reviews
Review
)
Customer Reviews
Fill and Cross: Trick or Treat
26
26
Not a true logic puzzle, just looks like one
I really hate to give this only three stars, as I love logic puzzles of many varieties. This has a fun theme and is one of my favorite puzzle types. However, although this looks like the same kind of puzzle (nonogram, hanjie, logic pictures, many other names) as several other games, there is a big flaw in this one. For me, a huge attraction of logic puzzles of all types is that there is no need for guessing. If you can look at the given data, and analyze it correctly, you can eventually come up with the single, unique solution. In only 20 minutes playing this game, I have already encountered two puzzles (out of 13) with multiple possible solutions. The only way to solve these is by guessing (clearly not a good approach) or using a hint. I hoped the first one would be a fluke, but the second instance was worse - there were 6 different possible solutions, though the game only recognized one as correct. This is a game-breaker for me, and I definitely will not be buying it. For those who are less fanatical about their logic puzzles, it had a fun theme, but it's not for me. Pros: Fun theme, music was nice, cute graphics. Cons: Had to turn off the custom cursor - it was slow & annoying. Puzzles had multiple solutions. Summary - if you like Halloween-themed games and don't mind using hints on logic puzzles, go for it. If you're just looking for a good logic game, try Gemsweeper or World Mosaics instead.
November 1, 2013
Enjoy the trial, then stop
I enjoy these types of puzzles but was disappointed to find that, because they offer hints, not all the puzzles can be solved through complete logic. That ruins it long term for me. It is fairly enjoyable and if you don't feel cheated by needing to use the hints, you may enjoy the many levels of this puzzler.
October 28, 2013
Mosaic-Like Game
This game is similar to the Mosaic games except there is really no story line. It is more like Asian Riddles. There are rooms with mosaic puzzles in them that get harder as you progress. I enjoy this type of game but would have preferred a story line. The music was spooky and graphics decent. This is a cut and dry numbers counting mosaic game. There are no towns to build but you can buy extra lives with the "candy" you earn. A decent way to pass the time.
October 28, 2013
Okay but hnot true "logic" puzzle
This is a fun game, but you still need to guess at answers, which shouldn't be the point of these games. I would like to see an update created where these puzzles involve logic, not guessing.
November 24, 2013
Way too much guessing
I love this type of games. I own all the World Mosaics series, World Riddles, Gemsweeper, and every other one I could find. So when I saw this one, I bought it right away. But I was disappointed. There are way too many puzzles where you have to guess or use hints. I'm an experienced player, but I want puzzles that can be entirely worked out by logic, and not require hints or guesses to finish. Especially since you can earn three stars by finishing puzzles without mistakes or hints--it should be possible to do so for every single puzzle. Way too many puzzles this was not possible. Like I said, I'm an experienced player. I quit playing halfway through and went back to World Mosaics.
November 9, 2013
Not a Logic Game - Have to Guess
I simply LOVE mosaic games and purchase every World of Mosaics game that comes out, so I was excited to see another publisher of this type of game - until I played their games. The free to play game, Royal Riddles, is fairly good, but it forces you to guess where things go especially in rooms 9, 10, & 11.. You should never have to guess on these games, you should be able to figure them out with pure logic. On RR, I figured they were just pushing you to buy the 5 lives, without which you cannot earn all the rewards, but when I played the trial for Fill & Cross, it wasn't long before I had to guess in order to solve the puzzle - I think around puzzle 3, then really bad around puzzle 12. If you guess on these games anyway, you probably will enjoy Mosaic games from this publisher, but for me it is a real Buzz-Killer and I won't be buying any of them. In my opinion - VERY poorly made Mosaic Puzzles. The game itself seems to be okay - music isn't too irksome, but I turn it off on these types of puzzles anyway, the controls are a little different than World of Mosaics so takes a little getting used to (I missed some in RR because of the difference in how they mark finished numbers). I don't really remember the story line because I don't play these for the story. I'm not sure if there even was one. :D The level of challenge is fine. RR only goes to 15:10, and Fill & Cross, halfway through Room 1, hadn't gone past that either - don't know if it does later or not. The difficulty seems fine, especially since you are forced to guess - it would be a pain to have to guess on a 20:20 puzzle like the more difficult ones WofM has. The challenge to me in WofMosaics is trying to finish the puzzle without mistakes or hints and will restart the puzzle if I do either one. It is impossible to do these puzzle without using hints or buying lives, but the game provides a way for you to earn these if you don't mind using them. It is a fun game for what it is and you get a LOT of puzzles for your money, but it is not a true logic game and will frustrate those of us who like true logic game. A true logic game, like Sudoku, has only ONE, UNIQUE, solution that can be arrived at by logic. (not by looking at the picture or guessing or using hints) My suggestion is to try it out if you aren't picky about your logic games, otherwise don't bother. :)
December 10, 2013
Halloween disaster
illogical and extremely annoying. Most of the puzzles cannot be solved using logic and basic maths. Far too much guesswork needed and the constant restarts drove me crazy. I feel that giving this two stars is being very, very generous.
October 29, 2013
Can't recommend - better ones to be had.
I thoroughly enjoy this type of puzzle. I have the World Mosaics as well as a lot of other ones from many different developers on my PC, my e-reader, my phone and my tablet. I'm quite addicted to them. I had fully expected to purchase this game, but I usually demo games before buying. In this case, I'm really glad that I did. Once the games increased in difficulty, I started coming across puzzles that required either guessing or using a hint to complete. That should never happen - these games are all about logic and the player should never ever have to guess. Nor do I like having to use a hint or two or three in order to complete a game without making so many mistakes (due to incorrect guessing) that I'm forced to restart the game. Other than this issue, the game seems to be very well done. The music is in keeping with the game's theme of Halloween, the graphics are crisp and bright and fun to look at, you can use the right-click button to X out tiles (very handy), and the guide numbers fade out when you have them filled in (some don't do that and it makes gameplay a lot more difficult), So, if the guessing issue doesn't bother you and you think that I'm just nitpicking ;-), then you may very well enjoy the game. In that case, please don't let me turn you off of it. It's just something that will annoy me all the way through the game, so I'd rather not spend my $ on it. Happy gaming, Fishies.
October 30, 2013
You have to guess, which is a no-no.
True games of this type never require guessing yet this one does only about 3 levels in. I quit the demo at that point.
October 29, 2013
ERRORS, annoying sounds, frustrating - a waste of time
The developer obviously doesn't understand these games can NOT involve guessing. There must always be a logical non-guessing solution. These are riddled with errors and was so frustrating I could not even finish the trial. Because of the GUESSING involved, you get needless errors, have to start over, AND miss out on trophies. You collect candy but there's nothing to spend it on - so it's pointless. After about 2 minutes I had to turn off sounds they were so annoying and tinny. This game really REALLY missed the mark. I wouldn't keep or play this anymore even if it were free because it's too frustrating and not worth my time.
October 29, 2013