Myths of the World: Stolen Spring Collector's Edition
Exclusive
The rich folklore continues with this exciting tale set in an old Slavic land. As Child of Spring, can you save the world from eternal winter?

A cruel and cold Goddess of Winter has hijacked springtime, and her victim has called on you for help. You'll be surprised by what you, a lowly peasant, can do in the face of evil – and what cute little furry friends you'll meet along the way in Myths of the World: Stolen Spring.

This is a special Collector's Edition release full of exclusive extras you won't find in the standard version. As a bonus, Collector's Edition purchases count toward three stamps on your Monthly Game Club Punch Card!

The Collector's Edition includes:
Explore your legacy in the bonus game
Buy pet toys and treats with coins
Earn achievements as you play
Soundtracks, wallpapers, screensavers and art
Integrated Strategy Guide
Game System Requirements:
OS:

Windows XP/Windows Vista/Windows 7/Windows 8

CPU:

1.6 GHz

RAM:

1024 MB

DirectX:

9.0

Hard Drive:

1385 MB
Game Manager System Requirements:
Browser:

Internet Explorer 7 or later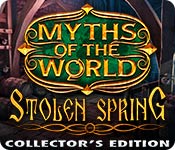 The Big Fish Guarantee:
Quality tested and virus free.
No ads, no adware, no spyware.

Reviews at a Glance

Myths of the World: Stolen Spring Collector's Edition
0
out of
5 (
0
Reviews
Review
)
Customer Reviews
Myths of the World: Stolen Spring Collector's Edition
68
68
Just not quite it
I'm just not feeling this one - it's visually wonderful, but it is very, very easy. The game progresses so linearly that I never even opened the strategy guide. The handful of puzzles in the demo were no challenge at all and the HOS are just same old same old. There just isn't anything special here. And you get a pet to buy stuff for...yeeeesshhh. I'm in the minority here, but to each his own!
November 7, 2013
Surprising
I really liked the first 'Myths of the World" game, and was excited to see a second one, especially since the early reviews were so favorable. Alas, I went to play and was totally disappointed. This game is so linear and simplistic, it really didn't feel like a game at all. The "cute furry animal" helper was too much. Need a screwdriver? Voila!!! Your ermine will gnaw one for you. Need soup? Well, let's boil some mushrooms in hot water? Oh my. I will say the graphics were ok and it was nice to have the custom choice of modes. The map to me was confusing. The hint button worked well when I tried it out. The HOS were again child-like. The magic spring brush put me over the edge This was not an enjoyable game for me. It was more like an interaction between a movie and a watcher.
November 8, 2013
Not as good as the first....TOO SHORT!
Sigh.....such a disappointment in light of the more recent and far better developers on the market. It's not that it isn't great in graphics although certainly not the standard I am now expecting from CE games, and it's not that it wasn't great quality. It's hohum....more a standard hohum CE that I had come to expect previously from developers. The bar has been raised significantly with games such as Rite of Passage Child of the Forest and Nevertales The Beauty Within, and this one doesn't even come close. The pet seemed like a fast add in and wasn't a delight at all....made me wonder why they even bothered??! Definitely would urge players to wait for a sale.....otherwise it's not worth the CE price. The story seemed slapped together with the extra gameplay making no sense and gave me the impression of childish and silly and not silly funny either....just silly pathetic. Sorry BF, I've been spoiled by the better, more advanced and exceptional developers as mentioned above. I will be far more careful in the future buying Eipix games.
November 7, 2013
Is This Really The Sequel To One of the Best Games of 2013?
I was looking forward to this for a long time and was overjoyed to find it available, so I downloaded the trial without hesitation. I must admit that my expectations were not met. In fact, I was a little disappointed. The problem with releasing another game in a series when the first one was so great is that you have to make sure the next one is equal to, or tops, the first one. This one did not. Don't get me wrong, though. This is still an okay game, and I played out the trial, but I won't be buying it. The story was okay, however it was nowhere near as good as Chinese Healer. I actually found it quite boring at first, and it took a while to get in to it. Nothing interesting happened in the demo. It was somewhat disappointing. The whole goddesses of Spring and Winter thing didn't really settle with me. I found the whole story to be strange. As much as I hate to say it, some of the gameplay annoyed me too. Even though it was to do with the game, the frozen scenes and spring brush really annoyed me. The whole idea of it seemed childish and it wasn't very fun. I never thought I'd say this, but the animal helper was lovely! It wasn't cute at all, and it wasn't overused to the point where it became boring, it was used just the right amount of times. The animal, which you get to name, helps you at various points in the game by chewing things to shape them in to different objects. Some might argue that this was cute, but I did not think so. Sure, you got to dress him/her up, but that was your choice, and I chose not to do it. On the basics, I thought the HOS were pretty good. There were two types: junkpile and silhouette. Both were fairly easy and I could navigate through them easily. The puzzles were a little different. From memory (I played the demo approx. a week before writing this review), I think I could solve one, but the others, I had to skip. It's a shame, really, because I'd like some easier puzzles. Other than that, and the first problem I mentioned, I have no issue with the gameplay. I found it rather enjoyable for the last 15 or so minutes of the demo. Was it just me, or did these graphics seem a little bit... off? The graphics in the last game were a visual delight, but these seemed rushed in some areas, and were a little bit fuzzy in some places, especially in the cutscenes. The HOS, however, were extremely clear, as were the character designs. The voice-overs had no issues for me. They were pretty standard, so I can't really make a comment. FEATURES 4 modes of difficulty: Casual, Advanced, Hard and Custom. Custom mode was not very good though, based on the fact that you could not turn off miss-click penalty. I played Casual. Hint and Skip- both recharge reasonably fast for Casual Mode, and the hint is very helpful outside HOS. Diary. Used fairly often, documents your findings throughout the game. Map- the map is interactive and lets you know where your objectives are and where there are tasks to complete. Spring Brush- Can be used to unfreeze frozen areas. I didn't really like this feature, as I found it childish. Animal Helper- Good fun. You find him/her 15 minutes in to the demo. You get to name him/her, and it helps you by chewing up objects to create other objects. There is also a store where you can buy stuff to customise your animal, but this is a CE Exclusive. CE EXCLUSIVES Built in Strategy Guide- very helpful for solving puzzles. Animal Shop- This is where you can buy things to customise your animal helper to your liking. I chose not to use this. Collectible coins- these are the currency for your animal shop. Achievements Bonus Chapter Concept Art Screensaver Wallpapers Replay HOPs Bonus HOPs Replay Minigames This was nowhere near as good as its predecessor, Chinese Healer, but it's not a terrible game. Overall, I don't think it's worth the CE. Three stars is the best I can do for this game. I just didn't have anywhere near as much fun with it as I did the other game in the series. I'll still recommend the trial.
November 14, 2013
NOT A GOOD EXPERIENCE!
I very rarely play a game I don't like, but this one was almost mind numbing. 2+2=4...if you know this you can play the game. The tone is that of a teacher as well. It just did not immerse you in the game, it was not a very free flowing game that it felt more like an algebra equation. I quit playing the Bonus game about 3/4 of the way through. It was a real waste and the developer could have sent me a cup of tea instead to fill my time. I know, sounds like I didn't like it huh? lol. Like I said I rarely write a bad review, but in this case I could find nothing about the game that would compell me to recommend it. Perhaps beginning players, but that would just give them a lousy example of the genre. Oh well, play the demo and check it out for yourself especially since it is now out as an SE. I still would not buy it as an SE.
December 1, 2013
Another "Evil Ice Queen"
I found it really cheesy and too short. The Winter Queen should have had more power!! It was sad to see the ice go, as being a Winter lover it was very sissy. If there was no spring there would be no summer, yay!! But alas sun bullies win to easily, could have been a bit more of a challenge. The game is 1.33G but to me it seemed no more than a smaller game. It did not go long and the bonus chapter I finished in no time. Maybe I was expecting more from it, as in this size game there are usually more details and they go longer. I think this is suited to children more so anyway.
November 8, 2013
Too linear and too easy...
Not a bad game if your new to this genre and want your hand held. No real challenge at all. Felt it was aimed more at children. Graphics were nice, and the storyline ok. I finished it but it was immediately forgettable. Not really what I expect from a CE. The HOPs were no challenge either, but were nicely done. Think this game a bit like 'Marmite'...you'll either love it or hate.
November 11, 2013
meh
Not much to this one. It was visually quite good and it had some good achievements that I liked but other than that .. there's not much to it. The game is quite simple.. you complete the tasks in each area and then move to the next.. no backtracking, no need to rack your brain. Everything is right there and pretty easy. Mini games are very simple! A cute little animal helper that you can dress up.. kind of ERS-ish. The storyline was pretty standard.. an ice queen keeping the world frozen.. you are a child of spring and must overthrow her. sigh. It was complete with the Noooooo ending. I did like the collectible coins but overall this game was pretty standard and quite easy. haven't played the extra chapter yet.. not sure if I will. Not a bad game but nothing original and nothing to write home about. meh Not up to par with the first one.
December 13, 2013
Its was ok, but I have played better
I honestly thought that this would be a game that would get me excited and it really wasn't. It has great graphics but I am still very disappointed that I played it. The story line was not what I expected. I wanted more excitement... it just wasn't there. I picked it because it said it was the best game...lol@ whomever felt that it was.
November 16, 2013
Very slow paced, little to do.
This game is just okay, just an average CE. It is really slow paced, seems to be based on an eastern European type fairy tale. It is not scary or creepy in the least. There isn't much challenge, even on the hardest mode. You get leading black box comments,and every time your pet can help you you are told "I think my little friend can help me with this" as soon as you find an object. There are few minigames (very easy) and HOS are standard with easy to find objects. The game gets repetitive very fast, almost every scene is "too dark" and you need to find some lighting method. You also have a magic brush to thaw things, but using it consists of the boring activity of sweeping it over the whole scene that needs to be thawed. The collectibles are easy to see coins so you can buy things for your pet. The things are rather odd, though, strange things to by for a pet and really not that much fun. Glad I got it on sale, doubt the CE is that much better than the SE will be, I would wait and get that on sale if you really want to play this game. I'm really on the fence of recommending it, but I will say no to the CE, maybe to the SE.
November 9, 2013
The Apple logo is a trademark of Apple Computer, Inc.