Cursery: The Crooked Man and the Crooked Cat Collector's Edition
Exclusive
From the creators of the Dark Parables series!
For more than a century, girls of a certain age have been mysteriously vanishing, never to be seen again. Some say they were taken by the Crooked Man, who always travels with a strange little black cat at his side. Now he's kidnapped your very own sister! You've got to unravel the riddles in the Cursery and find out who's the mastermind behind this whole evil plot. Save your sister, as well as his other kidnap victims… Defeat the Crooked Man and his servant… Uncover the story behind the Crooked Man's actions… Reveal the mystery of the cured nursery rhymes, the Cursery…
This is a special
Collector's Edition
release full of exclusive extras you won't find in the standard version. As a
bonus
, Collector's Edition purchases count toward three stamps on your
Monthly Game Club Punch Card!
The Collector's Edition includes:
Play the bonus game – Humpty Dumpty is cursed!
Download soundtracks, wallpapers, screensavers, and concept art
Use the integrated Strategy Guide
Play bonus puzzles!
Game System Requirements:
OS:

Windows XP/Windows Vista/Windows 7/Windows 8

CPU:

1.0 GHz

RAM:

512 MB

DirectX:

9.0

Hard Drive:

854 MB
Game Manager System Requirements:
Browser:

Internet Explorer 7 or later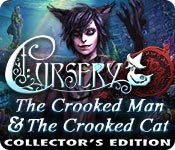 The Big Fish Guarantee:
Quality tested and virus free.
No ads, no adware, no spyware.

Reviews at a Glance

Cursery: The Crooked Man and the Crooked Cat Collector's Edition
0
out of
5 (
0
Reviews
Review
)
Customer Reviews
Cursery: The Crooked Man and the Crooked Cat Collector's Edition
168
168
Great Adventure Game
If you liked the Dark Parables Series, you will like this one. The story is dark - darker than I like, which is the reason for 4 stars rather than 5. There are no HO junkpile scenes filled with hot dogs, snails and binoculars. There are fragmented HOs where you find the pieces of an object you need. Includes map to show where you've been and under some circumstances you can teleport from one location to another. Finding morphing objects reduces the wait time between hint button uses.
November 10, 2013
not too sure bout this one
based on the demo casual. I played for half hour. started out real interesting but somehow got boring. just wandering around doing mini games . maybe I didn't give it a chance NOT SURE.. suggest you play the demo and judge for yourself. i might purchase later when a se game. they give you a bonus humpty dumpty game with the ce. morphing objects..sorry I didn't hang out longer to get a better review.
November 9, 2013
Another Great Kitty Game!
I was really impressed by the very beautiful Graphics! The Game however, was not that easy to play and the Puzzles rather difficult. I skipped most of them. One thing that surprised me to find was a Spelling error as in "Go find YOU Sister" instead of "Go find YOUR Sister." A Spelling error like this is just NOT acceptable in a Collector's Edition! How this can error have passed testing? Were the Testers asleep to have missed it? If it wasn't for this I would have given it a much higher score. Overall, a very good and thoroughly enjoyable Game. Thanks Big Fish for offering this gem to us!
November 29, 2013
A decent game
A puzzle heavy hidden object game. A good game but one where I would've liked finding regular objects rather than pieces of one.
November 29, 2013
Good game
There seems to be a range of opinions on this game but I liked it. It was alot of fun and not the typical HOG and murder/demon game. It was a nice change of pace
November 20, 2013
Crazy Cats & Crooked Fairy Tales
BASED ON DEMO FIRST IMPRESSIONS The developers of this game made a name for themselves in making FROGs (where we put FRAGMENTED OBJECTS together to make the most gorgeous artifacts you could ever hope to see) based on twisted fairy tales. Their distinctive series, ?Dark Parables?, is just about the epitome of ?absolutely beautiful?. So, can they pull it off again, with another, somewhat differently designed, fairy tale FROG? SIGHTS & SOUNDS Well, the game is certainly beautiful, imaginative and colourful, but I felt the graphics were a bit rough around the edges and at times too dark. I was put off immediately by the fact that the game?s visuals were not designed for widescreen/aspect correction. A game that relies so heavily on graphical splendour should really do better than this. So, I think, perhaps there is something more to this game? Well, the music is certainly sensational. I absolutely love it. It is fairy tale light, with a jaunty air at times and a sombre timber at others, and the ambient sound is good . The voiceovers are nicely done, if a bit too high pitched for my liking. WHAT?S HAPPENING Yes, well, that?s definitely confusing at this point. There is a old folk legend about this forest, our sister says, about a crooked man and young girls who disappear never to be seen again. Then of course, she is whisked off by a crooked man and his equally crooked cat. Now, I know we?re all out of cuteness, so let me reassure you, this is NOT a cute companion. In fact, he?s downright dangerous ? and his cousin is even worse! I literally jumped and moved away from the monitor, on reflex. Nup, definitely not cute. MAKING PROGRESS This game is another FROG, but the FROG scenes are few and far between. Instead we are constantly meeting new puzzles at every turn. These are excellent and inventive puzzles, including wonderful puzzle boards, and even this early in the game, one was too hard for me. Their integration into the gameplay is fairly arbitrary though. The quests are limited and not always intuitive. I found myself relying on hint to get me around. There is a directional hint, and (a first from these developers) an interactive jump map (with really cool pop up locations). It tells you where there is an active area of interest. The problem was, whenever I used it, it said there were no active etc.?s, so it was of little help. BLING! Well, there?s some nice goodies here. There are 20 cursed (morphing) objects to collect, plus some things listed simply as ?items?. There are pop-up notes (7), and 25 achievements. These are given once for each puzzle completed ? so, 25 puzzles. There are 6 chapters, plus the bonus chapter. The demo covers the first 2. There are also the usual gallery items and 9 replayable puzzles. SG was helpful. FAMOUS LAST WORDS I like it, and I loved having a cat as the enemy, but not so much that I?ll rush out immediately and buy the CE. Cool collectibles aside, I did find the graphics a bit disappointing, and the gameplay a bit off. Still, there?ll be 1000s who?ll love this game. For them,...
November 9, 2013
FUN, BUT COULD HAVE BEEN MORE FUN
I purchased the CE, based on demo. Played the entire game in five hours, perhaps because I skipped many of the puzzles. They were not particularly interesting to me, being too similar and of a type that required moving pieces around on a board. They were not particularly explanatory, and the directions were sometimes vague. As the game went on, it seemed as though every find or change in direction brought on another puzzle. These puzzles boiled down to almost the same type of goal time after time - try to scoot puzzle pieces around a fixed track and put together pictures or complete scenes. I soon learned that the lack of diversity made me not even want to figure out the puzzle, so I skipped many (most) of them. The HOS were nice but confusing at time. The graphics were great! I loved the style of art and spent some time looking at different scenes just to enjoy the talent that had created them. The music was fine for me, presenting a variety of melodies and instruments. I did not find it at all obtrusive. The characters seemed strange - at times they looked underage and had childish voices - they didn't seem to fit their roles, considering that the plot hinged on an obsessive passion of the Crooked Man for a woman. At other times, the figures were offered in greater detail and the voices were better matched. But the changes were jarring. The hint button worked fine, but at times the hints were so vague as to be disappointing. I wound up just churning through the game in order to complete it and find out what happened. Didn't care for the style of the HOGs and the puzzles were way out of my comfort zone. The story line started out to be interesting but then seemed to degenerate into just wandering around picking up things and finding puzzles. The end resolution was surprising. Overall, the game worked well and I had no problems. Just not really my sort of game. I would recommend this game for others, just not for myself.
November 13, 2013
Not as good as it could have been
I love Blue Tea games and a fan of fairy tale story lines, but this one sort of left me cold. The Good: The graphics are incredible The voice over acting was wonderful The storyline was excellent You were allowed to go throughout the entire game world without being locked out as it progressed. The Bad: Lag time waiting for puzzles to start and occasionally crashing. (I have a 64 bit gaming computer with excellent video cards). Music and sound effects became annoying at times. The puzzles were repetitious. Some of the items were found so far into the storyline that it was hard to remember where you needed to use them - sometimes as far back as the first scene. I also wasn't impressed by the CE additional storyline. On one hand, it was nice to have a completely different story included, but it's association to the main story was very thin. Overall, this was one of very few games that I couldn't wait to get done with. Reviews are just personal opinions, so please decide for yourself.
November 11, 2013
Too much bling, puzzles repetitive
This game was close to a 4, but since I try to reserve a 5 rating for truly exceptional games with outstanding graphics, sound and story line, and a real "wow" factor, I can only justify a 4 rating for games I like a lot but that have a few flaws. "Cursery" had too many negatives, notably: PUZZLES were the same few "styles" over and over. I liked the cardboard cutout ones but got very tired of doing symbol swaps and string burning. Each to his/her own, but I am not good at the revolving ring games and had to skip several out of frustration at getting so close but not quite there. BEAUTIFUL OBJECTS were lovely to look at, but they were everywhere! Too much of a good thing tends to overwhelm, and all the glitz and glitter did not seem to fit with the game's dark theme. SCENERY was often quite pretty, but not very crisp. I really liked the map! Very different and clever. Unfortunately I didn't notice it was there until I'd almost completed the main game. It would have decreased my usage of hints when I (frequently) couldn't figure out or remember where to go. BONUS game was quite good, though Humpty was rather disgusting. I'll recommend the game, but only if you've run out of 4 and 5 star games to play. And if you like those swapping-turning-burning type of puzzles.
December 5, 2013
Good Game, but...
I liked the main game's storyline. The bonus chapter however was just disgusting, I didn't even finish it. If I had known, I'd waited for the SE.
November 13, 2013
The Apple logo is a trademark of Apple Computer, Inc.