Mayan Prophecies: Cursed Island
Exclusive
After narrowly escaping the ship of spirits, Coast Guard Officer Alexis and her friends find themselves lost at sea in a life raft. A sudden storm shipwrecks them on an island, and the Mayans living there demand retribution for the artifact stolen from them centuries earlier. Alexis must return the artifact to its rightful place in the ancient temple before the Spirit of the Volcano causes the entire island to break apart. A young girl may be their best hope to appease it, but a shadow from their past could bring about their doom – and can they stop the evil poacher from escaping his fate? Join the crew and save the island from destruction in Mayan Prophecies: Cursed Island, a thrilling Hidden-Object Puzzle Adventure game!
Game System Requirements:
OS:

Windows XP/Windows Vista/Windows 7/Windows 8

CPU:

1.6 GHz

RAM:

512 MB

DirectX:

8.0

Hard Drive:

1181 MB
Game Manager System Requirements:
Browser:

Internet Explorer 7 or later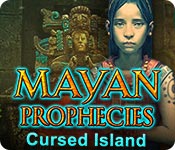 NEW299
The Big Fish Guarantee:
Quality tested and virus free.
No ads, no adware, no spyware.

Reviews at a Glance

Mayan Prophecies: Cursed Island
0
out of
5 (
0
Reviews
Review
)
Customer Reviews
Mayan Prophecies: Cursed Island
10
10
Save the Mayans and Restore Their Peace!
This sequel to the first Mayan Prophecies has a different developer from the first, and it is one whose games I always like. There are four modes or levels of play. The custom option isn't present in this game as it was in the first, which is a disappointment. Nevertheless, I played the demo on easy and didn't find the sparkles to be overwhelming, and the hint and skip buttons filled quickly. You can switch modes after starting the game by going to the options menu. The look of Cursed Island is better than in the first game which I believe is due to the different developer. There is voiceover (not the greatest acting ever but adequate and no grating voices so far) and an interactive map. In the HOS, you can opt to play a game of mahjong by clicking on the link in the upper right corner of your screen. I don't believe you will have had to play the first game in order to enjoy this one, but it's a great game and I recommend it as well. Overall, I enjoyed the first game very much and this looks to be as good if not better, so it's a definite buy for me.
November 8, 2013
CE vs. SE - Bonus Content Analysis
BASED ON COMPLETED CE GAME JUST IMPRESSIONS (For full review of game/s please read my CE review) This is a great sequel to the first Mayan Prophecies. It begins exactly where the earlier game finished and gives us another chance at appeasing Mayan gods. The story is entertaining enough to keep you interested through several hours of play. The look of the game is better than in the first, with the same tropical greenery but with multi-hued contrasts. The volcanic eruptions are spectacular, TOTALLY real. Other touches I liked included the volcanic ashes fluttering about in the air. Another thing I noticed and appreciated was that the ?junk piles? needed for the HOPs often had to be created by the game play. For example, dropping a load from a crane. BONUS CONTENT ANALYSIS There are some wonderful features in this game. Sorting out which ones are CE exclusive is a bit tricky. It includes: *Bonus chapter follows on from the point where the main story ended. It is not necessary for closure. Bonus chapter is longer than most, and is quite interesting. It doesn?t feel ?tacked? on, and includes a lot of new material. The achievements and collectibles continue through to the end. *Strategy guide ? didn?t really need it except for a couple of puzzles. *20 Mahjong boards ? playable ones, with real designs and minimum flash like powerups. *Gallery includes wallpaper, concept art, movies (of all those wonderful volcanoes), screensavers and music. *40 collectible hummingbirds, which must be brought into existence by activating an artifact or totem in each location. *40 beyond objects (morphing). *32 pieces of a Mayan calendar, which is NOT a CE exclusive and reveal the backstory. FAMOUS LAST WORDS I loved having so much to do in each location, even though I almost never get the collecting achievements, I do enjoy coming across them whenever I can. Also I love the mahjong from the first game and can now enjoy these boards as well. So, personally, I am glad I bought the CE. Which does not make this any less of a game. For half the price, it?s still a good buy!
November 1, 2013
GOOD SEQUEL THOUGH A WEE BIT DISAPPOINTING
SUMMARY: This is the sequel to Mayan Prophecies: Ship of Spirits. I loved the original but this sequel left me a little disappointed. But it?s still a great looking game with good gameplay. The artistry was gorgeous and gameplay was similar to the original. I liked that the ?saved? person from Ship of Spirits was included in this sequel. I think it?s the story line or maybe the interaction between our heroes and the natives that disappoints me ? it just isn?t compelling me to feel like I should hurry to save the island. At times, it seemed the story had to be fabricated to add more elements and length to the game. GOOD: Beautiful locations with outstanding artistry Don?t need to play original to understand this one Gain a little Mayan history (learning about cultures is always a plus to me) Nicely done HOS NOT SO GOOD: Voice overs don?t sound professional Story not as compelling as the original Sometimes storyline felt fabricated
November 1, 2013
good game
This is a good game. Of course it does not reach the predeccessor but the story is nicely spun further. It starts where the first game in the series ends. One or perhaps just me, needs a bit till faszination comes up, but then it is really fun.
November 2, 2013
Good game.
I liked this game. Graphics were colorful, but not very sharp so rough on the eyes. I liked the many different locations to interact in. The map was helpful to jump locations.
April 14, 2014
Mayan Curse
Obviously the sequel didn't live up to anyone's expectations. The first one did a fantastic job with every aspect of the game, very original, this one, not so original. The graphics aren't spectacular and the story just doesn't grab you hook line and sinker. This game takes place soon after we escape with Marco from the cursed ship and we land on the island where the curse began. The curse will only be lifted if we restore the golden idols that the pirates plundered. The HOS are actually done well, they are interactive list finds and the mini games are fairly simple such as painting different shapes different colors so that no alike colors touch each other. This edition has no idols to find, well actualy they are still there you just can't release hummingbirds and there are no morphs. Still it's entertaining, just not as entertaining as the original, enjoy!
November 6, 2013
Rerun of a bad movie or is it?
Here we are again adrift in the ocean and then suddenly your boat is swamped by a huge wave and when you think all is lost Gregory saves the day and you end up beached on a strange island. The Intro cut scene was not that believable, I should have stopped playing from that point on. The characters seemed mechanical in their delivery, "I'll look after him while you get help", give me a break, put in a robot and it would have been more effective. Sorry, it is an okay game and an okay sequel but lacks the depth of the 1st. It is not a write off, cuz if you enjoyed the first there is still enough in this sequel to entertain you, but I'll let you be the judge of that.
November 1, 2013
How To Mess Up The Sequel To A Great Game
After your harrowing escape from the Ship of Spirits, you and your partner Gregory, along with the rescued cabin boy find yourselves adrift in the ocean. Your boat is swamped by an enormous wave and it seems all might end at that moment but Gregory saves the day. You awaken to find that you are on the beach of a strange island and this is where the adventure begins and probably should end. When the first Mayan Prophecies was released it was a game that set the bar for what has now become fairly standard in most HOPA games by including a custom mode of gameplay where you can select exactly how you want to play the game ? a feature I love. Unfortunately the demo of this game seems to indicate a game that falls short of that innovative, wonderful first Mayan Prophecies game. On first impression, the graphics do not seem nearly as crisp or as intense by comparison. The artwork is very colorful but there is not a lot of consistency with the graphics as some of them seem grainy while others appear very clean and crisp. The sound package is quite nice and there are voiceovers which are lip-synced: something I appreciate in a game as it adds a bit more reality to the characters. We have a diary that is located on the lower left of the screen along with the interactive map that you will receive shortly after beginning the game. With all the backtracking required in the game, the map is something you will use quite frequently. The HOS are interactive but have lots of items to sort through to find what you need. What I really like is that we can play a game of mahjong rather than search through the clutter and, since I love mahjong, I found myself just choosing that option at the beginning of each HOS. The mini puzzles are similar to those found in Ship of Spirits and start out easy to solve but they don?t improve much as the game progresses. The basic mechanics of the game are similar to those in Ship of Spirits and we, once again, have an artifact that helps us in difficult situations. We also have the other artifact that tells us the history of the island as we find its missing pieces. Well, I wish I could say this game is great but I can?t. By the time the game ended, I breathed a sigh of relief since this was an exceptionally boring game. It almost seemed like a different team worked on developing the sequel to Ship of Spirits. After the first Mayan Prophecies, this game was an overall disappointment. Since I am a big fan of Elefun Games I was sure the game would get better but that didn?t happen. As always, I recommend you try the demo to see if this game is for you.
November 1, 2013
So Disappointing!
I bought the first mayan prophecies and really liked it. So much so that I bought this game without trying....big mistake. What happened devs? Poor graphics. far from gripping storyline, way too linear game play and how many HOs can you squeeze in to one game???? Got so bored after an hour or so, I deleted the game!
November 2, 2013
When did SE's Become Such Poor Value
It used to be that in the good old days you got extras with your CE. These days developers simply remove the interesting stuff from the SE so they can call the CE good value. With no collectibles this game is below average. I really enjoyed the trial of the CE but wasn't enthused enough to spend real money on it. So I treated myself when the SE came out and used a bonus card. I have deleted it from my game manager without having completed it. If developers are going to continue this trend of removing gameplay from standard games instead of heaping extras into the Collectors Edition then the Big Fish bonus punch scheme is totally devalued. From here on it seems that SE stands for Sub-standard Edition.
December 23, 2013
The Apple logo is a trademark of Apple Computer, Inc.