Stranded Dreamscapes: The Prisoner
Every passing day disengages little Emmy away from reality! Guide Helen Wheeler as she takes a risky journey inside the mind of her niece to get to the bottom of the problem. But be cautious! Childhood memories and wondrous fantasies are not the only things you will find here: the Dreamscape is corrupted. And you are not welcome.
Game System Requirements:
OS:

Windows XP/Windows Vista/Windows 7/Windows 8

CPU:

1.6 GHz

RAM:

512 MB

DirectX:

9.0

Hard Drive:

513 MB
Game Manager System Requirements:
Browser:

Internet Explorer 7 or later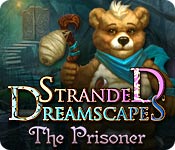 NEW299
The Big Fish Guarantee:
Quality tested and virus free.
No ads, no adware, no spyware.

Reviews at a Glance

Stranded Dreamscapes: The Prisoner
0
out of
5 (
0
Reviews
Review
)
Customer Reviews
Stranded Dreamscapes: The Prisoner
25
25
Which evil is worse? The nightmare one or the real life one?
First, it should be noted that this game is not from the same developer as Dreamscapes: The Sandman, and is not a continuation of that series. OK, onto the review. Your niece Emmy has horrific nightmares. Her mom Mary is a scientist, and has been attempting to cure them, to no avail. In fact, Mary herself has fallen into a coma as a result of her attempts. Now you must work with Dr. Sullivan and enter Emmy's nightmares (like the movie The Cell) to resolve her fears and cure her distress. The graphics are quite painterly in style, but objects are easy to recognize for the most part. The scenes are eerie and dark in color until you resolve Emmy's fear, whereupon they transform into cheery and vibrant. Animation is a bit cartoonish, but the characters do lip synch after a fashion. The nightmare Emmy is definitely creepy! I didn't take much notice of the music, so it must serve its function of remaining in the background while adding to the player's immersion. Same thing with ambient and game sounds. The voiceovers are extremely professional, which is a good thing as there is a lot of conversation between characters to further the story. A lot of gameplay time is spent finding shapes to fit locks and puzzles, which has become a staple of casual gameplay, unfortunately, and is getting rather boring. Developers take note: we're tired of finding endless keys, regardless of their shape. HO scenes are of the junk pile variety and minimally interactive. There are some original puzzles here?a pleasant surprise. I did note that the file size is rather small, and the game downloaded and installed very quickly, so I'm assuming this is not a long game. However, I'd say it's weighted about 70-30% adventure to HO scenes, so it may just be that it's not stuffed with filler HO scenes that serve no real purpose. I do recommend the SE, especially with the current sale. Just at the end of the demo, a sinister subplot was foreshadowed, and I found the storyline engaging enough, the gameplay interesting enough, and the graphics enchanting enough that I want to know what happens.
November 3, 2013
Short game
I thought that this game had excellent premise. The games were just hard enough, the graphics good quality. For anyone interested, the game had an interactive map. The only problem I had with the game is that it was on the short side. Other than that, a good buy.
November 30, 2013
" Wake Up, It's Only A Dream"
Unbelievable! Two Really enjoyable SE games in the same week, worthy enough for me to get up early with the chickens to write something. Yes, this is another one of the "Dreamscapes" series. Maybe a little young, but still scenes that might frighten the "little ones". You have your traditional game play info: 2 game play modes- Casual and Expert, Nice voiceovers, so not a bunch of reading. Graphics are a little amateurish but very bright and visible. Story starts in a sleep clinic where your niece Emma hasn't been able to come out of her deep sleep and her tending dream specialist doctor asks you if you would be willing to enter into her dreams to see if you can help pull her "out of it". As you start your journey you realize that Emma's condition" is due to some terrifying fears, so it's your job to help her overcome them ( along with the help of a cute teddy bear) The Hos games are interactive and not cluttered (which I love) the mini games are fairly standard. You are also given a transport map and the hint button is an arrow pointing you along ( which you really don't need with the map) Thus your journey begins through the boogie man under the bed syndrome to a spider forest, etc. I have always loved dream/ mind searching HOPA'S Although not many bells and whistles, I found fun and pure entertainment during the demo and decided to scoop up on the special sale price! If you are strictly Expert mode (Nilosh)and need lots of challenge, maybe this one is not for you. However, I feel anyone with even a peaked interest in dream games to at least try the free demo. What's to lose but a few minutes of your day? Enjoy!!
November 3, 2013
I liked it.
This game was fun to play and the voice was the same as Nancy Drew. It seemed short and the graphics was not very sharp. It was interesting and the mini games were good.
April 1, 2014
Good, Long Game
This was a long game that kept me entertained. The voiceovers were some of the best I've heard, especially Emmy's. I could have done without the bear helper. He was rather annoying after while. Graphics weren't the best, especially compared to some of the newer games. The music was good, lots of puzzles (some challenging), and lots of HOS's (not a challenge). Really nothing new here but I felt I got my money's worth because of the length of play in the SE. This is probably a better game for beginners or intermediates. Not quite challenging enough (as a whole) for me.
February 13, 2014
I like it!
I was a bit on the fence with this one but spent a credit and glad I did. My opinion is this one is better than the first one , better artwork as we all know I'm a sucker for hand drawn, and its got COLOR! just cant play anymore games that are dark green brown and gray all blurred together. Plus the teddy bear had me at hello.
November 6, 2013
Solid SE
This was good for an SE. I liked the voiceovers, they were unpretentious and not overacted.
November 6, 2013
I LIKE IT!!
Since no one seems to want to review this game I will. It deals with a sensitive subject and for some this topic is a big turn off. It doesn't bother me though. You are helping a young girl who is basically catatonic to overcome her inner fears by getting into her world. I liked the graphics, the story, the games, the interactive map and the music. I haven't finished the game so I can't give length of game. All I can say is; give it a try.
November 4, 2013
Will You Be Able to Save Emmy?
As the story begins we learn that your niece has always been a bit different from other children and her mother, Mary, who is a scientist, tried to help her but to no avail and somehow ended up in a coma ? trapped in Emmy?s consciousness. Since you share a close genetic link with Emmy, you will risk everything and try an experimental treatment to unlock the hidden secrets of Emmy?s mind to save both Emmy and your sister. This is where your adventure begins. The graphics are rather creepy and coupled with the ambient sounds and music they set the stage for a good old-fashioned spooky game. There are voiceovers and yes, they are lip-synced and they are very good. My only issue with the sound is that it is loud and I had a difficult time modulating the volume so that I could get the lower music volume and still be able to hear the voiceovers. The game option controls were fairly basic with only two modes of gameplay and two sound control-slilders so there were not a lot of options to set how the game is played and, IMHO, it would have been nice to have more options like we see with some of the recent games. Early on in the game you meet Barry who will serve as your guide and hint system. There is an interactive map that is located in the bracelet that you receive from Dr. Sullivan at the beginning of the game. The map is interactive and shows where there are tasks available as well as where tasks have been completed. The HOS are interactive but fairly old school with the traditional junkpile searches and no alternative type of game available so we are stuck searching through the rubble. The puzzles or mini-games are fairly standard but I did find the first one a bit tricky but the others seem to fall in the category of ?been there done that before.? The redeeming factor in this game is that the storyline is interesting and I just had to see how it played out so I purchased the CE. Even though the game is not over-the-top spectacular, it is still a good game that is better than some that are released only as SE versions. As always, I recommend that you try the demo to see if this is a game you will enjoy.
November 3, 2013
Bit Of An ?Also Ran?
BASED ON BOTH CE & SE DEMOS FIRST IMPRESSIONS The intro to this game is VERY impressive. The diffident telling of the story of a fear-ridden girl who finally drifts down into catatonia is so sad and engaging. This is not an unknown story by any means, we have seen it many times before. But I can?t enough of stories centred around dreams and nightmares, and the curing of them. In this one, it is our niece who needs help in fighting her many phobias, which have driven her totally away from the world. People not into bugs might want to skip this game, if the demo is a good example of what?s to come. So far the phobias have been of dogs and spiders, storms and being alone. Judging by the map, the demo covers about 1/3 of the game. SIGHTS & SOUNDS The graphics are okay in this game, a bit grainy and a little too cartoony. Well enough drawn, but not always well lit. One thing I always like is the way scenes change from their nightmare form to a happy comfortable dream, which is done here reasonably well, but again not impressively so. I also liked the holographic doctor. There is a aspect ratio toggle in the Options menu ? a really great feature, it lets many more people with different systems to enjoy the graphics. The sounds are well done, but the music is irritating in just a short while. The voiceover in the intro is awesome, but that bear is going to drive me nuts. The background noises are very good and add a great deal to the atmosphere. GAMEPLAY I would say the game is not difficult, if it weren?t for the mini-games. There are 18 puzzles, most easy to moderate, but some I just had to skip. There are 13 HOPs (interactive list) visited twice. You also get an interactive jump map, and directional hint, but no journal. Plus that annoying bear helps out far more often than I liked, and usually I don?t mind that kind of thing. We are also in frequent contact with the professor on the outside monitoring the girl?s vital signs. He acts like a kind of cheer squad. ?You?ve done it! She is improving!? FAMOUS LAST WORDS A decent fun game, but nothing I saw in the CE demo suggested this was of a CE standard, and replaying it now, I feel the same. I will probably buy the SE, but it is not at the top of my list.
November 3, 2013
The Apple logo is a trademark of Apple Computer, Inc.