Greed: The Mad Scientist
A world famous scientist Dr. Ralph Goodwin promises to unveil a miracle drug able to cure almost all types of diseases. But just one day before his press conference a mysterious explosion destroys his research laboratory. With the lab destroyed, the cure seems lost forever. You have to investigate the case with the help of a young girl named Sara. As Sara searches through the lab, she unravels the dark events of her own past. Among mad scientists and ruthless assassins will you ever be able to find the cure? Find out in Greed: The Mad Scientist!
Immersive sci-fi atmosphere
Elaborate storyline with many twists
Unique mini games
Game System Requirements:
OS:

Windows XP/Windows Vista/Windows 7/Windows 8

CPU:

1.4 GHz

RAM:

512 MB

DirectX:

9.0

Hard Drive:

805 MB
Game Manager System Requirements:
Browser:

Internet Explorer 7 or later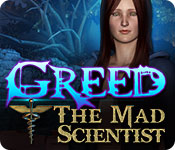 NEW299
The Big Fish Guarantee:
Quality tested and virus free.
No ads, no adware, no spyware.

Reviews at a Glance

Greed: The Mad Scientist
0
out of
5 (
0
Reviews
Review
)
Customer Reviews
Greed: The Mad Scientist
45
45
Adventure Gamers Will LOVE this Sci-Fi Gem of a Game
I am sold; hook, line and sinker. Where to even begin? We've been asking for unique, logical and original game for a long time and here is finally a game that delivers on all fronts. First of all, if you are looking for a game that is heavy on the hidden object scenes, you might be disappointed. This is first and foremost an ADVENTURE game and should be reviewed as such. I see some reviews that are a bit unfair as this game is being reviewed as a HOPA when in reality it really isn't. As far as Adventure games go, I was immediately drawn in and disappointed when the demo was over. Immediate buy for me; zero hesitation. The story is "original." FINALLY! We have a conspiracy here involving scientists, a corrupt Pharmaceutical Industry, a cure for a disease, a massive cover-up and a 'monster' that was once human but exposed to heavy doses of radiation that pops up every once in awhile to keep you on your toes. The storyline is deep, and as you move along you find out more by collecting evidence, hacking into computers, collecting notes and paperwork, etc. As far as 'detective' games go; this one is a winner. The graphics are excellent and wide-screen users will be happy to know that there is wide-screen correction without any black bars along the sides. Graphics are clean and VERY crisp. The only issue with graphics that I noticed was a bit of choppy transitioning between cut-scenes but that could well be due to my graphics card and not the game. There are 3 modes of difficulty that actually provide the promised 'extra' challenge if you so choose. Items and achievement objects will be harder to find depending on which of the three modes you choose from. If you want a difficult experience locating items and achievement objects, you'll get one on the hardest mode; you can play on casual and have all the help you need and items and achievement objects are easier to spot; or you can go with moderately difficult where items and achievement objects are only a bit harder to find. Completely customizable=happy gaming experience to suit everyone's' needs. As this is a Sci-Fi game, the world created is top-notch. The laboratory looks and feels hi-tech, with gadgets and gizmos, high-security clearance check-points, high-end PC's, modern furnishings and futuristic elements. There are also many additional items to collect along the way and I have a feeling that I only saw the tip of the iceberg when it comes to 'collectibles'. In the demo there are radioactive objects to collect as well as awards for the Chief Scientist that you are investigating. There are plenty of inventory objects to collect as this is mostly an Adventure game and the items are used in a logical sequence without a lot of back and forth which is a huge plus in my book. I encountered only 2 Hidden Object Scenes during the demo and while they are not interactive, you actually pick up more than one item at a time. The 2nd HO scene I came away with 3 inventory items that I already knew I needed. That is also a major bonus with this game. You don't just pick up random objects. First, you find out what you need in order to complete a task and then you search for those items. This makes for a very LOGICAL flow that is lacking in most games. Because it flows so logically, it makes the game feel all the more realistic. The puzzles I encountered were not just there for the sake of being there; they were actual tasks that needed to be completed, staying true to the "Sci-Fi" theme. For example, hacking into high-security doors or terminals, using complex codes to get to the next room, etc. There are no wasted actions in this game. Everything you do has a PURPOSE to move the game forward which is such a nice change of pace from completing unnecessary tasks. Major props to the devs for this. You have a case-file which includes the following tabs: Summary, Evidence, Map, Tasks, and Diary. The map does not appear to be interactive; however, I did not find that to be an issue as there is not a lot of back-tracking. You also have a 'side-kick' so to speak and it is not a furry little animal. She is a part of this mystery and is not only there to give you hints; she also gives you valuable information along the way concerning the storyline. The voice-overs are fantastic; the characters lips move in sync with the voice actors (love that) and there are plenty of interactive scenes and cut-scenes to keep the story moving forward. Did I mention that we finally have an ORIGINAL storyline here? That alone makes this game worth every penny. I HIGHLY recommend giving this game a try, especially if you are tired of rescuing princesses or relatives, dressing up cute animals, combing through endless junk piles of hidden object scenes, solving puzzles that don't make sense, and picking up objects before you know you need them. All in all, I am a VERY happy gamer today and cannot wait to get back to it. While I cannot speak to length; it is my impression that this game will not be a short one. In the one hour demo I just barely started to collect evidence and notes about the case and was still in the first few rooms of a very large map. This game has so much to offer. I hope other developers take note of what is offered here, especially when it comes to "meaningful" tasks, "logical" progression, "logical" use of objects and "necessary" and "realistic" puzzles and tasks. I HIGHLY RECOMMEND THIS UNIQUE ADVENTURE GAME!
November 5, 2013
Very nice game, a great stand-alone SE!
Actually, I would give this game 4,5 stars, but I rounded up to 5, because it is certainly worth more than the 3 stars it's getting right now! The storyline grabs you right from the first second, and nails you to your chair. The cut-scenes are not very spectacular, but very well done and informative with real good voice-overs. I find this story intruiging and finally something different from the same ol' same ol'. And, yippie, no fairytale or cutesy! The game runs smoothly and has a good pace. The HOS are good and have a unique feature, they are skippable! They are quite far apart, which I find very nice. It tends to be more of an adventure game than only HOS. Puzzles are a bit easy, but very well done and there are plenty! The hint is great and gives you the opportunity to jump to the scene where action is needed. There are 2 series of collectibles #yes, in a SE!!#, which is wonderful!! I bought this game with a free credit and think I have done a super-deal! A great game for free! yay! But I do think it is fully worth it's full price, you won't be disappointed! Give it a try and enjoy!!
November 5, 2013
Grown up game with good challenge level!
I really enjoyed the beta version of this game, and based on the demo few changes were needed. This is a SE game only (why are there so few of these?) with achievements. I played it on the hard level, and thought the challenge level was just right. Good, original story, with no elves or furry companions, Lots of small challenges along the way, and some genuine surprises.
November 5, 2013
What happens in the lab, stays in the lab... unless it escapes.
I loved this game, most notably because it has a serious sci-fi vibe. Being the geek that I am, it was nerdy-girl nirvana to me. TG, not a witch or a demon in sight! Don't get me wrong, I play those, too (D&D and LOTR fan). I'm just tired of them, as it seems we have a glut of them on BF right now. It did have a 'monster' that looked like Uncle Festus' DNA got mixed together with The Hulk's, but it was all in good fun. I didn't even mind the secret agent trying to do me in! The game play was pretty linear, a little back tracking, but not too much. You are constantly moving forward. Right at the end you had to go to the beginning, but you knew what you were looking for. The storyline was awesome: radioactive experiments gone wrong, big corporations out for the $$, young girl seeking a cure for her brother, a repentant father... need I say more? The scenes were creepy, the voice over was not too irritating, the music was appropriate. I am not a puzzle geek, but they weren't too bad. I only skipped about half of them and completed those that I had not seen before. A cool thing for all you HOs haters- after a short bit, the HOs could be skipped, like a puzzle. I love HOs, though, and these were great. Both puzzles and HOs were incorporated into the story, so the random stuff was at a minimum. All in all, this was a great game. I love this genre and wish there were more like it. It goes into my top three all time favs: 1) Eternal Journey: New Atlantis. 2) MCF: 13th Skull 3)Greed: The Mad Scientist. Now developers, can we get a Klingon or two? Maybe even a real starship? Space battles, alien cantina, galactic love story? Tribbles? Heck, I would even go for a haunted space station with a demon/witch/alien that looks like Chewbacca.... just sayin'....
November 18, 2013
GREAT storyline and game
I just finished the game and it has one of the best storylines I've seen in quite some time. I thought, after the demo, the game would be good and I wasn't disappointed. As an investigator you try to save Sara's little brother's life. You follow a creature through the game not knowing if "he's" friend or foe. The HO scenes are straight forward and the game are fun. Are you good enough to save this little boy's life? Try this game and find out.
November 8, 2013
Terrific adventure SE
Seriously good SE, well worth buying. Why? Great storyline, good puzzles, lovely graphics, locations & cutscenes; everything I want for entertaining adventure gameplay. Scenes are good variety, lovely colour palette, realistic looking; well done animations & seamless transitions. Elevator run is so realistic & the labs & locations very detailed & just plain interesting as I've not been in 50million labs. Dialogues & voice are high-quality. Great story--sure, we've watched something like it on TV; but that's perfect as now we get to play the role & do the engineering/tinkering. And letting us skip hos is such a treat. Indeed, because devs gave *choice* to skip, I didn't ! Hos aren't too many, just a sensible number, all crisp & not rubbish heaps. Value-added with sensible collectibles but sadly there is no gallery/achievement but this is a SE. Game is *not* padded with tedious hos or unnecessary backtracking/padding, so it isn't as long as some, yet every minute was interesting to me. Hint button is helpful & journal well made/pretty. IMO, for experts, there are too many textbar clues/hints on hardest mode, however. (Naturally, with fewer text-hints, game would've been an hour longer.) Overall a really engaging adventure IMO... looking forward to this dev's next game!
November 13, 2013
Great Game
I loved the game. There were some new ideas I liked very much - like jumping from the hint directly to the wanted location and not having to open the card. Very nice graphics, animations, good mini games (some new ideas and not to easy) - so I really reccomend this game.
November 8, 2013
Refreshing game with compelling story
Based on the free trial I will definitely buy. A modern sci-fi setting for those of us tired of medieval, Victorian and fantasy. No witches or fairies. Fully fleshed out characters involved in an exciting mystery/adventure.
November 5, 2013
this will be a buy for me
just finished the trial and I will purchase this game. hint button works great and takes you to where you need to go. there seems to be a map but it wasn't working yet in the trial, will have to see what happens when I buy it. don't use sound so can't rate that but over all an interesting story line, good games, challenging but not impossible to get through.
November 6, 2013
LOVE MAD SCIENTISTS!!!
Review based on completed game in casual mode. Animation/VOS - Excellent HOS- Not interactive. Like most games, light to darker scenes, small to larger objects. First game for me to have a skip feature in an hos. You may receive at least one to three items for your inventory. Misclick Penalty - None Hint - Fast charge. Gives clues and directions. Acts as a jump map. Case File - Contains summary, evidence, map, tasks and diary. Inventory - Does not lock in place. Counted 19 items still left to use in other locations but have no fear. It all came together in the end. Puzzles/Mini-Games - Unusual and very scientific. Not the sliders, rings, etc. type. Less of these than hos. Moderate skip. Great game so hook this one and enjoy!
June 28, 2014