Greed: The Mad Scientist
A world famous scientist Dr. Ralph Goodwin promises to unveil a miracle drug able to cure almost all types of diseases. But just one day before his press conference a mysterious explosion destroys his research laboratory. With the lab destroyed, the cure seems lost forever. You have to investigate the case with the help of a young girl named Sara. As Sara searches through the lab, she unravels the dark events of her own past. Among mad scientists and ruthless assassins will you ever be able to find the cure? Find out in Greed: The Mad Scientist!
Immersive sci-fi atmosphere
Elaborate storyline with many twists
Unique mini games
Game System Requirements:
OS:

Windows XP/Windows Vista/Windows 7/Windows 8

CPU:

1.4 GHz

RAM:

512 MB

DirectX:

9.0

Hard Drive:

805 MB
Game Manager System Requirements:
Browser:

Internet Explorer 7 or later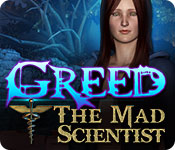 NEW299
The Big Fish Guarantee:
Quality tested and virus free.
No ads, no adware, no spyware.

Reviews at a Glance

Greed: The Mad Scientist
0
out of
5 (
0
Reviews
Review
)
Customer Reviews
Greed: The Mad Scientist
45
45
Arghh, the demo ended!
Rarely do I growl in frustration when the demo ends, usually it is a ahh or an ohh. Had to buy it to find out who is who and how it ends!!!! I started the download for the trial, then started reading the reviews, and almost bought it off the reviews alone. What they say is so! On casual the puzzles are workable I like that!! OK, all done. Here's the problem with game...IT DID NOT LAST LONG ENOUGH!!!!!!!!!
November 7, 2014
This is a great game!
What happened in the last scene? I hit skip by mistake and missed it.. :(
January 8, 2014
Everybody Knows That Gamma Is Bad Stuff!
I wasn't expecting this to be a decent game, turns out I was wrong. The graphics aren't the most detailed but they are clear so I'm okay with that because it has a pretty good story line. Dr. Goodwin has invented a cure for that, and by that I mean it cures everything! Problem is the lab has been blown up, is it an accident or sabotage? Now we are searching for survivors and hopefully find the formula for the cure, and we run into a slight glitch....a monster with super human strength, is it Dr. Goodwin? Is it his assistant? As you investigate the lab you will find a ton of mini-games. Most of the games are the kind where you move one piece and it also moves several other pieces but they are doable and most are fun. The HOS are far and few between and they are just list finds. You get to collect 14 radioactive items as well as 7 Dr. Goodwin awards, there may be more in the full version! This is a good value in my opinion for a standard release only game, enjoy!
November 5, 2013
Brain Power Required
Don't get me wrong, I am not complaining too much but I was getting a bit sick of the latest trend of Fairy tales and cute creatures. Finally, a story for grown ups that takes place in an abandoned medical research lab. A world famous scientist Dr. Ralph Goodwin has promised to unveil a miracle drug able to cure almost all types of diseases known to mankind. Suddenly right before his press conference a mysterious explosion destroys his research laboratory and it seems that the cure is lost forever. A young girl named Sara asks for your help. It appears that her brother is a patient of the good doctor and with her help, you begin your adventure and investigate the case searching through the lab, looking for clues and discovering that there is much more than meets the eye with Sara. By the way, there is also a very creepy looking humanoid that is trying to stop you. So the graphics are a bit dated and art work is a bit drab but seriously, they did a fantastic job with the lip sync and voice-overs. An excellent HOPA game that will have hard core players pleased as punch as you will soon note that the use of some gray cells is required. There are four modes of difficulty and I chose the hardest, Detective mode during the demo trial. Game features include a file that holds your journal, a summary, evidence, a task list and a map that really is quite useless, no travelling so prepared to run around. Sara acts as your hint and depending on what level you choose to play, you will have the option to skip HO scenes if you like. An excellent HOPA game with crowded Hidden Object scenes that involved a list of items to find. No interaction, just straight forward seek and find. Brings back fond memories of past HO games we use to have. Mini-games are fairy simple but some do require patience or a good memory which you will also need during your adventure. The challenge is that as you begin to roam through the building, you find your inventory is getting full and you have to figure out where to use what. I paticularily enjoyed figuring that out without any hand holding. There are also collectables that are referred as achivements but since there is no extras mentionned in the main menu, I am curious as to why we need to collect them. I liked the story, I liked the adventure and I really liked the fact that I had to use my memory and some logic. The game may be dated and definitely lacking in substance when compared to the newer CE games we have seen, but it's simplicity and lack of bells and whistles in this case make it an entertaining adventure game that I really enjoy, plus I really need to wean myself off the overly sacharrine themes and tap into my dark side a bit. I do miss a good scary tale with a goul chasing me thru a creepy building.
November 5, 2013
Pretty Good, Actually
BASED ON DEMO FIRST IMPRESSIONS SO good to see a new story! Yes, we want to save the little brother, but with medication, not derring-do! The intro to the game is not bad. The cut-scenes are, throughout the game, not of the highest quality, but this opening does give you a good understanding of the story. There are, for my liking, a few too many cut-scenes. If they had been a bit more ?high impact?, I probably wouldn?t?ve minded them. SIGHTS & SOUNDS This is a modern-day adventure with sci-fi overtones so, appropriately, the graphics are pseudo-realistic. I don?t particularly like this style, and many would call it outdated, but if you can?t be ?pseudo-realistic in a sci-fi, when could you? I think the graphic style is mandated by the subject matter. The sound track is well done. The special effects work, the background ?music? is minimalist electronica played only faintly and far away. The voiceovers are good. There is an attempt at lip sync that I feel gets close enough. WHAT?S HAPPENING A famous scientist has spent years since the loss of his wife and children (how is not yet known) developing a cure for cancer and many other ?incurable? diseases. On the night before the announcement to the world that he would be releasing this drug free of charge to the world an explosion and resulting fire destroys the lab. It is unknown if there are any survivors, but you meet a young woman whose brother was a special patient of the doctor/scientist. She is looking for the cure, from clues left to her by the scientist. As well, we must deal with a savage half man/ half monster, who is not happy to see us, but it seems as if he may be a product of an experiment gone wrong. What has been going on in this laboratory? MAKING PROGRESS A straightforward adventure, liberally sprinkles with fairly easy puzzles, this game treats the few HOPs scenes as puzzles as well. In other words, you can skip them altogether. I am sure that will appeal to some! For those who like HOPs, there are not as many as usual, and they are all interactive lists, but the graphics are clear and sharp and the objects are fairly relevant to time and place. There are a few surprises in the ?peripherals? as well. The hint button gives you an actual hint, AND allows you to choose to jump to the spot. This is good, because the map is not at all interactive. The journal contains Summary, Evidence, Map, Tasks, and Diary. There are also achievements ? more than one set! First there are 14 green glowing easy-to-spot radioactive parts. And Dr Goodwin?s awards ? whatever they might be ? I caught a couple but I?ve no idea how. All the way through this game you are collecting mini-collections of one thing or another that have no immediate place in the story. It?s just that sort of game. FAMOUS LAST WORDS I always judge stand-alone SE games more generously than ex-CE standard editions, and on that basis, this is a good game. The graphics are not of a high enough quality for a CE, so it can?t compete with them. But an excellent punchcard coupon game.
November 5, 2013
A Miracle Cure - or Is It?
As the game begins we see cutscene of a research facility that is burning out of control after a devastating explosion. We learn that the fire is listed as suspicious since the lead scientist of the lab, Dr. Ralph Goodwin, was soon to announce the development of a miraculous new drug that would cure almost every known illness. Of course, there were no survivors so the cure has been lost forever, or has it? Three days after the fire, we meet Sarah who tells us that Dr. Goodwin had been treating her brother Sam, and she knows that Dr. Goodwin has hidden the formula in the lab. Sarah asks us to help her find the formula since Sam?s life, as well as the lives of countless others, depends on finding the cure. But, all is not as it seems and someone is out to stop you! Will you be able to overcome the challenges and find the cure? You will have to go on this exciting adventure to solve the mystery and find out who is behind all the mystery at Pontoon Research. The graphics in general are very good but where the graphics become iffy is in the cutscenes as they appear to be quite ?grainy?. The voiceovers are very good as is the rest of the sound package. The background music subtle and adds a touch of spookiness game. On the lower left of your screen you will find your case file. The file includes several tabs for evidence, notes, a map and your diary. Although there is a map, it is not interactive and is quite useless. The best thing I can say about the map is that it is included as a basic directional tool. The rest of the items in the case file do have some value and can be helpful. The HOS are the standard list type BUT after a period of time a skip button will appear so you may choose to skip the rest of the HOS if you wish to do so. The mini games are fairly standard with nothing too unique but they were enjoyable and none of them were too difficult or frustrating to solve. Because there are collectibles in the game, I think the developer might have intended it as CE release. However, without an interactive map and some other features the developer probably decided to go ahead with the SE release instead. Overall, I was quite surprised because I didn?t think this would be a good game but I was so wrong. Greed: The Mad Scientist is an excellent SE game that I found quite enjoyable. After fifteen minutes of the demo I had to stop and buy the game. Although I am not too familiar with this developer, they did an excellent job with this game and I will look forward to more games from them in the future. As always, please try the demo to see if this is a game you will enjoy.
November 5, 2013
Not A Bad Little Game
I purchased this game with a free game coupon, but if I had to pay full price for the game I still think it would have been worth it. Graphics are pretty sharp and clear for the most part, however, the cut scenes can be somewhat fuzzy at times. There are no morphing objects as far as I can tell; there are seven Doctor Goodwin Awards and fourteen radioactive items to collect. The inventory bar does not lock- something that I find to be a bit irritating. There is a map that does not allow you to jump from location to location, however, the hint button (which provides a player with text hints) does have a function which allows you to jump to various locations... though I wish the developer had used a jump map instead. The hint button recharges very quickly (almost instantly). The skip function works with puzzles (which don't seem to be that difficult) but it also works with HO scenes as well. If you prefer adventure and would like to pass up on the HOS allowing a player to skip them comes in handy. The voice overs in the game are pretty decent- mouth movement is pretty much in synch with them. I'm not a game expert and so I don't know how challenging this game would be for players that are. For me this game is good entertainment and so I'll leave it at that. As always, it's best if you try before you buy.
November 5, 2013
Greedy Mad Scientist - Review Of Completed Game
Story: You take on the role of a detective and must help Sara find a miracle cure for her ailing brother Sam. Game Features: 3 play modes: Normal, Hard, Detective. I played hard mode. There are black bar tips. HOS and puzzles can be skipped. Hint outside of HOS will bring up a box telling you what to do and then you can click to take you to the location if you aren't in the correct one. There's also collectibles to find throughout the game. You can also chose to take the tutorial or not. I chose no and that worked for me as it didn't make me take it. Case File: This holds summary, evidence, task(s) which also pop up on the screen, map which is not transporter, and diary which is notes and some are used for puzzles. HOS: All found by word list and they are not interactive. Seemed to be a bit on the Sanford & Son junkyard pile side to me however I had no difficulty finding anything. Puzzles: The usual run of the mill as I didn't come across anything new from the many offerings here at the Big Fish. I found them doable. Overall impression: Wow! I must say I about lost hope in the Big Fish! LOL! I'm so glad to see they have taken a break from the "cutesy" dress up animal games. This here is right up my alley as it's a Sci-Fi. I was hooked to this right from the get go and held my interest to the very end. Some twist/turns to the story which I really liked though I will have to agree with the review that stated this ended a bit abrupt. Yes it ended satisfactory meaning no kind of cliff hanger but just a bit abrupt. This for me was more on the adventure side than HOS and puzzles. The graphics, cut scenes and voice overs a very well done for me especially for a game that is a stand alone SE. A 4 stars from me. This was also just right for me as far as game length 4 hours and a punch code coupon well spent! Thanks Big Fish and Developer. As always, give it a whirl and decide for yourself.
November 5, 2013
" It's A Mad, Mad World We Live In!!"
Review based one demo play time only: There is a fire in Pontoon Laboratories where a Professor Goodwin (Who is Head of the Lab)is trying to discover a cure for all sorts of diseases. He had just made an announcement three days earlier that he thought he had found the cure all when - Poof! Dissapears in all the carnage! Yes again, we are an investigator assigned to to find out what happened at Pontoon. Once you arrive you are met by the sister of one of Dr. Goodwin's patients he was helping, so she volunteers in any way she can to help. Now the need to know information: 1.) 3 Play Modes- Normal, Hard and Detective 2.) The music is classically orchestrated. 3.) The Voice overs are crisp and clear. The Intro seems very realistic. 4.) Movement is a bit stiff 5.) We are given a case file with sections for evidence, a map, tasks, a diary and finally, a summary. 6.) * You do get to collect green radiations spots that have leaked from the explosion ( a little plus) and all 8 of Dr, Goodwin's awards. 7.) My biggest disapointment that thus far I haven't found and interactive HOS game! As a parting small cliffhanger - once you get inside of the gates of The Lab grounds you are met by a hideous creature! So now, the rest of the story line is up to you fellow fishies! If by now your interest has been a bit peaked, try the demo and remember you can use your punch card on the game before it expires! Well time's up. Have fun investigating!
November 5, 2013
It Never Pays to be Greedy!!
As a stand alone, non ex-CE game, I think this is great. No, it does not have small animal helpers or terrific music. Yes, the graphics and movements of the characters are a bit stilted. However, the storyline is good. The plot is good. The challenge level is good. I played on medium mode (you have a choice of 3 modes) and found I really needed to think about what to do and how to solve the puzzles. There are few HOS, and the ones I did do were strictly list. I don't mind this at all. Items were not difficult to find nor were the scenes dark. You have a journal which contains a map (which is not a jump or task map), evidence, tasks, and a diary. The hint button will jump you to the location where a task is needed. There are a few things to collect. Possibly more in the full version. Despite not being loaded down with morphing objects and all the bells and whistles, I actually enjoyed this game and it will be a buy for me. It does look to be on the short side.
November 5, 2013