Greed: The Mad Scientist
A world famous scientist Dr. Ralph Goodwin promises to unveil a miracle drug able to cure almost all types of diseases. But just one day before his press conference a mysterious explosion destroys his research laboratory. With the lab destroyed, the cure seems lost forever. You have to investigate the case with the help of a young girl named Sara. As Sara searches through the lab, she unravels the dark events of her own past. Among mad scientists and ruthless assassins will you ever be able to find the cure? Find out in Greed: The Mad Scientist!
Immersive sci-fi atmosphere
Elaborate storyline with many twists
Unique mini games
Game System Requirements:
OS:

Windows XP/Windows Vista/Windows 7/Windows 8

CPU:

1.4 GHz

RAM:

512 MB

DirectX:

9.0

Hard Drive:

805 MB
Game Manager System Requirements:
Browser:

Internet Explorer 7 or later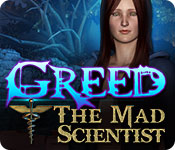 NEW299
The Big Fish Guarantee:
Quality tested and virus free.
No ads, no adware, no spyware.

Reviews at a Glance

Greed: The Mad Scientist
0
out of
5 (
0
Reviews
Review
)
Customer Reviews
Greed: The Mad Scientist
42
42
A Nice Change!
This game surprised me, I went into it skeptically but the further I got the more involved I became. While it lacks the sophistication of a lot of the newer games out there, it does have its own appeal. Graphics are crisp, voice overs/lip sync well done, good story line and not just a bunch of HO scenes. Mini puzzles were nothing special or new, but they still required some thinking and were fun! You needed to collect 14 radio active items and 17 Dr. Goodwin awards. There was a summary, evidence, task list. diary and map (only helpful as part of the hint system by allowing you to jump to the location in question). You as the detective must get into Pontoon Laboratories and investigate the cause of the explosion, ascertain whether the alleged cure for most diseases still exits and if so retrieve it. Also you must search for any survivors of the explosion and remove the radioactive items. Once you are inside the lab you are chased by a weird human monster who is the result of an experiment gone wrong...or could he possibly be Dr. Barwick, assistant to Dr. Goodwin who was perhaps trying to sabotage the cure? The story has lots of adventure and suspense to it, you need to use your thinking cap, rely on your logic and memory as you weave your way into finding the solution to your investigation. A nice welcoming change. Enjoy!!
November 5, 2013
Fun game
The main thing I like about this game is that it isn't a fairy tale involving an evil witch. I almost wept with joy! This is a good old fashioned mystery that is well told with an excellent journal. Game play is the usual with standard HOS (none of those annoying IA HOS) and OK puzzles. There is a map, but it isn't IA and doesn't give any info - basically useless. The HINT button tells you exactly what to do and offers an opportunity to jump to the location. I thought the length of the game was right on. All in all, this is just a fun and interesting game.
November 12, 2013
Good adventure game
Kudos to a developer I'm not familiar with. Crisp graphics, nothing fancy but still atmospheric enough with details that made sense for the locations. VOA was fine; I feel like a lone voice (no pun intended) in the wilderness because I keep saying this but the young woman assistant's voice was like fingernails on a blackboard - she sounded ten years old. Don't get why this is so appealing for men, don't want to get it because it creeps me out. But she was a young woman, not a girl - there is actually a difference between those two people, or should be, imho. Anyway. The game was interesting, the puzzles were integral to the gameplay - solve a lock to open a door; fix various things to access them; get past this security system or that. Nothing completely pointless, at least in a game context. The HO scenes were skippable, but I enjoyed them. It was actually refreshing to have nothing interactive (can't believe I said that), and though the scenes were slightly junk pile -- some more so than others -- the objects were often truly hidden. By color, by shape. A nod to Ye Olde School of HO games. I liked. Though the game was linear, and tasks were given, figuring out what to do to accomplish those tasks was sometimes a challenge. I know I'm fairly fried right now from real life, but I'm pretty good at these games, and I was stumped a few times and had to rely on a hint. Unfortunately, the hints were not hints, they were given solutions. That was my only real disappointment. I miss good hint systems - seems devs used to be better in this regard. I played in the middle mode, 'Hard,' if that's the term they used. My only other disappointment was that it was a bit shorter than I was expecting. But, overall, I didn't mind that too much because it was a good game, enough challenge to keep me engaged. I look forward to these devs' next offering. (I recommend contemplating a better title, next time, however - 'Greed, The Mad Scientist' was applicable, but I almost passed it up because the title seemed silly, and the game is not silly at all.)
November 8, 2013
Not A Bad Game
Not too bad of a game, though as others have mentioned it's a very familiar story. The devs seem to be out of fresh ideas for new games & just rehash the old games over & over again. The graphics aren't bad, the HOG's are the usual messy junk piles but the hint button is the best ever. None of "there's nothing to do here now" but actual useable hints. The voice overs/lip synch need some work. The story moves along quite nicely & actually has me wondering what is going to happen next. This will be a coupon buy for me.
November 5, 2013
"Greed is good"
Just finished playing half of demo and like it. As someone mentioned, lately there have been way too many (although some good) fairy tale games. This game seems interesting. There are collectibles (which a lot of people find important - although not me, as it takes away from what you are trying to accomplish). Graphics are good, music not too annoying. Hints are different. Didn't see any HOS (though am tired am may have missed them). All around a good game.
November 5, 2013
Pretty Good, Sci-fi HOL Game
I truly appreciated the beta form of this amusement, and dependent upon the demo not many progressions were required. This is a SE diversion just with accomplishments. I played it on the hard level, and thought the test level was just right. Exceptional, unique story, with no mythical people or textured associates, Lots of little tests along the way, and some authentic astounds.
November 7, 2013
Very nice SE...
No story review, just game play. The graphics are cartoon like, but very well done. Game play is nice and smooth, no glitches for me. Voice overs are well done. Almost too much dialoge, which cannot be clicked through. You can skip it, but you may miss part of the story if you do. I read faster than they talk, so really need to be able to hurry it along a bit. Inventory bar does not lock in place..very annoying jumping up and down. Music not too bad. Nice sound FX. HOGs are not many, but items you find are used within the game...very nice. They are fairly clean and easy to find items. You can also skip them if you like...very different addition. Hint system is helpful and allows you to jump to the location you need next, if you choose...also a very nice addition, since there is no jump map, and you are not penalized by using up the hint meter. Hint refills at about the usual time frame as other games. Skip fill is very long. You have collectibles, which are not at all difficult to find, and achievements. Puzzles are not difficult either. I don't know what it is about this game, but I really like it. Not extremely challenging, but fun and I find that I need to keep playing to see where it goes with the story line. This is a very nice SE for a change and one that I am using a credit to purchase. This most definitely is not geared to the children in the house...YES, about time! As always, try it for yourself and see what you think. We all have different tastes in games and you may not care for this one at all. Thanks for the reviews.
November 5, 2013
Greed: The Mad Scientist
This was one of the most relaxing games I have played in a long time. Game must be for beginners as there really wasn't any challenge at all. Hint button gives you all the help you need. Still I enjoyed playing the game, stress level zero.
November 5, 2013
Fun Game
I enjoyed this game very much. Graphics were clear and well done and easy on the eyes. Play was linear so there is no confusion about moving through the game. There is a map but does not provide jumps to location. Hints are pretty descriptive and provide jumps to locations. Cut scenes are well done. Overall this is a very good game without any real surprises. I rated with f 4 stars because of the challenge level and the game play is short.
November 7, 2013
Based on completed game
The storyline of the game is quite good, but unfortunately the end is a bit abrupt. The map does not help much as it just shows the different locations, but nor where to go next and you cannot jump. To jump to another location you need to use the hint !!!! Graphics are good and clear, Hog's are not too overloaded and parts are good to find. To my opinion the game is a bit too short, but I liked it.
November 5, 2013