Lost Civilization
After making an important discovery, your archaeologist fiancé, Michael, is kidnapped in Prague. Clues indicate that the kidnappers want whatever it is he's found and will stop at nothing to get it. Your search for Michael will reveal far more than you could have possibly imagined as you learn that the very fate of the world hangs in the balance!

Explore richly detailed and animated scenes set in Prague, England and Mexico. Solve fascinating challenging puzzles, uncover earth-shattering secrets hidden in a forgotten mine and tap into your inner heroine in Lost Civilization, a magnificent Hidden Object Puzzle Adventure.
Intense storytelling
Over 120 richly detailed animated scenes
More than 30 interactive characters
Atmospheric sound effects
Original musical score
Game System Requirements:
OS:

Windows XP/Windows Vista/Windows 7/Windows 8

CPU:

1.0 GHz

RAM:

1024 MB

DirectX:

9.0

Hard Drive:

509 MB
Game Manager System Requirements:
Browser:

Internet Explorer 7 or later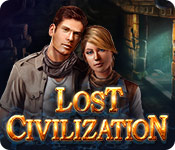 NEW299
The Big Fish Guarantee:
Quality tested and virus free.
No ads, no adware, no spyware.

Reviews at a Glance

Lost Civilization
0
out of
5 (
0
Reviews
Review
)
Customer Reviews
Searching For Alien Civilization Evidence!
This is a really good large file game with an excellent story about the search for evidence of a 12th planet with alien life and technology that the Germans were trying to acquire during the war. This isn't your typical HOS adventure but it does have enough familiar traits to make it easy to play. There is a lot of dialog reading and it is important to read because those are your basic instructions of where to go and what to do. There will be inventory items to pick up and use along the way and you will need to interact with things just as you would in real life such as answering the phone, pushing doorbells or intercoms. There are interactive HOS some are list finds some you need to place items back into the scene and some are find a certain number of an item. They have done a very nice job of making the player feel like they are actually in the game. The only downside in that at times the game moves a bit too slow but the story line keeps your interest, enjoy!
November 6, 2013
Yay, a plot!
I played this as an adventure game at one time.... it is still at least as excellent as ADV/HOG.... and, yes... some games you need to do a little reading [gasp], lol. In this case, it doesn't take away from the game at all, it actually ADDs to the game because it helps tell a story with a beginning, middle and end. Graphics are now better than the original game [since it was an original point and click adventure]. Granted, the graphics are NOT the ornate detail with bells and whistles typical @ BFG; yet, again, due to the fact there should actually be the plot that flows throughout the game, there is no great need for the overly embellished screens because one can become enmeshed in the flow of the story itself. Oh, and actually, overall, the graphics are quite colorful, clear, and interesting. Gameplay in this remake is somewhat simplified since it's very guided even on the most difficult setting, yet the basic premise of the original game is still good so far as I've played. I think it's a great idea to dust off and recreate some of the older games [they were GREAT]. Overall, I enjoy adventures better w/o H0G, yet if it pulls in more fishies for the fun of the play.... this will be a plus! Either way? I LIKE it and will buy; hope you give it a chance and if so, I believe you may enjoy it at least as much as I have both times through!! : ) Enjoy.
November 6, 2013
Engaging
I thought this game is more engaging, it kind of makes you want to continue in the adventure. The puzzle games are more interesting, they get you to put things back, rather then just finding them. I was quite pleasently surprise it.
February 1, 2014
definately give this game a chance
I plaid the demo and bought the game. first it is great to have some new games come out not as collectors and second I don't understand the complaints. the game play was fine, story line I found quite interesting, I want to know if we find this mystery planet, the hint button worked great. does not seem to be a map and don't know if that is a problem but so far it was not. I don't use sound so can't rate that but I recommend this game.
November 6, 2013
Very nice iHOG/HOPA
I loved the game - very good atmosphere - nice to play. Only a bit much text - evrything else was great :)
December 1, 2013
Great Game
I really loved this game.. I was glad to get away from all the magic story lines big fish puts out as well. This was a great change!!! and I loved the story.
November 20, 2013
Great Game
I played for about 20 minutes and i got the game, loved this game graphics and sounds was awesome even the story line was interesting..Plz give the game a chance you wont be sorry..
November 6, 2013
Why this game is familiar....
Ok I had the distinct feeling I had played this game somewhere before too, then in the dialogue the name Nibiru popped up and then it dawned on me, there is a an actual game called Nibiru: Age of Secrets that was put out in 2005 which is a large adventure game, and is great game btw. I didn't notice who developed this game, maybe the same people who did that game. But some of the scenes are definitely the same so maybe they just revamped that game and made this version. Now onto the game play, yes the puzzles are very simple but it was enjoyable and a nice change from all the games that are usually released. The graphics are a little dated but that didn't bother me any since I just found it a refreshing change to the same old thing that has become standard in the current HOPA's. I played the demo the whole way through and will probably buy it, just because I played Nibiru and it was such an awesome game, and I'm kinda curious how this one will play out.
November 6, 2013
Well I Liked It - Review Of Completed Game
STORY: You take on the role of Suzanne and your fiance Michael has been kidnapped In Prague and you have to search for evidence of a 12th planet with alien life and technology that the Germans were trying to acquire during the war so you end up traveling back/forth Prague, England, and Mexico. There is also a map but it just shows you traveling back/forth between the locations. As far as game play there is no transporter map. You will also meet up with quite a few people throughout the game. Have to do a task for them to move forward in the game. 3 PLAY MODES; I played the hardest mode and has sparkles for the HOS and black bar tips. HINT: Outside of HOS it will NOT point you in the direction you need to go. It will just tell you what you need to do so if you are in area where there is nothing to do, you need to find it on your own. WIDESCREEN: There is a box you can check for that which I had to so graphics were for me stretched just a bit. Otherwise I would of had black bars down the sides of the game. HOS: Some scenes are interactive word list, find one item at a time by opening/closing drawers and fitting items back into the scene. PUZZLES: Not really a whole lot. Some the usually run of the mill found in many games and a few I've never seen before OVERALL IMPRESSION: Well I'm going to start by saying that I read the Big Fish game forum and the main page here for everyone's thoughts on this game after I completed it and well I've never even heard of the large file game Nibiru let alone played it so whether or not this game here has anything to do with that game I personally don't know. All I do know for sure is I enjoyed this game very much and bought it with a game coupon code. If I wouldn't of had a coupon code I would of paid $6.99 for it. While there is a lot of dialogue, I thought the story was very well told and held my interest from beginning to end. I also really liked the characters and the game play. This seemed to be more HOS and adventure than puzzles. The only criticisms I have about this game is I do wish the sparkles and black bar tips wouldn't of been there for the hardest mode but didn't bother me too much for this game. At times the graphics were nice, crisp and clear but the cut scenes for a minute or two would be blurry but then clear up. Also I'm not sure what was up with the voice overs as the lead character Suzanne talked but the other characters mouths just moved. This annoys me. Please don't have the characters mouths move if they aren't going to say anything. Since someone questioned the ending to this game here in the forum well my downloaded version of this game didn't end with a "to be continued" it ended satisfactory and just fine for me. Overall not a very challenging game but I enjoyed the 5 hours I spent playing this game. Thanks Big Fish and Developer. As always, give it a whirl and decide for yourself.
November 6, 2013
Lost and Found
Your fiance has been abducted and you must find him! An interesting trip to Prague and all kinds of excitement and challenges await you in your quest. I liked this game! I admit there was a certain deja vu about it, but I couldn't quite place it. Anyhow,the game play does have a few slow moments but the intrigue of the story keeps you wanting to go on. It is easy sometimes to get bored with too much dialogue but with this one, the information is valuable and you need to pay attention as it helps you through the story. If you skim over it you could miss something you will need to know or do later. The mini puzzles were easy and at first I thought the HO scenes were as well, but they became interesting with 3 different modes, standard listing, putting items where they belong and finding numbers of things. The game's clarity was great and the music was pleasant and not overpowering. Overall no fancy bells or whistles in this one, just a fun game that you need to take a chance on.
November 6, 2013
The Apple logo is a trademark of Apple Computer, Inc.