Punished Talents: Seven Muses Collector's Edition
Exclusive
Life imitates art with deadly results in Punished Talents: Seven Muses! Several of your close friends have been murdered in Boston recently, and the crimes are identical to ones described in books written by author Russell Pollack, your husband. Evidence found at the crime scenes only condemns Russell further, and soon he goes on the lam. It's up to you to figure out who the real killer is before even more people – including you – end up dead. Find clues and explore the gorgeous world of 1930s Boston as you set out to save your friends and prove Russell's innocence in this thrilling whodunit!

This is a special Collector's Edition release full of exclusive extras you won't find in the standard version. As a bonus, Collector's Edition purchases count toward three stamps on your Monthly Game Club Punch Card!

The Collector's Edition includes:
A bonus game that takes you to the streets of Chicago
Beautiful wallpapers, screensavers, and concept art
Music tracks
An available Strategy Guide
Game System Requirements:
OS:

10.9/10.8/10.7/10.6

CPU:

1.6 GHz (INTEL ONLY)

RAM:

512 MB

Hard Drive:

1111 MB
Game Manager System Requirements:
Browser:

Safari 4.0 or later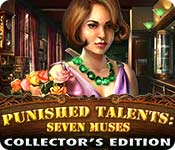 The Big Fish Guarantee:
Quality tested and virus free.
No ads, no adware, no spyware.

Reviews at a Glance

Punished Talents: Seven Muses Collector's Edition
0
out of
5 (
0
Reviews
Review
)
Customer Reviews
Punished Talents: Seven Muses Collector's Edition
60
60
Liked it!
I liked the game, I gave it 4 stars, only because I felt I was losing interest as I went along. Music was boring, was the same droning sound, except when you entered an HOG or puzzle. I enjoyed collecting the teapots and fingerprints, the achievements were set up great and pretty easy to obtain, I actually got them all. The cut scenes were very well done and the voice overs were great. The story line was unique and I liked it very much. The only negatives were the music and me losing interest, I suppose it got boring though I cant really say why. The Collectors Edition did not disappoint. The Bonus game was longer than bonus games usually are. You continue to collect tea pots and fingerprints on into the bonus. Had excellent guide to allow you to make sure you are on the right track in collecting things so that you can get your achievements. Deff worth the collectors edition for the bonus gameplay, wallpapers, achievements, dossiers and so forth. Give it a try.
January 23, 2014
Wonderful Murder Mystery!
Note: BASED ON DEMO I'll admit, I've always been a fan of murder mystery games, so when this came along, I was dying to try it (no pun intended). I downloaded the trial without hesitation, and I must say, this is a great one! The story is amazing. There's no other way to put it. It's gripping and fascinating and has you on the edge of your seat. I enjoyed it from beginning to end of the demo and the demo leaves you on a cliffhanger that just leaves you wanting more. The story may have been done before, but it is done perfectly. I have to say this is the best story from Blam Games! The story goes that your husband, an author, has been framed for crimes that he did not commit. These crimes are murders, all based on his latest book, The Last Performance. It is up to you to find out who the real killer is before it's too late. I'm full of praise for the story, and I can't wait to see how it ends. The gameplay is great, too. It's nothing we haven't seen before, but I found it fun and a little challenging in some parts. This is your standard HOPA. It has puzzles and HOS, as well as all features that usually come with it. There are 4 modes of difficulty including a custom, which lets you choose your hint and skip times, where sparkles show, turns the tutorial on or off, etc. There is also an option to turn the interactive map on or off, which is a new-ish feature, and one that will be welcomed by those wanting a challenge. I thought the HOS were good fun to play. They were your standard junkpile with extra step objects. These HOS were the only type in the game as far as I could tell. The puzzles were a bit more challenging. Some were easy, but others I found to be hard. The puzzles were the same as we've seen in all other HOPA'S. I found that I could complete some, but others I had to skip. I've been critical of Puzzle-HOS ratios in games, but I have to say the ratio here is good. Is this a game for beginners? I'd say yes. There is nothing here that beginners should not be able to handle. The graphics were quite good. They were drawn with a lot of detail and care, and the scenes were very clear. The character design was a standout for me. I found it to be wonderful. The voice-overs were pretty much standard. They weren't over-done or under-done, just normal. FEATURES 4 modes of difficulty: Casual, Advanced, Hard and Custom. Differences are Hint and Skip recharge times and sparkles. Custom gives you the opportunity to set the game as you like. In Custom, you can change hint and skip recharge times, sparkles, and tutorials. There is also an option to turn the interactive map off. Hint and Skip- I played Casual Mode, and I felt the Hint and Skip recharged at a reasonable rate. The hint is helpful outside HOS. Journal. Keeps track of all case findings throughout the game. Used fairly regularly. Map- the map is interactive, but can be turned off at the difficulty selection screen. The map is extremely helpful, letting you know where there are tasks to be done. Russell's Book- occasionally, you will find pages from Russell's latest book, which detail the murders that are happening. These are displayed in cutscenes and are a great addition to the game. CE EXCLUSIVES Achievements Collectibles Wallpapers Music (play music of the game) Bonus Chapter Concept Art Microscope (not sure what this is) Built in Strategy Guide Video (re-watch cutscenes of the game) Minigames (replay puzzles of the game) So, to conclude, I believe this is one cracker of a game, however there is nothing in the CE that interests me, so I will wait for the SE. I guarantee you will love it, though, no matter what version you own!
November 17, 2013
Good, But Not Great
Review of the completed game: Pros: + Nice graphics. + The story is different from the usual gloom and doom, but is still interesting. + Voiceovers are good, for the most part. So are the music and sound. + H0 scenes are interactive. + Lots of puzzles. + There are two types of extras to collect, and achievements. + Four different levels of hardness to choose from, including custom. + The bonus gameplay is pretty long. Cons: - Puzzles are kind of easy. - Toward the end of the game, the game is padded with more H0 scenes than you see in 3/4 of the game. All in all it's a nice game, and definitely worth a sale price.
November 16, 2013
Finally something we can play...
This is the type of games I was looking for for some time. The level of the puzzles is fine (though I had to skip some of them) and the voice acting is fine, while the animations are reasonable (not too true and sluggish, nor too cartoonish). However, there were some steps that made me mixed up here, like when you click on some puzzle of missing pieces or a scene that needs an act, there would be no message to give you a hint or a clue of what to do here or what you would need to get to complete this task. The story line is sort of linear, but it's fine and reasonable.
November 17, 2013
Enjoyed the game
nice adventure/HOG had a good balance and story.
September 13, 2014
Very clever indeed, black screen pauses or not!
I really liked this game and if BigFish had 1/2 options to apply to the scoring, I would give it 4-1/2 stars. There were black screen pauses throughout scenes and I'm positive it wasn't my laptop, but they weren't annoying enough for me to bow out of the game to check the help section of BigFish or to notify them about it. But I feel all games should be tried and tested beforehand. Nonetheless, this game was very clever. So much to do; lots of achievements and I had even forgotten about the tea kettles but that's because I got very engrossed in the story. Great map which is a must for all games; great hint button, very organized game plan (a big plus), good music; great artwork, tricky puzzles and a wonderful bonus chapter. I won't be surprised if there is a sequel (unless I missed something and there was). Getting the villain does not end playing the main game, so it would behoove you to get the collector's edition; however, it doesn't seem to end there either. I didn't mind the tediousness of this game because it was well-organized. Some games require spending too much time accomplishing one task when all I want to do is to get on with it! This wasn't the case. I highly recommend this game. Thanks BigFish for the great deals and this was one of them!
January 20, 2014
Something to Muse about
This was a really fun game. Good interactive map. Even start up had lots of different modes to choose from. Love the Ferret. I will put this on my buy list even though the curser when turned into a hand had to be off to the side a little to function instead of on target items. Fun characters great mystery.
December 10, 2013
Unexpected treat
Bought this on sale without trying demo (never done that before) based upon some of the positive reviews here. After playing it and bonus content, I completely agree with them. And unexpectedly fun game, even if it is simpler in difficulty than the level of challenge I usually enjoy. The detailed artwork made it easy to get lost in the atmosphere. The puzzles/minigames were unique enough to be fun even if they weren't particularly hard. The HOs were sometimes more of a challenge, particularly later in the game, but there weren't a huge amount of them. The inventory tasks were sometimes straightforward, sometimes more of a challenge. I didn't even mind the music, but found it a nice background. None of these comments sound like I'm raving about what a great game this was. And yet, I was thoroughly engaged from start to finish - even finding "5 minutes" while I waited for a phone call to play. That's something else I've never done. My only nitpick, and it is a complete nitpick, is that the "Boston" of the main game, and particularly the "Chicago" of the bonus game had little to do with either actual city. My roots are in Chicago, my family lived there in the 30s, I was born and raised just outside of the city. I appreciate that the devs tried to find details that pertain to Chicago, really I do, but I had to chuckle at the way these were worked into the bonus game. It was also amusing that nobody in Boston had a Boston accent, but the first person you meet in Chicago is a cop, and he had a Boston accent :). That said -- yea! baseball! in one of these games! Made me long for someone to create a HO-mystery game set in the world of baseball. (But, how could the devs forego the Cubs -- the team in the game is the Chicago Mudhens -- but they prominently showed a player with a Miami Marlins logo on his uniform? So the Marlins paid but the Cubbies didn't?) A really good game, easily above average. Lovely graphics. Good VOs. And a plot that didn't involve evil supernatural beings (though twice I had trouble following it). Not that I mind games with evil supernatural beings, I'm simply tired of them. Nice job, devs!
November 25, 2013
Loved the mystery
The story isn't usually that important to me but I did enjoy this one - and a good mystery. Play was different, surprising, interesting. The unavoidable dialogue was a bit disruptive and annoying but I could live with it to get to the games. The games themselves seem to have a different twist to them and were challenging.
November 20, 2013
This Could Have Been an Excellent Game Except For...
I was really excited about this game; I LOVE a good mystery and the premise seemed to be rather original so I eagerly tried the Demo. The storyline is unique which is a refreshing change of pace. Additionally, the graphics are fantastic and I love the era and locale in which the developers chose to create this game. The rip-roaring 30's, an era of artistry, philosophy and rebellion; a perfect setting for a gritty 'film noir' type mystery. Voice-overs are excellent and aside from collecting teapots and available achievements, I found that searching for 'clues' (i.e. hand prints and fingerprints) with the use of a magnifying glass throughout the game to be a clever and original CE bonus. Other 'extras' include Russel Pollock's book (your in-game author husband) as well as a book labeled as "Microscope"; however, the Demo does not allow players to take a peek at either of those without first completing the main game and bonus chapter. If I had to wager a guess, I think the 'Microscope' book may be where the 'clues' found with the magnifying glass are kept for analysis. Just a guess. So why only three stars? Well, the most frustrating aspect of the game for me was being thrown into time-sensitive 'emergency' situations where a person is going to die, and very, very soon, if you don't help. Yet it ends up taking forever to walk back and forth finding all the items you need (while also picking up what you don't need at the moment) to save these people from the brink of death.They'd be dead ten times over by the time you actually get around to finding everything you need to 'rescue them.' That made for very frustrating game-play. The intense suspense was great, but it was ruined by all of the unrealistic *tasks* you need to perform in order to save people when your character could have just kicked in the window! While I know that it is just a game, this one is really lacking in the 'realistic' department, giving it a choppy feel as opposed to a smooth and flowing gaming experience. That was a huge let-down for me in terms of game-play. This game was also lacking in general mechanics. Junk pile hidden object scenes, super-easy puzzles, A LOT of back and forth and as a result I began to lose interest and just wanted the story to be over with. It's unfortunate as this game had so much potential and it has been awhile since we've had a good 'whodunnit' mystery to solve. I thought this might be what I've been waiting for and am disappointed that it fell short in so many areas. As a Standard Edition, I 'might' consider using a game credit or punch card. As for the Collector's Edition, I'm going to have to pass. It just isn't up to CE standards in my opinion, even with all the 'extras'. I will give credit where credit is due however. As I stated above, the Devs did a great job with graphics, voice-acting, choice of time period and unique premise. If only the game-play itself was more realistic and challenging, this could have easily been a 5 star game. As always fellow fishies, give the demo a try and decide for yourself. This fish is swimming on by this one. (*Mild* spoiler alert past this point): Developers, please take note that if you are going to create super-intense, suspenseful and VERY 'time-sensitive' scenarios, such as saving the life of a friend that is bleeding out or covered in quick-drying plaster and can't breathe; don't make the main character run around for 20+ minutes looking for inventory items to save a person that would already be dead, given the ridiculous amount of time the 'rescue' takes. It disrupts the flow of the game, ruins the suspense, and ultimately results in a very unrealistic and utterly frustrating gaming experience. If the game were developed in such a way that the player had to complete one quick task to save a life and THEN have the player search around for clues and items, etc., the game-play would have been so much better, bumping it up to 5 stars. While I would recommend the SE version when its released; I cannot recommend the CE version.
November 16, 2013
The Apple logo is a trademark of Apple Computer, Inc.
The Windows logo is a trademark of Microsoft, Inc.