Chocolatier 2: Secret Ingredients
The delicious world of chocolate is once again turned on its side, this time by deceit and deception in the new chapter of the Chocolatier saga. There is a mole controlling Baumeister Confections, and it is up to you to build a new empire from the ground up and take over Baumeister Confections. On this journey you will need to rise up in this industrial age of innovation and seek out secret ingredients to create rich new recipes.
Game System Requirements:
OS:

Windows 2000/XP/Vista/7/8

CPU:

800 Mhz

RAM:

128 MB

DirectX:

7.0

Hard Drive:

28 MB
Game Manager System Requirements:
Browser:

Internet Explorer 7 or later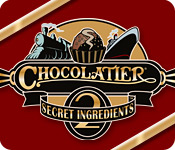 NEW299
The Big Fish Guarantee:
Quality tested and virus free.
No ads, no adware, no spyware.

Reviews at a Glance

Chocolatier 2: Secret Ingredients
0
out of
5 (
0
Reviews
Review
)
Customer Reviews
Chocolatier 2: Secret Ingredients
15
15
Fun strategy/time management with arcade elements
The 2nd of the 3 Chocolatier games (not including the arcade-only time management one): Part adventure, part time management & strategy (though more resources management). Think "Lemonade Stand," the old game from 25 years ago! But with beautiful colors, interesting places to visit, and a great variety of chocolates to be made, with goals being updated constantly to continually challenge you. I have played all 3 Chocolatier games; I definitely recommend playing them in order, as the ingredients & recipes become more complicated as you go from game to game, and I expect most people will want to continue and play a sequel, so going in the reverse order might be a bit disappointing after the complexity of the later versions. Plus, chronologically, they go in order, and you get to see technology progress as well! Each one takes several hours to complete (longer if you don't quickly figure out how to handle your inventory or if you don't remember where to buy what or don't buy enough and have to make repetitive visits to the same locations). When you've completed all achievements you can keep playing if you wish, and there will be more custom orders given to you, just no more major achievements. No major video sequences or audio, but pleasing to look at. I like having the little arcade-style segments that determine your weekly chocolate output rates from each factory, and if you pay attention in your travels, you can learn the names of some new places and the important buildings in some of the cities!
December 23, 2011
Accolades for Chocolatier 2
I fell in love with the first game and was thrilled to discover the sequels, this being the second of the series. The graphics are great. I like the international travel with the locations providing a little bit of cultural representation visually and musically. You can create your "own" recipes which isn't quite true (it's predetermined) but you have to figure out what ingredients to combine to create the chocolate treat so there is still the feeling of self creativity. The storyline continues from the first game a decade or two later. It's lots of fun and a great sequel. I play this lots of times and don't get bored.
January 29, 2013
one great game selling and buying
i love all the chocolate games i love 2 the most you can not just beat the game in one day it takes time andd a great strategy to beat this game and thats what i like so much about it all three i just wish they made more games like these and stop making so many hidding objects and match three. they are all the same old thing boring, i love spending my money on great games and this is one i love
June 18, 2012
One of my favourite game of all times.
I discovered this accidentally, really, it was a Daily Deal and I thought - hmm, this doesn't look like a HOG! I downloaded it, and was completely hooked after about 10 minutes of playing. This is the second one of the Chocolatier games and, in my opinion, the best - it has a good story, like the first, and quite complex recipe book, like the third. You start as a Novice, to help Alexandra Tangye to take over the Baumeister company and find the love of her life, Sean Fletcher (who looks exactly like Orlando Bloom, just ginger! :P). On the way you will buy factories, set them to make different recipes you collect or discover on the way, and, of course, sell chocolates! You'll also need to "overtake" some of the chocolate shops, since that will give you more profit, and discover some secret ingredients in the secret ports. Every time you acquire or invent (after a while you can buy a tasting laboratory in Buenos Aires) a new recipe, you can start making it in one of your factories. For that, you have to play a minigame, where you shoot ingredients into trays. But beware - all the different types of chocolates have different equipment, and some of them are quite hard to use. While buying and selling, you can haggle. It's fun to see people's faces change (by default they are always smiling), because if you bother them too much, they will put their prices up (markets) or lower them (chocolate shops), and you'll see their cross face. However, if you manage to make them change prices, they quite often have a serious face, and you can make them smile again by buying from them or selling some chocolates. You'll have much better chance of succeeding though, if you buy or sell a bit before haggling. And then there are the flowers which you can get from Abidjan - sometimes you can give them to the shopkeepers or market stall owners, to put them into better mood for haggling. The main part of this game is buying ingredients and selling chocolates, because all Chocolatiers are, in the end, resource management games. You will have to travel to different places all over the world (and a few secret places as well) to buy ingredients to use in your chocolates, and sometimes, sell them. But not all places have a chocolate shop, so be sure to keep some money back to be able to come back from those places. I have to say a few words about the graphics and music as well. Graphics are fairly cartoon-y, but nicely done, and you can see moving vehicles (and, in some cases camels or boats etc). Sometimes there are new buildings being built. I do like that people's faces change, from smiling to serious (be careful!) and cross, if you don't leave them alone. And the music is lovely. I haven't gotten bored or annoyed with it yet. During usual gameplay it's clunky and clicky, like some machine working, during the factory minigame it's quite urgent, and I think it's absolutely marvellous that every port has it's own theme, which you can hear when you arrive. In my opinion, that really adds to the game. So, with interesting characters, nice music, great storyline and different gameplay, you just HAVE to give it a go. :) In the end it's a very simple game, all you have to do is buy low, sell high! :) tuskel, sincerely P.S. This game makes you want to eat chocolate! Be warned! :)
March 29, 2012
One of the Best Ever
There's not a lot of new things to say after reading others' reviews. All I can say is that this is one of the games that I return to time after time. Of the three Chocolatier games, this is the very best. Why? You only have one challenge to complete at a time; the graphics are great; your product inventory is easily seen; creating your new chocolates with the improved "minigame" machinery is different for each type of chocolate; and there's no time limit, eliminating that pesky clicking like crazy aspect to most TM games. The storyline plays into the game nicely by being part of some of the tasks. I don't have anything negative to say about the game, except that I would hope that there would be a fourth game of this type in the series. Highly recommend if you like to start at one location of a game, make/trade goods, and then off you go to different locations and progress through your chocolatier career!
April 6, 2012
This game makes me crave chocolate!
I always enjoy playing the Chocolatier series over and over again, but Chocolatier 2 is my favorite because of the secret ports and creating your own recipes! I spend hours visiting and revisiting ports to find out the current scoop from the locals.
August 2, 2012
Chocolatier 2: Secret Ingredients
I love this game. It is fun, a challenge to play but what I love most about it is all the different recipes you can try with chocolate. Also, it is a challenge to pick the right recipes that will grow your business. Great game.
November 20, 2011
Excellent Sequal to Chocolatier!
So, this is an awesome sequal to the first Chocolatier! And it's not just a repeat of the first game. They've added the Chocolate Lab! Where you can create recipes. Again, it's not a short game. It takes a while to finish. Overall, an excellent game!
February 13, 2012
Chocolatier 2 Review
The thing that makes this game so cool is that it's hard to find the right genre for it. I guess simulation, strategy, and shooter apply. It has a cool story line, decent animation, a level where you get to shoot at things, and the business aspect that makes tycoon games so much fun. I would give it a 4 1/2 out of 5 :)
July 4, 2012
My Favorite game of all time
I eagerly await another game like this. My favorite part is that you get to use your own creativity deciding what ingredients to use for your own recipies. I wish there was more of that! The game puzzles were challenging but possible as well a fun! PLEASE MAKE ANOTHER!
March 17, 2012