Whispered Secrets: Into the Beyond Collector's Edition
Exclusive
Journey to a strange new dimension in Whispered Secrets: Into the Unknown! You and your fiancé, Tim, have been happily preparing for your wedding day. But on the eve of your wedding, your future mother-in-law is poisoned. Tim has the scientific knowledge to cure her, but he's just been abducted by a mad inventor! As you set out to find Tim, you quickly realize he's been taken much farther away than you could have imagined – into another dimension! Explore a bizarre world and discover its secrets as you race against time to save your family in this beautiful Hidden Object adventure!

This is a special Collector's Edition release full of exclusive extras you won't find in the standard version. As a bonus, Collector's Edition purchases count toward three stamps on your Monthly Game Club Punch Card!

The Collector's Edition includes:
Stop rampaging minions in the bonus game
Beautiful screensavers, wallpapers, and art
Enchanting music tracks
Integrated Strategy Guide
Game System Requirements:
OS:

Windows XP/Windows Vista/Windows 7/Windows 8

CPU:

1.0 GHz

RAM:

1024 MB

DirectX:

8.0

Hard Drive:

1181 MB
Game Manager System Requirements:
Browser:

Internet Explorer 7 or later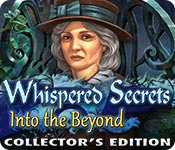 The Big Fish Guarantee:
Quality tested and virus free.
No ads, no adware, no spyware.

Reviews at a Glance

Whispered Secrets: Into the Beyond Collector's Edition
0
out of
5 (
0
Reviews
Review
)
Customer Reviews
Whispered Secrets: Into the Beyond Collector's Edition
41
41
OK Hidden object game
This game was good but not worth the Collector's Edition price.
November 14, 2013
Another Mad-Scientist-Ruins-Your-Wedding-Plans
This review is based on playing the full CE game, played at the intermediate-challenge mode. The storyline is nothing new - your fiance is a famous scientist who gets captured by a mad scientist who wants his help to develop some new energy source. Your soon-to-be mother-in-law gets poisoned during the kidnap process. You have to find a partial antidote to stabilise her, then rescue your fiance so that he can provide the final antidote. During the rescue process, you rescue (and are aided) by a police officer and another scientist kidnapped by the mad scientist in 1925. The game was enjoyable for the most part, and doesn't require much effort other than 2 or 3 of the puzzles. Some of them were a little difficult to play with my macbook pro's touchpad. 1 or 2 of the items in the interactive HOS were not clear as objects are hand-drawn, but things are easy to find on the whole. You can op to play a match 3 game instead to complete the HOS, but I didn't take up that option. The CE version has you looking for 164 partially hidden 'observers' scattered throughout each new scene. You can earn achievements by completing HOS in a certain amount of time, or not using any hints, or finding a certain number of observers, etc. There's also a bonus side-game where you play from the point of view of the scientist who was kidnapped in 1925. It took me about 4 hours (I skipped a couple of puzzles) to complete the main game and another half hour to 45 minutes to complete the bonus game. The voice-over were not lip-synced. There is a map which is a little difficult to use with my mac's touchpad. I didn't use the hint button. The only thing I didn't truly like was the graphics.
December 22, 2013
fun game
like alot of other games this one was interesting and held my attention while playing.
December 19, 2013
Secrets? No. The truth is this is a Fast, fun, easy Game.
This is an interesting little game. Quirky, even. I'll explain. Fun factor: I rated this a four and mainly it's because the last few games I've played really have take some work and a lot of thought. I wanted something straightforward and easy and I found it in this game and I'm having fun! So there!! Visual/Sound Quality: The word that crept into my mind when I was playing this was primitive. The drawings.animation seem very primitive, as in early on in the art. There's not a tremendous amount of detail. Objects aren't poorly drawn, they just aren't really exquisitely, richly detailed as in some other games. The colors aren't very vibrant. As for the sound: I've often written that I think sound is very important because it sets the tone for a game. This game is all about urgent and the soundtrack really supports that. The voice overs are very well done, but the lip synching is terrible. So, listen, don't look! Though it's the same music throughout, it did not get boring. Level of Challenge: It's not a challenging game at all. I know we comment, often, about how quickly we use a "found" item or the bonus prize from an HOS. In this game it's immediate. When the story line dictates that you need something in order to move forward in the game, you can rest assured that you'll get what you need in the very next scene. HOGs: Just the right amount. Not too many, not too few. And an interesting departure from the norm: while hunting for hidden objects, occasionally you can change the "venue." That is, you're looking at one room with certain objects, and you can flick a switch and be looking at the same room with a different set of objects. I liked this. It wasn't deceptive at all. What you're looking for is what you'll find: descriptions are well done and the items are neither cramped nor deceptively hidden. Some may prefer more of a challenge, For me, right now, it was perfect. As the music is urgent so is everything else about this game: as I said, using found objects; moving on to the next challenge, resolving unknowns. No a lot is left to the imagination in this game. Nothing, in fact, is left to the imagination. The story line is a little odd, but the way it's played out is FUN. I'm not going to ruin it for you, but it has to do with science, this world and beyond. Along the way you'll encounter chemistry, physics, astronomy, and, well, police sciences. It's a CE so it has the standard array of "who cares" stuff: wallpaper, music, an integrated guide and a bonus chapter. There are achievements and collectibles. If you're into this,you'll love this game. There are 20+ achievements and you'll be excited out of the gate because you can get 5-6 achievements in the first couple of minutes. They slow down as you progress because the achievements become harder to accomplish. There are also collectibles: this is kind of annoying and I don't know what it really has to do with anything. You collect "observers." These are rodent/insect/alien-ish little creatures which are hidden around each scene. There are 164 in all, if memory serves. They annoyance is because they have nothing to do with the game but because you're constantly reminded how many you've gotten, how many there are in a scene and how many you have left to find, you can't ignore them. As a regular part of the game there is one more collectible. As it is central to the game and directly related, I'll let you find it on your own. One really ODD quirk about this game: when you take something from your inventory and want to return it because it's the wrong thing, you have to take it back to the very position it had on the inventory bar in order to let go of it. I don't think there's a SE yet for this game. Though I don't think there's a compelling reason to rush to action for this game, I don't think you'll be disappointed with it. You will find it simple and straightforward and as games are getting more and more convoluted and difficult (a great result of a maturing craft) an easy throwback isn't such a bad thing. Try it. You'll like it!
November 14, 2013
A little too easy
Unfortunately I purchased this game without playing the demo. It's not a bad game for just passing the time but it is far too easy in my opinion. It has 3 levels of play and I'm playing on the hardest level and it's easy. I've not been stumped by any of the mini games. The HOS are many and the objects are not hard to find. Everything falls into place a little too easily and conveniently and there is no back and forth. This game has the "observers" which are eyes in each scene that you click on, they become a little animal looking thing then you have to click on it again and it keeps count of how many you find - I don't care for this type of addition to a game because it's silly and to me distracting from the adventure. The graphics are okay but nothing special, storyline the same. All in all okay but not worth CE price.
December 2, 2013
A nicely done game, but far too easy...
I played this game on Advanced mode as didn't want sparkles, or wait forever for hint and skip to recharge. The graphics were beautifully drawn, the music pleasant and the game took 5 hours to complete including bonus level. The HOS were drawn well, but basic junk pile objects to find. Loosely interactive compared to others these days (cursor turns to hand to open drawer, curtains etc), and I felt there were too many of them. You could play a Match 3 game instead, but that wasn't very exciting either. Puzzles nothing new, but really cleverly put together and not too difficult (possibly too easy for some). Had to find these weird spider like creatures (four or five of them) in 'every' scene, which got a bit laborious really. and a dragonfly joins you quite early on to get rid of the toxic fumes that occur along the way. My main dislike of this game was that nothing was left to the imagination; hand holding galore and very linear in game play. Yes, you could play hard core, but the hint/skip took an age to refill in advanced mode so would just slow the game right down. Certainly didn't need the SG, as the map was excellent and took you to a scene where a task was needed. The bonus chapter was even more simple and linear than the main game, but at least they didn't fill it with HOS. If you don't want much of a challenge in a game, but a pleasant relaxing few hours this is the game for you.
November 14, 2013
REVIEW ON COMPLETED GAME AND BONUS CHAPTER: RUN-OF-THE-MILL
PLAYED ON HARDEST LEVEL WITHOUT HINTS OR SKIPS Bottom Line: This is a well-made game interweaving an over-used story line (which I won't ruin by disclosing) with extremely easy (almost kindergarten level) mini-games and hidden object puzzles. Would make a GREAT beginner level game but left me, an expert, feeling unsatisfied. PROS: well drawn graphics good voice overs characters you can like bad guys are not so bad your kids can't play the game 164 eyebot observers to collect for an achievement side bar tells you if you have collected all of the eyebots in a scene and if not, how many are left Dragonfly helper bot to use to earn another achievement HOS (hidden object scenes) can be switched to play match 3 games instead Very nice interactive jump match that shows you where you need to complete a task 3 play modes Music is unobtrusive Story takes you between two dimensions Many different scenes and "feels" to the game so if you don't like one area, you're sure to find one you DO like Lots of EASILY earned achievements Strategy guide, but I don't think you'll need it Bonus chapter is entertaining, but pretty predictable (not worth buying the CE for) CONS: The mini games were extremely easy, way too easy, a child could do them without any problems The characters don't have necks, they look like their heads are sitting right on their shoulders (bothers me because I'm an artist) The HOS are basically junk piles; nice and pretty, but still junk The story is the main flaw in this game. It is very simple, comic-book in style with a mad scientist. I found myself getting pretty bored with the story. I would call it mediocre at best. This is not an "intelligent" game. The only way I can describe my disappointment with this game is to compare it to cars. A sedan is a good, old fashioned family vehicle that will get me where I want to go, BUT, I'd rather get there in a well-tuned sports car. I hope that makes sense. I recommend this for beginners.
November 21, 2013
Somewhat Disappointed ...
I just couldn't get into this Game. It started off well but then just got BORING ... The Graphics were just so so, nothing spectacular. The Storyline was lame and I just plodded along and couldn't wait to finish. The only thing I enjoyed was finding all those "Observers" hidden in the scenery. I got so bored at one stage, I was tempted to just quit and uninstall the Game. I certainly regret buying this one ... and I know I'm NEVER to play it ever again!
December 15, 2013
Not horrible, but not that great either
This game felt strictly mediocre to me. I played the hour long demo of the Collector's Edition. Although the storyline was somewhat interesting (your scientist fiance is sought out and kidnapped by a mad scientist for the purpose of bioterrorism while you are left behind to figure out a way to bring him back and stop the mad scientist, all before your wedding day, no less!), many of the features of this game have been done hundreds of times before and the graphics/animations are fairly standard. This is your typical HO game ... you are given objectives & tasks to complete while you explore different areas of the game world and pick up items to help you complete various quests. Along the way, you solve mini games, complete HO scenes, and find hidden collectables.
November 14, 2013
Why are games being so dumb down lately?
I played the first game of this series before I played this one, since I had not played it in awhile. The first one is sooo much better! Much more of a challenge! You actually had to use your brain! It does not put the code on the safe or etc... You need to concentrate on where objects are and remember where to use them. I played this game on hard mode and still found it too easy. I just do not understand why oh why are the games coming out lately too easy and or too cutesy???? I miss being challenged! I could not even finish this game, because I found myself bored. I am glad I purchased this game on a discounted rate, but really I wish I had not purchased it at all! Yet another waste of what could have been a great series!
November 25, 2013
The Apple logo is a trademark of Apple Computer, Inc.