Treasure Island: The Golden Bug
The year is 1827 when William Legrand, the son of a wealthy family from New Orleans, lost everything. Ashamed, he leaves and creates a home on Sullivan's Island near Charleston, South Carolina. Here he lives simply and peacefully, until one day when he discovers a golden beetle on the beach which will set him on a journey in search of Captain Kidd's hidden treasure! Guide William on the adventure of a lifetime in Treasure Island: The Golden Bug!
Brain-teasing mini-games
Explore Sullivan's Island
Recover a lost fortune
Game System Requirements:
OS:

10.9/10.8/10.7/10.6

CPU:

1.0 GHz (INTEL ONLY)

RAM:

512 MB

Hard Drive:

91 MB
Game Manager System Requirements:
Browser:

Safari 4.0 or later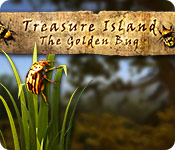 NEW299
The Big Fish Guarantee:
Quality tested and virus free.
No ads, no adware, no spyware.

Reviews at a Glance

Treasure Island: The Golden Bug
0
out of
5 (
0
Reviews
Review
)
Customer Reviews
Treasure Island: The Golden Bug
32
32
Old Fashioned Fun Hidden Object Game
This is one for the HO purists who don't mind searching for tiny things without angry demons or fairies and such. The scenery is great and there are stars in the scenes to pick up and save for hints. I got 11 of them in the first scene, so there is plenty of help if you need it.
September 3, 2013
Unique & Highly Specialised
BASED ON DEMO FIRST IMPRESSIONS My first reaction was, ?Oh no! Another HdO Adventure!?. If you?ve come across them before (love or hate), you?ll recognise this one instantly. Now, I?m one of those who hate this style of HO puzzle adventures, but I think I can give you a fair assessment. It has a lot of unique features, some of which you?ll only see in this series of games. From the first you are aware that this is a minimum budget game; no VO, no whistles and bells, little spent on visuals. There is not really an introduction, you are thrown immediately into a tutorial of the game. The graphics are not the worst I?ve seen, but they do look old and cheap. SIGHTS & SOUNDS Graphics do not support widescreen, so the distortion is pretty bad, and the graphics aren?t spectacular to begin with. The scenes are scrollable, and you also have zoom, both of which give the game a 3D feel, looking around corners, so to speak, because some items will be hidden from view by the ?background? from certain angles. It?s an interesting twist. Sounds (ambient) are actually quite good. WHAT?S HAPPENING You are an impoverished beachcomber who comes across an entirely new species of beetle ? the golden bug. Through a series of investigations, you discover that it holds the key to the famous pirate booty, Captain Kidd?s treasure. So now what are we going to do about it? MAKING PROGRESS This is a mostly HO and visual puzzle game, the game determines your every move through the adventure tasks. For instance, you cannot leave a scene if it is unfinished, and an arrow button will appear when it is over, taking you to the next location. The HO puzzles are all different sorts. The static list, which gives you only 3-4 items at a time to find, and scrolls each time you find something. Multiples, matching pairs and many other variations on the theme constitute most of the puzzles. Hidden objects are often tiny, so the zoom feature is necessary quite a bit. The cursor is also very finicky about picking up items, in HO scenes and out, and you really have to take care trying to use inventory items. Some items are misnamed. There are a few mini-games/puzzles thrown in. Some are a bit repetitive. Nothing too difficult, which is just as well. There is NO SKIP and no instructions with the mini-games, you must use a hint to find out what to do. Collecting stars gain you extra hints, as do the puzzles. FAMOUS LAST WORDS For those of you who like this sort of game, 20 000 Leagues Under The Sea: Captain Nemo & Around The World In 80 Days: The Challenge are identical in format, but a little rougher in the graphics. This game is, I think, the best of the bunch though. For fans, and for exotica collectors, there may be something in this that appeals. I have given the game one extra star for uniqueness. As an everyday sort of game, at best it might be good for a punchcard coupon. Not even that for me, and I really can?t recommend it.
September 3, 2013
Not terrible but not that good...
I suspect this game has been dug out of the vault because there's a lot a pirate themed games around at the moment. This is probably the worst aside from 'Ashley Clark; Secret Of The Ruby'. But in spite of the horribly dated graphics, lack of widescreen, tiny objects in the HOS, no voiceovers, the ludicrous speech pattern of the black lady and puzzles with weird instructions, I found after a while that I started to quite like it! Maybe it was the story or just that it was so awful it was a challenge to see if I could last until the end of the demo! The insect puzzle was annoying too; find so many spotted/long/large beetles seems easy enough but pick the wrong one and you have to start all over again. Not a lot of fun. Plenty of hints used but you collect stars so not much chance of running out (which was just as well). Sounds were ok apart from the fire in the cabin which got irritating very quickly! I played the whole demo but to be honest it's unlikely I will buy this game even with a PCC. Without wishing to be overly harsh to this developer, the game is miles below the standard of other games out there. Perhaps they don't have the resources but if they were able to make some improvements, I'm sure they could do much better.
September 3, 2013
Oh Dear!
Old timey adventure turned hidden object game. Find 15 pieces of firewood, put the firewood in the fire, blow on the fire - boring. Lots of hidden items to find, but typically all of the same type, find all the animals, find all the cannonballs. I came across a few puzzles; the first couple were a slider puzzle and a bug match 3 for hints that lasted about a minute. There is one scene where your job is to find 14 yellow bugs, then 22 spotted ones, then 14 long ones - bugs just show back up if you make an error or when you start looking for something new - you get the idea. Navigation is done by clicking on an arrow with a circle around it when it is time to go somewhere and the screen automatically switches - there was no map during my play. Graphics are old and grainy, but you do get a one-time option for parallax (scrolling) view or not. Music - for the first time in a game for me, somewhat irritating. Language is obviously an issue, I laughed at having to find 2x Lea-f(-ves) and Butterfl-y(-ies), but I couldn't have done a better job in their language. Hints are yellow stars that randomly show up on the screen. It may have just been me, but it didn't seem like they were equal, sometimes there was 1 or more, and sometimes you would receive more than 1 hint for them. Options: Sound, Music, Brightness and Windowed. Storyline of oh boy I found a unique bug didn't snare me to continue and I gave up after about 30 minutes. Not a buy for me.
September 3, 2013
Do Not Waste $$$ Buying
This game is only OK, but there is no need to purchase because it is easily completed in 30-45 minutes. I stupidly purcahsed without trying first and am now trying to get a refund from Big Fish. If you have a half hour to waste, then download the free versrion and play
September 5, 2013
HdO can do better!
Another reviewer (JustThe Facts), in a wonderfully detailed review, mentions that you will either love or hate HdO games. I've loved most of them, especially around the World in 80 days-The Challenge, Aladin and the Wonderful Lamp, and the spoofy Frankenstein-Dismembered Bride. HdO disappointed with Public Enemies-Bonnie and Clyde - the objects were so tiny some were impossible to find even with a hint, and I have to say they've lost my vote completely with the Golden Bug. The HO scenes are OK, but the minigames are just awful. There is far too much uninspired dialogue, and all in all I just lost interest after about 20 minutes.
September 3, 2013
2.5 star game
this game was poorly done. pros...not much but if u look there are these gold stars u can collect to get more hints cons; hard to find items no hos just clutter about the area not a very good tutorial when u zoom in the whole page moves and u get black areas because the of moving the page mini puzzle are not very well done personal thoughts this game was not well thought out or programmed very well it could have been done by kids not mature adults with experience and programming games i cannot believe BF got this game... altho some may like this game it is a NO buy for me
September 3, 2013
HEY, WANNA COMPARE BEETLE COLLECTIONS?
Well.....I don't really know what to say about this one. A rich man blows all his money (probably on bugs) and is humiliated so he moves into a cabin on the beach to become a recluse and collect beetles. First you have to clean the slob's cabin before his friend visit's him. You have to zoom on the screen and drag the entire screen in order to find the hidden objects and the items are still small and most unrecognizable and when asked to find a leaf they mean paper and for the life of me I thought the sausage was a fire log! Next you get to repair the outside of his house and find some very simple animals such as a bird in obvious places. Now we take our walk and find a beetle on the beach so we take our beetle to the Captain of the Navy, pound our chests and compare beetle collections. The mini game consists of finding 15 red beetles 15 spotted beetles, fat beetles long beetles, you get the picture, and if you select the wrong one you have to start all over. I don't know if kids would enjoy this game but I certainly did not!
September 7, 2013
Another 1 of these??
I have tried all of these type HOGs and do not care for them. They are annoying when I try to interact with items and the mini games are easy to get stuck in.
September 5, 2013
Another Golden Bug?
Was so excited when I read the title!..Love the Edgar Allen Poe Golden Bug game so thought this was a compliment to it, but quickly discovered that it was not...I don't care too much for this particular kind of HO, the moving back and forth in the sceen, no real hint button in case you're stuck and the items are WAY too small..Only played demo for about 5 minutes....Graphics are terrible and flat, as is common with this type of game...Way too much dialog for me..
September 4, 2013
The Apple logo is a trademark of Apple Computer, Inc.
The Windows logo is a trademark of Microsoft, Inc.