The Torment of Mont Triste
Exclusive
Stop the terrifying Lord of Nightmares in The Torment of Mont Triste! After a scientific experiment goes horribly wrong, a shadowy figure begins appearing throughout the town of Mont Triste, bringing the citizens' most terrifying visions to life as they sleep. They call him the Lord of Nightmares. Local authorities are exhausted and helpless against this otherworldly threat. They have enlisted you to come to the picturesque mountain town to solve the bizarre case. You must track down the villain and stop him before the entire world becomes gripped in a terrifying nightmare. After all, everyone must fall asleep eventually... can you help the citizens of Mont Triste awaken?
Game System Requirements:
OS:

Windows XP/Windows Vista/Windows 7/Windows 8

CPU:

1.6 GHz

RAM:

1024 MB

DirectX:

9.0

Hard Drive:

752 MB
Game Manager System Requirements:
Browser:

Internet Explorer 7 or later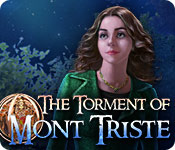 NEW299
The Big Fish Guarantee:
Quality tested and virus free.
No ads, no adware, no spyware.

Reviews at a Glance

The Torment of Mont Triste
0
out of
5 (
0
Reviews
Review
)
Customer Reviews
The Torment of Mont Triste
19
19
Will You Be Able to Stop the Nightmares?
It has finally happened; a scientist has created a device that will allow him to connect the real world with the dream world. Ah, but of course, something has gone terribly awry and the Lord of Nightmares has escaped into the real world and is determined to turn it into a nightmarish realm. As a detective, you have been asked to journey to Mont Triste to stop the Lord of Nightmares and put an end the havoc he has unleashed in the town. Will you be able to stop the Lord of Nightmares? With the aid of a special amulet, step into the nightmares of others and restore them to peaceful slumber. The graphics are colorful but very simple and appear almost cartoonish. Sometimes the graphics have a misty or foggy appearance, while at other times they are quite crisp, which I think is intentional since the ?appearance? changes between nightmare or reality scenes. The map is an interactive transporter type which I like because there is a lot of running back and forth required in the game. The map also indicates where there are available tasks so if you are stuck, I recommend using the map as a guide. I couldn?t find a journal or diary and unless it is acquired later in the game, I guess it isn?t necessary. The HOS are what we have come to expect, look through junkpiles (although most are not overly cluttered) and complete extra steps to find some items. Where this game excels, IMHO, is in the number of mini-puzzles, some of them easy and some a bit more difficult. Since puzzles make a game so much more entertaining, ?The Torment of Monte Triste? is definitely a game I had to have. Overall the game is entertaining and I found that I really like it. I was surprised because initially, I thought the game was just okay but as I moved on and became immersed in the various nightmares, puzzles and gameplay I didn?t want to stop. Given the number of puzzles in the game and the great two for one sale this weekend, the game was an instant buy for me. As always, I recommend you try the demo to see if this is a game you enjoy.
November 10, 2013
Lightweight Fun
BASED ON DEMO: This is a very charming game. The artwork and colors are vibrant with lots to look at. There is something about it that reminds me of a beautiful pop-up book, one that has the little tabs to make it interactive. Still, it manages not to be all airy-fairy sweetness and light. The premise of the genius scientist who goes awry and releases something evil isn't new, but the way in which it is handled is new to me, at least. In one scene, vicious nightmare wolves turn into cute little puppies. Even the Dream Lord is more like a silent movie villain than something really dark and horrible. Game play is easy, but if you get stuck, the interactive map and directional arrow hints (yea!) are available to help you out. I definitely recommend giving this one a try.
November 11, 2013
good game
The story of a scientist trying to save his brother from a sleeping sickness. The game stumbled a little but overall went smoothly. Didn't have to back track to previous scenes which was great. Hint button works great for next move if stuck. no annoying music. pretty good game.
November 11, 2013
Tormented Guy
Game is fun to play and good graphics.
November 10, 2013
Defeat the Lord of Nightmares
Unsuccessful experiment turned out to be the cause of great evil that devoured Mont Triste. From this moment the fate of Mont Triste and the whole world is in your hands. While the game concept is not new I appreciated the way it was presented to players. It quickly draws you in and you do your best to follow the story to the end because it is so exciting. Interactive gameplay and varied graphics (sometimes airy, sometimes dark to enhance the atmosphere) were the best things in the game. As to puzzles and HOPs, as usual, this is very personal but it seemed to me they were fun and challenging enough.
November 14, 2013
Sit back and relax
Nice charming relaxing - these three adjectives best describe the game. Thumbs up to high quality visuals and sounds. The game is ideal if you do not care about great challenge to the grey cells. For others I recommend to at least give it a try.
November 13, 2013
ok game if somewhat predictable
As HOG go, this one is pretty typical. The storyline is far-fetched (as they all seem to be lately) but at least ingenious. There is a lot of going back to previous scenes to finish things and pick up things. Sometimes, it seems very illogical and just plain annoying. on the whole, an ok game.
November 11, 2013
This game TORMENTS me!
In case you wonder if I'm capable of loving a game, check out my reviews of The Pantheon and of Nevertales. Each received a Five-Star rating from me. This game is fraught with technical issues. Several times I have reviewed a game and the Overall Rating is higher than the total of the individual category ratings. This is because sometimes a game is greater than the sum of its parts. Because of a) technical issues and b) poor directions, this game is less than the sum of its parts. I will explain. I realize I do so at my own peril. I KNOW that negative reviews are almost always found unhelpful by those who review the reviewers. So I do not expect you to find this review helpful, but please accept it as a cautionary tale and realize I'm not being negative because I'm a jerk. I take reviewing games very seriously and do my best to be fair and accurate. My problems with the game go well beyond the technical issues. But, technical issues cannot be ignored when judging the fun factor. Because the game became less and less playable as time went on, I had to give a grade of "Awful" for Fun Factor. At the start I thought that this game was going to be fun. My first thought was that this was a VERY SIMPLE throwback game hearkening back to an era that predated the beginnings of my playing days. I really enjoyed the beginnings of this game. I thought the concept for the story line was very creative. I thought the execution and design of games, while very simple and not very nuanced, was so straightforward, so clear, that this was a VERY FUN game. And, on that note, it got bonus points from me because there are very few HOS in this HOG/Puzzle/Adventure offering. As time went on, the FUN turned into TORMENT. Visual/Sound Quality: The visual quality is OK. Nothing special, but nothing bad either. It's very bare bones in design. There are not a lot of flourishes. That was fine, because the overall game play and the story line were the important features. The sound quality was OK as well. I noted in a review of the CE that someone complained of monotonous background music. This was not my experience. I thought the music was a good fit for the story. Level of Challenge: The game was not particularly challenging The few HOGs there are are all very simple. The descriptions were clear and accurate and the objects were easy to find. It would have been better if the they were more difficult. At the beginning, the puzzles were embarrassingly easy. It seems like the majority of puzzles were based on making the order of items correct. That is, the parts of the puzzle were jumbled and they needed to placed in the right order. Doing so successfully meant that the puzzle was solved. As time went on the puzzles became more and more difficult. This is not because the puzzles were, in themselves, hard, but because the directions were so poor. (Remember, I'm not even dealing with technical issues yet). Examples of poor directions: a. In the Fish Token puzzle the instructions indicated that each column must be unique. No two items could be in each column, nor could a single column have the same colors. It's not clear what was meant by this because you can't change the color of the items or "disk" that the item is sitting on. I tried over and over again thinking I was doing something wrong but I wasn't. The colors just couldn't be moved. So despite the directions saying that no color could be repeated in a column, there was no choice but to repeat. When I successfully completed the puzzle, each column had multiples of the same color. b. The Missing Box Puzzle: There are three different "mini-puzzles" in this puzzle, all visible at the beginning and each i to be completed by placing geometric shapes in them (triangles, trapezoids and rhombuses) until the area is completely filled. According to the directions you are first to change the position of all of the individual shapes and only then place them onto the puzzle platform. You change the positioning of the piece by right-clicking. First, the directions didn't say which puzzle to complete first. As it turns out, it was not just left to right, but started with the center. Also, I could not change the attitude of the puzzle pieces by right clicking. Nothing I did would make them change position. First I thought the pieces were already in place and I had to find the right puzzle to apply them to. No. Finally, I figured out that I couldn't change the position and gave up, gave in, and hit the SKIP it button. After finding more puzzle pieces later on it finally became clear that the order of the puzzles was determined by the color of the puzzle piece. There are three of these puzzles and in no case could I change the position of the pieces. Three times I skipped. c. The Pump Puzzle: Standard game wherein you properly position pipes so that a continuous connection can be made from point A to point B. That's what the directions say. The problem: there are two starting points. So, what does a single unbroken connection mean? I didn't know what was meant and I spent 45 minutes arranging a bizillion pipes, unclear if I was to "meet" them up, conjoin them or forget about one in favor of the other. I had to "Skip." d. The Mouse Puzzle: It's still not clear to me what I was supposed to do. There are three mice. The instructions were to see which could fastest get from point A to point B while going through a few obstacles. First you point the mouse in the right direction. Next you preset the obstacles to act as guides for the mouse. Because the directions talk about finding which mouse could best and fastest accomplish the tasks I figured there was either a clock or that all three mice performed their tasks at the same time. Neither was true. The mice went in serial order and there was no clock that I saw. But it didn't matter. The control buttons for the obstacles didn't work so I couldn't run the races anyway. I had to "Skip." There are more puzzles, but the Mouse puzzle was the last one I attempted before shutting this game down. The Storyline: I don't know why, but I thought it was brilliant. The idea is that an evil man inhabits your dreams and turns them into nightmares. This is not the same as the "Fears from Childhood" game. Maybe it's a variation on the theme, but I think it's different. Also, the general feel of the game is more adult than the "Fears from Childhood" was. I thought the general "atmosphere" of the game was appropriate for this dark topic. I love backstories and this has a great backstory (at least as far as I went with the game). There may have been more twists and turns as the game went on which would only serve to make the game better. In the end, I don't know if my issues were more technical or more about bad directions: clearly there were instructions to do things that could not be done, like arranging the position of puzzle parts before placing them; or not repeating colors or items in one puzzle. So which was it? A technical problem or bad directions? I suspect it was a LOT of both. And I think that: Overall, BFG does so much that is right, every once in a while something goes wrong. This is that one time, as far as I'm concerned. BUT, I really hope that BFG staff reads these reviews and follows up on issues...and not just the stuff we can find in the blogs. There is a problem with this game. It may be intermittent, but it's a problem, nonetheless. They need to figure out the cause and the developers need to fix it or take it off the site, IMHO.
November 11, 2013
Would be a good game but? NO SAVE.
Why put out a game that starts you back at the beginning? I tried the demo and loved it so I purchased the game. Immediately started it up again (player name was mine), only to find myself back at the beginning. OK, only one hour lost. Have now been playing the game for three hours straight and it kicked me out!!! Restarted the game and yep?.BACK AT THE BEGINNING. Will never try 'tomorrows game today' again.
November 11, 2013
The Apple logo is a trademark of Apple Computer, Inc.